Your 75 Best Family Vacation Destinations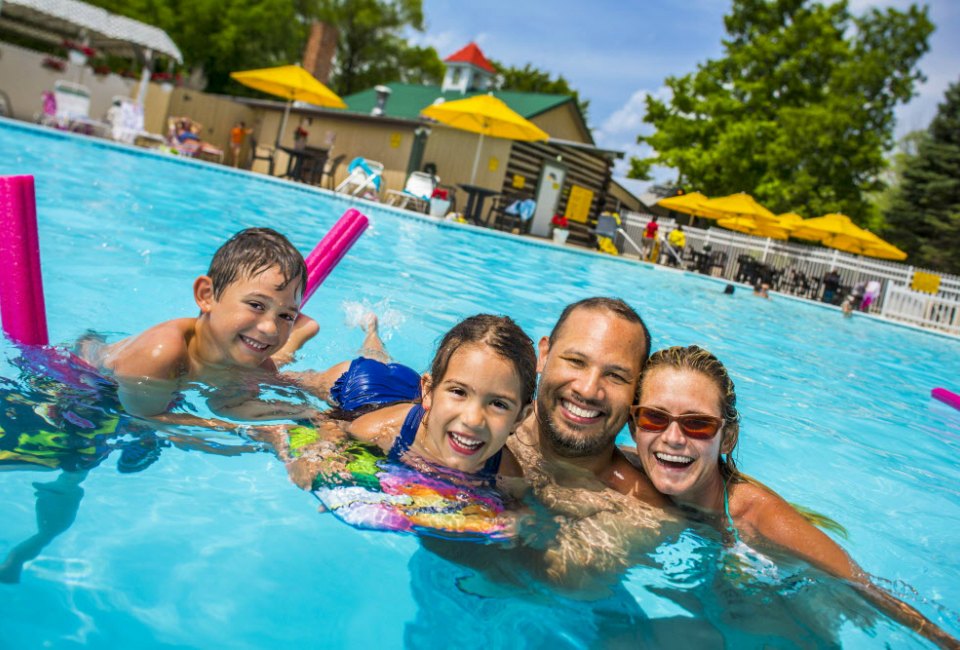 3/8/15
- By
Katia
We recently asked you to share your top family vacation destinations and once again you came through. With your suggestions, We put together this list of the 75 of the best family-friendly travel spots from as nearby as around the corner to as far off as South Africa. You're a well-traveled bunch with great ideas for family-vacation fun, whether you have a weekend or a week.
Can't get enough inspiration here? Visit our sister site to read about the best family travel destinations plus some great tips on why you should go. Check out our Family Travel Guide for more great family vacation destinations.
1.New York City: Of course, NYC came up as a top reader choice and that's no surprise to us. One reader gushed, "New York City is amazing...you have everything you need within walking distance. Central Park, the Central Park Zoo, catch a kid-friendly Broadway show (with discount tickets, of course). Eat at the American Girl Store or a chicken kebob on a street corner. There is so much to do...New York City is, hands down, the best place to go for a family vacation."

2, 3 & 4. The Adirondacks, N.Y.: In some areas, close to the Canadian border, it's paradise in the summer. Enjoy canoe rides through Saranac Lake's chain of water ponds, lakes and rivers, hiking, horse riding, trips to Quebec, berry picking, wildlife viewing, fishing, swimming, barbecuing and there are even North Country museums, art festivals, sports and outdoor events. In the winter there is downhill skiing, snowshoeing, cross-country skiing, skidoos and even dog sledding. In between, in the fall, there is the usual gorgeous leaf peeping, and spring offers a short bug-free season. The region is also home to Lake Placid, loved by our readers for all these reasons.

5. Lake George: At the foot of the Adirondacks, Lake George a resounding favorite among our readers. It boasts great fishing, camping, white water rafting, kayaking, canoeing, jet skiing, boat rides/dinner cruises on steam ships, museums and a fort with cannonball launches, beaches, horseback riding, shows, wonderful hotels, shopping outlets, great food and it's not far from Six Flags Park. The Lake George Escape Camping Resort was touted as especially fabulous and reasonably priced.

6. Rocking Horse Ranch in Highland, N.Y.: This resort is low-key, completely kid friendly and all-inclusive with free horseback riding every day!

7.Albany, N.Y.: The New York State Museum, The Duck Ride and the horse races in nearby Saratoga are all fun, and it's pretty close to the Berkshires, which offers lots of fun and cultural activities.

8. Hudson Valley: One reader is ready to try a family farm trip at Stone and Thistle Farm, complete with a stay in a yurt. Masker's Orchards, in Warwick, N.Y., is great for apple picking and then you can go hiking the next day in Harriman State Park.

9. Mohonk Mountain House in New Paltz, N.Y.: This is a reader (and Mommy Poppins) favorite. It's family-friendly and offers lots to do year round.

10. The Woodstock Lodge: Close to historic Woodstock and Kaaterskill Falls.

11 & 12. The Catskills: This region can't be beat for great outdoor family fun. Hull-O Farms has a mystery 15 acre maze and is quite charming. Also in the Catskills, East Durham has a Zoom Flume Water Park that is affordable and fun.

13. The KOA Campground in Niagra Falls, or anywhere overlooking the Canadian Falls.

14. Fire Island: This is where I learned to surf, sort of, is great fun for families.

15. Montauk, N.Y: One of Long Island's best beach towns—the beaches are clean, the town perfect for strolling. Visit a bakery in the morning, play mini-golf, visit a lighthouse, eat clam chowder at Gossman's Dock and watch the fishing boats come in. They even have campgrounds on the beach.

16 & 17. The Jersey Shore ranks high on our list. Wildwood Crest has the shore and the boardwalk, which is wonderful at night with ice cream, an amusement park and fireworks. Point Pleasant Beach wins us over with it's boardwalk and boardwalk skee-ball!

18. Atlantic City: Visit during Thunder on the Boardwalk and you can watch the military planes zoom overhead. Swim and play in the sand and enjoy the free show that you can see from anywhere along the beach. There are magic and circus shows, or ride the $2 jitney the length of the boardwalk if you get tired.

19. If you want to be close to Atlantic City (but not in the midst) you can stay at the Marriot in Absecon. It's a full-service resort and spa with children's activities. Atlantic City is 15 minutes away. For your quaint fix, you can visit Smithville, a town two miles away, for breakfast, train and carousel rides.

20. Palisades Park, N.J.: Nearly a staycation, the hiking and barbecuing opportunities at Palisades Park are just over the George Washington Bridge.

21. Long Beach Island, N.J.: LBI offers sand, water, great food and a quick drive to Barnegat Light.

22. Ocean City, N.J.: This town was reader-rated as the 'most kid-friendly beach.' It's a dry town, an advantage or disadvantage depending on the vacationer. It has lots of low-key beach restaurants, an amusement park with lots of baby-friendly rides and mini golf.

23. Ah the Berkshires: Butternut Mountain is great for skiers of all levels and has a wonderful daycare for infants and young children. It even feeds the kids snack and dinner. There is also tubing, and the hill is small enough that parents can sit at the bottom and watch their children slide down.

24. Cape Cod: Another beach destination close to our hearts, here you can build sand castles, collect seashells and have a lobster roll. You can even work with the National Marine Life Center and help save the turtles.

25. Mystic, Conn.: This is a town rich in history where you can visit the seaport and the aquarium.

26. Vermont: This tiny state is not to be overlooked, with its numerous lakes, hiking and Okemo Mountain Resort, which is a great mountain for skiing or snowboarding. You don't need a lift ticket for the beginner hill, and our son learned to snowboard there, with a free ride up the hill on the magic carpet.

27. The Balsams Resort in New Hampshire is a worthy destination right next door.

28. Ogunquit, Maine: This locale is known for its beach time, short trips to places such as Old Orchard Beach and lobster boats. For those rainy days, we're told local libraries have children's story hours and the town has the best movie theater. The neighboring town of Wells also has a public library and theaters so when one town doesn't offer something, the other usually does!

29, 30, 31, 32, 33, 34 & 35. Pennsylvania: Our nearby neighbor offers lots of family fun. Here, your family can enjoy Elmo at Sesame Place, or Hershey Park (which has a great water park and rides for the kids). Dutch Wonderland in Lancaster has a little amusement park for kids under 10. Also, the Bushkill Mountains are a great area for hiking. The Poconos round out the list of Pennsylvania offerings with Great Wolf Lodge, Split Rock, and other wonderful family resorts.

36 & 37. Rhode Island: Newport and Block Island both have great beaches. Newport also has kid-friendly mansion tours and boat tours around the harbor.

38. Rehoboth Beach, Del.: Yet another great vacation spot.

39 & 40. Greenbrier State Park, Md.: Remote enough to feel out in the wild, this park also has bathrooms, so you can feel the outdoor freedom and still maintain creature comforts. Another great beach spot is a Ocean City, Md. The beaches, hotels, food and shopping all get high marks. You can stay right on the boardwalk in a hotel or bed and breakfast, and enter a kite festival or sand castle contest. When you are done swimming, entertain yourselves with go-kart or mini-golf.

41 & 42. Williamsburg, Va.: With amusement parks, water parks and history all in one place, it's amazing that this locale is also inexpensive. Virginia Beach is a favorite family vacation spot.

43. Washington, D.C.: Rich with parks, museums and wonderful, historic sites, you owe it to your kids to make a trek to the nation's capitol at some point. If you don't want to drive, the Bolt Bus and Mega Bus are rumored to be affordable transportation, and with the same travel time as the train. Once there, you can rent bikes to get from monuments to museums (which are all FREE).

44. Outer Banks, N.C.: The beautiful beaches here abound with huge houses to rent, making this a great spot for large family gatherings.

45 & 46. Wild Dunes, S.C.: On the Isle of Palms just outside of Charleston, this private resort area has rental homes and a hotel. Located on the beach, you'll find bike rentals, tennis, golf, swimming pools and more.. It's a wonderful place to relax with family and friends. Charleston is a short drive away and it is a super fabulous city. You can also check out nearby Edisto Island.

47. Florida: For ultimate beach action, head south. West Palm Beach has a great reputation for family fun.

48. Delray Beach, Fla.: This quaint town abounds with restaurants, art galleries and a non-tourist feel.

49. Marco Island, Fla.: With a beach that gets deep quite gradually, this spot is perfect for swimming with your kids.

50 & 51. Fort Lauderdale and Sanibel Island, Florida make our list, too.

52. Club Med Sandpiper in Florida has a kids camp and pool.

53 & 54. Disneyworld and Disneyland: Not surprisingly, the happiest place in the world was suggested by several people as places that can create real magic for your kids, and make memories that last.

55. Wyoming: Head out west to Wyoming, a state so wide open, it gives Montana a run for its money.

56 & 57. California State Parks and U.S. National Parks offer great camping, which is so much fun for the family. If you don't want to go rustic, visit Legoland in San Diego.

58. Hawaii: If you're ready to stray further, Hawaii is beautiful. Honolulu has a zoo, and there is so much to explore on these islands. Your children will enjoy a Luau, and so will you.

59. Tulum, Mexico: This is a reader favorite as is...

60. Isla Mujeres, which is quiet in all the good ways, and has the most beautiful, powder-white sand beaches. Best of all, it hardly rains.

61, 62 & 63. Ireland, Italy and Switzerland are well-loved European destinations.

64, 65 & 66. Contrcoeur, Quebec: This small town on the St. Lawrence River offers swimming, sailing, hiking, biking and cultural events in Montreal. If you are up for it, visit the other side of Canada and ski in Whistler, British Columbia.

67. South Africa: Visit this nation for exotic fun like feeding the giraffes or petting a lion cub at an animal sanctuary.

68. Rhodes, Greece: This island boasts beautiful beaches, great restaurants and lot's of kid-friendly activities. What more would one need?

69. Premantura, Istria, Croatia: Enjoy the Adriatic Sea.

70 & 71. Dominican Republic: Enjoy a stay at Club Med Punta Cana in the Dominican Republic, or the Melia Caribe Tropical Resort.

72. Jamaica: Choose a resort here, perhaps the Beaches in Negril, where they have a Sesame Street theme.

73. Puerto Rico

74. Bahamas: Why not stay at Atlantis?

75. Anguila: Just a 30 minute boat ride from St. Martin, this is paradise with calm waters, friendly people and lots of fun in the sun for the kids.

Also:

The Cruise: Favorites include the Norwegian Cruiseline, with its kids camp, fun activities, buffet-style food and pool. Dress is casual. Carnival Cruise also has activities and a new destination to explore each morning. Both have a location where you can drop off your children and have some time alone. Carnival even has pajama party movie night, Build-a-Bear Workshop, paint a T-shirt and many other activities. Royal Caribbean's Independence of the Seas, from Ft. Lauderdale to St. Thomas, St. Maarten, Puerto Rico and Haiti is also popular, with ice skating, 'flow riding' and rock climbing.

And ultimately, many of you found that location is second to being with family, one reader even creates magical travel experiences in her own living room, flipping through the Atlas and creating an igloo with an appliance box to visit Alaska. We love this kind of adventure too.
Sign up for our FREE newsletters to get posts like this delivered to your inbox.
Top photo by Jeff Dow courtesy of Kampgrounds of America. This post originally published in May 2010.