25 Things To Do in Gulf Shores and Orange Beach, Alabama with Kids
10/30/21
- By
Melanie Preis
Gulf Shores and Orange Beach, Alabama are the perfect places to take kids on a beach vacation. Nestled along Alabama's Gulf Coast, this family destination is bursting with a ton of water activities, can't-miss attractions, and an unending amount of tasty treats. Orange Beach and Gulf Shores, Alabama have been popular for years among those from Southern states like Louisiana, Mississippi, Georgia, and Florida; however, the appeal of its white, sandy beaches and family-friendly vibes now attracts visitors from across the country.
Visiting the Gulf Shores and Orange Beach isn't like taking any other beach vacation. Besides the pristine, soft sands of the beach, visitors can also head to the back bays of the area, perfectly suited for fishing, kayaking, observing coastal wildlife, and other outdoor adventures. Kids love exploring the back bays and surrounding trails, discovering the natural habitat of this diverse ecosystem. In fact, if you really have an outdoorsy child, think about camping for a few nights in the area.
No matter what your family's interests are, we promise everyone will enjoy their trip to Orange Beach and Gulf Shores. Be sure to check out our Family Travel Guide for more fun family vacation ideas!
Things To Do in Gulf Shores and Orange Beach, Alabama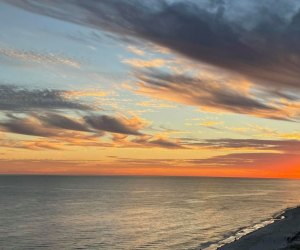 Sunsets can be stunning at Gulf Shores and Orange Beach. Photo courtesy of the OBA Community Facebook page
1. The Beach
Alabama's Gulf Coast boasts 32 miles of beautiful beaches, and Orange Beach has some of the softest, whitest sand I've ever seen. Every time we arrive here for vacation, the first thing my kids do is plop down their beach toys, bury their toes in the sand, and go hunting for the ultimate seashells. FYI, depending on when you go, the sand can be very hot, so make sure your kids have sandals to wear until they reach the water or their towels.
Forget talking like a pirate, it's time to sail like a pirate! Board the Orange Beach Pirate Ship Cruise at Terry Cove and watch your kiddos go from landlubbers to sea buccaneers. Once on board, families get to sing pirate songs, defend the ship in a battle, and hunt for treasure.
The only thing better than swimming in the ocean is floating above it. Your children can get a bird's-eye view of the Gulf of Mexico while gently floating in a parasail built for one, two, or three people (depending on combined weight).
4. Mini Golf
There are so many mini golf courses throughout this beach town that your kids may master a hole-in-one before the vacation is up. They'll especially love Pirate's Island Adventure Golf in Gulf Shores.
5. Bumper Boats
Bumper boats are a popular attraction on the Gulf Coast, and that's because they're a ton of fun—think bumper boats and water blasters combined! The Track Family Fun Parks in Gulf Shores has great bumper boats, along with a ton of other fun family activities like rides, mini golf, go-karts, and more.

Spend a rainy afternoon at one of Gulf Shores and Orange Beach's many arcades. Photo courtesy of the author
6. Arcades
The weather at Orange Beach and Gulf Shores can be temperamental, and an arcade is the perfect place to ride out an afternoon storm. There are lots of arcades to choose from in the area, including at Adventure Island, where your kids can play games and earn prizes. (We can guarantee the car ride will be pleasant when that dinky prize breaks before you even get to the parking lot.) And when the rain stops, Adventure Island also has kiddie rides, go-karts, mini golf, bumper boats, and other fun activities.
Visit The Wharf for the ultimate beach boardwalk attraction: the Ferris wheel! This gigantic ride runs afternoons through evenings and is wheelchair accessible. The Wharf has a ton of kid-friendly shops and attractions, including a movie theater, an arcade, an escape room, Build-A-Bear Workshop, Outer Limits VR game room, and more. Retailer Shades always has a few dogs welcoming shoppers, and High Cotton Bath Co. lets customers create their own soaps and shampoos. The Wharf also puts on a laser light show at night, hosts major concerts at its amphitheater, and always has special events.

Cast a line at the Gulf State Park Fishing Pier. Photo courtesy of gulfshore.com
Kids who like to fish (or want to learn) can visit the Gulf State Park Fishing Pier, featuring 725 feet of fishing space on either side of the pier. Staff are available certain hours every week, as is a bait shop to buy supplies. There are also fishing charters aboard various boats that families can pay to join.
Explore the gulf's wondrous ecosystem up close on the Hugh S. Branyon Backcountry Trail system, which runs through Orange Beach, Gulf Shores, and Gulf State Park. Fourteen miles of multi-purpose trails lead to various attractions, including a butterfly garden, Boulder Park (perfect for kids who climb), geocaching, and of course, Mother Nature herself.
Located in Foley, about 10 miles north of the beach, Tanger Outlet Mall is the perfect place to load up on children's clothing and shoes. There are more than 40 retailers, as well as a carousel, a food court, and small rides.

Together, but a state apart at the Florida-Alabama border. Photo courtesy of the author
11. Florabama
Though it won't take more than a few minutes, kids will get a thrill standing in two states at the same time! Head to the Alabama-Florida state line and, depending on how tall your child is, plant each foot in a different state.
Little artists will love visiting Coastal Arts Center of Orange Beach, with serene views of Wolf Bay. Besides the lovely art gallery, the arts center features a hot-glass blowing studio and clay studio where budding artists can sign up to create something beautiful.
The magic of Gulf Shores and Orange Beach, Alabama lies in the chance to see dolphins roaming the waters. Book a dolphin cruise to get up close and personal with these beautiful mammals and have fun aboard a family-friendly boat ride.

Make a splash at Gulf State Park Beach. Photo courtesy of Gulf State Park Beach
With more than 6,000 acres, this state park is a destination of its own! Fish at the pier, access the public beach, enjoy the free bike-sharing program on the backcountry trail (or bring your own bike), take a Segway tour, hang out at Lake Shelby, visit the Nature Center and Learning Center, examine wildlife, and even sleep under the stars at the park's campgrounds!

Are you brave enough to ride the Rolling Thunder at the Park at OWA? Photo courtesy of gulfshore.com
This amusement park, located along the Foley Expressway, features roller coasters and exciting rides for the little thrill-seekers in your family. Rides vary by age and height so there are attractions for every child, including carnival games and a haunted house.
Gulf Shores and Orange Beach Hotels
It's important to note that lots of visitors rent condos and beach homes for the convenience and comfort of a longer stay, especially when it comes to a large family or group. There are countless condos available to rent for days, weeks, even months for snowbirds; these rentals can also be perfect for younger families, who may require a fully stocked kitchen and lots of space for tumultuous toddlers.

Perdido Beach Resort is one of the biggest resorts in Orange Beach. Photo courtesy of Perdido Beach Resort
One of the largest resorts in Orange Beach, Alabama, Perdido Beach Resort features 344 guest rooms, each one with a private balcony. Besides standard resort amenities, Perdido offers marshland education and activities for children, paddleboard yoga, volleyball, splash pool movie nights, and evening outdoor music.

Enjoy gorgeous, 360-degree views at the Lodge at Gulf State Park. Photo courtesy of the Lodge at Gulf State Park
This unique lodging combines the luxury of hotel amenities with a 360-degree view of the vivacious Gulf State Park. The sustainable hotel offers easy access to hiking and biking trails, as well as birding and water activities.
SpringHill Suites is located at The Wharf, the epicenter for family activities, restaurants, attractions, and concerts. This area can get loud, but if your children prefer land activities over water sports and sand in their bathing suits, this might be the perfect accommodation for you.
Enjoy the ease of walking from your hotel straight to the beach at these two beachfront hotels: Phoenix All Suites and Phoenix All Suites West. These one-bedroom suites include fun bunk beds for kids and gorgeous balconies overlooking the Gulf of Mexico. There's also an outdoor pool, a kiddie pool, an on-site laundry room, and covered parking.
Family-Friendly Orange Beach and Gulf Shores Restaurants

The milkshakes are massive at The Yard Milkshake Bar. Photo courtesy of the author
Warning: Your child will not have a well-balanced meal at The Yard; however, they will have a sugar-fueled party enjoying these mammoth-sized milkshakes. The Yard is located in a variety of cities, but the Gulf Shores, Alabama location remains the original. We recommend The Unicorn: Cotton candy ice cream with purple marshmallow drizzle inside a marshmallow cream-dipped jar rolled in sprinkles, finished with rainbow whipped cream, cotton candy clouds, sour rainbow, and a sugar cone unicorn horn.
Fill your appetite for food and the great outdoors by dining at Woodside Restaurant, located within Gulf State Park. The Southern-style cuisine is served daily for breakfast, lunch, and dinner, either in the main dining room or the screened porch, or take your food and enjoy it somewhere quiet in the park. The restaurant's backyard features an outdoor stage for live music, as well as activities like cornhole, sidewalk chalk, Connect 4, and more. And don't forget to enjoy a s'more at one of the fire pits!

Enjoy a delicious meal without even leaving the beach at The Hangout. Photo courtesy of The Hangout
Located right on the beach, The Hangout is prime, kid-friendly dining in Gulf Shores, Alabama. Part restaurant, part music venue, part family playground, The Hangout serves great food and entertainment. While waiting for a table or food (beach favorites like burgers and seafood), the kids can head out back to the beach and play ping-pong and foosball, climb on a giant chair, dance, make a wish on the wish wall, and go crazy at the foam party (temporarily unavailable).
If you check out Lambert's Cafe's website, you'll see the address is throwedrolls.com—you've been warned. Lambert's is located near the Tanger Outlets. Besides putting out great American comfort fare like fried chicken, roast beef, meatloaf, a million tasty sides, and a Hubcap Cinnamon Roll (yep, the size of a hubcap), Lambert's throws...well, rolls. Kids love forgetting proper table etiquette and catching bread rolls soaring at them from all directions.
24. Tacky Jacks (multiple locations)
Tacky Jacks has a location in Orange Beach and two in Gulf Shores, and you're sure to enjoy the fun, casual dining atmosphere at all three. Serving breakfast, lunch, and dinner, Tacky Jacks offers omelets, seafood, burgers, and other popular fare. The main Gulf Shores location has a children's sand/play area, as well as views of the waterway and outdoor entertainment. The second Gulf Shores location near historic Fort Morgan offers waterfront dining with beautiful views of Mobile Bay. And the Orange Beach location has multiple outside decks, with a chance to see dolphins as well as on-site water sports rentals.
Besides all the great shopping and attractions, The Wharf also hosts a bunch of tasty restaurants that are great for kids. Ginny Lane has a beautiful patio overlooking the intercoastal waterway. Local Life serves up New Orleans cuisine. Villaggio Grille offers fine, classic, Italian dining. And YoHo Rum & Tacos is great for fish tacos and frozen mocktails. There are also a few ice cream and sweets shops along the way.
You can find more helpful information and ideas available at the Gulf Shores & Orange Beach Tourism office and website.
Click Here to Sign Up!
i