Guide to the Cayton Children's Museum in Santa Monica–A Parent Review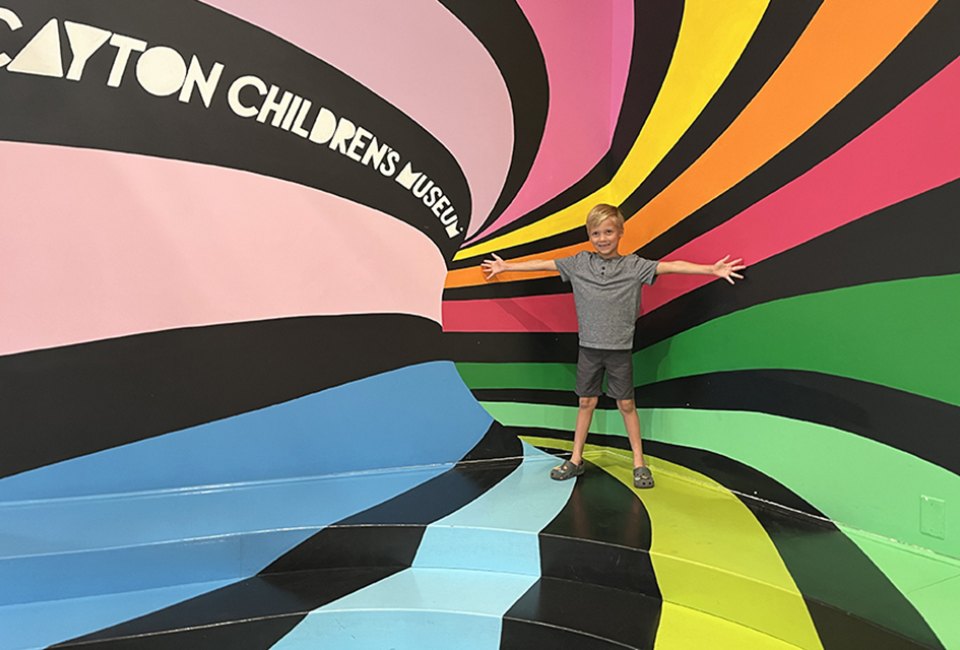 8/28/23
- By
Kylie Williams
If you haven't been to the Cayton Children's Museum in Downtown Santa Monica–or haven't visited the newly reimagined and rebuilt space since it was the beloved Zimmer–this children's museum needs to be at the top of your LA Bucket List.
The 21,000-square-foot space dedicated to discovery-based learning, arts and cultural activities, and values-based exploration is both wildly fun and incredibly educational. Plus, everything has been carefully crafted with one lofty and invaluable goal in mind: to help create a better world through the power of play.
My four children–ages 7 months to 7 years–and I recently had the opportunity to visit the beautiful one-of-a-kind nonprofit, and we were wowed by each and every exhibit we explored! Here is our exhaustive guide to everything you need to know about visiting the Cayton Children's Museum.
Kids learn about community responsibility and compassion aboard a recycled Coast Guard rescue boat.
What to Expect at the Cayton Children's Museum
The Cayton is made up of five themed wings–each filled with immersive activities and attractions focused on a variety of meaningful skills and lessons. In the "Let's Help" wing, for example, kids can slip into bunker gear and climb aboard a real fire truck to learn about the importance of helpers in their communities. In the "Reflect On" wing, children and adults are encouraged to draw or write their wishes and ideas and post them to the Wishing Wall, inspiring deep introspection. Meanwhile, in "Reach For," young visitors learn a bit about achievement and perspective when they proudly and safely scale a canopy of colorful ropes suspended from the ceiling.
In addition to these intentional play-based exhibits, the Cayton is home to a number of community spaces designed to bring people together. The Derfner Theater hosts story times, dance shows, and fundraisers, while Art Studio II invites the museum's littlest guests to get down to their diapers to paint the walls and themselves–just to name a few. There are also spaces for after school classes, workshops, museum programming, summer camp, and even birthday parties and special events.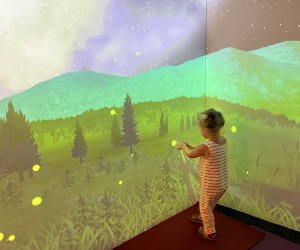 The "Reflect On" wing is a great area for sensory-sensitive visitors in need of a break.
What ages is the Cayton Children's Museum for?
The Cayton Children's Museum bills itself as being for ages 0-8 and we found that to be accurate. My older three children excitedly bounced from exhibit to exhibit–steering a Coast Guard ship through a ball pit, watching digital butterflies flutter around the mindfulness room, and working together to get an interactive ball machine rolling. While their ages impacted how they each engaged with activities, the attractions felt appropriate and accessible for all.
Also, to my (pleasant) surprise, my seven-month-old was able to get in on the fun and learning too–primarily in the Cayton's "Launch Your" wing, which is a dedicated space for babies. This completely padded, enclosed, shoe-free area is the perfect spot for a wiggly baby to crawl around. My two-year-old also loved taking a few turns down the small slide. The terrain varies, allowing new crawlers and fresh walkers to try something new in a soft safe space. It warmed my heart that the tiniest member of our crew could experience the Cayton for herself.

Birthday parties, celecrations, and field trips are all welcome at the Cayton. Photo courtesy of the museum
Does the Cayton Children's Museum offer camps and classes?
The Cayton has a really robust calendar of classes, workshops, and events!
You'll find weekly classes, including oh-so-popular Art Crawl and Paint the Walls, and drop-in activities, like storytimes and crafting projects. The Cayton also features several party spaces perfect for birthdays and celebrations, and welcomes field trips that extend classroom learning.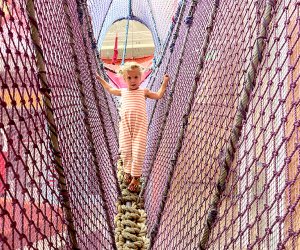 Sinking circles, rocky valleys, flexible tunnels, and lookout perches make the Courgae Climber a kid favorite.
Is the Cayton Children's Museum free?
Admission to the Cayton Children's Museum is $15 for kids and adults ages one and up–and the money goes directly back into the non-profit museum. For those experiencing financial hardship, a free year-long PLAY4ALL pass is available for qualifying families.
If your family visits frequently, you'll likely want to consider an annual membership, which starts at $240 per year. It comes with tons of worthwhile perks, like admittance to the museum without a reservation, priority access to special programs and events, expedited check in, members-only hours, and more.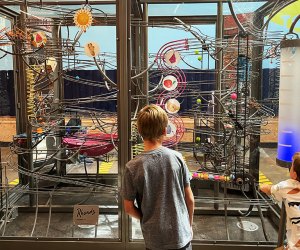 It's all about teamwork, collaborative play, and communication over in the "Together We" wing.
Is there anything else I should know before visiting the Cayton Children's Museum?
Reservations are encouraged but not required.
For safety reasons, strollers are not permitted in the exhibits– but there is a parking area for them inside. Make sure to bring a carrier along if you have a baby.
Note that kids are encouraged to walk–not run–during their visit.
There are plenty of restrooms inside the Cayton, and there is even a nursing room near the Launch Your exhibit (which definitely came in handy).
Food is not permitted inside, so make sure to leave your snacks in the car. Families can leave the museum for a meal or snack and then be readmitted.
If you don't want to carry your bags around, lockers are available for free on a first-come, first-served basis.
The museum is open weekly from Wednesday through Sunday weekly. It's closed on Mondays and Tuesdays.
Drop offs are not allowed, and the Cayton requires a one adult to five children ratio.
If you're ready to go explore–or maybe even rediscover–Cayton Children's Museum, you can plan your visit and book your tickets here!
Unless noted, photos by the author
Places featured in this article:
Sign up for the Mommy Poppins Newsletter today!
i