New Jersey's Dazzling Holiday Lights Drive-Thru and Walk-Through Christmas Light Shows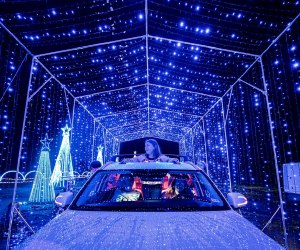 Looking for the best Christmas lights in New Jersey? Check out the stunning drive- and walk-through options we've roundup below.
Are you ready for a holiday adventure that pairs family time with some twinkle and glow? Make the most magical time of the year even more special with a visit to one of NJ's spectacular holiday light displays. At some sights, you stay toasty in your car as you drive-thru stunning displays and journey through a sparkling course. At others, you can stretch your legs as you wander past holiday lights and experience the magic up close.
Whichever you choose, pile the kids in the car with some snacks, crank up the holiday tunes, and journey out to see one of these impressive holiday light displays.
Find must-do holiday activities and more ways to be merry in our Guide to Holiday and Christmas Events for NJ Families. You can also stay up to date with all the family-friendly fun in our Family Activity Calendar.