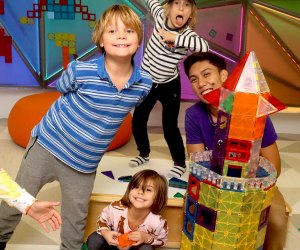 Cheap Thrills: 30+ Drop-in Play Spaces for NJ Kids That Cost $15 or Less
When it's too cold for the playground, and another playdate at home seems dull (or, to be honest, too stressful), taking your kid to a warm indoor play space is a welcome respite for the whole family.
New Jersey has no shortage of indoor playgrounds from North Jersey to South Jersey, plenty of which offer drop-in hours. Still, many of these hot spots require long-term memberships or pricey entrance fees that often run $20 to $25 per child for a single drop-in.
When you just need somewhere clean, fun, and warm for your kids to play—that's not your living room—we found more than 30 indoor gems, all for $15 per child or significantly less, and some that are absolutely free! Your kids still get out of the house to experience a play space where everything seems new to them, and you don't have to clean up after, or empty your wallet!
And don't forget your nearby shopping mall, where you'll often find low-key indoor playgrounds where kids can work out the wiggles while you shop.
Find more indoor fun spots in our local NJ guide, or try these at-home boredom busters for days when you just want to stay in. If you find yourself with a full day to fill and you're up for a little more adventure, plan a winter day trip.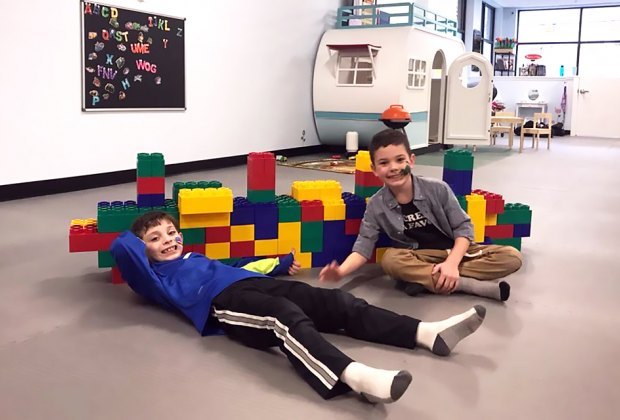 Kids 5 and under can enjoy all-day play for $15 at The Busy Bee in Millburn.
North Jersey Play Spaces for $15 or Less
The Busy Bee – Millburn
Open daily
$15 + tax per child, $12 + tax per sibling; 12 months and under $10 + tax or FREE with paid sibling
Ages 0–5
At The Busy Bee, your busy little bee can roll, jump, hop, climb, slide, and burn off the crazies every day of the week. Admission includes all-day play, so you can leave for lunch or a nap, and return in the afternoon to play some more. Monday–Thursday from 3:30–5pm, the Happy Hour (and a half) special is $12 + tax for all children.
Clown Around – Flanders
$8 per one-hour session, $12 per two-hour session; $10 Toddler Time on the first Tuesday of every month (cash or Venmo only)
Ages 0–7
This jungle-themed play zone has been a family favorite for years. Always clean and bright, Clown Around offers a soft-play baby and toddler zone as well as a three-story play structure with slides, ropes, nets, and obstacles. There is plenty of seating for parents and a snack room as well. Plus, they have free Wi-Fi.
The Connection Drop In & Play – Summit
Monday, Wednesday, and Friday from noon–1pm; Sundays 11–noon and noon–1pm
$7 per child
Ages 6 months – 5 years
The gymnastics gym opens up its tumble mats for drop-in fun every week. Ride-on cars, hula hoops, and other energy zappers are also on hand for kids to play with. If you happen to be there on an unseasonably warm winter day, check out the two outdoor playgrounds after open play. Drop-in sessions for special needs kids up to age 7 are held on Sundays once a month.
Fun Lot – Bayonne
Monday–Friday after 1pm
$9 per one-hour session; $12.99 per two-hour session; $10 per additional child (cash only)
Ages 1–9
Pretend play is a focus of this indoor spot, with areas for children to dress up as firefighters, farmers, grocers, doctors, and more. Kids can also drive a school bus and push a shopping cart through the market. Climbing structures and a ball pit add to the fun. On weekdays from 10am–1pm, early bird open play is $10 for two hours.
Genius Gems – Millburn
Open daily
$15 + tax per person, including adults; children under 2 are FREE with an older sibling
Ages 3–12
This STEM-based play space isn't typically easy on the wallet: Kids and adults must pay $15 plus tax to gain admission. Lucky for us, during the month of February, the first adult is FREE on select weekdays from 9am–2pm. If you can swing it, it's the perfect opportunity to check out this cool and magnetic location at a great discount.
Hudson Play – Jersey City
Open daily
Ages 4 and under $10 per 90-minute session weekdays; $12 on weekends and holidays
Ages 0–12
Kids will definitely get a workout hanging around at Hudson Play, which is packed with fun, featuring a five-lane obstacle course with unique climbing, hanging, and swinging structures! Younger children will have fun with the soft play area and pretend play area. The Health Bar Cafe offers smoothies, juices, and healthy foods.
Hudson's House of Play – West New York
$15 + tax per one-hour session; $13 + tax per sibling; 12 months and under $11 + tax, or FREE with paid sibling
Ages 6 months – 5 years
A sweet space for little kids, Hudson's has a lovely, custom-built open play space created to replicate a traditional downtown city square. Each "building" has appropriate costumes, furniture, and toys. There is also a separate area for ages 2 and under, and a small cafe with tea, coffee, and baked goods.
Jumpin' Jax – Paramus
Open daily
$15 per two-hour session, 12 months and under FREE with paid adult ($2)
All ages
This early-learning center and indoor playground combination facility has open play for toddlers on up to older children. Kids will have a blast with foam ball shooters, hand-pedaled cars, a rock-climbing wall, a LEGO area, and imaginary-play areas.
Jump On In — Hasbrouck Heights
Tuesday, Thursday, and weekends (hours vary)
$10 per jumper
All ages
Let your kids bounce off the walls, literally, at this inflatable fun spot. There are plenty of open-bounce hours, when kids of all ages can jump around. There are also preschool sessions for the under-4 set in case you're worried about your little ones getting trampled. Book your spot in advance.
RELATED: Stores that Offer Free and Cheap Classes for NJ Kids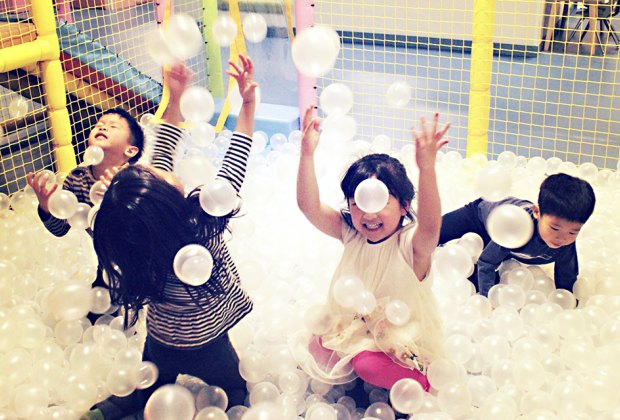 Kids 2 and up get a one-hour play session at Lily & Liam for $11.99.
Lily & Liam Kids' Indoor Playground and Cafe – Englewood
Monday–Thursday
Ages 2 and up $11.99 per one-hour session, $9.99 for ages 9–23 months (prices are $3 more for a two-hour session); 9 months and under one hour FREE with adult food or beverage purchase
Ages 6 months – 12 years
Kids 12 and under can climb, build, pretend, and explore at this sweet indoor playground. Attractions include a climbing maze, bubble ball pit, soft play for toddlers, a "sand" pit, pretend-play area, and more.
KIDnetic – Montville
Open daily
$15 per child for unlimited play
6 months–7 years
KIDnetic features a three-level play structure, a rock climbing wall, and mats of all different shapes and sizes. Kids can jump around in the ball room, visit the alligator pit, and climb over bridges and under tunnels. The rock wall is specially designed for children under 10 and offers a great introduction to climbing.
My Play Center – Maplewood
Tuesday and Friday from 9am–noon
$5
Ages 0–5
This toddler- and preschooler-focused drop-in playroom at the Maplewood Jewish Center is equipped with toys, puzzles, blocks, books, and more to keep little ones busy. It's the perfect quiet spot to spend a rainy or chilly weekday morning. There's plenty of room to park your stroller, so you can just wheel your tuckered-out tot home for naptime. Coffee and cold beverages are available for purchase, or bring your own to stash in the refrigerator on premises. While the kids play, get comfy on the couch and take advantage of the free Wi-Fi.
RELATED: Free Indoor Play Spots for New Jersey Kids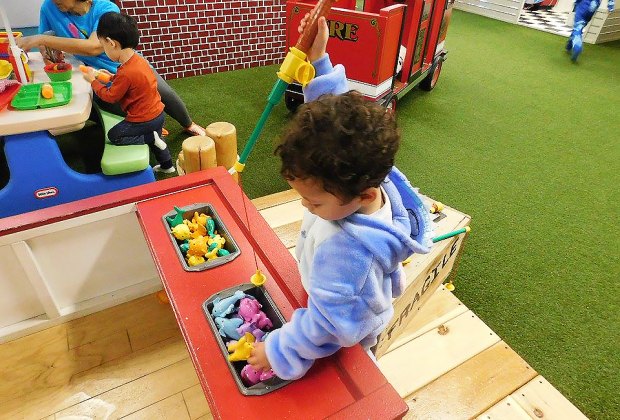 Kids 10 and under can play all day for $15 at Tagalongs Play Place in Lake Hopatcong.
Tagalongs Play Place – Lake Hopatcong
Open play daily
$15 for all-day play; $10 for siblings
Ages 6 months – 10 years
Get your sillies out at an open gym session at Tagalongs. Little ones are free to climb, run, jump, and explore the equipment, toys, and games in a safe, clean space all day long. It's half-price to play ($7.50 per child) Monday–Friday from 4pm to close.
Tay + Te Imaginative Play – Northvale
Open play daily
$15 for one hour; $12 per sibling; 12 months and under $10 or FREE with paid sibling
From the organic grocery store to the animal hospital, pizza parlor to the full-service repair and gas station, the vignettes that make up this super clean, creative, and modern kid-envisioned municipality are engaging, enriched, and packed with fun. There's a coffee bar on site serving Intelligentsia coffee—score!—as well as snacks and drinks for the squirts after they've worked up their appetites.
Ticklez Indoor Play Center – Budd Lake
Monday–Friday before noon (excluding holidays)
$12.95 + tax per child; $10.95 + tax after 3pm
Ages 6 months – 10 years
Pop in weekday mornings to enjoy a special open play rate at Ticklez. The large, open space includes a 16-foot-tall play structure with spiral slides, obstacle courses, and tunnels; a pretend-play diner, house, and supermarket; a gated toddler play area; and more. Bring your pre-registered mom group for a discounted rate of $12.95 + tax per child.
The Village Play Cafe – Chatham
Open daily
Ages 1–5 $15 + tax; $10 per sibling over age 1; siblings under age 1 FREE; 12 months and under $10 + tax
Ages 0–6
This spot—combining a gourmet coffee bar and kids' play space—is well named. Parents can sit back and enjoy a cup of joe while the little ones play close on the small climbing structures, ride-ons, and padded play areas. There's also an infant area, a castle, a book nook, and more.
We Rock the Spectrum – Mt. Laurel
Open play daily
$12 for first child; $10 for siblings
All ages
This play gym is designed for kids of all needs and abilities, with a special focus on catering to special-needs kids. There is suspended equipment for balance and vestibular treatment, crash mats and crash pillows, a zip line, a trampoline, an indoor play structure, sensory-based toys, and a fine motor and arts and crafts area.
Central Jersey Play Spaces for $15 or Less
All About Fun – Matawan
Monday–Friday (except Thursday) 10am-3pm
$10 per child
Ages 3–8
Each "imagination room" at this indoor playground offers a new and exciting adventure. In the Rock n Roll Room, kids can rock out on drums, guitars, and piano mats. The Dazzling Diva Room is filled with dresses, hats, and jewelry. Other play areas include a carnival, general store, vet's office, and Superhero Alley. Complimentary coffee, tea, and WiFi are available for caregivers.
RELATED: Play Spaces with Drop-In Hours for Central New Jersey Kids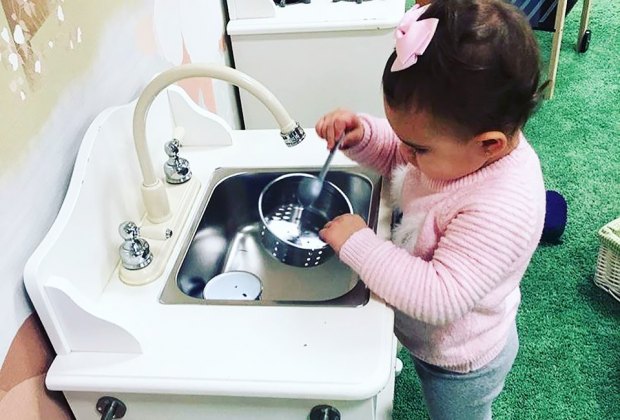 Play sessions are $15 per child at Coco Beans Play Cafe in Tinton Falls.
Coco Beans Play Cafe – Tinton Falls
Open play Monday–Friday 9am–6pm; Saturday 9–11am; Sunday 10am-6pm
$15 per play session; $8 for siblings; babies 6–12 months are $10
Ages 0–5
Kids can slide down the pirate ship, race through a massive multilevel climber, or curl up in the reading "nook" at this socks-only play space. There's also a play kitchen and garden, train table, and soft tumbling mats, plus plenty of blocks and books strewn across the soft green carpet. A dedicated toddler area keeps crawlers and tots safe. Feel free to bring your own lunch, or purchase healthy snacks at the cafe. They even have a bottle warmer, because they think of everything. Turn Friday into Fri-YAY with Happy Hours from 3–6pm, when admission is only $10 per child and coffee and teas are just $1.
Fort Monmouth Recreation Area – Tinton Falls
Open play offered daily
$5 per child or $40 for 10 visits (cash or check only)
All ages
This 21,000-square-foot rec center offers plenty of open-play hours every day. Activity rooms filled with toys and arts & crafts materials, plus table games, basketball courts, and a full gymnasium await kids of all ages. On days when school's closed (for example, that long week between Christmas and New Year's Day), drop in for science exploration stations, take-home crafts, and building-block challenges to cure your kids' cabin fever.
RELATED: 40+ Indoor Play Spaces for Kids in North Jersey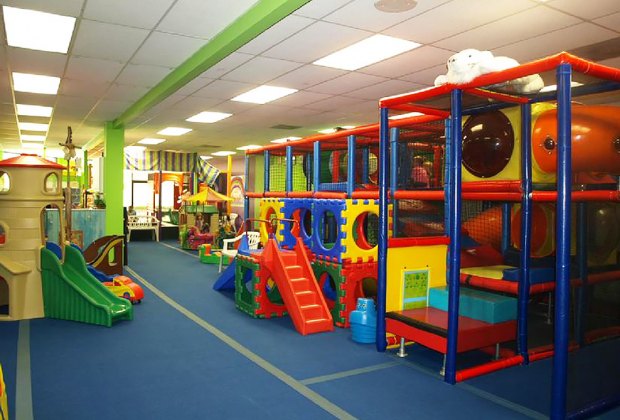 Admission for kids ages 1-5 is just $10 at Jellybean Jungle in Marlton.
Jellybean Jungle – Marlton
Open play daily Monday–Saturday except Tuesday
$10 + tax for ages 1–5; Babies 8–11-months old $5 + tax; 7 months and under FREE
Ages 0–5
A fun and safe option for little ones in a bright, stimulating environment, Jellybean Jungle is home to a variety of imaginative activity centers. Little ones will love the ball pit room, the climbing maze, the jungle theater, and the ocean center with a pirate ship. There's even a carnival center with a carousel.
Lil Giggles Play Cafe – Englishtown
Open daily
$15 per child; $12 additional sibling
All ages
There's no shortage of pretend play options at Lil Giggles, including a play kitchen, dress-up area, and train table. A cozy reading nook offers tots a quiet place to read, or they can get messy in the art studio with finger painting. Older kids tagging along will find a basketball game, foosball table, and musical instruments to tinker with. While the little ones play and explore, parents can enjoy a cup of coffee and a snack in the cafe. Come play between 9–11am Monday through Friday and only pay $10 per child, plus you can stay the whole day!
Kidz Village – Kenilworth & Woodbridge
Open play daily
Ages 2 and up $12.99, $10.99 for kids under 2 (prices are $2 more on weekends and holidays); Infants are FREE
All ages
This play town offers lots of themed rooms to explore, including a grocery store, hair salon, diner, and a construction zone. There's also a play maze and a few arcade games. Note that this play center can get very crowded during weekends, so you may want to consider visiting during off-peak times – and take advantage of the cheaper prices.
Magic Sky Play – Morganville
Open play daily; visit website for updated schedule
$15 for first child; $10 for sibling; $5 for additional siblings; Babies under 12 months are FREE with paid sibling
Ages 0–8
Magic Sky is a Mommy Poppins Bestie Awards Winner, for good reason. Its bright, open layout and creative activities are perfectly suited to a young child's imagination. There are eight large play structures, including a huge tree house with a twisting slide, climbing cargo net, and lookout points. A "sandbox" filled with plastic pellets lets tiny construction workers dig in. There's even a separate toddler area with its own mini-gym. Eat lunch in the lounge area and enjoy the free Wi-Fi.
My Little Adventures – Mt. Laurel
Monday–Saturday
$10 per child, $5 for siblings and crawlers
Ages 0–5
Popular for its parent & child classes, this learn-and-play cafe also offers slides, mats, crawl spaces, and more. During "pop-n-play" time, staff members pop in and organize kids in fun, short activities. The cafe serves snacks, sandwiches, and salads for when you've worked up an appetite. The best part? Pay once and play all day!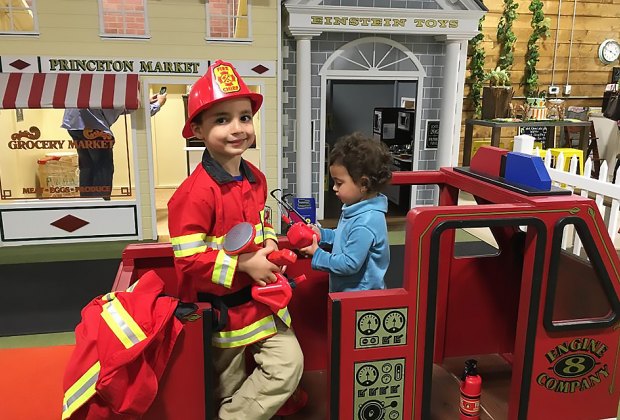 Admission is $15 per child at Princeton Playspace.

Princeton Playspace – Princeton
Open play Monday–Friday 9am–5:30pm; Saturday 9–11:30am
$15 for first child, $10 for siblings; Infants 12 months and under are FREE when accompanied by an older sibling
All ages
This 5,000-square-foot indoor play space has tons of activities for little ones, including a train table, the "Mini Princeton" pretend town, a toddler area, construction building site, and jungle gym. Caregivers can enjoy free Wi-Fi, magazines, and a microwave to reheat your own refreshments at the cafe that's adjacent to the play area.
The Jumping Jungle – East Brunswick
Thursday–Sunday; visit website for updated schedule
$10 per child for 75-minute jump session; $12 per child for two-hour jump session
All ages
With eight fun inflatables, slides, and laser tag, kids won't get bored at this indoor play facility. Little ones will also love the toddler area, and everyone can hang out at the arcade, which has a hurricane simulator. Parents can relax and grab a snack in the adjacent viewing center.
Tod Squad – Branchburg
Tuesday–Wednesday 9–11am and 2–4pm; Friday 9–11am
$10 per child; 6-pack for $45
Ages 1–4
The Branchburg Sports Complex is bursting with tons of fun stuff for kids to do. Drop-in Tod Squad sessions are especially for little ones to play, climb, bounce, and explore in a safe environment. You'll find a bounce house, soft play equipment, a PlayMaze with slides, tunnels and bridges, sports balls, and more.
South Jersey Play Spaces for $15 or Less
Brigantine Community Center – Brigantine
Open play Monday–Friday 10am–2pm
$2 suggested donation per child
Ages 0-5
Tucked away in the Brigantine Community Center is an indoor playroom for kids under 5 with slides, a ball pit, toys, books, and more.
Moozie's Play Cafe – Turnersville
$15 per child, $10 for first sibling; $5 for any additional siblings
Ages 10 months – 10 years
A collection of always-evolving play pods make the popular open play sessions at Moozie's safe for babies as young as 10 months and challenging for kids up to 10. There's a distinct emphasis on learning here, but they'll be having too much fun prodding thought-provoking, age-appropriate toys to notice the sly smile spread across your face.
Kiddie Korner – Egg Harbor Township
Monday–Friday Noon–6pm
$7 per child
All ages
While this center offers preschool and wrap-around classes, weekday open gym offers a ball pit, slides, tunnels, swings, and other gym equipment make it a great place to spend the afternoon when it's too cold or hot to play outside.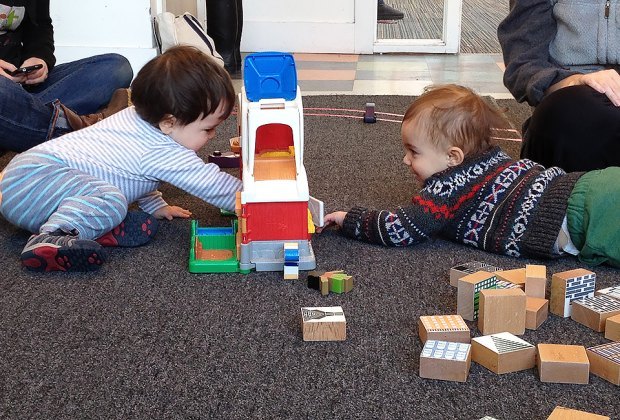 Kids ages 3 and under can drop in for creative play and storytime at the Philly Art Center for just $5.
Philly Art Center Creative Playgroup — Cherry Hill
Fridays 10:30–11:45am
$5 per child
Ages 0–3
This bright, airy space offers a fun and creative environment for babies through preschoolers (and their caretakers) to play and socialize. Weekly themes and art projects are inspired by the book of the week. Come in and get settled for storytime at 11am. Plenty of art and sensory activities are on hand for tiny tots and toddlers to enjoy before and after the reading.
Looking to socialize with your neighbors while your kids play? Search Meetup for a local family group where for a small yearly membership fee you can partake in invite-only playgroups and special events right in your own backyard.
Unless noted, photos courtesy of the play spaces
This article was originally published in December 2017 and has been updated since.