100 Things To Do on Long Island With Kids Before They Grow Up
7/25/21
- By
James Smith
We are fortunate in so many ways to live on Long Island. In what other region of the country can you pack your kids up for a morning train ride to Manhattan, then whisk them off later to one of the Hamptons' most desirable beaches?
From Nassau County to Suffolk and all the way to the East End, Long Island has creative play spaces, wonderful children's museums, farm fun, great parks and playgrounds, over-the-top seasonal celebrations, and even amusement and water park fun. And that's just the beginning.
How do you pick 100 activities every family on Long Island must experience? Well, it's not scientific. We have no algorithms to determine them for us. Instead, we rely on you, our Mommy Poppins' Long Island enthusiasts, for ideas, as well as our parent-strong team of local writers. Without further delay, our childhood bucket list for Long Island kids.
Sign up for our FREE newsletters to get posts like this delivered to your inbox.
1. Take a Dip
Long Island has more than 120 miles of coastline. Spend the summer beach-hopping the region's best beaches and find a new favorite.
2. Explore the Friendly Skies
Discover Long Island's aviation heritage at the Cradle of Aviation.
3. Visit Another Museum
While visiting Nassau County's Museum Row, sample the Long Island Children's Museum and take safety lessons at the Firefighters Museum.
4. Indulge in Strawberry Season
Visit the Mattituck Strawberry Festival, where the shortcake is always homemade, or pick your own strawberries at these local farms. The Historical Society of the Massapequas traditionally sponsors a strawberry festival on Father's Day weekend as well.
5. Take Flight at Jones Beach
Challenge yourself (if you dare) on the zip line and adventure courses at WildPlay, which opened at the state park in 2019.
6. Celebrate Walt Whitman
The legendary poet, and Long Island native, is memorialized at the state historic site in Huntington Station. Kids can tour the grounds (recently reopened), visit the Interpretive Center, and take a deep dive into the life of this literary icon.
7. Pitch a Tent
Experience outer-beach camping on the Fire Island National Seashore or at one of the region's many campgrounds.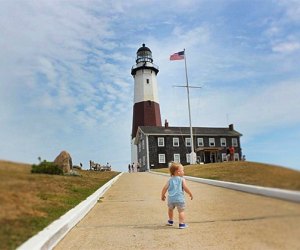 Lighthouses shine a beacon on Long Island's history.
8. Explore a Lighthouse
Long Island has more than 20 lighthouses. Four of them are open to the public, including Fire Island Light, the tallest in the region.
9. Visit the Aquarium
Have an encounter with a penguin or watch the sea lions perform at the Long Island Aquarium.
10. Pose With the Big Duck
Sure it's kitschy, but the Big Duck happens to be one of the finest examples of roadside art in the nation. Snap a family selfie for the next holiday card.
11. Catch a Concert
End your visit to Jones Beach with a kid-friendly performance at Northwell Health theater. It's a limited series for 2021, with more shows promised for 2022.
12. Visit a Neighboring State Park
Jones Beach may be more well-known, but why not explore its neighbors to the east, Robert Moses and Captree state parks?
13. Calling All Young Inventors ...
Celebrate ingenuity at LI's largest maker camp in Port Jefferson. In-person camps are held each summer.
14. Dig Into a Plate of Barbecue
Show your neighborhood spirit at one of Long Island's community barbecues, some of which are coming back in summer 2021. The Cutchogue Fire Department barbecue is the crown jewel.
15. See the Horse Show
Have a kid who loves horses? Thrill to the world's best equestrians at the Hamptons Classic horse show.
16. Wander the Boardwalk
Grab an ice cream cone or some cotton candy and take a stroll along one of Long Island's classic boardwalks.
17. Visit Nassau Coliseum
The recently reopened venue hosts family-friendly entertainment like shows and circuses.
18. Take a Twirl
One last thing before you leave Museum Row: Don't forget Nunley's Carousel.
19. Or a Spin
There are several other carousels dotted across the Island, including at Mitchell Park in Greenport.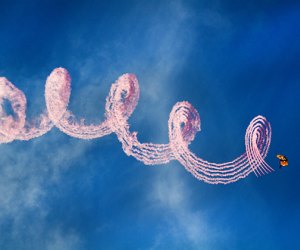 Watch the Golden Knights U.S. Army Parachute Team at the Bethpage Air Show. Photo by Greg Heartsfield/CC BY 2.0
20. Peep the Air Show
Thrill to aviation daredevils at the Bethpage Air Show at Jones Beach.
21. Drink Some Wine
Need some adult unwinding time? Visit these family-friendly wineries on the East End, where kids can play among the vines while you enjoy a merlot.
22. Or Some Beer
If you're more of a beer person, Greenport Harbor, Blue Point, Great South Bay, and other craft breweries welcome kids accompanied by adults to their expansive grounds.
23. Grab a Sweet Confection
If that doesn't satisfy your sweet tooth, check out these LI candy stores for throwback and new treats.
24. Enjoy Wet-n-Wild Fun
Finally dare to hit the big slides at Splish Splash water park or the spinning coaster at Adventureland amusement park.
25. Go for a Wild Ride
But those aren't the only amusement parks on Ll. Here are a few others to sample.
26. Learn About the Environment
Nature-loving children will love the Seatuck Environmental Association's series of outdoor classrooms, where kids can play and learn.
27. Celebrate Pride
Celebrate diversity at LI Pride Weekend at Eisenhower Park's Harry Chapin Lakeside Theatre.
28. Get Creative
Channel your child's inner Picasso at these instructional classes designed to inspire.
29. Explore a WWII Outpost
Young history buffs love Camp Hero State Park in Montauk. It's a coastal defense facility that during World War II was disguised as, guess what, a fishing village.
30. All-Aboard!
Little conductor in the house? Join Long Island Live Steamers for a steam-train ride around Southaven County Park.
31. Ride a Bike
Learn to ride, and then master a few cycling trails that abound on LI for pedal-urgists.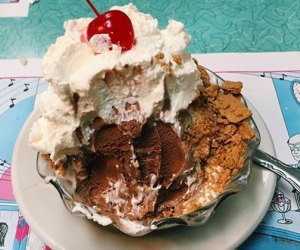 Dig into an over-the-top sundae at Krisch's Restaurant & Ice Cream Parlour. Photo courtesy of the parlour.
32. Scream for Ice Cream
Order a sundae to share at one of LI's vintage ice cream parlors.
33. Hit the Trails
Let's just say we can go stride for stride with the best family trails anywhere.
34. And More Domestic Animals
But the Holtsville Park Ecology and Wildlife Center is home to "Holtsville Hal," our very own weather-predicting groundhog.
35. Go Seal Spotting
If you prefer to glimpse your animals in the wild, why not take a seal hike along Long Island's coastal beaches. Hikes are held regularly on Fire Island, in the Hamptons, and Montauk.
36. Run Through the Sprinklers
Get totally soaked at one of LI's sprinkler parks.
37. See the Stars
Gaze at the stars at the Vanderbilt Planetarium in Huntington Town.
38. Visit Central Park
Eisenhower Park is rightly known as the "Central Park of Nassau County." Check out its three playgrounds, including one that is customized for handicapped children, sprinkler park, theater, and more.
​39. Take in the View
Climb Jayne's Hill in Huntington Town, Long Island's highest point. Look to the south and see Great South Bay 12 miles in the distance.
40. Swing for the Fences
Sharpen your hitting eye at one of these batting cages perfect for any wannabe Met or Yankee.
41. See Stars-in-the-Making
Then, enjoy top-level amateur baseball on the East End. Hamptons Collegiate Baseball plays games on both forks.
42. Root, Root, Root for the Home Team
Speaking of baseball, attend a Long Island Ducks game in Central Islip.
43. Tour the Long Island "White House"
Visit President Theodore Roosevelt's home, Sagamore Hill. A phased reopening is underway with trails, beach areas, and park grounds open as of July 2021.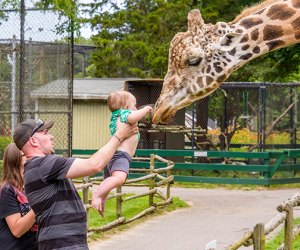 Get up close to the friendly giraffe at the Long Island Game Farm. Photo courtesy of the game farm.
44. See Exotic Creatures
Meet the bison, lemurs, and kangaroos at the Long Island Game Farm.
45. Watch the Marathon
Cheer on the runners at the Long Island Marathon in April. The Hamptons hosts its own marathon in September.
46. Scare up Some Fun
Come autumn, enjoy a "haunted house" tour. How scary it is up to you.
47. Enjoy a Fall Festival
In fact, Long Island is ripe with fall festivals. Here are a few we recommend to truly revel in the season.
48. Pluck a Perfect Apple
Apple picking is a prime autumn activity. Here are our picks for the best places to pick your own.
49. See the Islanders
October is the start of the hockey season, and the hometown New York Islanders move into their state-of-the-art arena in 2021.
50. See a Christmas Carol
It's the best of times: Celebrate the great Charles Dickens in Port Jefferson with dramatic readings, gingerbread house contests, and, of course, period costumes. Details are still being worked out for its 2021 return.
51. Find the Perfect Pine
Cut your own holiday tree at one of our favorite LI tree farms.
52. Spot Spectacular Displays
If it's Christmas, it must be holiday lights. Here are some of our favorite displays.
53. Roller Skate
LI has several roller skating rinks, including in Seaford.
54. Enter a Fishing Competition
Test your skills with the rod and reel at one of several kids' fishing tournaments.
55. Study Marine Ecology
While we are on the subject of fish, kids can play marine biologist for a day at one of these aquatic facilities.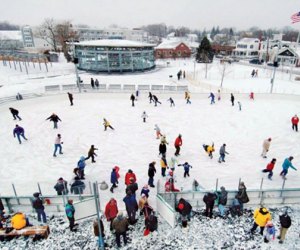 For a memorable day, hit the ice at a seasonal rink.
56. Hit the Ice
Take a spin on the ice at one of these pop-up rinks.
57. Go on a Hot Chocolate Crawl
When you've put your skates away, sample a hot chocolate from one of these original local vendors.
58. Slip and Slide
We couldn't overlook sledding, could we? Brave the outdoors at our favorite Long Island sledding destinations.
59. Explore a Preserve
For a more tranquil outdoors experience, visit one of LI's 50-plus nature preserves. Here's just a sample.
60. Learn About LI's First Inhabitants
Celebrate the cultural diversity of LI's indigenous peoples at the annual Shinnecock Powwow once it returns post-pandemic. 2021's event has been canceled.
61. See Classic Cars
Introduce your kids to muscle cars and more at cruise nights in Oyster Bay town from Memorial Day to Labor Day.
62. See the Sailors
Here's an unheralded North Fork experience. Each Wednesday night in the summer, sailors gather for a friendly race around Robins Island. Pack a picnic basket and watch.
63. Or an Old-Time Ballgame
Return to a simpler time when the national pastime was played without gloves. That's "Old Time Base Ball" at Old Bethpage Village Restoration.
64. Explore More at Old Bethpage
When the game is over, kids can learn about 19th-century life, sustainable farming, and more at Old Bethpage, Nassau County's popular living history museum.
65. Learn and Play at the Long Island Science Center
While on the subject of museums, the Long Island Science Center is worth a visit.
66. See More Culture Spots
Explore as many of the 100-plus museums on Long Island, not just those aimed at kids. Here are just a few.
67. Sail Away to Fire Island
Fire Island is a world unto itself. The most family-friendly community is Ocean Beach, but why not explore the entirety of the barrier island?
68. Escape to Shelter Island
Shelter Island is much quieter and is accessible from both the North and South Forks via ferry. In fact, for an inexpensive East End afternoon, hop on the ferry with your bike and ride from one end of Shelter Island to the other. You can cross from Greenport to Sag Harbor in about 90 minutes.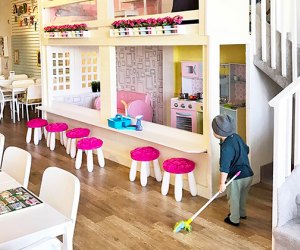 Get a dose of cuteness with your coffee at Little Bites cafe. Photo courtesy of the cafe.
69. Refuel at a Play Cafe
Relax with a cup of joe while your tot explores one of a handful of great play cafes around Long Island.
70. Shiver Me Timbers!
If you're visiting Fire Island in the summer, head over to Kismet and take in the Fire Island Pirate Fest.
71. Make the Shore a Jumping-Off Point
Explore Orient Point. From there, take the ferry to New London for a day. If you're more adventurous, connect in Connecticut for ferries to Block Island. Or walk a block to the New London Amtrak station and hop aboard the train to Boston.
72. Enjoy a FREE Lunch
Pack in the FREE restaurant meals while the kids are still underage.
73. See the Cherry Blossoms
Stony Brook University's Sakura Matsuri festival celebrates Japanese culture and the arrival of cherry blossoms on Long Island.
74. Embark on an Egg Hunt
Where can you find a better Easter egg or seasonal scavenger hunt? Here are some of our favorites.
75. Explore the Nautical Mile
Freeport's renaissance continues. Take the kids to one of its outdoor festivals, walk the Nautical Mile, and enjoy some fresh seafood.
76. Enjoy a Day at the Races
You might not think so, but Belmont Park is technically in Nassau County. Watch the majestic thoroughbred racehorses compete.
77. Go for a Paddle
Rent a canoe and enjoy a relaxing day of paddling on one of LI's state park waterways.
78. Dive-in the Local Pool
Take a dip at one of Long Island's year-round public pools.
79. Enjoy a Floating Party
Pack your gear and experience deep-sea (well, not so deep) fishing on one of LI's party boats.
80. Sit on the Dock of the Bay
Pass some time sitting on the dock of the bay at one LI's public marinas.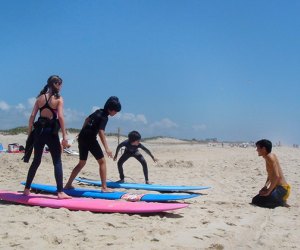 Learn to surf at Montauk's SurfLuca or elsewhere. Photo courtesy of the school.
81. Catch a Wave
LI surf schools can teach your kids to ride the waves. Here are some of our favorites.
82. Head to Connecticut
Ride the ferry to Bridgeport, Connecticut for an action-packed day of exploring.
83. Go Deep Sea Diving
Looking for a graduation gift? Introduce your teen to diving at one of several Long Island diving schools. Some even offer scuba parties.
84. Come Face to Face With Sharks
For a fee (and it's not cheap), the Long Island Aquarium will let your family (12 and older) have an underwater encounter with its sharks, in a protective cage, of course.
85. Visit the Racetrack
What kid would not get excited over school-bus demolition derby? That's one of the featured attractions at Riverhead Raceway.
86. Visit Cold Spring Harbor
Cold Spring Harbor is always worth a day trip. Enjoy the Cold Spring Harbor Fish Hatchery, the DNA Learning Center, and more.
87. Learn About Whales
Cold Spring Harbor also hosts one of Suffolk County's two whaling museums. The other is in Sag Harbor.
88. Deep Dive into American History
Explore Revolutionary War history at the William Floyd Estate, former home of one of the signers of the Declaration of Independence.
89. Watch the Fireworks Fly
Speaking of Independence Day, Fourth of July fireworks shows start early on Long Island. That's not a surprise since LI is the home of the famous Grucci fireworks family.
90. Play Putt-Putt
Try your hand at a different kind of miniature golf at Glowgolf at Roosevelt Field Mall.
91. Hit the Greens
Have a kid who's bored with mini golf but not quite ready for the big course? Experiment on one of LI's shorter, par-3 courses.
92. Celebrate St. Patrick's Day
Long Island's St. Patrick's Day parades should be returning for 2022. Enjoy bagpipers, step dancers, and more at parades from Manhasset to Montauk. Huntington is the largest.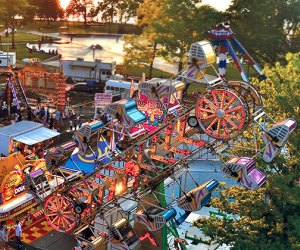 Enjoy food, rides, and games at LI's many summer carnivals. Photo courtesy of Dreamlands.
93. Join the Carnival
For a little while anyway ... Carnival season usually begins in May and continues through the summer.
94. Jam at Great South Bay
Speaking of music, enjoy a host of headliners at the Great South Bay Music Festival in Patchogue, where rock, jazz, and funk mix with a host of kids' acts.
95. Follow the Food Trucks
Foodies in the family? Enjoy food and fun at Long Island's Famous Food Truck Festival in Southampton.
96. Fuel Your Need for Speed
Race each other at one of several Long Island go-kart courses, where kids can be in the driver's seat.
97. Hit the Bounce House
Bounce yourselves silly at local bounce houses, and LI has plenty of them—in Nassau and Suffolk.
98. Celebrate Italian Culture
Food, carnival rides, and children's entertainment are on tap at Glen Cove's Feast of St. Rocco. Don't miss the traditional procession of the statue of the patron saint.
99. Picnic at the Mushroom
Stake a claim to your favorite "mushroom"—what LIers call those oddly shaped picnic tables at Lido Beach Town Park—and have your own beach get-together.
100. Set Fido Free
Let your furry friends run free at one of Long Island's dozens of dog parks.
A version of this article first published in 2012. It was updated in July 2021.
Top photo: Climb aboard the submarine at the Orient Beach State Park playground.