Spectacular Neighborhood Holiday Lights and Christmas Lights on Long Island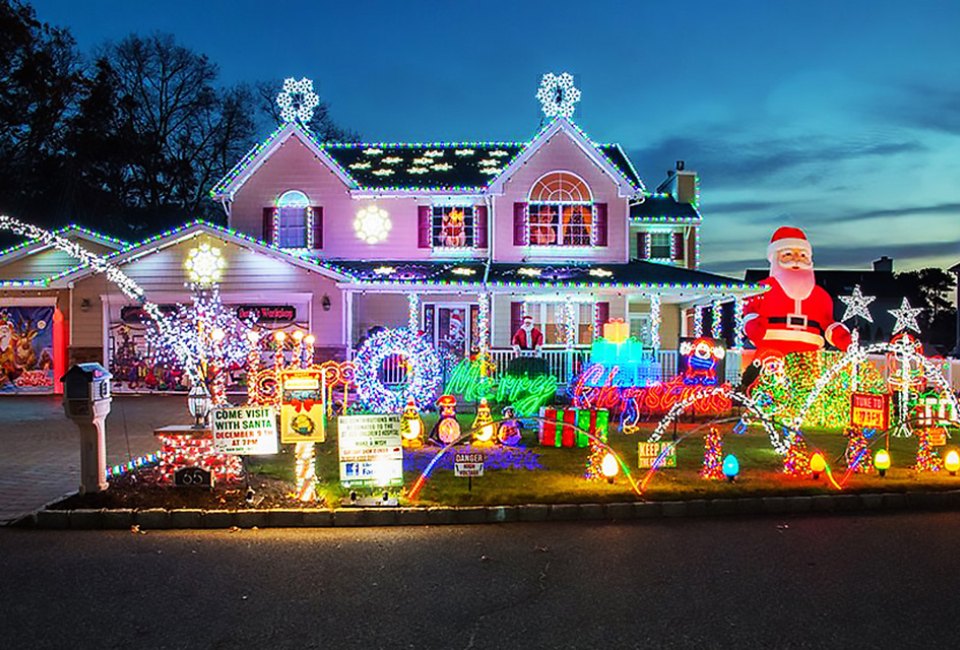 12/9/22
- By
Ian Stark
Christmas lights aren't something Long Island holds back on. From almost the moment the Thanksgiving turkey is put away, Long Islanders begin the pivot from autumn's oranges and yellows to the reds, greens, blues, and silvers that symbolize the holidays.
Wherever you are on Long Island—from Port Washington to Port Jefferson—you'll find neighbors who go all out to show off their holiday decorations, including Christmas lights, nativity scenes, Santas, reindeer, misfit toys, and other beloved seasonal symbols.
So, pack some snacks and hit the road to catch these spectacular Christmas light displays. We've got plenty more seasonal fun for you to check out in our Holiday Guide, including some over-the-top professional drive-thru holiday light displays.
As always, sign up for our FREE newsletters to get posts like this delivered to your inbox.
Most homes turn on their holiday lights each evening from about 5 to 11pm through New Year's Eve. Some owners even host special events or Santa evenings. As we remind you every year, these are all private homes. While owners expect sightseers, don't touch any displays or enter private property. Also, keep it down: Almost all of these homes are located on residential streets. Some homes collect money for charity, so chip in a few dollars if you can.
Be advised that while these houses traditionally have done elaborate holiday light displays, some may have decided not to participate this year.
Christmas Light Displays in Nassau County
309 Philadelphia Avenue
The Scarpias family begins planning its elaborate display in July. Lights are turned on annually on November 1 and remain lit through New Year's Day. New adornments are presented each year, but a popular one remains the fully lit, larger-than-life teddy bear sitting on the front lawn.
18 Munson Avenue
A battalion of toy soldiers welcomes visitors to this house, located between the Southern State Parkway and Hempstead Turnpike. Also enjoy the giant, illuminated candy canes, Santas, and Frosty the Snowman.
113 Wood Street
Lights remain on until 11:30pm at this central Nassau destination where the owners use their property's natural landscaping to great effect. Fully lit reindeer, candy canes, and a Santa delight visitors, but the nativity scene is not to be missed. The home is located just north of Sunrise Highway.
28 Serpentine Lane
Lights remain on until after New Year's Day at this home. The owners say they add a new wrinkle each year to keep things fresh.
RELATED: Holiday Light Shows: Drive-Thru and Drive-by Christmas Displays on Long Island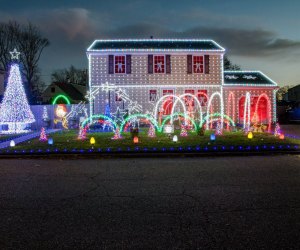 Listen to Christmas music while watching the dancing light show at the Elwood Road Lights Show.
Christmas Light Displays in Suffolk County
14 Elwood Road
More than 10,000 glittering lights adorn this home that sits off Nicolls Road in central Suffolk. Visitors can sit in their cars and listen to holiday music from 107.3 FM. More lights and special effects are promised for this year.
10 Oakland Lane
If you are out shopping for a tree, make a stop in East Quogue to view one of the East End's best displays, with lighted Santas, snow scenes, and more.
65 Elm Avenue
Spectacular lights flicker and gleam in this radiant display set to music.
RELATED: Where to Take Santa Pictures on Long Island in 2022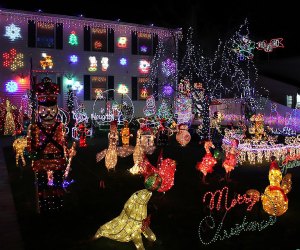 Fifth Street in Ronkonkoma is aglow with Christmas lights during the holidays.
8A Fifth Street
Unique to this display is the Star of Bethlehem, which sits atop a utility pole outside the home. The star casts a wide eye over a display that includes glittering snowmen, lighted trees, Santa, seasonal characters, and plenty more. Kids can write a letter to Santa and leave it in his North Pole mailbox. Charitable donations are accepted. The home is situated just off the LIE at Exit 60.
3 Malibu Lane
Be prepared to be amazed by the dozens of candy canes along the front fence at this home, which is also synchronized to holiday music. Delight in the inflatable Santas, Mr. Grinch, reindeer, and more.
1 Robins Circle
Toy soldiers and lighted candles adorn this property in Riverhead. There's also a giant inflatable Snoopy Santa, an inflatable Frosty the Snowman, elves, and other seasonal characters. Robins Circle is located south of the Long Island Expressway at Exit 72, near Splish Splash.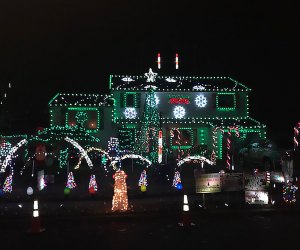 The King Avenue Dancing Christmas Lights in Selden will delight. Photo by James Stephen Smith
52 King Avenue
A seasonal music simulcast makes this dancing light show a special holiday treat. The light show is generated by a software program that allows the lights to be twinkly, shimmery, or steady. See shooting stars, giant candy canes, Santa, and more. The house is east of Nicolls Road in Selden.
40 Pace Drive S.
Delight in one of the South Shore's most illuminated and longest-running light displays. The homeowners have been decorating their house every year since 1987, raising thousands for the Long Island chapter of the Make-A-Wish Foundation.
Wichard Boulevard
Teenager Joseph Barragato and his family welcome you to this holiday display that raises money for St. Jude Children's Hospital. More than 75,000 lights adorn the property, which is just east of Sunken Meadow State Parkway.
More Ways to See Holiday Lights on Long Island
If you don't want to brave the Long Island Expressway traffic, why not make a day of it at one of these commercial holiday light installations?
Unless noted, photos are courtesy of the families/houses.
This article was first published in December 2012 and has been updated for 2022.