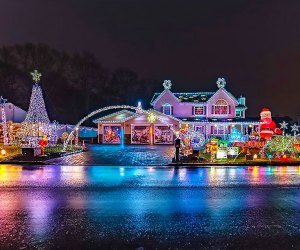 Long Island Homes with Spectacular Christmas Light Displays for 2019
Long Islanders don't hold back during the holiday season. If you dared to venture to Roosevelt Field, Smith Haven Mall, or Tanger Outlets over Thanksgiving weekend, you know what we mean.
But where the name Black Friday might imply an absence of color, the weeks leading up to Christmas and Hanukkah offer a kaleidoscope of holiday pageantry. Even now, homeowners are transforming their residences from the oranges and yellows of autumn to the reds, greens, blues, and silvers that symbolize the holidays.
Wherever you are on Long Island—from Port Washington to Port Jefferson—you'll find neighbors going all out to show off their holiday decorating skills. These nifty displays include lights, nativity scenes, Santas, reindeer, misfit toys, and other beloved seasonal symbols.
We've researched Nassau, Suffolk, and the East End to see what's shining on local lawns, and we're documenting for you our favorites for 2019. So why not get the family going, put the snacks in a sack, and be ready for some holiday entertainment. Some of these destinations even offer seasonal tunes to get you and yours into the spirit. And come back often to Mommy Poppins to see what has been added to our gallery.
If holiday lights are your thing, check out these other spectacular LI displays. And for more seasonal fun, see our December GoList and guide to holiday fun on Long Island, where you'll find information on brunches and pictures with Santa, holiday performances, and more.
For a detailed list of destinations across Long Island, see this handy Google map. As always, Sign up for our FREE newsletters to get posts like this delivered to your inbox.
Most homes turn on the lights each evening from about 5 to 11pm through New Year's Eve. Some owners even host special kickoff events or Santa evenings. As we remind you every year, these are all private homes. While owners expect sightseers, don't touch any displays or enter private property. Also, try not to get too noisy: Almost all of these homes are located on residential streets. Consider bringing items or money for donation, as some homes collect for charity.
Be advised also that while these houses traditionally have done elaborate displays, some may have decided not to participate this year. That includes the popular East Northport Christmas House, which will not be decorated in 2019.
Have a holiday home you want to share with onlookers? Let us know via Facebook.
The Best Holiday Lights Shows in Nassau County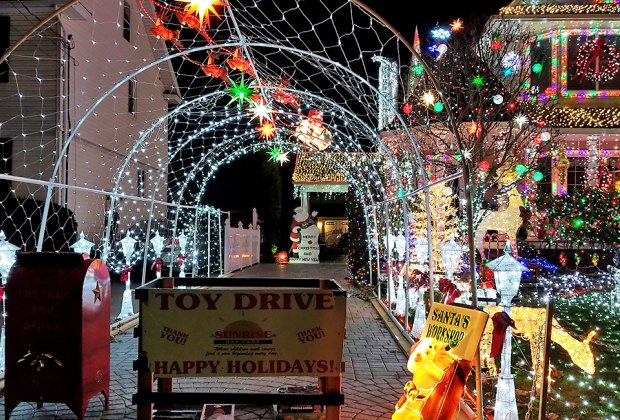 Holiday lights and a toy drive at 140 Cedar Avenue in Rockville Centre reinforce the true meaning of Christmas. Photo by Ian Stark
McQuillan Home — Rockville Centre
Visitors are encouraged to bring new unwrapped toys to this display, at 140 Cedar Avenue. Donated toys are distributed to needy children after the holidays. A nativity scene, lighted driveway arch, dripping icicles, reindeer, and more delight visitors.
Melendez Home — Massapequa
The Melendez family begins planning its elaborate display in July. Lights are turned on November 1 and remain lit through New Year's Day. New adornments are presented each year, but a popular one remains the fully lit teddy bear that sits on the front lawn.
Pappas Home — Oceanside
The rooftop Santa sleigh complete with "flying" reindeer sets the scene at this south Nassau home, located at 2621 Loftus Ave., just south of Sunrise Highway. There's also a 10-foot-tall candy cane Merry Christmas arch across the driveway.
Rouzier Home — West Hempstead
There's a Star Wars and Disney theme to this house in central Nassau. But traditionalists have plenty to get excited about too, including a nativity scene, Santa, toy soldiers, candy canes, and more. The house, at 18 Munson Avenue, is near the intersection of Nassau Boulevard and Hempstead Turnpike.
Walsh Home — Lynbrook
Lights remain on until 11:30pm at this central Nassau destination. whose owners use the natural landscaping of their property to great effect. Fully lit reindeer, candy canes, and Santa delight visitors, but the nativity scene is not to be missed. The home is located at 113 Wood Street, just north of Sunrise Highway.
Winkler Home — Levittown
Lights remain on until after New Year's Day at this home, situated at 28 Serpentine Lane. The owners say they add a new wrinkle each year; in 2018 it was sparkling lights that made the home appear even more glittery.
The Best Holiday Lights Shows in Suffolk County

The Elm Avenue Dancing Lights Show draws hundreds of sightseers each year to 65 Elm Avenue in Coram.
Elm Avenue Dancing Lights Show —​ Coram
Situated in Coram in the near center of Suffolk County, this location is easily accessible off the Long Island Expressway, Exit 63 North. It's a near magical experience with lights, a nativity scene, giant Santa, decorated trees, and more. It's one of the most celebrated holiday light shows on Long Island with more than 11,000 likes on its Facebook page. Lights and music are turned on at 5pm. Viewing is, of course, FREE, but the homeowners encourage donations to the St. Jude Children's Hospital and the Suffolk County Make-A-Wish Foundation. On December 7, the home hosts Santa and Friends night beginning at 7pm, where families can meet St. Nick and take pictures in his sleigh.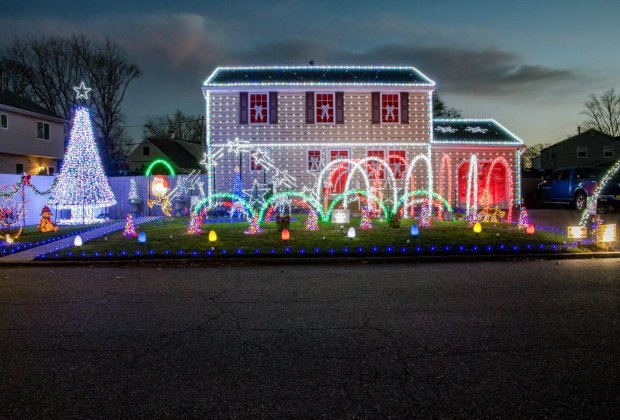 Listen to Christmas music while watching the musical dancing light show at the Elwood House Dancing lights Show.
Elwood Road Dancing Lights Show —​ Centereach
Opening night, Friday, December 6
More than 10,000 glittering lights adorn this home that sits off Nicolls Road in central Suffolk. Visitors can sit in their cars and listen to holiday music from WBLI. More lights and special effects are promised for this year.
RELATED: Nutcrackers and Other Holiday Shows Across LI in 2019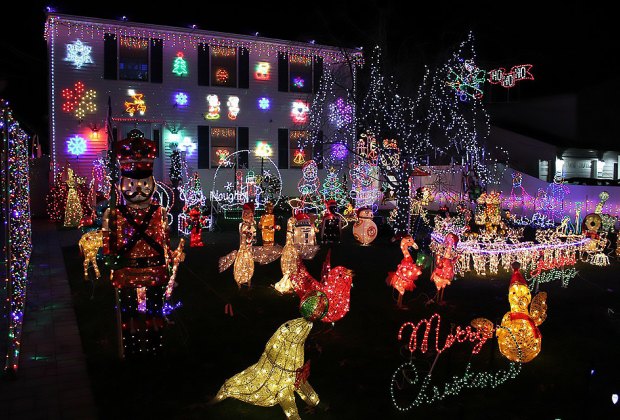 Fifth Street in Ronkonkoma is aglow with Christmas lights during the holidays.
Fifth Street Christmas Lights—​ Lake Ronkonkoma
Unique to this display is the the Star of Bethlehem that sits atop a utility pole outside the home. The star casts a wide eye over a display that includes glittering snowmen, lighted trees, Santa and other seasonal characters, and plenty more, Kids can write a letter to Santa and leave it in his North Pole mailbox. Charitable donations are accepted. The hone is situated just off of LIE, Exit 60.
RELATED: 13 Great Things to Do With Kids on LI During the Holidays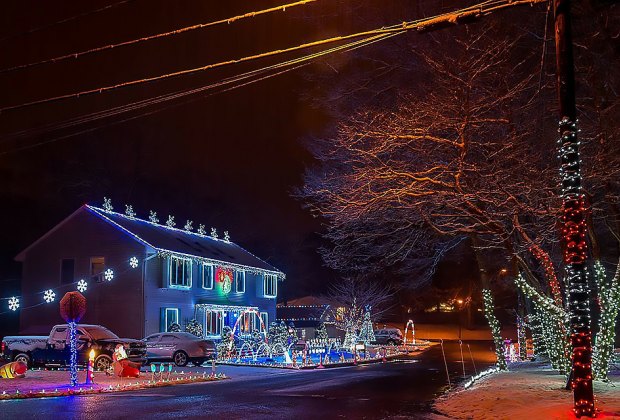 Witness the glow of thousands of dancing Christmas lights at 5 Forest Lane in Coram.
Forest Lane Christmas Lights —​ Coram
More than 60,000 lights adorn this home in central Suffolk, near the Elm Avenue Dancing Lights. Bundle up and visit both displays after 5pm. Tune into 107.3 FM for musical accompaniment. Donations are accepted for breast cancer research. ​
RELATED: Polar Express and Other Santa Trains in the LI Area in 2019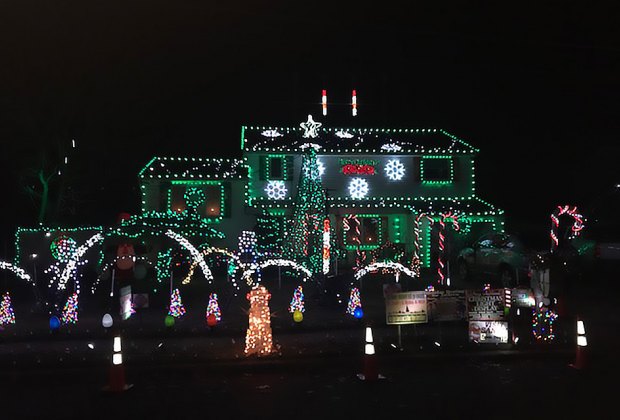 52 King Avenue in Selden delights with seasonal colors. Photo by James Stephen Smith
King Avenue Dancing Christmas Lights —​ Selden
A radio simulcast on 107.3 FM makes this dancing light show a special holiday treat. The light show is generated by a software program that allows the lights to be faded, twinkled, shimmered, or remain steady. Enjoy shooting stars, giant candy canes, Santa, and more. The house, at 52 King Avenue, is east of Nicolls Road in Selden.
The Best Holiday Lights Shows on the East End
Salzmann Home —​ Calverton
Toy soldiers and lighted candles adorn this property in Riverhead Town, at 1 Robins Circle. There's also a giant inflatable Snoopy Santa, an inflatable Frosty the Snowman, elves, and other seasonal characters. Robins Circle is located south of the Long Island Expressway, Exit 72, near Splish Splash water park.
More Ways to See Holiday Lights on Long Island
If you don't want to brave the Long Island Expressway traffic, why not make a day of it at one of these lights-viewing attractions?
Unless noted, photos are courtesy of the families/houses.
This article was first published in December 2012 and was updated for 2019 by writer James Stephen Smith.