30 Things To Do in Austin, TX with Kids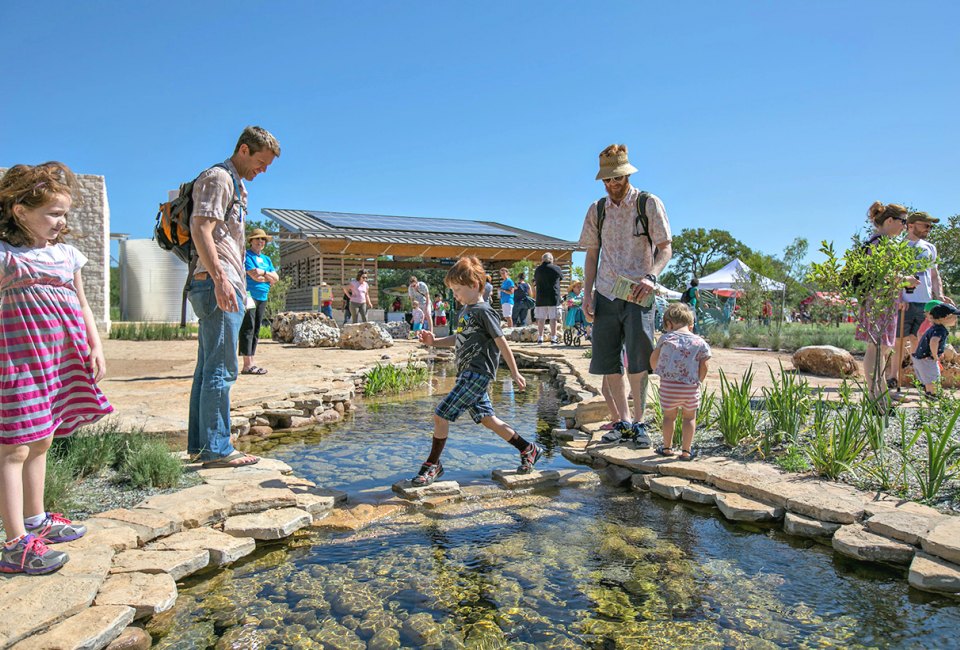 4/20/18
- By
Ashley Jones
As a native Texan, I can quickly rattle off about 100 obscure things that make Austin an amazing place for a family getaway. But on a larger scale, Austin, Texas, is widely known for several major reasons. Hailed as the live music capital of the world, Austin is home to one of the nation's most notorious music festivals, SXSW (South by Southwest), as well as the Austin City Limits Festival, and many smaller permanent live music venues throughout the city. Austin is a college town, home to The University of Texas campus, the second largest university in the second largest state in the country. It's also the state's capital, which means it is rich with historical sites, museums, and iconic landmarks.
The city's popularity is booming thanks in part to the wide variety of culturally enriching activities available, especially for families. "Keep Austin Weird" is the city's unofficial mantra, and boy do they ever keep it weird...in the best way. This list of must-do family activities in the capital of the Lone Star State includes quirky toy shops, breathtaking outdoor sites, unique museums, and even a collection of old "junk" in one man's backyard. And don't forget, we also have awesome ideas for the best things to do with kids in other parts of Texas, including San Antonio and Houston.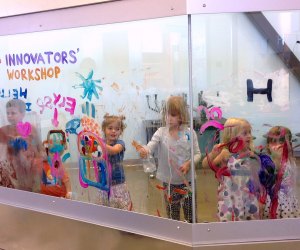 Photo courtesy of Thinkery
1. Let your kids play outside of the box at Thinkery, an evolution out of the Austin Children's Museum. This space is filled with hands-on exhibits that encourage kids to explore how things work to foster creativity and innovation through play. A light lab, art space, innovators' workshop, and massive outdoor play structure give kids plenty of opportunities to learn about topics in science, engineering, math, and art.
​2. Climb the 102 stairs to the top of Mount Bonnell for an amazing view of Lake Austin. Hiking to the top of the city's highest point (775 feet!) may sound like a tall order, but this trek is perfectly kid-friendly at only about one third of a mile long and much of the stair portion features handrails.
3. It's never too early to start thinking about higher education! Take a tour of The University of Texas at Austin to see gorgeous historical statues, the famous UT tower, Texas Memorial Museum, Henry Ranson Center, and fabulous architecture throughout the campus. After the tour, be sure to hit The Drag (on Guadalupe, the main street directly across from campus) to shop the school store, The Co-Op, explore quirky retail shops, and nosh on some ice cream at Amy's.
4. Play up to 36 holes of putt-putt at Peter Pan Mini Golf. With two courses to explore, this Austin landmark is not to be missed. They've been keeping Austin weird since 1948 with larger-than-life character statues (like a giant Peter Pan and T-Rex) throughout the park, which provide the perfect backdrop for fun impromptu photos.
5. Take learning outside of the classroom with a trip to the Texas State Capitol. Learn about the Texas government, Texas history, and more on a guided tour of the Capitol building. Fun tip: Try standing directly in the center of the building's rotunda on the star on the floor and whisper your name while looking up to the star located on the very top of the ceiling. You can hear your whispered name echoed back to you!
Related: 9 Things to Do in New Braunfels, Texas, Besides Schlitterbahn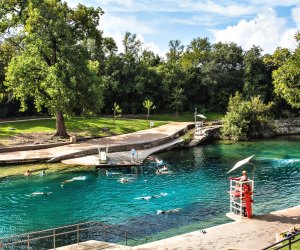 Cooling off at Barton Springs
6. Explore the natural beauty of Zilker Park on a miniature train ride that takes you on a tour of the lakefront park. While you're there, take a dip in the natural spring-fed Barton Springs Pool, rent a kayak to take out on the water, or dig in the "dino pit" at the Austin Science and Nature Center. This park is packed with activities for the entire family.
7. Explore a bevy of vintage toys, video game consoles, and action figures at Austin Toy Museum. This unique space houses relics of a simpler time that are sure to bring a smile to your face. Take the tour and let your kids play vintage arcade games until their heart's content.
8. Catch the latest flick, a film festival favorite, or an all-time classic movie at Alamo Drafthouse. With several locations throughout the capital city, families can enjoy dinner and a movie all at once at this family-friendly dine-in theater. This cinematic concept started in Austin, so several of the theaters house vintage movie posters and memorabilia.
​9. See one of Austin's most unique sites, the Cathedral of Junk, a collection of almost 30 years worth of "treasures" by a local man in his back yard. The ever-evolving statues are comprised of anything and everything you can think of including bicycle wheels, tin cans, surfboards, and many other gadgets and gizmos. Because this landmark is located at a private residence, tours are by appointment only.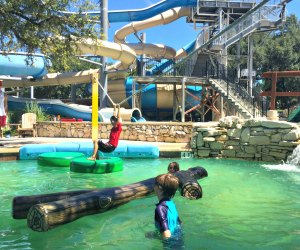 Volente Beach lilypad crossing/ Photo courtesy Volente Beach
10. Visit the resort and water park at Volente Beach on beautiful Lake Travis. This spot offers a lakefront water park with ample slides and pools for splashing and lounging, as well as their own family-friendly restaurant, Beachside Billy's, where you'll find a plethora of signature burgers, pizzas, and sandwiches. They even curate fun events like movie screenings where patrons float on inner tubes and live music performances.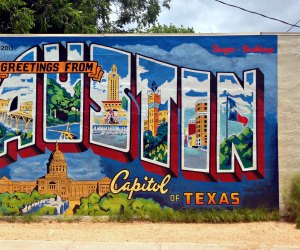 Austin's postcard mural is perfect for selfies
​11. Take Instagram-worthy photos with the many, many murals around town including the every popular "i love you so much..." wall painting on Congress Avenue and the "Greetings From Austin" postcard mural on 1st Street.
12. Watch approximately 1.5 million bats emerge from underneath the South Congress Bridge at sundown. Mexico free-tailed bats swoop and swirl in spectacular fashion each night for almost an hour and can be best seen standing directly on the bridge atop where the colony resides.
13. Get up close and personal with thousands of species at the Austin Aquarium. The aquarium's interactive exhibits are unlike any you'll find at other venues. They allow kids to touch and feed fish, pet stingrays, and more while learning about their natural habitats, migration patterns, and life cycles. The aquarium's ever-popular rainforest exhibit is home to a host of reptiles and exotic birds.
14. Interact with rescued and rehabilitated animals at the Austin Zoo. This zoo is home to animals that can no longer return to the wild, and houses large cats, primates, mammals, reptiles, and native animals of all kinds. At Austin Zoo, kids can feed deer, goats, and llamas, as well as listen to zookeeper talks throughout the day to learn more about certain animals.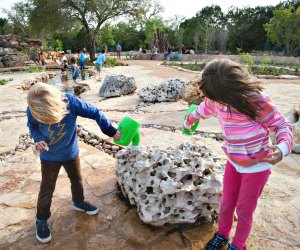 Lady Bird Johnson Wildflower Center
15. See beautiful blooms at Lady Bird Johnson Wildflower Center, home to native Texas wildflowers including the state flower, the bluebonnet. If you visit during the spring season, you'll likely catch a sea of sparkling blue as the bluebonnets typically bloom in early April.
16. Take a tour of Boggy Creek Farm, home to some of the area's most sought after produce. The 1800's farmhouse at Boggy Creek Farm is one of the two oldest houses still in existence in Austin. Be sure to check out the farm's event page for a list of art exhibits, demonstrations, and special events happening during your visit.
17. Climb at Austin's premier indoor rock climbing facility, Austin Rock Gym. This fun venue offers kids as young as age four the opportunity to scale indoor rock walls in a safe environment. The gym features plenty of course options for all climbers from beginner to advanced, including adults.
18. Watch colorful peacocks flaunt their plumes at the nature preserve at Mayfield Park. Also at the park, see restored historic cottages, natural ponds, artistic sculptures, and blooming gardens.
19. Learn about the great state of Texas at the Bullock Texas State History Museum. View rare documents and see ancient artifacts related to the rich history of the Lone Star State. Because everything really is bigger in Texas, the museum is home to the state's largest IMAX screen where you can catch special screenings of popular new releases or watch captivating educational films.
Related: Top Things to Do In Galveston, Texas, With Kids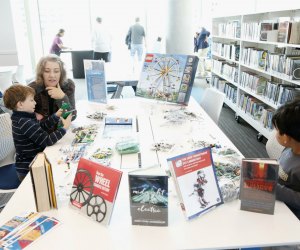 Special exhibits at Austin Central Library/ Photo courtesy Austin Central Library
20. Visit the six-story Austin Central Library. Take in the sweeping lakefront views while your kids explore the well-stocked children's area, play with hands-on kids exhibits, or attend storytime with enthusiastic library hosts and guests. Families can also take a guided tour of the entire facility, view art exhibits in the library's gallery space, and enjoy the rooftop garden when visiting.
21. Chill out at Chaparral Ice, Austin's premier site for ice sport fun and the only NHL regulation-sized rink in the area. The recently renovated ice rink is home to recreational and competitive ice skating, hockey, and curling programs. Free skate times are open to the public each day and Chaparral has ice skate rentals available for a nominal fee.
22. Play a rousing game of Laser Tag at Blazer Tag Adventure Center, a favorite local haunt featuring the largest laser tag arena in the Lone Star State. While you're there, be sure to check out the stellar arcade games and try your hand at the 20-foot-high ropes course, Austin Sky Trail.
23. Stroll down the ADA accessible Lady Bird Lake Boardwalk and take in gorgeous views of Austin's city skyline. Hike, bike, or skate along the wide boardwalk as it winds its way through the urban landscape, past neighborhoods, city buildings, waterfront and park spaces.
24. Skate the day away at Playland Skate Center, a retro-style roller rink with the largest skating surface in the capital city. In addition to the pristine wooden-floored skating area, Playland also features a fun video game arcade to enjoy.
25. Play on Texas' largest collection of pinball machines at Pinballz Arcade. This eclectic venue features old-school arcade and video games, modern arcade games, and an escape room, as well as a cafe that serves breakfast tacos all day long.
26. Watch history come alive at Pioneer Farms. This 90-acre living history park has five themed areas to explore that include replicas of Native American encampments, rural farm demonstrations, a cotton farm, and even a petting zoo.
27. Slip and slide through Typhoon Texas water park in nearby Pflugerville, about 20 miles outside of Austin. Typhoon Texas opens for the season each Memorial Day Weekend, and features fast slides, miles of tubing adventures, splash pads and wade pools for smaller kids. In addition to the traditional water park attractions, Typhoon Texas boasts ropes course challenges and a zip line to ramp up the fun.
28. Watch a variety of top-notch performances at the Long Center for the Performing Arts. Diverse programming at this unique venue offers 80 percent local artist performances of theater, dance, comedy, and music. Free community events are often held throughout the year, so be sure to check the center's calendar when you are in town.
29. Shop til you drop at The Domain, Austin's premier outdoor mall filled with upscale retail shops. While this shopping center is filled with high-end stores, it also boasts three free children's play areas to help keep kids entertained throughout your visit.
30. Eat Tex-Mex. While this should probably be first on the list of things to do when visiting Austin, I like to think we saved the best for last. Chips and queso, salsa verde, enchiladas, and tacos abound at local Austin joints like the original Chuy's, Torchy's Tacos, Maudie's, and kid-favorite Tio Loco, where freshly made cotton candy is served when your check is dropped off.
All photos courtesy of Visit Austin unless otherwise noted