Best Texas Road Trips for Families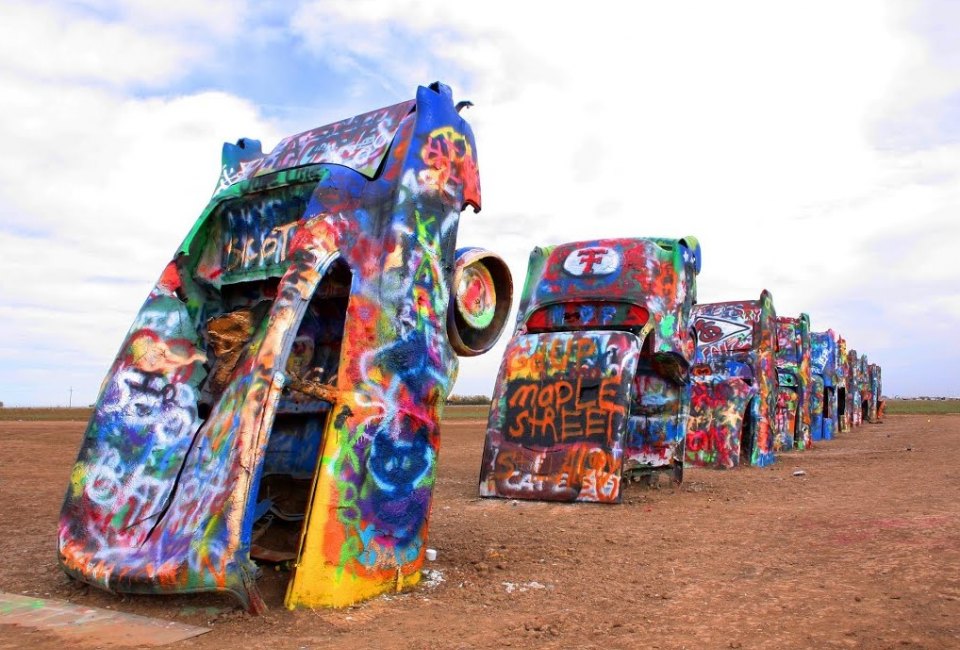 4/5/19
- By
Carrie Taylor
Texas is huge; essentially any trip you take around the state - even more especially from Houston - consitutes as a road trip, whether you're heading to the nearest theme park or to the beach. But there are some specific road trips and routes that can be just as enjoyable as your destination. Here are some of our favorite Texas road trips for families hauling a RV or just trekking across the great Lone Star State because of the enjoyable drives and number of attractions along the way and nearby.
For more travel ideas around Texas, check out our Day Trip Guide, and for family travel destinations across the globe, visit our Ultimate Family Travel Guide.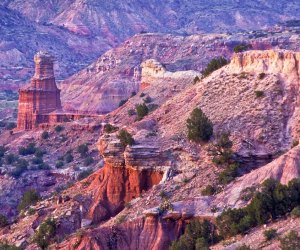 A view of the Lighthouse rock formation at Palu Duro Canyon. Photo courtesy Palo Duro State Park.
Texas Panhandle
As an alumna of Texas Tech University, my family and I are not strangers to this long and wonderful journey across Texas. It's about eight hours from Houston to Lubbock, and along the way you are treated to tours through small Texas towns (you know what that means - lots of great antique shops!), past farms and ranches stretching as far as the eye can see, and a variety of route options to fit any family's fancy. I have a lot of love for West Texas and the panhandle, and here are some of the highlights:
See Texas' portion of Route 66. Historic Route 66's Texan portion runs straight through the Panhandle crossing through Amarillo where you can see iconic highlights like Cadillac Ranch.
Visit the stunning Palo Duro Canyon. It's the second largest canyon in the country, and it's right here in Texas! Stay for a few nights or even just a few hours, but make it at least a stop. The stunning canyon has lots of hiking and sight-seeing opportunities and is a great place to camp.
See some roaming bison at Caprock Canyon. Caprock Canyon State Park is the third largest state park in Texas and is a smaller alternative to visiting Palo Duro Canyon. Here, bison roam the plains and wildflowers bloom along the Little Red River at the base of the canyon.
Related: Educational Day Trips for Houston Families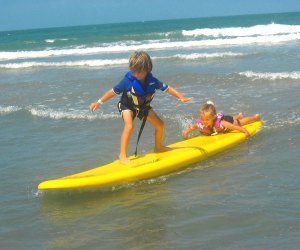 Surfing off South Padre Island. Photo courtesy the South Padre Surf Company.
South Padre Island
Take a trip down Texas' coast to South Padre Island where you can lounge on some of Texas' whitest sandy beaches (as opposed to our more....murky - and beloved - Galveston staples), the South Padre Island Dolphin Research and Sealife Nature Center, and another Schlitterbahn! (You can never visit too many Schlitterbahn water parks, in our opinion.) There's also the awe-inspiring Sandcastle Trail where you can see larger-than-life, elaborate sand-creations.
Related: Best Texas Lakes and Rivers for Family Getaways
Along the way, (from Houston this is about a six-hour drive) you can see some sights at Port Aransas and Corpus Christi. Highlights include the J.P. Luby Surf Park where you can actually surf, The Original Whataburger, or a model of it at least; the USS Lexington Museum on the Bay and the epic Selena Museum.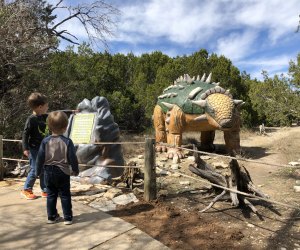 Checking out creatures on the Dinosaur Trail at Dinosaur World just outside Dinosaur Valley State Park. Photo by the author.
Dinosaur Valley State Park
This is one of our favorite state parks in Texas for its beauty and unique story. Yes - you can actually see real dinosaur tracks in Texas! You'll want to check river conditions before planning the trip, however, as most tracks are only accessible with water levels on the Paluxy River are low. But rest assured - the river's clear waters make the tracks visible from the shoreline at any time of the year. If driving to Dinosaur Valley, which is near Glen Rose, Texas, from Houston, you can pass through Waco and spend a good chunk of time there, whether on the Baylor University campus or braving the lines at Chip and Joanna Gaines' Magnolia Market at the Silos.
Near Glen Rose you'll find great kid-friendly attractions like Fossil Rim, a driveable safari, Dinosaur World with its walkable dinosaur trail, and Acton State Historic Site, home to the grave of Elizabeth Crockett, second wife of Texas legend Davy Crockett. This is a great road trip for families with younger (preschool and elementary-age) children.
Related: Best Things to Do in Dallas, TX With Kids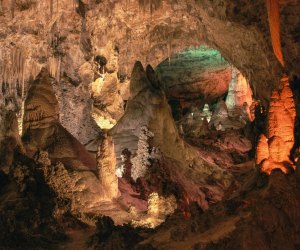 Inside the majestic Carlsbad Caverns. Photo courtesy National Geographic.
Carlsbad Caverns National Park
Okay - technically this park is in New Mexico, but it is literally minutes from the Texas border and we just had to include it. Growing up, my family made several visits here and it remains one of my favorite destinations of all time. Plus, the drive takes you through West Texas and towns like Midland and Odessa, depending on your route, where you can see the Odessa Meteor Crater Museum, Stonehenge Replica on the University of Texas - Permian Basin campus, and hunt jackrabbits. Jackrabbit statues, that is. You can also stop by and see George W. Bush's childhood home.
Once you arrive at Carlsbad Caverns, let me warn you - you may never want to leave. It's like stepping into another time and world. Explore the cave system, which currently includes 119 caves, and learn about their rich and fascinating history and the formatiosn that dwell within. Then, close your eyes and imagine exploring the area 100 years ago when all explorers had was a small individual light! Time it right, and you may catch a sight of swarms of bats leaving and reentering the cave at dusk and dawn.
Related: Best Events, Things to Do and Attractions in Houston, TX for Kids and Families
The southwestern portion of the park connects to the Guadalupe Mountains; follow the range back into Texas and you'll arrive at Guadalupe Mountain National Park with stunning ranges, historic buildings and sites, and more.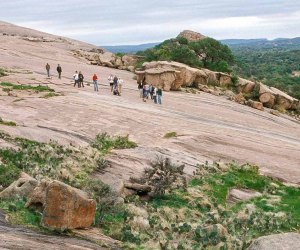 Hiking Enchanted Rock. Photo courtesy Passport to Texas.
Fredericksburg/The Hill Country
Parents, we know what you're thinking. Texas' Wine Country may not be at the front of your mind when thinking of family trips, but there is so much to see on the way there as well as plenty of kid-friendly activities in town we promise your perspective will be forever changed. The obvious stops along the way are the outskirts of Austin or San Antonio. Make sure to check out Enchanted Rock, a natural gem that doesn't feel like it belongs in Texas; the infamous swimming hole Jacob's Well, and The Cave Without a Name.
Out in Fredericksburg is LBJ State Park which houses the Sauer-Beckmann Living History Farm where interpreters show guests chores and living conditions from the early 20th century, and kids can feed animals, see butter being churned, and more. Visit Wildseed Farms, the nation's largest working wildflower farm; Old Tunnel State Park where you can see a bat or five; and Wildflower Ridge Alpaca Ranch because, alpacas. Need I say more?
For more content like this delivered straight to your inbox, sign up for our FREE email newsletters.
Click Here to Sign Up!