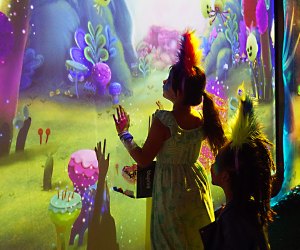 35 Fun Things to Do with NYC Kids Over the Holiday Break
Few places rival New York City for winter holiday activities, and the school break offers families plenty of free time to sample them all. We've rounded up 35 of our favorite winter break activities, most of which can be accessed with the swipe of a MetroCard. Fill your vacation with awesome museum outings, live stage shows, fancy meals, and magical holiday experiences. My family even braves the crowds at popular tourist attractions such as the Rockefeller Center tree and rink and department store holiday windows.
Remember, NYC public school kids are out of school from Saturday, December 22 through Wednesday, January 2, so if you need more fun things to do over the 2018-2019 winter break, check out our December GoList, free December fun, and our daily Event Calendar.

Be sure to click the links for complete details, including locations, dates, and prices. And don't forget to sign up for our FREE newsletters to get posts like this delivered to your inbox.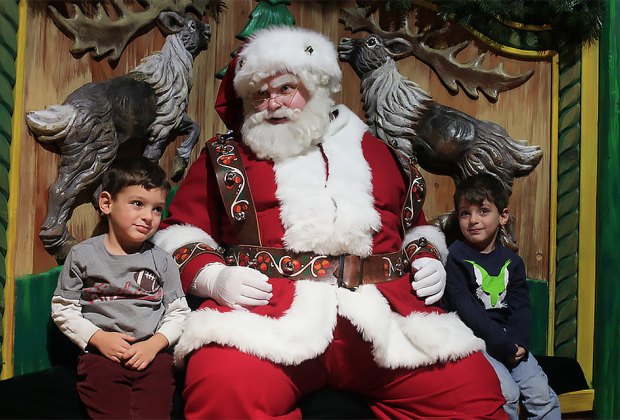 There are plenty of places to see Santa in NYC, but nothing beats Macy's Santaland. Photo by Matthew Nighswander
1. See Santa at Macy's Santaland (or elsewhere) before he sails away in his sleigh. FREE
2. Go Christmas caroling on Christmas Eve in Washington Square Park. FREE
3. Spend Christmas Day at one of NYC's favorite Jewish institutions: The Jewish Museum, the Museum at Eldridge Street, and the Museum of Jewish Heritage are all open.
RELATED: Best Things to Do in December with NYC Kids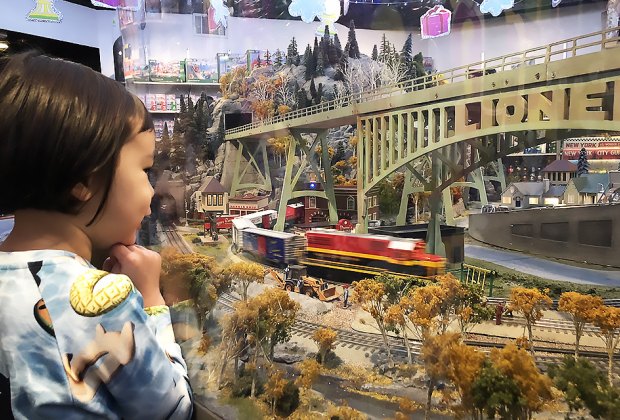 The New York Transit Museum's Holiday Train Show at Grand Central is a beloved winter tradition. Photo by Janet Bloom
4. Stroll through the New York Botanical Garden Holiday Train Show to see model trains (and for the first time, boats!) plus a dazzling new Freedom Tower. Or check out the more modest train shows at the New York Transit Museum Gallery Annex in Grand Central Terminal and at Bryant Park's Southwest Porch.
RELATED: Free Things to Do with Kids in NYC This December

This year's holiday windows are sure to amaze kids and adults. Photo by Jody Mercier
5. Marvel at stunning department store holiday windows and other awesome seasonal sights in midtown Manhattan. FREE

Go shopping at the new FAO Schwarz in Rockefeller Center. Photo by Janet Bloom
6. Explore the brand new FAO Schwarz in Rockefeller Center. Shop for over-the-top toys, play in the on-site grocery store, dance on the piano, and snap a selfie with those iconic soldiers.
7. Take a trip to the outer boroughs to check out over-the-top holiday light displays, such as Brooklyn's famously decked-out houses in Dyker Heights. FREE
8. Stand beneath a giant illuminated Christmas tree and snap a keepsake holiday photo. Rockefeller Center isn't the only go-to spot. You can find lovely Christmas trees in Bryant Park and at South Street Seaport's Pier 17, plus a flotilla of illuminated firs on Central Park's Harlem Meer. FREE
9 Grab your wands and head to the Harry Potter: A History of Magic exhibit before it disapparates in the new year.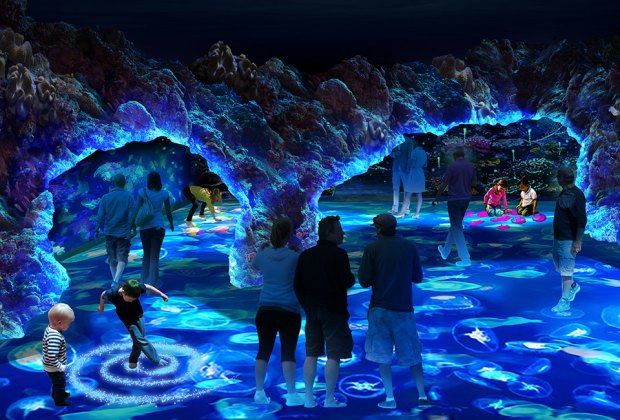 Experience an amazing virtual Coral Reef at the Ocean Odyssey. Photo courtesy of National Geographic
10. Enjoy an underwater experience at Ocean Odyssey in Times Square. The scientific minds at National Geographic joined forces with CGI experts to bring this interactive aquatic adventure to life.
11. Transform your little ones into high-hair trolls at Midtown's Trolls: The Experience, where you're sure to have the Best Day Ever! with Poppy and pals.
12. Visit the Museum of the City of New York for its newly opened ode to the loveable storybook character Corduroy and to take advantage of its awesome seasonal family programs, which include a Kwanzaa celebration and crafting snow globes.
13. Catch one of the big Hollywood holiday movie releases, including Mary Poppins Returns (we're big fans!), Spider-Man: Into the Spiderverse, BumbleBee, and Aquaman.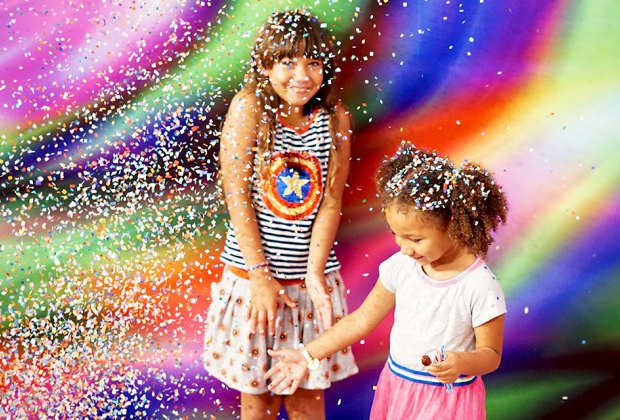 Time is running out to see the one-of-a-kind Candytopia. Photo by Jody Mercier
14. If you haven't indulged in enough seasonal sweets, dive into a few more at Candytopia, which wraps up its sugar-filled NYC run on January 6!
15. Warm up with a cup of frothy, chocolatey goodness at one of Manhattan's best hot chocolate spots.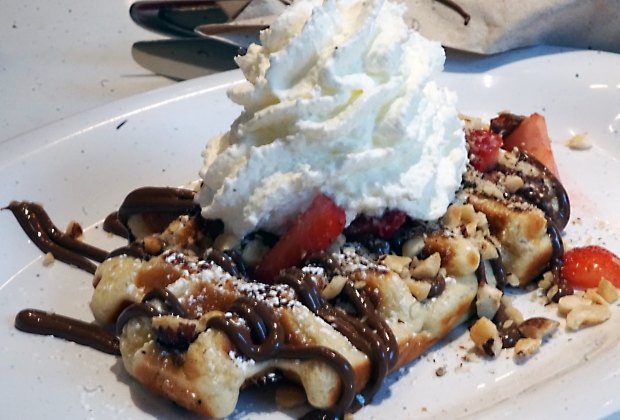 Indulge in some gooey goodness at the Nutella Cafe. Photo by Jody Mercier
16. Another spot to fulfill your choc-o-holic tendencies? The brand new Nutella Cafe.
17. Afterward, dash up the street to another newbie, the CAMP Store. Part general store, part cafe, part interactive activity center, the spot promises engaging, interactive shows, plus family-friendly DIY and crafting workshops.
18. Head to Astoria's Museum of the Moving Image for daily screenings of A Muppet Family Christmas. Use the film for inspiration during the drop-in studio activities and as a jumping off point to your exploration of the Jim Henson exhibit.
19. Enjoy the treasures at the Whitney Museum including the brand new Andy Warhol: From A to B and Back Again.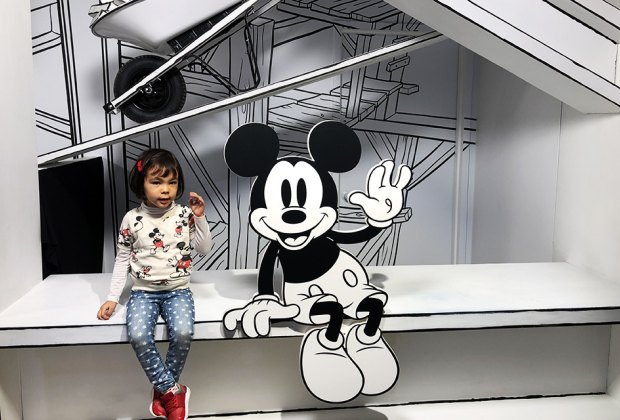 Spend a day visiting the Mickey: The True Original Exhibition pop-up. Photo by Janet Bloom
20. Since you're in the neighborhood, stop by and hang with Mickey Mouse at the interactive pop-up celebrating his 90th birthday.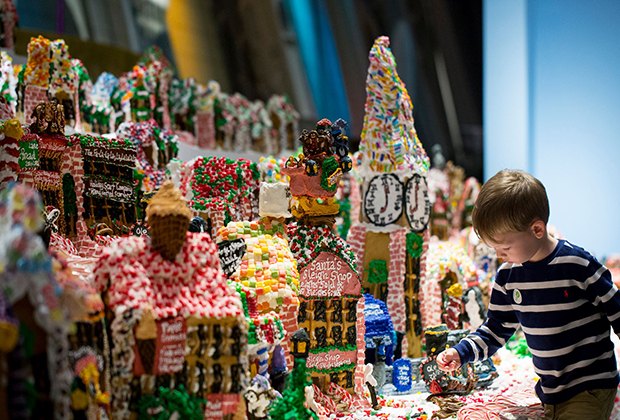 Take a stroll down GingerBread Lane. Photo courtesy of New York Hall of Science.
21. An antidote to the excess of the season, craft with recycled goods at ReMake the Holidays at the New York Hall of Science. While you're there, gawk at gingerbread houses at the massive GingerBread Lane exhibit and try building your own at the museum's GingerBread Lane House-Building Workshops on December 22, 23 and December 27–30.
22. Got tweens or teens to entertain? Check out VR World for some immersive gaming fun.

This year's family-friendly performance of The Illusionists promises even more illusions and close-up magic! Photo courtesy of the production
23. Another option sure to amaze big kids? The Illusionists on Broadway.
24. Splurge on high holiday culture at Lincoln Center with George Balanchine's The Nutcracker.
25. Little kids will surely appreciate the magic of a trip to the New Victory Theater to see Circus Abyssinia: Ethiopian Dreams.
26. Another high-flying fun show: The Big Apple Circus.
27. Explore Brooklyn's underground with hands-on activities at the New York Transit Museum.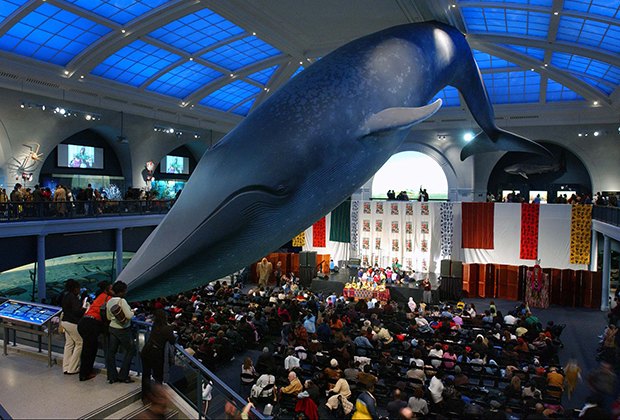 Celebrate Kwanzaa beneath the blue whale at AMNH. Photo by R.Mickens for the museum.
28. Celebrate Kwanzaa at the American Museum of Natural History's 40th annual festival on Saturday, December 29.
29. See handcrafted marionettes in action at Central Park's Swedish Cottage Marionette Theatre in the brand new Yeti, Set, Snow.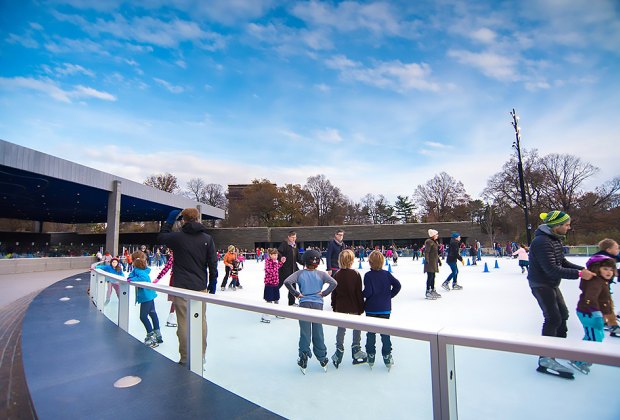 Glide through the holiday break at LeFrak in Prospect Park. Photo courtesy of The Prospect Park Alliance
30. Hit the ice at one of NYC's outdoor ice skating spots.
31. Toes getting numb? Indoor rinks have public skating hours through the holidays.
32. Now's the time for a quick snow tubing, snowboarding, skiing, or other winter sports adventure.
33. Ring in the new year with a midday party at the Children's Museum of Manhattan or the Staten Island Children's Museum.
34. Older kids who can stay up will appreciate ringing in the New Year with a bang while watching midnight fireworks in Prospect Park and Central Park. FREE
35. If you've checked all the items off this list and still have a few days of vacation to fill, start working on our roundup of 100 (mostly year-round) Things to do in NYC with Kids before They Grow Up.
This article, originally published in December 2012, is updated annually.