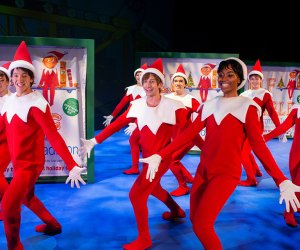 Best Holiday Shows in NYC for Kids and Families in 2021
'Tis the season to get the gang all dressed up to see some holiday shows! Unlike earlier this fall, when theater for young audiences was scarce, November and December are filled with joyous productions for families, thanks in part to children ages 5 to 11 finally being eligible for vaccination.
While there are plenty of extravaganzas to splurge on, like the Radio City Christmas Spectacular and all those beautiful Nutcrackers, if you've got young kids, you may not want to blow all of your bucks on theater tickets. That's why our roundup of seasonal family fare includes a range of productions, from inexpensive, low-key offerings perfect for fidgety preschoolers, to over-the-top spectacles that are worth the investment.
From live stage adaptations of classics such as Elf on the Shelf and A Charlie Brown Christmas, to seasonal musicals based on popular picture books, to amazing circus feats and offbeat experiences, here are our top 15 holiday shows for NYC families in 2021.
Subscribe to our newsletters to get stories like this delivered directly to your inbox.
In terms of COVID-19 precautions, all theaters require proof of full vaccination for audience members ages 12 and older along with a valid ID. If your kids are younger than 12 and not yet fully vaccinated, the rules vary. Some venues require a recent negative COVID-19 test; others, including New York City Center and the Metropolitan Opera, insist all audiences, even children, be fully inoculated. Click through to each show's listing for specific health requirements, as well as details about location, schedule, and pricing. Masks are required for all audience members ages 2 and up.
OUR LATEST VIDEOS
Playing through Sunday, December 12
Ages 3 and older
More high-flying entertainment, this time from the veterans of Circus Vazquez, who are pitching their signature pink-and-blue big top in the parking lot at Citi Field. Founded in 1969 in Mexico City, this family troupe toured south of the border until the '90s, when it first brought its talents stateside. While it's changed over the decades—animals are no longer part of the show and it's presented in English in the US—it's still a family affair with a Latino flair featuring aerial, acrobatic, juggling, and daredevil acts as well as internationally renowned clown David Larible.
RELATED: Where to See The Nutcracker in NYC in 2021

A Sherlock Carol combines classic characters for an entirely new take on Ebenezer Scrooge. Photos by Matthew Murphy
Playing through Sunday, January 2, 2022
Ages 8 and older
A merry mash-up of characters from Charles Dickens' Christmas classic and Sir Arthur Conan Doyle's iconic detective stories, A Sherlock Carol finds the title sleuth investigating the strange death of Ebenezer Scrooge at the behest of a grown-up Tiny Tim. Ghosts of the past, present, and future haunt this heartwarming holiday mystery at New World Stages, which is filled with plenty of "Aha! Humbug."
Playing through Sunday, January 30, 2022
Ages 3 and older
Longtime holiday favorite the Big Apple Circus returns to Lincoln Center with the brand-new spectacle Making the Impossible, Possible!. Brazilian aerialist and America's Got Talent finalist Alan Silva serves as ringmaster, and the lineup of acts includes high-wire legend Nik Wallenda and comedic daredevil Johnny Rockett.
Wednesday, December 1-Sunday, December 19
Ages 5 and older
Get ready to boo, hiss, and cheer at this reinvention of the folk story Dick Whittington & His Cat, inspired by real-life London mayor Richard Whittington, who allegedly rose from poverty by renting out his feline to rat-infested neighborhoods. Yes, it's a tall cat tale, but that makes it perfect as a panto, a popular holiday entertainment genre in Britain featuring over-the-top songs, slapstick comedy, gags, and dancing. Reset on NYC's Lower East Side, this version of the fable comes from the outrageous minds of married artists Mat Fraser, a disabled actor, writer, and activist, and Julie Atlas Muz, a feminist burlesque performer, who were behind the panto Jack and the Beanstalk, which ran at Abrons Arts Center in 2017 and 2018. Although they usually perform for the 21-and-over set, Dick Rivington & the Cat is strictly PG, with a cavalcade of sparkly downtown divas promoting radical joy, equality, lefty politics, and kookiness to like-minded families.
RELATED: 12 Must-Do Holiday Activities and Christmas Events in NYC for Kids in 2021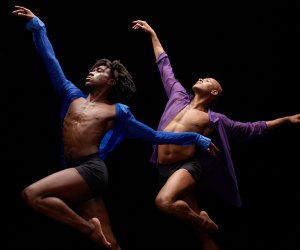 Chalvar Monteiro and Yannick Lebrun are among the talented performers on stage for Alvin Ailey American Dance Theater at New York City Center. Photo by Dario Calmese
Wednesday, December 1-Sunday, December 19
Ages 5 and older
Every holiday season, New York's venerable Alvin Ailey American Dance Theater performs at New York City Center. While grown-ups can go on any date to see works by the troupe's namesake dance-maker as well as newer pieces by current artistic director Robert Battle and resident choreographer Jamar Roberts, the Sunday matinees are the way to go for families. The programs are little-kid friendly and followed by Q&As with some of the dancers. Plus all three include Ailey's enduring masterpiece Revelations, an exploration of the African-American experience set to spirituals, gospel, and blues music. Note: All attendees, including children, must be fully vaccinated.
Friday, December 3-Sunday, December 19
Ages 4-10
An offbeat stage riff on a Brothers Grimm fairy tale, this annual Axis Theatre Company production follows the misadventures of Kid, a young boy who kills seven flies in one shot and gets caught in a tangle of lies surrounding his feat. In the end, he learns about love and kindness with help from the children in the audience and his mom, played by Debbie Harry (yes, from Blondie!) who appears on video.
Sundays, December 5-December 19
Ages 3-11
Margery Williams' bittersweet tale about a toy rabbit and his human BFF comes to life at the 92nd Street Y. Billed as a dance musical, the story is told primarily through movement as the title character, a Christmas gift, yearns to become flesh and blood like the bunnies he sees in the garden. Through magic and the power of love, he just may get his wish.
RELATED: Best Holiday Train Shows in NYC for Kids

Cirque du Soleil: "Twas the Night Before..." returns to the Hulu Theatre at MSG this holiday season. Photo by Errisson Lawrence.
Thursday, December 9-Sunday, December 27
Ages 6 and older
Cirque du Soleil's Christmas extravaganza returns to the Hulu Theater at Madison Square Garden. The show centers on a young seasonal cynic named Isabella, who's transported to a magical land where she meets characters from Clement Clarke Moore's Christmas poem "A Visit from St. Nicholas." But that's all beside the point—families go to see Cirque for the fabulous feats and eye-popping design, not the plot. Thankfully, there's plenty of spectacle, including acrobatic reindeer, tumbling children, soaring aerialists, and a finale featuring confetti and bouncing balls.
Friday, December 10-Sunday, January 2, 2022
Ages 5 and older
The holiday shows at the New Victory Theater are always a treat, and we're particularly excited about this year's offering, which comes from the imagination of Muppet master Jim Henson! Inspired by his 1977 Christmas TV special of the same name, this tuneful tale centers on Emmet Otter and his Ma, who live hand to mouth in Frogtown Hollow. When they hear about a talent contest with a prize of $50, they decide to enter in the hope of winning so they can give each other store-brought presents. There are gentle lessons about envy and empathy in this heartwarming musical, which features songs by Paul Williams and awesome puppets from Jim Henson's Creature Shop. A sensory-friendly performance is planned for Saturday, December 11. If you can't make it to the theater in person, you'll be able to stream the show online following its premiere, too.
RELATED: 4 Reasons Winnie the Pooh Is a Perfect Reintroduction to Live Theater

The Magic Flute reprises its stunning holiday season run at the Metropolitan Opera. Photos courtesy of The Metropolitan Opera
Friday, December 10-Wednesday, January 5, 2022
Ages 6 and older
For the holidays, the Metropolitan Opera revives its family-friendly version of Mozart's masterpiece. Director Julie Taymor (of Broadway's The Lion King fame) incorporates fantastical costumes and puppets into the production, which is whittled down to just 105 minutes with no intermission, and sung in English. It's played the Met before and always receives rave reviews from critics and, more importantly, kids. Note: All attendees, including children, must be fully vaccinated.
Friday, December 10-Sunday, January 9, 2022
Ages 3 and older
NYC's only bilingual Latino children's theatre, Teatro SEA, returns to live performances with the brand-new puppet production Sueño de Reyes/Dream of Kings in honor of Three Kings Day. Written and directed by the troupe's intrepid founder, Manuel Morán, and featuring gorgeous, handmade shadow puppets of the three royals, this holiday show has the kings mistakenly arriving in Puerto Rico instead of Bethlehem. It's a whimsical tale with on-stage musicians playing Latin jazz songs.
Tuesday, December 14-Sunday, January 2, 2022
Ages 6 and older
What's taller and sparklier than the grandest Christmas tree? The drag queen ballerinas of Les Ballets Trockadero de Monte Carlo! This venerable troupe is made up entirely of men who dance en pointe in tutus. I've been with my daughter and even though it's a comical company, these dudes can really dance. In between laughing you'll find yourself marveling at their technique. Although they're performing seven times a week at the Joyce Theater, they're hosting a special family matinee on Saturday, December 18. Note: All attendees, including children, must be fully vaccinated.
Friday, December 17-Monday, January 3, 2022
Ages 10 and older
This season, the Metropolitan Opera is presenting a second family-friendly production, a brand-new abridged adaptation of Cendrillon, Jules Massenet's take on the old Cinderella story. Sung in English and streamlined to 90 minutes, Laurent Pelly's stunning staging of the fairy-tale opera features glorious costumes and sets. Note: All attendees, including children, must be fully vaccinated.
RELATED: 20+ Christmas Towns and Santa's Villages That Absolutely Sparkle

Good grief: If you haven't bought tickets to A Charlie Brown Christmas, what are you waiting for? Photo by Richard Termine
Tuesday, December 21-Friday, December 24
Ages 5 and older
The beloved animated TV special comes alive on stage at Palladium Times Square. Join Charlie Brown, Snoopy, Lucy, Linus, and the whole Peanuts gang as they sing, dance, and discover the true meaning of the holiday. Afterward, audiences are invited to croon Christmas carols with the cast.
Sunday, December 26
Ages 3-10
The popular picture book becomes a splashy musical centering on Santa's scout elves, tasked with determining who's been naughty and nice. This year, one scout has a particularly challenging job: to help one family overcome a devastating personal loss and rediscover hope and joy. This touring production is stopping at Brooklyn's Kings Theatre for one day. Judging from its trailer, it's old-fashioned family fare, with colorful costumes, original show tunes by Broadway songwriters Sara Wordsworth and Russ Kaplan, high-kicking elves, and a sentimental seasonal story.