Most Affordable Summer Camps in Westchester and the Hudson Valley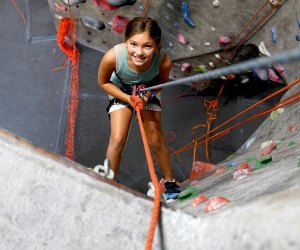 2/24/23
- By
Marisa Iallonardo
Fun summer camp options abound in Westchester and the Hudson Valley, from traditional day camps to STEM-focused programs to a variety of sports camps. But no matter your child's interests, camp can be a pricey proposition. If you're looking for especially budget-friendly options, we've rounded up a selection of the most affordable day camps in the area.
For this 2023 list, we've capped the cost at $500 per week, but most of these are well below that. Many of these camps offer half-day sessions as well as early-bird or sibling discounts. Plus, there are often options for financial aid or scholarships. Even if you don't see that information listed, you can always ask to see if it's a possibility.
For even more options, check out our Summer Camps Guide for Westchester Kids, or search our Camp Directory.
Reasonably Priced Summer Camps for Kids in Westchester and the Hudson Valley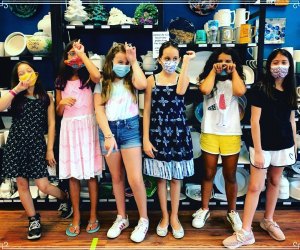 Channel your inner artist at MADE's half-day summer camp. Photo courtesy of MADE
Aspiring artists love the three-hour workshops at MADE art studio in Mamaroneck, which run from 10am to 1pm four days a week for $338 per session. There are 10 weekly options to choose from, all of which have a different theme, like "under the sea," "out of this world," and "mythical creatures." At each one, kids 6 and older learn a variety of techniques and styles. Enjoy a 10% discount if you sign up by the end of March.
There are a few different sports camps available at A-Game Sports­, from flag football to field hockey. While the number of weeks and price vary per sport, the multisport camp for kids ages 6-12 is 9 weeks long and the earlier you sign up, the cheaper it is. If you sign up by March 31, it's $315 per week. (After June 1, it jumps to $425/week.) Kids can try their hands at a variety of sports at this camp, which runs from 9am to 3pm. A similar program is offered for preschoolers at an even lower price.
Camp Addisone Boyce is a girls-only camp run by Girl Scouts Heart of the Hudson. This all-day camp runs $325 per week and is offered in one- and two-week sessions throughout the summer for students entering 1st through 12th grade. The facility boasts a large lake, multiple trails for hiking, a low ropes course, a large game field, and outdoor program spaces.
RELATED: Dance Summer Camps in Westchester for Kids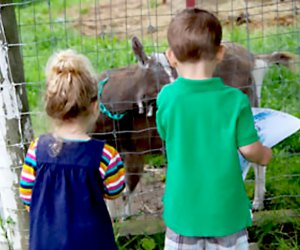 Spend summer afternoons on Muscoot Farm meeting animals, crafting, and more. Photo courtesy of the farm
This is one of the most affordable options in the area. Preschoolers get to spend time at Muscoot Farm in Somers during this weeklong camp with two sessions: one in June and one in August. Children explore the farm, its woodlands, fields, and residents, plus do arts and crafts. The camp costs just $175 per week. There are also sessions for older kids that run from the end of June through the end of July at $350 per week.
RELATED: Popular Summer Day Camps for Westchester Kids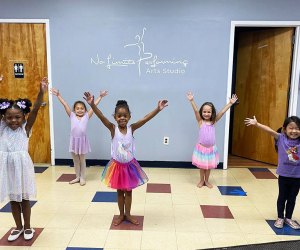 Performing and Dance are the highlights of No Limits Performing Arts Studio Camp.
This studio offers its Dance and Play camps for students ages 3-10 as well as a more intensive dance camp for students 10 and older, and an off-site musical theater camp for students ages 8 and older. The weekly Dance and Play camps are designed for children to enjoy the art of dance and creativity while also getting the opportunity to play with their peers using The Play Place's facility. Students will dance in the studios, participate in dance games and activities based on the weekly theme, create arts and crafts, and play in The Play Place's climbing structure, field, and outdoor playground. This camp is a full-day program and runs $450 per week.
The Rye YMCA offers a variety of summer camps with rates as low as $240 for the Kinder Camp half-day option for 3-6-year-olds up to full-day Teen Adventure Camp at $486 for members. They also offer STEAM, Discovery, Sports, and Gymnastics camps for varying prices, with the lowest being the Gymnastics half-day option at $300 for members and $403 for nonmembers.
If your child is interested in indoor rock climbing, the summer camp at The Rock Club might be a perfect choice. Camps are offered for two age groups: For ages 6-13, the camps are held in morning or afternoon sessions and also include arts & crafts and other fun games. This option runs for $350 per week or $75 per day. The camp for ages 10-16 is $400 per week and focuses on enhancing climbing skills.

Care for farm animals, grow vegetables and learn all about sustainability at Seed Song Farm Summer Camp.
Children with an interest in farming can have a unique nature-based experience at Seed Song Farm's summer camp program for kids ages 4 and up. Campers will learn various aspects of sustainable agriculture practiced on the farm, including caring for the farm animals and growing vegetables. Every week will have a different theme such as pollinators, music, and farm-to-table cooking. The camp costs just $350 per week and runs from June 27th-September 2nd, Monday-Friday, 9am–3pm.
The Vanaver Caravaan holds summer dance camps for ages 4-18 at the outdoor, open-air dance studios of Stone Mountain Farm. Their CaravanKids program, for ages 4 to 8, and the SummerDance program, for ages 9-18, are 2-week programs costing $400 for one week or $775 for both weeks.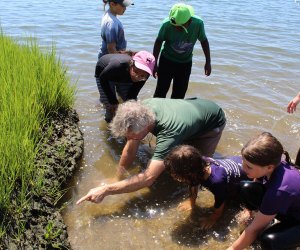 Choose from a variety of camps hosted by Westchester County Nature Camps.
Westchester County holds camps at several different nature centers and preserves throughout the area, including Cranberry Lake Preserve, Lenoir Preserve, Marshlands Conservancy, Read Wildlife Sanctuary, and the Trailside Nature Museum, with weekly sessions running $350 for kids entering grades 1-6. Most camps run from 9am to 3pm for elementary schoolers and older.
Another Westchester County camp, this one, for kids going into grades 3 through 9, centers on basketball, with four sessions offered in the summer. The camp runs from 9am-4pm, includes lunch, and runs $375 per week.
This camp is also one of the most affordable on the list, at just $75 per four-day session. Sessions take place at golf courses throughout the county, including Dunwoodie and Sprain Lake in Yonkers, Saxon Woods in Scarsdale, Maple Moor in White Plains, Hudson Hills in Ossining, and Mohansic in Yorktown. Dates vary, but each course hosts two sessions, ranging from mid-July to early August.
This post, originally published in 2019, was updated in February 2023.
Photos courtesy of the camps