Affordable Summer Camps For Westchester Kids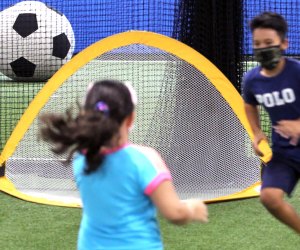 There are tons of fun summer camp options in Westchester, from traditional day camps to STEM-focused programs. But no matter your child's interests, camp can be a pricey proposition. If you're looking for budget-friendly options that won't break the bank, we've rounded up a slew of affordable day camps in Westchester.
For this list, we've capped the cost at $375 per week. Many of the camps featured offer half-day sessions as well as early-bird or sibling discounts. Plus, there are often options for financial aid or scholarships—and even if you don't see the information listed, you can always ask to see if it's a possibility.
For even more options, check out our Summer Camps Guide for Westchester Kids, or search our Camp Directory. You can also learn more about local and virtual summer camps with our upcoming Online Camp Fair where you can visit virtual booths and watch live camp demos.
Editor's Note: Summer camp information for the 2021 season is changing daily, and we will update this list as we're able to confirm details for more affordable summer camp options. Please click through the links to the individual camps below to confirm details and register your children.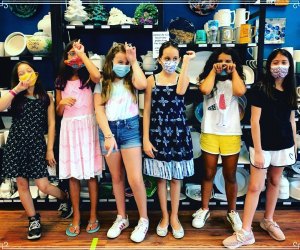 Kids age 6 and up learn a variety of techniques and styles in MADE's half-day summer camp. Photo courtesy of MADE
Aspiring artists love these 3-hour art workshops at MADE art studio in Mamaroneck, which run from 10am-1pm four days a week for $299 per session. There are 10 weekly options to choose from, all of which have a different theme, like "at the beach," "sweets & treats," and "movie mania." At each one, kids age 6 and up learn a variety of techniques and styles. For 2021, each workshop is capped at eight kids. Enjoy a $25 discount if you sign up by the end of March.
There are a few different sports camps available at A-Game Sports­, from flag football to field hockey. While the number of weeks and price varies per sport, the multi-sport camp is five weeks long—and the earlier you sign up, the cheaper it is; it tops out at $375 per week. If you sign up by Sunday, February 28, it's just $250 per week. Camp runs from 9am-3pm from Monday, July 12-Friday, August 27. Kids ages 6-12 can try their hand at a variety of sports. A similar program is offered for preschoolers.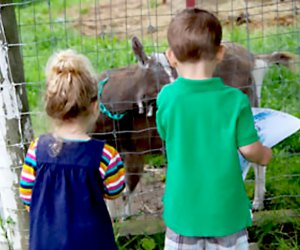 Preschoolers can spend summer afternoons on Muscoot Farm meeting animals, crafting, and more! Photo courtesy of the farm
This is one of the most affordable options in the area. Preschoolers get to spend time at Muscoot Farm in Somers during this weeklong camp from Monday, July 26-Friday, July 20, 2021. Children explore the farm, its woodlands, fields, and residents, plus do arts and crafts. The camp costs just $175 for the week.
2021 update: We have yet to confirm 2021 details, but New Rochelle Racquet Club has been open and operating school break camps.
If you sign up for six weeks of this half-day tennis camp option for kids 7 and under, it'll cost you $340 per week. (If you do three weeks or less, it's $370.) The day runs from either 9am-noon or 1-4pm. Kids will learn the basics—and more—of the game on equipment and courts sized for them. There's also an early evening option, from 4-6pm, for just $250 per week.
While the full-day options are more expensive, if you go with the half-day options for either the Sports Camp or the Gymnastics Camp at the Rye Y, it'll cost $275 per week. The season runs eight weeks, and the Sports Camp is at Resurrection School, while Gymnastics is at the Y itself. The more traditional (and full-day) Discovery Camp hits just below our limit at $365 per week. There's also a Kinder Camp option for 3-6-year-olds, which costs $343 for the full-day option and $277 for the half-day. Just note that if you're not already a Rye Y member, you'll need to join for an additional fee.
RELATED: Popular Summer Day Camps for Westchester Kids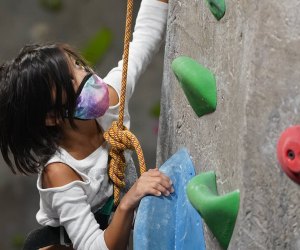 The Rock Club Summer Camp promotes fitness, team-building, and confidence through various activities, including climbing, obstacle courses, games, and more!
If your child is interested in indoor rock climbing, the summer camp at The Rock Club might be a perfect choice. The camp, which has morning or afternoon sessions, is open to kids ages 5-14 and runs $350 for the week, with the possibility of choosing up to nine weeks. There's also the option to sign up for just the day, at $95 for the first day and $75 per day after that.
Westchester County holds camps at several different nature centers and preserves throughout the area, including Cranberry Lake Preserve, Lenoir Preserve, Marshlands Conservancy, Read Wildlife Sanctuary, and the Trailside Nature Museum, with weekly sessions running $350 for kids entering grades 1 through 6. Pre-k programs cost $175 a week, and middle schoolers start at $350 per week, though some camps require a more pricey two-week commitment. Most camps run from 9am-3pm for elementary schoolers and up. In 2021, all camps are capped at 10 kids per group.
This post was originally published in 2019 and has been updated since.
All photos courtesy of the camps