100 Things To Do in Westchester and the Hudson Valley Before Kids Grow Up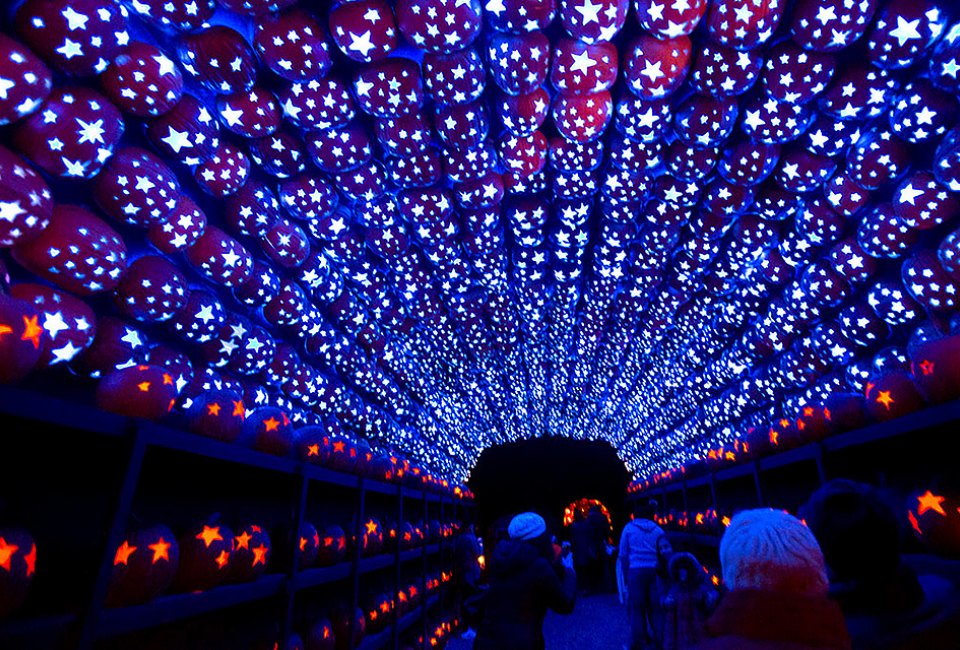 7/16/23
- By
Susan Miele
Check out these iconic things to do in Westchester and the Hudson Valley with kids—including attractions, events, activities, museums, and more—that everyone growing up in the area really must experience!
Westchester and the Hudson Valley offer a slew of family-friendly activities that add to its allure as a great place to raise kids or a day trip destination for nearby families. While some of these are well-known, iconic events, like the Great Jack O'Lantern Blaze, or seasonal staples, like Rye Playland, the region also boasts many lesser-known attractions. Whether you've recently moved to the area or have been living here for years, we've got a long list of the best things to do in the region with kids.
This list of 100 things to do in Westchester and Hudson Valley with kids before they grow up includes annual festivals, opulent mansion tours, holiday extravaganzas, essential delicacies, seasonal destinations, and more. We've done our homework, so you don't have to! Some are seasonal, some are year-round—and all are worth trying!
Once you've checked these off, expand your horizons with our list of 100 Things To Do in New York State.
Exploring Westchester and the Hudson Valley
If you're in the market for local itineraries, check out some of our posts on the best things to do in Hudson Valley towns like Rhinebeck, Beacon, and Cold Spring, or in Westchester towns like Rye, Tarrytown, and Yonkers.
Money-Saving Tips for Exploring Westchester and the Hudson Valley
Check out our list of FREE museums in the area and more money-saving ideas in our roundup of 50 FREE things to do with kids in Westchester and the Hudson Valley.
Top Things To Do in Westchester and the Hudson Valley for Visitors
If you've got family in from out of town or you and your family are just starting to explore the region, take a look at our Guide to Getaways and Day Trips from Westchester and the Hudson Valley. We've also got a curated three-day itinerary for exploring the Hudson Valley, plus an entire guide devoted to exploring the Catskills with kids.
Best Things To Do in Westchester and the Hudson Valley with Kids By Age
Here are some helpful guides featuring great things to do with kids of different ages: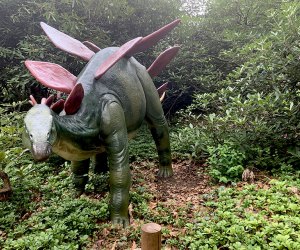 Visit the dinosaurs in Lasdon Park. Photo by Marisa Iallonardo
100 Top Things To Do in Westchester and the Hudson Valley With Kids
1. See Dinosaurs…in a Garden
Visit the dinosaur park and stroll the lovely gardens at Lasdon Park in Katonah.
2. Visit a Floating Greenhouse
Visit the floating greenhouse and enjoy various weekend events at the Science Barge in Yonkers.
3. Peace Out
Get groovy with a visit to the site of the Woodstock Music Festival in the Catskills.
4. Follow the Footsteps of George Washington
Spend the night in the historic Beekman Arms in the Hudson Valley, the oldest continuously operating inn in the US. Even George Washington slept here!
5. Take a Day Trip
Make a day (or two) of it in charming Rhinebeck.
6. Seek Out the Raptors
Bring your binoculars to Croton Point Park for the Hudson River EagleFest. This annual event typically features birds-of-prey shows, children's activities, and communing with nature lovers.
7. Get Comfy
Cozy up with a slice of Tahitian vanilla cheesecake or banana cream pie at City Limits Diner in White Plains.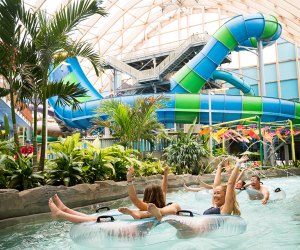 The Kartrite Resort and Indoor Waterpark is an all-ages pleaser for a Hudson Valley getaway.
8. Float Down a Lazy River
For year-round water play, suit up and visit the Kartrite Resort and Indoor Waterpark.
9. Explore the Hudson River
Get to know the Rivertowns, where we've identified 75+ things to do up and down the Hudson River. Work your way downriver as you conquer our list of things to do in the Rivertowns. Both riverfront and downtown fun await in these cute towns and villages.
10. Tap a Tree
Watch tree sap get converted to syrup during maple-sugaring season and learn about the history of this sweet creation, which started with Native Americans in the region.
11. Do Some Time Travel
Step back in time at a living-history museum by visiting either Museum Village or Historic Huguenot Street in the Hudson Valley.
12. Spoil Your Doll
At Girl AGain, a resale boutique for American Girl dolls in White Plains, you can find some new-to-you treasures for your 18-inch doll or attend a hands-on workshop. It's a wonderful shop run by a charitable organization that helps young women with autism learn key job skills, like merchandising and more.
13. Attend a Spring Festival
Work your way through the area's many spring fairs and festivals—from Earth Day celebrations to Japanese cherry blossoms and more.
14. See a Show
Take in one of the many (and very popular—i.e., they sell out fast!) family-friendly stage productions at the Emelin Theatre in Mamaroneck.

Rye Playland offers plenty of all-ages attractions from kiddie rides to historic coasters. Photo by the author
15. Visit an Icon
Enjoy amusement park rides, concerts, the boardwalk, and more at the famed, beloved Rye Playland—it's almost a century old! Do you dare to ride the historic Steeplechase?
16. Love a Duck
Root, root, root for the quacker of your choice at the Y Healthy Kids Day Rubber Duck Derby in Sleepy Hollow.
17. Space Out!
Expect out-of-this-world ridiculousness—including alien encounters and merch—at the annual UFO Fair in Pine Bush.
18. Cheer on the Home Team
Attend a New York Boulders baseball game in Rockland County and take advantage of the small-team perks, like giveaways, running the bases, special events, and low ticket prices.
19. Volunteer
Teach your kids to contribute and keep it going. Help out at Pitch in for Parks or I Love My Park Day.
20. Take a Ride
Hop on your bikes and cruise the car-free Bronx River Parkway during Bicycle Sundays or follow one of these other family bike paths.
21. Picnic at a Concert
Enjoy a day of assorted performances on multiple stages at the American Roots Music Festival in Katonah.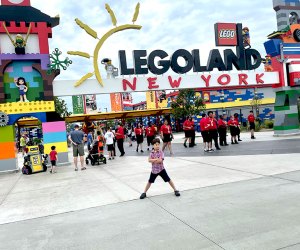 Situated about 60 miles outside New York City in Goshen, the 150-acre Legoland New York is the biggest Legoland yet. Photo by Diana Kim
22. Have an Awesome Theme Park Day
Enjoy the rides—including the new waterpark—activity stations, and overnight accommodations at Legoland New York.
23. Visit the CIA
Dine in the student-run Apple Pie Bakery Cafe at the renowned Culinary Institute of America in Hyde Park; then peek through the classroom windows to watch culinary instruction in the works.
24. Celebrate the 4th
Spend part of Independence Day at Cornwall's Fourth of July Celebration, starting with breakfast and assorted events straight through to a nighttime fireworks show.
25. Roll Up to the Movies
Go retro at one of the area's drive-in movie theaters.
26. Float Away
Gaze at the rainbow-hued hot-air balloons as they are inflated and take to the sky during the Hudson Valley Hot-Air Balloon Festival, or book your own balloon ride. Linger longer for the nighttime illumination glow.
27. Grab a Hot Dog
Pull up a picnic bench and chow down on the famous hot dogs that have kept Walter's Hot Dog Stand going for more than 100 years.
28. Head to the Catskills
Book a day pass to enjoy the grounds and recreation at The Ashokan Center.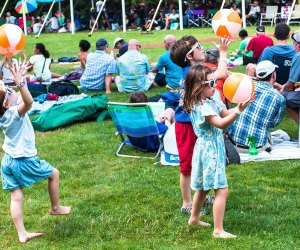 Bring the kids to an outdoor jazz concert at Caramoor. Photo courtesy of Caramoor
29. Experience Culture
Soak up high art in a bucolic setting when Caramoor and Jazz at Lincoln Center join forces for the annual outdoor Jazz Festival. Bring a picnic.
30. Savor Afternoon Tea
Another favorite activity at Caramoor: Join in an elegant afternoon tea or just explore the beautiful grounds.
31. Take in a County Fair
Budget a whole day for the Dutchess County Fair, the second largest county fair in New York State, featuring rides, eyebrow-raising entertainment, agricultural and horticultural exhibits, culinary competitions, and eclectic attractions from racing pigs to dock-diving dogs.
32. Stroll the Grounds
Meander through the beautiful, tranquil gardens of Untermyer Gardens in Yonkers.
33. See How the 1% Lived
Take a tour of Kykuit, the glorious Rockefeller estate in Sleepy Hollow.
34. Cavort with Characters
Stroll through Elizabethan England, re-created in farcical style, encountering roving monarchs, jesters, jugglers, wenches, and other questionable blokes at the New York Renaissance Faire in Tuxedo Park.
35. Try Shakespeare
Introduce the kids to the Bard via the Hudson Valley Shakespeare Festival, whose schedule includes family-friendly productions in an outdoor setting.

Get messy while supporting pediatric cancer research with a slopstacle course, splatter paint, mud pit, pie tosses at Muddy Puddles Mess Fest. Photo courtesy of the fest
36. Make a Big Mess
Abandon self-restraint at the Muddy Puddles Mess Fest in Carmell and stew in goop-like pie tosses, food fights, splatter paint, muddy puddles, and more (all while supporting a charitable cause, to boot).
37. Get Ice Cream
Cool down with a tasty treat at a picnic table beside King Kone in Somers.
38. Tour a Mansion
Gawk at the extravagance of the Vanderbilt Mansion in Hyde Park.
39. Visit the President's Home
While you're there, visit the home of Franklin D. Roosevelt and the museum, including the grounds and historic cars. For a deeper dive, tack on the FDR Presidential Library & Museum.
40. Experience Historic Flight
See a World War I air show, view historic aircraft, model period costumes, and fly in a biplane at the Old Rhinebeck Aerodrome.
41. Take to the Water
Go fishing, kayaking, or canoeing.
42. Build Something New
Build, view the exhibits, and race through the kids-only indoor play structure at Westchester's Legoland Discovery Center.

The zero-depth entry at Willson's Waves makes it a perfect pool for tots. Photo courtesy of Willson's Waves
43. Catch a Wave
Ride the waves without going to the beach at Willson's Waves pool.
44. Splash Around
Cool off at the elaborate SplashDown Beach water park in Fishkill.
45. Hit a Local Beach
Soak up the sun and hone your sand-castle building skills at one of Westchester's beaches.
46. Get to Know Harbor Island Park
Play in the nautical-themed park, ride your bike, and enjoy lovely marina views at Harbor Island Park.
47. Enjoy STEM Fun
Summon your child's inner engineer, artist, or scientist at the Westchester Children's Museum.
48. Visit a Family-Focused Museum
Journey to the stars at Hudson River Museum's planetarium, tour the historic Glenview mansion, and don't miss the Red Grooms "bookstore." Numerous exhibitions of interest and family activities are offered year-round.
49. Discover Boscobel
Explore the stunning historic home and grounds of Boscobel House and Gardens and marvel at the view of the Hudson.

It's trampolines galore are Bounce! Trampoline Sports. Photo courtesy of the venue
50. Bounce Off the Walls
Bounce off the walls and floors at the adrenaline-producing Bounce! Trampoline Sports in Valley Cottage or Poughkeepsie.
51. See Matisse and Chagall
View the stained-glass windows created by Henri Matisse and Marc Chagall at the Union Church of Pocantico Hills.
52. Visit the Washington Irving Landmarks
Visit Washington Irving country and the associated landmarks of Sleepy Hollow that reflect his legacy, including Irving's stately home on the Hudson River and the Old Dutch Church.
53. Take a Cemetery Tour
Tour the historic Sleepy Hollow Cemetery, reading markers from centuries ago and spotting the resting place of Andrew Carnegie, Washington Irving, and other notables. Eerie tours are offered at Halloween time.
54. Learn About the Grist Mill
Go back in time at Philipsburg Manor and learn about life at the historic gristmill.
55. Sleep at Wing's Castle
Spend a night at the quirky and unique B&B Wing's Castle and have lunch at the nearby throwback Millbrook Diner.
56. Cross the Hudson
Walk, bike, or trike the Hudson Valley Rail Trail and traverse the Walkway Over The Hudson, the 1.28-mile, 212-foot-high pedestrian bridge that's hailed as the "world's longest elevated park."

Boundless Adventures offers exciting climbing challenges for ages 7 and up. Photo courtesy of Boundless Adventures
57. Climb to New Heights
Change your view as you ascend the trees at Boundless Adventures in Purchase.
58. Romp in the Children's Museum
Bring your little ones to the Mid-Hudson Discovery Museum to enjoy the play area, exhibits, and events.
59. Cherish the Historic Theaters
Make a point of seeing the historic theaters that remain in Westchester for a slice of real-life social studies: Tarrytown Music Hall, Paramount Hudson Valley Theater, and the Paramount Theatre in Middletown, to name a few.
60. Make Like a Firefighter
Allow plenty of time to explore the 50,000 acres of cool artifacts and interactive exhibits at the FASNY Museum of Firefighting, and don't miss the artsy area of Hudson and its interesting downtown architecture.
61. Visit New Paltz
Spend the day in New Paltz, a well-rounded destination for hiking and scenery, historic sites, a bohemian downtown, and a bit of a hippie vibe. Time your visit to coincide with one of the family events that frequently occur…
62. Stay at Mohonk
…and if you're up for a splurge, work in a visit to the majestic Mohonk Mountain House.
63. Roam the Historic Farm
See what the animals are up to and view the historic buildings and tools at Muscoot Farm in Katonah, where admission is FREE.

Meet cute little friends at the Greenburgh Nature Center. Photo courtesy of the center
64. Meet the Animals
Take a romp through the Discovery Playground, view the animal exhibits, and check out the Native American Replica Village at the Greenburgh Nature Center.
65. Roam the Contemporary Farm
Experience farm life at Pocantico Hills' Stone Barns Center with a tour of the grounds. Kids can see animals, dine on farm-to-table fare, and enjoy family programming.
66. Have Fun on the Sound
Enjoy sweeping views of the Long Island Sound and play among the German-inspired castles at Glen Island.
67. Discover Outdoor Sculpture
Experience modern sculpture as you walk among it outdoors at the awe-inspiring Storm King sculpture park.
68. Tire Them Out at an Indoor Play Space
Stay active and have fun year-round at Kids U.
69. Go Skydiving
"Drop" in for indoor skydiving at iFly.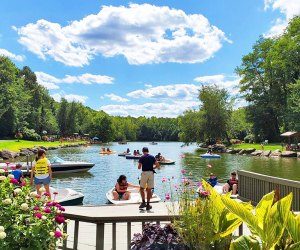 Rocking Horse Ranch has activities all year long for families to enjoy. Courtesy of the ranch
70. Head to the Ranch
Experience year-round resort fun at the Hudson Valley's Rocking Horse Ranch, with its indoor water park, horseback riding, tubing, skiing, and more.
71. Spice Up Grocery Shopping
Shop for groceries and prepared food at a Stew Leonard's location, allowing time to watch Chiquita Banana, the Farm Fresh Five, and others do their mechanical-toy performances.
72. Tour West Point
Visit the West Point Military Academy for a guided tour.
73. Explore the City of Beacon
Spend the day in charming Beacon.
74. Pick Berries
Fill your basket with all sorts of pick-your-own berries—whether you're in strawberries, blueberries, or other fruit.
75. Go Crabbing or Seining
Make like a marine biologist and go seining or crabbing with the Marine Education Center in Mamaroneck.
76. Attend a Summer Festival
Work your way through the list of fun summer festivals in the region.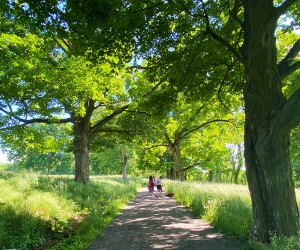 Stroll the grounds of Rockefeller Park. Photo by Sara Marentette
77. Take a Hike
Take a hike and savor all that great green space around us.
78. Watch an Air Show
Watch aerial maneuvers, parachute jumps, and more at the New York Air Show at the Orange County Airport.
79. Ride the Go-Karts
Enjoy the ultimate indoor go-kart experience at Grand Prix in Mount Kisco, and stick around for bowling, arcade games, and more indoor amusement.
80. Go Antiquing
Take a day trip to the low-key village of Cold Spring for family-friendly antiquing, river-watching, "ruins" exploration, and more. The spot is particularly popular during leaf-peeping season.
81. Tour the Octagon House
Tour the Victorian house known for its octagonal shape.
82. Cultivate a Love of Reading
Meet beloved authors and illustrators and enjoy assorted other offerings at the Chappaqua Children's Book Festival.
83. Pick a Pumpkin
Grab a wheelbarrow and pick the perfect pumpkin at one of these patches. Your visit might even coincide with face painting, bouncy houses, and other fun.

Visit graveyards and hear the stories of the headless horseman as part of the Halloween celebration in Irving County. Photo courtesy of Historic Hudson Valley
84. Celebrate Halloween in Irving Country
Spend the Halloween season—all of it!—in Westchester and the Hudson Valley. The area of Sleepy Hollow and Tarrytown, in particular, are booming from late September through early November as an homage to Washington Irving's creations.
85. Go Leaf Peeping
Devote an outing to delight in the splendor of autumn with these top viewing spots for fall foliage.
86. View 7,000 Jack-o'-Lanterns
Marvel at more than 7,000 hand-carved, illuminated jack-o'-lanterns displayed mosaic-style to create flora, fauna—even the Statue of Liberty—at The Great Jack O'Lantern Blaze.
87. Find Your Way Through a Corn Maze
Navigate your way through a giant corn maze.
88. Pick Apples
Usher in fall with some of the best apple picking in the area.
89. Visit a Film Center
Catch one of the well-curated flicks or join a film-making activity at the Jacob Burns Film Center in Pleasantville.
90. Get Rustic
Savor the fall foliage, explore the zoo, go sledding, take a hike, ice skate, and ride the animal carousel at Bear Mountain.
91. See Apple Cidering
Watch apples get pressed into cider.

Sinterklaas is a day-long, colorful celebration that includes children's workshops, dance, theatre, and music all over the village of Rhinebeck. Photo courtesy of the festival
92. Celebrate the Dutch Tradition of Sinterklaas
Celebrate the holiday season at the large-scale Sinterklaas celebration. It's a wow.
93. Participate in the Second-Largest NYS Halloween Parade
March in or watch the second-largest Halloween parade in New York State: the Nyack Halloween Parade.
94. Pinkies Up!
Have a tea party amidst super-charming décor at Kathleen's Tea Room in Peekskill.
95. Toy Around
Make your wish list at Miller's Toy Shop—established in 1908 in Mamaroneck.
96. Chop a Tree
Choose and chop down your conifer at a Christmas tree farm.
97. Visit a Winter Wonderland
The month-long Winter Wonderland Drive-Thru Holiday Light Extravaganza is a 1.2-mile long drive full of stunning light displays—and even the chance to spot Santa.
98. Catch a Holiday Light Show
Get in the holiday spirit with a driving tour of Christmas light displays in Westchester and the lower Hudson Valley.
99. Go Skiing
Take advantage of our proximity to ski slopes.
100. Ring in the New Year
Celebrate the end of one year and the start of another at the annual White Plains New Year's Eve Family Spectacular.
This post, originally published in 2016, has been updated.
Sign up for the Mommy Poppins Newsletter today!