3 Days in the Hudson Valley with Kids: Ultimate Itinerary by a Local Mom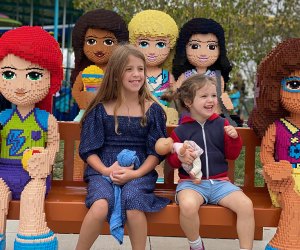 1/27/23
- By
Katherine Dhurandhar
New York's Hudson Valley was recently named by National Geographic Traveler as one of the top 20 must-see destinations in the world and those of us lucky enough to live here know that is a prime destination for a family trip. Its picturesque hills offer stunning views and numerous activities for all seasons, from hiking and waterfall hopping in the summer to skiing and snowtubing in the winter.
To give you the best bang for your buck, we're giving you a local's perspective on the best things to do in the Hudson Valley. You probably can't do all of these activities in three days (kids could probably spend the entire trip at Legoland), but we have included plenty of options so you can take your pick.
For more family-friendly fun, check out our roundups of Things To Do with Kids in the Hudson Valley, Best Hudson Valley Sledding Hills, and Easy Hikes in the Hudson Valley.
We're adding more events to our Family Activity Calendar every day, so don't forget to check it frequently.
Day 1: Things to Do in Goshen with Kids
Go to Legoland
As the only major theme park in the Hudson Valley, Legoland New York is definitely a top attraction for families. Situated on a hilltop, with stunning views of the Hudson Valley, Legoland is truly fun for the whole family. Offering all the Legoland classics, from the Dragon Coaster to Miniland, plus seasonal festivities including a Holiday Bricktacular event for Christmas and Monster Party for Halloween, and a water park in summer. For the full Lego experience, check out the Lego-themed rooms and amazing activities at its extremely kid-friendly hotel.
Visit Castle Fun Center
As an alternative to Legoland, particularly for teens who prefer an adrenaline rush to the colorful bricks, the nearby Castle Fun Center offers thrills for all ages, with an inflatables park, bumper cars, mini golf, a laser maze, rock climbing walls, zip lines, amusement park rides, and much more.
Check out Downtown Goshen
Voted one of the best small towns to visit in America, the town of Goshen has plenty of fun activities that the whole family can enjoy, plus a picturesque downtown and historic district. Visitors can watch a horse race at the oldest active harness racing track in the world, which holds races seasonally and training exhibitions year-round. Downtown Goshen's numerous dining options include local favorites Delancey's Bar and Restaurant, overlooking the race track, and Amore's Pizzeria, serving numerous pizza and pasta dishes with tons of kid-friendly options. Read our full review of the best things to do in Goshen with kids.
Day 2: Things to Do in Poughkeepsie/New Paltz with Kids
Walk over the Hudson River
Take a walk or bike ride on the Walkway over the Hudson, the world's longest elevated pedestrian bridge, and enjoy unobstructed 360-degree views of the Hudson River and surrounding valley. Parking is available on both sides of the river, but there are more attractions and dining options on the Poughkeepsie side.
Kids can spend hours exploring a variety of STEM-related, hands-on exhibits at this two-story museum overlooking the Hudson River. Afterward, weather permitting, families can walk directly outside the museum to the riverfront walk, where kids can enjoy playgrounds and boat watching.
Have Lunch on the River
Have lunch with a view at the River Station Restaurant, with burgers, seafood, homemade chowders, and a kids' menu. Alternately, literally steps away from the Walkway over the Hudson is the popular Lola's Cafe, which offers a variety of sandwiches and paninis, from pork bahn mis to black bean burgers, using locally sourced ingredients.
RELATED: 100 Things To Do in New York State with Kids Before They Grow Up

Hike to the waterfall at Minnwaska State Park. Photo by the author
Take in the Views at Minnewaska State Park
For outdoor fun and spectacular views, check out Minnewaska State Park, situated in the heart of the Shawangunk Ridge, known for its rocky cliffs that have made it one of the top rock-climbing destinations in the United States, with guided tours available for all levels. The park features a picturesque glacial lake, open for swimming in the summer, and miles of hiking and biking trails that pass by several large waterfalls. Families could spend the whole day, or multiple days, exploring the park, but if you are pressed for time, take the drive up to the lake and visitor center for views of the beautiful glacial lake and the nearby Catskill Mountains. For families with small children, I definitely recommend the carriage road around Lake Minnewaska, which is also jogger-stroller friendly. The trails near the lake are open for cross-country skiing in the winter, and the surrounding trails are open for hiking and snowshoeing.
RELATED: The Catskills with Kids: 25 Fun Things To Do

Spend time at gorgeous Kelder's Farm and take in the view. Photo courtesy of the farm
Explore Local Farms and Vineyards
Some of the biggest attractions in the Hudson Valley are the local farms, offering fresh seasonal produce and tons of activities for kids, including farm animal encounters. Our favorites are Kelder's Farm, featuring llamas, slides, and a giant jumping pillow, and Hurd's Family Farm, featuring apple picking, a cow train, and a mini zipline. For more options, check out our guides to apple picking and kid-friendly farms in the Hudson Valley. The New Paltz area is also known for its vineyards and wine trail. See our recommendations for family-friendly wineries in the area.
Dinner in Downtown New Paltz
New Paltz downtown offers a variety of small shops and dining options easily walkable, including Best Pizza, rated best in the Hudson Valley, serving Brooklyn-style pizza. Or try out authentic Himalayan cuisine at Pho Tibet, which serves up a fusion of Vietnamese and Tibetan food, think savory dumplings, and noodle soups. For authentic German food, and giant pretzels, check out the Mountain Brauhaus nestled in the Shawangunks between New Paltz and Minnewaska. Options for kids include a German-themed kids' menu and even organic baby food. But make sure to make a reservation because it fills up quickly in all seasons.
Extend Your Stay
If you are looking for a longer stay, check out the all-inclusive Rocking Horse Ranch, with a huge indoor waterpark and skiing and snowtubing in winter. Also nearby is Mohonk Preserve, featuring miles of hiking trails, and the Mohonk Mountain House, a premier family-friendly resort offering tons of activities for kids.
Find more nearby activities in our Dutchess day-tripping guide.
RELATED: Free Things to Do With Westchester Kids

Take a day trip to Hunter, one of the best ski mountains in New York. Photo courtesy of Hunter Mountain
Day 3: Things to Do in Tannersville/Hunter Mountain with Kids
Situated in the heart of the Catskill Mountains, Tannersville's cute downtown and proximity to tons of family-friendly activities make it a prime place to visit.
Hunter Mountain
Hunter Mountain offers family-friendly fun in every season. It is best known for its skiing and snow tubing slopes, with an expanded ski area just for families. In the warmer months, the gondola is open for scenic rides offering a spectacular view of the surrounding mountains and countryside. For an even more thrilling ride, Hunter Mountains offers one of the longest and highest canopy zipline tours in North America.
Enjoy Brews with Views
Hunter Mountain Brewery offers a variety of craft brews and, unlike many breweries, a full lunch and dinner menu with kid-friendly options. The brewery boasts live music shows, indoor and outdoor seating, and beautiful views of Hunter Mountain and other nearby Catskill mountains. Read our review of other family-friendly breweries in the Hudson Valley.

Take a short hike to get an amazing view of Kaaterskill Falls. Photo by the author
See Kaaterskill Falls
Visit Kaaterskill Falls, New York's highest waterfall at more than 260 feet tall. Visitors can take a short trail to the viewing platform, which provides a spectacular view of the falls and nearby mountains. Snowshoes or microspikes are recommended if you visit in the winter, but the amazing ice formations created by the frozen waterfall make it totally worth it. If you are up for more of a hike, cross the bridge and take the trail to the bottom of the falls, with multiple viewing spots along the way. If you continue on the trail past the falls, you can find numerous other smaller waterfalls, rock formations, and beautiful clear-water swimming holes.
Dinner in Downtown Tannersville
For high-quality cuisine using locally sourced ingredients, check out Jessie's Harvest House, featuring elegantly plated dishes that change with the seasons. For a quick bite, Mama's Boy Burgers serves a variety of burgers and sandwiches, but many stop by just for their huge selection of ice cream flavors.

The Kartrite is a year-round destination for tropical fun. Photo courtesy of the Kartrite
Extend your Stay
Put on your swimsuits any time of year at the Kartrite Resort, featuring the largest indoor water park in the state. Find more places to stay in our roundup of family-friendly Catskills resorts.
For more family-friendly fun, read a review of family river rafting excursions on the Delaware River, and check out more things to do in the Catskills with kids.