Visiting the Mid-Hudson Discovery Museum in the Hudson Valley: Top Things To See and Do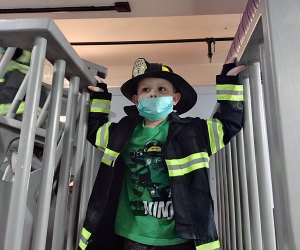 5/8/22
- By
Amy Growney
Following a months-long renovation, the spectacular Mid-Hudson Discovery Museum has reopened to the public, bringing with it renovated galleries, expanded exhibits, an increased focus on STEM learning, and tons of overall improvements to this children's museum in Poughkeepsie. The Mid-Hudson Discovery Museum is the only hands-on learning center of its kind in the Hudson Valley, and the museum houses educational exhibits geared toward children up to 12 years old.
Read on for our review of the Mid-Hudson Discovery Museum, and find more fun things to do in Westchester and the Hudson Valley on this list of the top attractions in the region.
Subscribe to our newsletters to get stories like this delivered directly to your inbox.
Why the Mid-Hudson Discovery Museum is an Awesome Family Destination
This lovely children's museum is situated on the Poughkeepsie waterfront. Attracting 80,000 visitors annually, its galleries feature an array of rotating, hands-on exhibits. We visited on a rainy weekend afternoon, and our visit was non-stop movement and fun. My kids were thrilled that they were never told "no" or "don't touch that" the entire time because the whole experience was just for them—and maybe a little for the parents, too. All in all, we left anticipating a return visit.
Must-See Exhibits at the Mid-Hudson Discovery Museum
The Mid-Hudson Discovery Museum's first floor has two main rooms that cater to younger visitors. With exhibits that get "oohs and aahs" and "look, at this!" reactions, it was endearing to watch the kids find their favorite exhibits like an adult drawn to a particular artist at MoMA. Here are some highlights: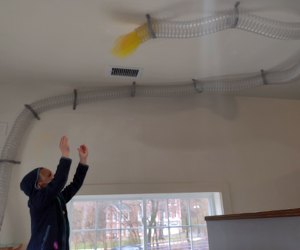 Kids go crazy playing with airflow and gravity in the Early Learn Junction exhibit at the Mid-Hudson Discovery Museum.
In this exhibit, geared toward ages 0-4, little kids gravitated toward the air tubes that sucked up and spit out colorful silk scarves. With one group working together to quickly send up the scarves, as a group on the other side waited with raised jazzy fingers for them to float back down.
Plaques with descriptions and guidelines hang over each stop as the kids run through ane exhibit full of exploration made just for them.
In this microcosm of small-town, Hudson Valley life, kids role play as firefighters, send packages in a real USPS mailbox, shop at a market, and play on a large train table. There's hours of role-playing and fun on the first floor alone. And yet, there's so much more to explore at the Mid-Hudson Discovery Museum just an elevator ride up!
RELATED: 35 Things To Do with Kids in the Hudson Valley

There are plenty of sensory and STEM-inspired learning opportunities at the Mid-Hudson Discovery Museum.
When I was able to pull my kids away from the first-floor fun, we headed upstairs. Right off the elevator exit, there were another two large rooms full of exhibits waiting.
These exhibits are technically pitched toward children ages 5-12, but every child who makes their way upstairs finds plenty of fun things to do.
Many of the adults partake in the exhibits' STEM lessons, too, and showed the same excited responses as the kids they brought with them. Magnetic tiles, a room with glow-in-the-dark activities, sand on moving disks, large wooden building blocks, and a water vortex are just some of the highlights on this floor.
Overall, the hands-on fun overjoyed the kids.
While this isn't an official Mid-Hudson Discovery Museum exhibit, it is undoubtedly a community service worth noting. On Mondays afternoons, from May through October, the museum sponsors this market in the waterfront pavilion adjacent to the museum. Peruse farm-fresh vegetables, fruit, meat, poultry, eggs, and more, plus support local artisans who sell hand-crafted merchandise and enjoy on-site entertainment. The market is open from 3:30-6:30pm and free parking is available in the museum's lot.
Where to Eat Near the Mid-Hudson Discovery Museum
The kids could have gone back and forth between floors a dozen more times if it wasn't for growling tummies. There is no cafeteria in the museum, but snacks are permitted in some areas. If you're looking for something to eat nearby, we've got some ideas in this list of things to do with kids in Poughkeepsie.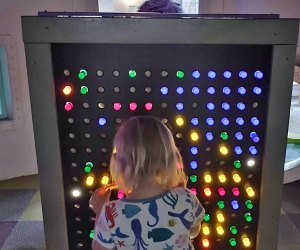 Hands-on fun abounds at the Mid-Hudson Discovery Museum.
Know Before You Go to the Mid-Hudson Discovery Museum
As with any museum or space that tends to get busy around mid-day, we recommend arriving close to opening, if possible.
On-site parking is available free of charge in the museum's private lot.
There are ramps and an elevator that makes the museum accessible to all, including wheelchairs.
Travel light: There is a small coat rack and some stroller storage at the front door, but its best to leave as much as possible in your vehicle
Currently, all visitors ages 2+ must wear a mask while exploring the Mid-Hudson Discovery Museum.
Admission is $12 for adults and children over the age of 1; infants enter for FREE. The third Saturday of the month, from 5pm-8pm is designated as Family FREE Night.
Hours vary by season; visit the website for current hours.
All photos by author