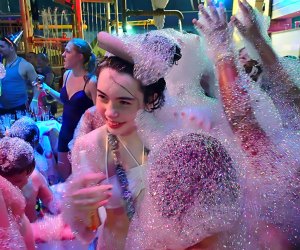 30+ Things To Do in New Jersey Over Holiday Break
The lazy days of the holiday break may be the best time to take part in New Jersey's family-friendly holiday activities—especially if you have visiting relatives to entertain or kids who have already moved on from their presents. From spectacular light displays to cold-weather fun, there's plenty to do during the days off from school.
Most New Jersey schools are closed from Monday, December 23, 2019, through Wednesday January 1, 2020, allowing plenty of time to experience some of the holiday highlights you may have missed in the hectic run-up to Christmas. It's also the perfect time to check out an indoor fun zone, get creative at a library, take in a kids' show, and get prepped for the new year.
Be sure to check out our December GoList and Holiday Fun Guide for more great ideas. Happy Holidays, NJ!