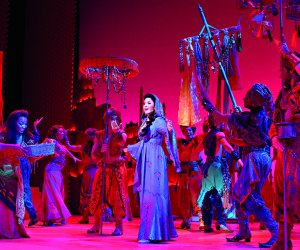 Best Broadway Shows for Kids and Families
Whether you're visiting NYC or live here year-round, seeing a Broadway show is a special family experience. Kids are sure to remember it vividly, and chances are parents won't soon forget the credit card bill. That's why it's important to pick a production wisely, especially when bringing young children to their first Broadway performance.
While Disney juggernauts The Lion King and Aladdin are popular options, there are other kid-friendly choices that aren't as obvious. We've rounded up our top Broadway musicals for families and organized them by age appropriateness. As a bonus, we've also got the scoop on how to save big bucks on tickets to some of our picks.
Peruse our event calendar for additional family theater options in NYC, or read reviews of current productions to find one that best suits your children.
Before splurging on tickets to a Broadway show, remember the official minimum age at theaters is 4, and every audience member needs a ticket. Although parents have certainly sneaked preschoolers into productions, you're better off waiting until your kids are old enough to sit silently for long periods of time. For very young children new to live entertainment, start with more interactive offerings like Off-Broadway's Gazillion Bubble Show!. You'll save money and, perhaps, your sanity.
Kindergarten and Up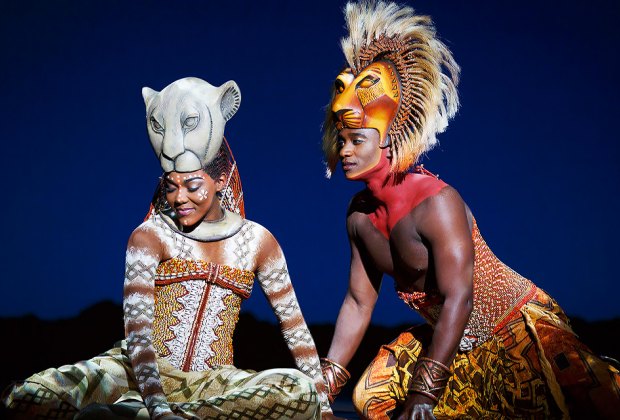 The Lion King is an excellent first Broadway show for elementary schoolers. Photo courtesy of the Disney Theatrical Group

The Lion King
Minskoff Theatre
This long-running Tony-winning musical is based on Disney's animated blockbuster about the coming of age of a young cub. I saw it three times when it opened in 1997, and this was long before I became a mom. However, I recently returned with my daughter in tow and I'm happy to report that, despite a different cast and theater, it's as thrilling as ever. The Lion King is a low-tech wonder filled with eye-popping puppets, exuberant production numbers, and a gorgeous African-inspired aesthetic. The "Circle of Life" opening as the animals parade down the aisles toward the stage is exhilarating and an ideal way to introduce school-age kids to the magic of Broadway. The Lion King's official recommended minimum age is 6, but a well-behaved 4- or 5-year-old should be fine. Tips: Watch the movie in advance and book a matinee.
Aladdin
New Amsterdam Theatre
Much as my daughter and I enjoyed Aladdin, this Disney-based hit doesn't deliver the jaw-dropping wonder of The Lion King. The exposition-heavy first half of Act I is slow. However, once the title character uncorks the incredible Genie, the show takes flight on a magic carpet ride. His introductory number, "Friend Like Me," is hilarious and references other famous Broadway songs. And while the character is outrageously funny, he's nothing like Robin Williams in the film (which was a smart move, as the movie role was so specific to the late comedian's talents). The show also boasts some thrilling special effects, including a flying carpet. Tips: Aladdin's official recommended minimum age is 6, and it's best to watch the movie in advance and book a matinee.
RELATED: Best Family Restaurants in Times Square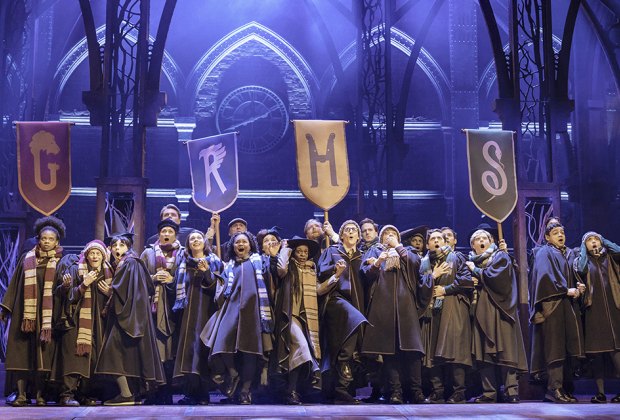 Harry Potter and the Cursed Child is a hit with fans and Muggles alike. Photo by Manuel Harlan
Ages 8 and Up
Harry Potter and the Cursed Child
Lyric Theatre
Magical is the word that best describes this two-part, five-hour stage saga, an eye-popping sequel to J. K. Rowling's Harry Potter book series. In The Cursed Child, the boy who lived has become a middle-aged dad to a young wizard who's sick of living in his father's shadow. While the show is a must for fans of all ages, even those unfamiliar with the stories will fall under its spell. The play stands on its own as a self-contained tale (though there are plenty of references throughout that elicit gasps from those in the know), and with separate story lines for the kids and the parents, it's relatable to all ages. Plus, some of the illusions will have you rubbing your eyes and scratching your head, wondering, how did they do that?! Hopefully a little magic will help you to get your hands on tickets. Tip: TodayTix holds a lottery for 40 tickets for just $40 ($20 per part) for every performance for the following week. Submit your entry from Monday at 12:01am to Friday at 1pm. Recommended for 10 and up, but if your kids are old enough to have read the books, they'll be fine.
RELATED: Best Family Activities in Times Square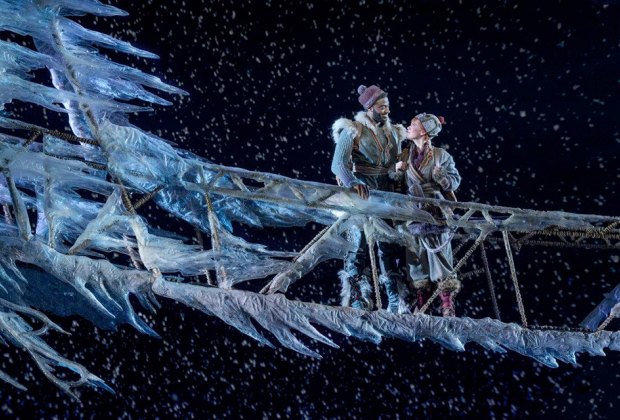 Based on the hit movie of the same name, Disney's Frozen is melting hearts at the St. James Theatre. Photo by Deen van Meer
Frozen
St. James Theatre
Based on Disney's insanely popular animated movie of the same name, Frozen hews closely to the source material as magical ice Princess Elsa loses control of her powers on the day she is to be crowned queen, and flees her kingdom with her loving sister Anna in hot pursuit. All the plot twists and songs (including the Oscar-winning "Let It Go") from the movie are intact, plus a dozen new numbers. While it doesn't reinvent the film à la The Lion King on Broadway, fans should be satisfied. The sets, costumes, and special effects are dazzling! While the recommended minimum age is 8, younger children with long attention spans (it's two and a half hours) should be okay.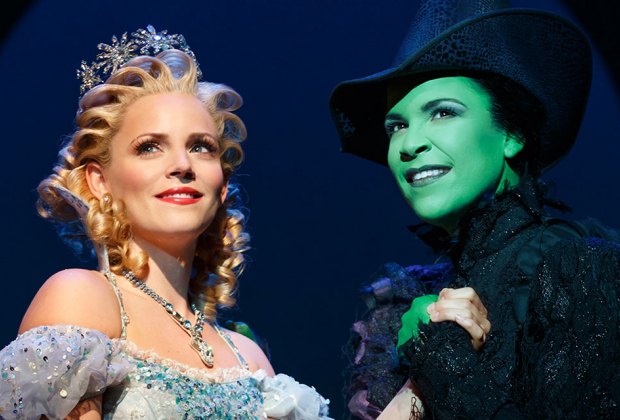 Wicked gives you a new perspective on the witches from The Wizard of Oz. Photo by Joan Marcus
Wicked
Gershwin Theatre
Wizard of Oz-loving kids get a whole new take on Glinda the Good and the so-called Wicked Witch in this stunning musical that shares their backstories as BFFs turned romantic and political rivals. With two strong female protagonists, it features lots of girl power, not to mention powerhouse songs by Stephen Schwartz such as the Act I closer "Defying Gravity." The costumes and sets are amazing—especially the massive dragon hanging above the stage—and the moral that you should never judge a person by their skin color is poignant. Wicked's official recommended minimum age is 8, which makes sense because the show runs nearly three hours and has a few scary moments. If your child is enchanted by the spectacle, be sure to also book tickets to the behind-the-scenes Wicked tour, where you can learn all about the show's secrets.
Tweens and Teens
Beetlejuice
Winter Garden Theatre
It's showtime! Tim Burton's beloved cult movie comes to the stage and design-wise it's a macabre delight. The jaw-dropping sets, costumes, and puppets are worth the price of admission (and easily eclipse the forgettable songs), as the titular demon tries to help a pair of newlydeads scare away a living family for his own evil ends. The movie's narrative has been changed a bit. "Strange and unusual" teenage goth Lydia Deetz is mourning the recent death of her mother, which explains her obsession with death, and Beetlejuice is presented as her pal, not her predator (though he's a total lech with everyone else). The recommended age minimum is 10 but there's a lot of cursing and raunchy gags—during the dinner scene a roasted pig puppet disrobes a woman and later a Girl Scout is terrorized. But the original was also full of dark humor. If your kids can handle the movie with added profanity, they should be fine.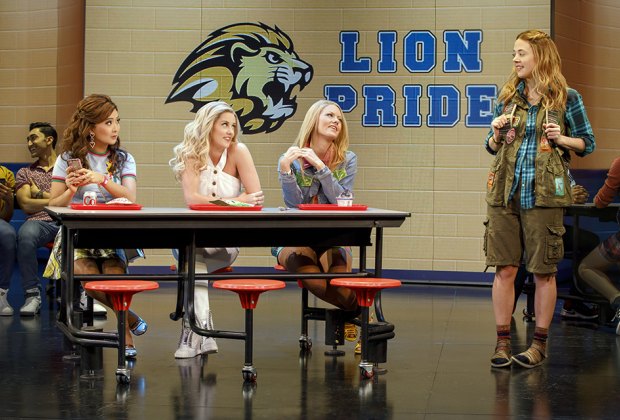 Mean Girls is a clever musical comedy based on the 2004 movie of the same name. Photo by Joan Marcus
Mean Girls
August Wilson Theatre
It may be too easy to say that the stage adaptation of Tina Fey's classic comedy Mean Girls is totally fetch, but it's accurate. The high-energy musical follows the movie closely, often verbatim, but the pop-rock songs give added insight into the characters' emotional lives as smart new girl Cady tries to navigate the hierarchy at her high school, which is ruled by the vicious Regina George and her Plastics. The recommended minimum age is 12—there's a lot of attitude and some pretty raunchy sex jokes. However, like the source material, the show has an uplifting moral: even "mean girls" are human.
Hadestown
Walter Kerr Theatre
Anaïs Mitchell's evocative, folk-rock reimagining of the myth of Orpheus and Eurydice is short on plot but overflows with creativity. Set during the Great Depression, the musical chronicles the ill-fated romance of the young couple, as she heads down to Hadestown to work in the mines with her crooning lover hot on her heels. Inventively staged with an onstage band and a top-notch cast that slays the bluesy score, this unconventional tuner is utterly captivating and attracting crowds of angsty adolescents who love its inevitable unhappy ending. Although it's recommended for ages 8 and up, I think you've got to be past your first crush to really care. It's definitely the saddest love story on Broadway.
To Kill a Mockingbird
Shubert Theatre
The only non-musical in this roundup, Aaron Sorkin's exhilarating stage adaptation of Harper Lee's seminal 1960 novel is a must-see for fans. Admittedly, he takes great liberties with the structure, having Scout, Gem, and Dill share narration duties as they tell the story like a memory play. But it's a dramatically sound decision that really packs an emotional wallop as this well-known tale of lawyer Atticus Finch fighting racism in the Jim Crow South unfolds. Because of terrifying scenes of bigotry, copious use of the N word, talk of rape, and an almost three-hour running time, this show is best for high schoolers. Reading the book or watching the Gregory Peck movie in advance really helps enhance the experience as you see how Sorkin brilliantly changed the narrative to suit the new medium.
RELATED: 50 Things to Do in Midtown with Kids

Experience the remarkable true story of a small town that welcomed the visitors from around the world on 9/11 in Come From Away. Photo by Matthew Murphy
Come From Away
Gerald Schoenfeld Theatre
My daughter and I fell completely in love with this uplifting, history-based musical about how the residents of Gander, Newfoundland opened their homes and their hearts to the 7,000 plane passengers diverted there on 9/11. For a few fraught days when U.S. airspace temporarily closed, the small town almost doubled in size as its inhabitants cared for and comforted the stranded passengers. A cast of 12 adeptly plays dozens of characters and croons the Celtic-infused tunes. I understand if the idea of a 9/11 musical gives you pause, but the terrorist attacks are the backdrop, not the focus, and this incredible true story (based on extensive interviews with people who were there) might just reaffirm your faith in humanity. The official recommended minimum age is 10.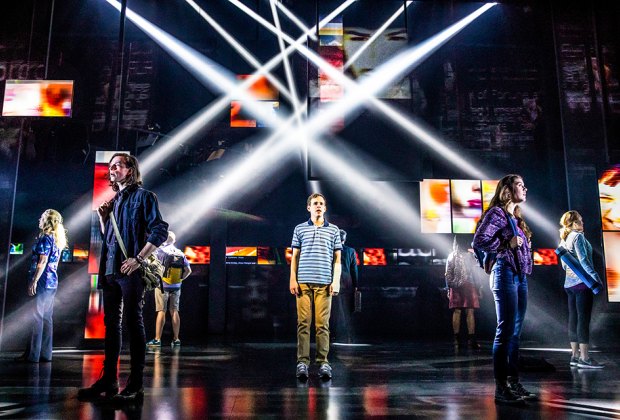 Expect tough subjects—suicide, bullying, and more—but also searing performances at Dear Evan Hansen. Photo by Matthew Murphy
Dear Evan Hansen
Music Box Theatre
Best for teens (12 is the recommended minimum age), this intense tuner touches on a slew of hot-button topics including adolescent suicide, depression, bullying, class differences, and the impact of social media on all our lives. Phew! Yet despite its heavy and complex story about an anxiety-ridden loner who's mistaken as the best friend of a classmate who killed himself, Dear Evan Hansen is surprisingly entertaining, even when it's tearing your heart out. My daughter was 11 when we went to see it, and while she was too young to completely relate, she enjoyed the pop-rock songs and the searing performances, and it certainly sparked a few important conversations. It's a tough ticket but if you've got a high-schooler in your household, it's a must-see.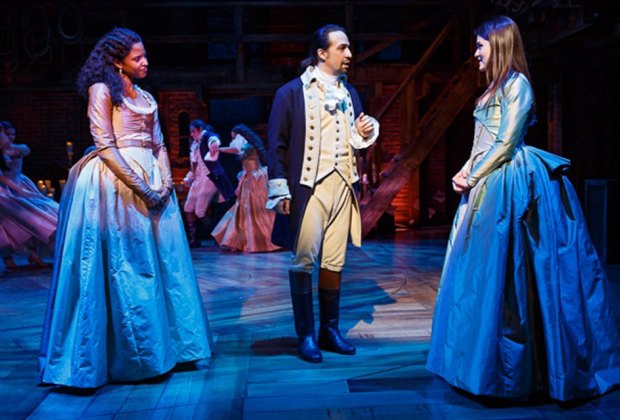 Our Founding Fathers rap for the revolution in the smash hit Hamilton. Photo by Joan Marcus
Hamilton
Richard Rodgers Theatre
Do I really need to tell you about Lin-Manuel Miranda's historical hip-hop blockbuster? Chances are if you have tweens they already know all the lyrics by heart. Yes, it's long (almost three hours), and yes, it deals with some pretty dense subject matter (the American Revolution and the birth of our nation), and yes, there is some profanity. But if you can manage to snag seats, it's an exhilarating and educational experience for ages 10 and up. Even though Miranda and the rest of the original cast left years ago, this is still one of the toughest tickets in town. Lots of theater sites have published Hamilton ticket tips but honestly, the best way to get them is to enter the $10 digital lottery daily (hey, you never know!), mortgage your house to buy seriously marked up resale tickets on Ticketmaster, or sign up for the show's email list to find out when a new block of tickets goes on sale. If you act quickly, you may be able to get seats at the regular face value. Bonus: You can enhance your Hamilton experience by visiting these five NYC sites related to Alexander Hamilton's legacy.
How to Save Money on Broadway Tickets
There are many sites that list discount codes for select Broadway shows year-round, which can be used to purchase seats online or over the phone. If possible, print out the offer and bring it to the box office to avoid service fees. Popular sites include Goldstar, BroadwayBox, TheaterMania, and Playbill. If you go to NYC theater regularly, it's worth finding out if you're eligible to join TDF, which offers deeply discounted tickets to shows on Broadway and off.
For last-minute deals, wait at one of NYC's TKTS by TDF Discount Booths to buy same-day theater tickets at up to 50 percent off. Or try the app TodayTix, which offers discounted as well as full-price seats, and handles the online lotteries for some Broadway shows. Playbill also has a comprehensive rush, lottery, standing-room-only (SRO), and student ticket list that's frequently updated. Most lotteries are done online so you don't even have to leave the house to enter.
Broadway Week
You can snag two-for-one tickets to a host of Broadway shows thanks to this biannual deal, which (despite its name) typically takes place for three weeks in January/February and September/October. Many shows sell out within minutes so you need to log on right at 10:30am the first day tickets go on sale. Seating restrictions and black-out dates apply. To avoid additional fees, go directly to the box office if possible. To find out when Broadway Week tickets go on sale, sign up at the official website.
Kids' Night on Broadway
Another two-for-one Broadway ticket deal, but this one's specifically for families. Buy one full-price adult ticket to a kid-friendly show and snag a FREE child's seat (ages 6-18). Kids' Night on Broadway typically takes place on a weeknight in February, with tickets going on sale in December. Sign up for the Broadway Fan Club to get on the info list.
This article is updated regularly.