Guide to the Best Broadway Shows for Kids and Families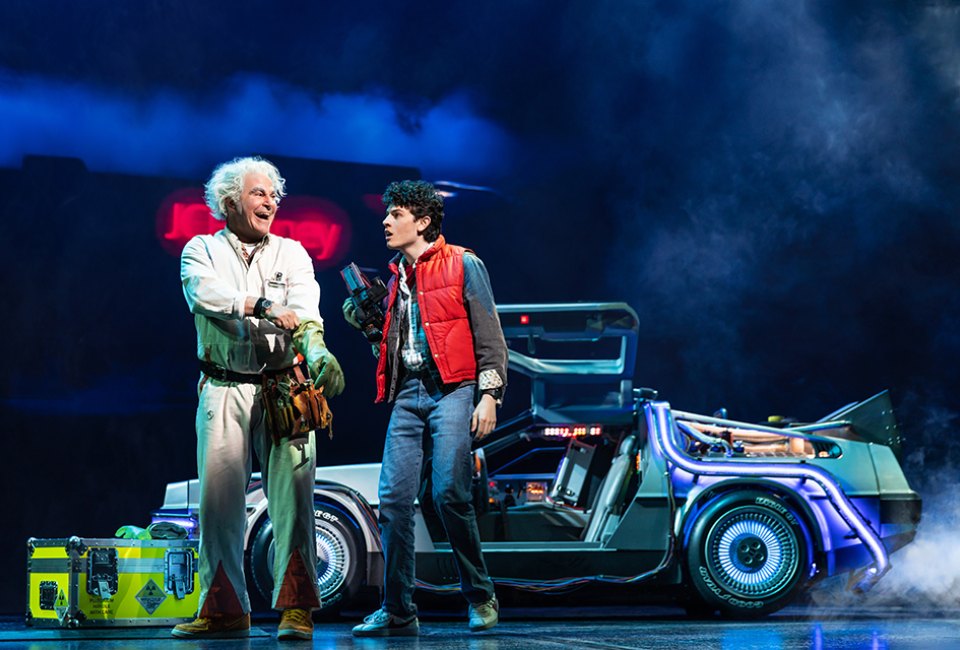 9/10/23
- By
Raven Snook
Whether you're visiting NYC or live here year-round, taking in a Broadway show is a special family experience. Kids are sure to remember it vividly, and chances are parents won't soon forget the credit card bill. That's why it's important to pick a production wisely, especially when bringing young children to their first Broadway performance.
While Disney juggernauts The Lion King and Aladdin are popular options, there are other kid-friendly choices that aren't as obvious. We've rounded up our top Broadway shows for families and organized them by age appropriateness.
If you're looking for more performing arts options, peruse our Family Activity Calendar for additional family theater performances, and bookmark our Guide to Children's Theater for reviews and recommendations.
Subscribe to our newsletters to get stories like this delivered directly to your inbox.
Book Discounted Broadway Tickets on Mommy Poppins
Good news for fans of Mommy Poppins and Broadway: You can now book discounted Broadway tickets to many of the top shows on the Great White Way directly from our family activity calendar. Filter by Activity Category, and select Discounted Broadway Tickets to see all the Broadway shows you can purchase tickets for currently.
COVID Protocols for Broadway Shows
As of July 1, 2022, Broadway theaters have dropped their vaccination requirements and masks are optional but encouraged.
Other rules to note: Most Broadway theaters will not let in children under 4, and every audience member needs a ticket regardless of age. Although parents have certainly sneaked preschoolers into productions, you're better off waiting until your kids are old enough to sit silently for long periods. For young children new to live entertainment, start with more interactive offerings like Off-Broadway's Gazillion Bubble Show or the lovely productions at the New Victory Theater, which begins its new season in mid-October. You'll save money and, perhaps, your sanity.
RELATED: Score Big Discounts on Broadway Show During Broadway Week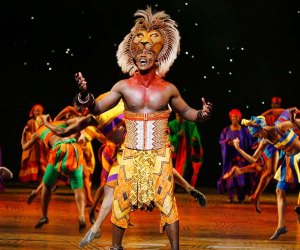 The Lion King is an excellent first Broadway show for elementary schoolers. Photo courtesy of the Disney Theatrical Group
Best Broadway Shows for Kindergarteners and Up
This long-running Tony Award-winning musical is based on Disney's animated blockbuster about the coming of age of a young cub. I saw it three times when it opened in 1997, long before I became a mom. I've since visited with my daughter in tow, and I'm happy to report that, despite a different cast and theater, it's as thrilling as ever. The Lion King is a low-tech wonder filled with eye-popping puppets, exuberant production numbers, and a gorgeous African-inspired aesthetic. The "Circle of Life" opening as the animals parade down the aisles toward the stage is exhilarating and an ideal way to introduce school-age kids to the magic of Broadway. The Lion King's official recommended minimum age is 6, but a well-behaved 4- or 5-year-old should be fine. Watch the movie in advance and book a matinee.
RELATED: Best Off-Broadway Shows for Kids: Affordable Children's Theater in NYC

In Aladdin, one lamp and three wishes equal infinite possibilities. Photo by Matthew Murphy
2. Aladdin – New Amsterdam Theatre
Much as my daughter and I enjoyed Aladdin, this Disney-based hit doesn't deliver the jaw-dropping wonder of The Lion King. The exposition-heavy first half of Act I is slow. However, once the title character uncorks the incredible Genie, the show takes flight on a magic carpet ride. His introductory number, "Friend Like Me," is hilarious and references other famous Broadway songs. And while the character is outrageously funny, he's nothing like Robin Williams in the film (a smart move since the movie role was so specific to the late comedian's talents). The show also boasts some thrilling special effects, including a flying carpet. Aladdin's official recommended minimum age is 6, and it's best to watch the movie in advance and book a matinee.
Best Broadway Shows for Ages 8 and Up
Yes, the reviews were bad. Yes, it's a retread, not a reinvention, of the movie on stage, with the cast mimicking Michael J. Fox, Christopher Lloyd, and the other stars of the beloved 1985 movie. No, the new songs don't add much. But there are many reasons why Back to the Future: The Musical is a bona fide crowd-pleaser. The special effects are phenomenal, especially the DeLorean time machine, which (spoiler alert!) hovers above the audience. The amusing story is comfortingly familiar. Casey Likes is winning as Marty McFly and Roger Bart, a Broadway favorite known for his broad performances, gleefully hams it up as Doc Brown. Families looking for a high-tech, over-the-top, eye-popping musical extravaganza seem to love it, and the DeLorean is poised to become as iconic as The Phantom of the Opera's chandelier. The official recommended minimum age is 6, but frankly, considering the story involves physical bullying and an attempted sexual assault (all from the film), that seems young to me. I would say 8 and older.
RELATED: Top Attractions in NYC: Best Things To See and Do with Kids

Harry Potter and the Cursed Child is a hit with fans and Muggles alike. Photo by Matthew Murphy
Magical is the word that best describes this breathtaking sequel to J.K. Rowling's Harry Potter series. In The Cursed Child, the boy who lived has become a middle-aged dad to a young wizard who's sick of being in his father's shadow. While the show is a must-see for fans of all ages, even those unfamiliar with the books fall under its spell. The play stands on its own as a self-contained tale (though there are plenty of references throughout that elicit gasps from those in the know), and with separate storylines for kids and parents, it's relatable to all ages. Plus, some of the illusions will have you rubbing your eyes and scratching your head, wondering, how did they do that?! Formerly a two-part play, it was transformed into one streamlined production post-pandemic. The official recommended minimum age is 8, which seems about right. However, if your younger kids are old enough to have read the books, they should be fine.
RELATED: Best Places to Eat with Kids Near Times Square and Rockefeller Center

Wicked gives you a new perspective on the witches from The Wizard of Oz. Photo by Joan Marcus
5. Wicked – Gershwin Theatre
Wizard of Oz-loving kids get a whole new take on Glinda the Good and the so-called Wicked Witch of the West in this stunning musical that shares their backstories as the BFFs turned romantic and political rivals. With two strong female protagonists, it features lots of girl power, not to mention powerhouse songs by Stephen Schwartz such as the Act I closer "Defying Gravity." The costumes and sets are amazing—especially the massive dragon hanging above the stage—and the moral that you should never judge a person by their skin color is poignant. Wicked's official recommended minimum age is 8, which makes sense because the show runs nearly three hours and has a few scary moments. Note: Children under 5 will not be admitted.

& Juliet turns Shakespeare's classic tale on its head with plenty of girl power. Photo courtesy of Matthew Murphy
Best Broadway Shows for Tweens and Teens
6. & Juliet – Stephen Sondheim Theatre
You may not recognize the name Max Martin but you certainly know his work: He's co-written hits for Britney Spears ("Oops I Did It Again," "Baby One More Time"), the Backstreet Boys ("Larger Than Life," "I Want it That Way," "Shape of My Heart"), Céline Dion ("That's the Way It Is"), NSYNC ("It's Gonna Be Me"), and Katy Perry ("Roar," "I Kissed a Girl," "Teenage Dream"). All those numbers and more are featured in & Juliet, a jukebox musical smash that changes the fate of Shakespeare's tragic heroine as she skips suicide and goes on an empowering journey of self-discovery. With the clever recontextualizing of familiar songs, a hilarious script by a Schitt's Creek writer, and a contemporary story centering on women and LGBTQ characters, & Juliet is one of the hottest tickets in town. Although the official recommended minimum age is 8, I think it's best for middle and high schoolers given its themes of love and identity.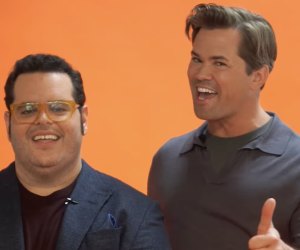 Gutenberg is a hilarious new musical about an unintentionally hilarious new musical! Photo courtesy of the production
Runs September 15, 2023-January 28, 2024
While young Frozen fans may be interested in seeing Josh Gad, aka Olaf the snowman, live on stage, be warned: This show is not for little kids! But theater-loving teens (the official recommended minimum age is 12) will adore this irreverent musical comedy spoof. Two clueless songwriters, played by original Book of Mormon stars Gad and Andrew Rannells, mount a hilariously inept presentation of their bio-show about Johannes Gutenberg, the inventor of the printing press. They play dozens of characters poorly and interrupt the action to share too much information about their personal lives. Two decades ago, I saw this show multiple times Off-Broadway and laughed my heinie off. I can't wait to see this celebration of the joys (and oys!) of musical theater on Broadway with two of the funniest actors working today.
RELATED: Family-Friendly Hotels in New York City with Perks for Kids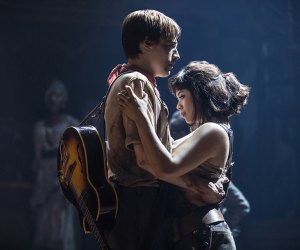 Hadestown brings a folk-rock reimagining to a Greek mythology storyline, but it's not for the faint of heart. Photo by Matthew Murphy
8. Hadestown – Walter Kerr Theatre
Anaïs Mitchell's evocative, folk-rock reimagining of the Greek myth of Orpheus and Eurydice is short on plot but overflows with creativity. Seemingly set during the Great Depression, the musical chronicles the couple's ill-fated romance as she heads down to Hadestown to work in the mines with her crooning lover hot on her heels. Inventively staged with an on-stage band and a top-notch cast that slays the bluesy score, this unconventional tuner is utterly captivating, attracting crowds of angsty adolescents who love its inevitable unhappy ending. Although the official recommended minimum age is 8, I think you've got to be past your first crush to really care. It's definitely the saddest love story on Broadway.
RELATED: Bryant Park and More Midtown West Parks and Playgrounds to Visit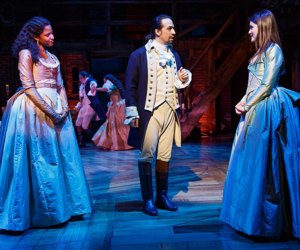 The founding fathers rap for the revolution in the smash hit Hamilton. Photo by Joan Marcus
9. Hamilton – Richard Rodgers Theatre
Do I really need to tell you about Lin-Manuel Miranda's historical hip-hop blockbuster? Chances are if you have tweens, they already know all the lyrics by heart and have watched the stage capture of the original cast on Disney+ countless times. Yes, it's long (almost three hours), and yes, it deals with some pretty dense subject matter (the American Revolution and the birth of our nation), and yes, there is some profanity. But it's an exhilarating and educational experience for ages 10 and up. Even though Miranda and the rest of the original cast left years ago, this is still an expensive ticket. If you don't want to pay through the nose, try your luck with the $10 digital lottery (hey, you never know!). Bonus: Enhance your Hamilton experience by visiting these five NYC sites related to Alexander Hamilton's legacy.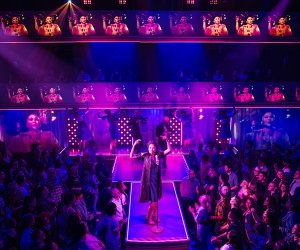 Watch Arielle Jacobs take the stage as Imelda Marcos in Here Lies Love. Photo by Billy Bustamante, Matthew Murphy and Evan Zimmerman
When's the last time you danced along at a Broadway show? Never? Well, time to change that with Here Lies Love, an immersive disco musical about the rise and fall of Filipina First Lady Imelda Marcos. The theater's stage has been transformed into a dance floor where intrepid audiences can boogie alongside the characters, or you can opt for stadium-style seating in the mezzanine, but that kind of defeats the fun. Admittedly, the themes of this ambitious musical, which features catchy songs by David Byrne and Fatboy Slim, are quite grown-up—political and class oppression, assassination, and the evils of overindulgence are just some of the subjects explored. But youngsters may be having too much fun bopping around to notice. The official recommended minimum age is 10 but it's best for teens on the dance floor since it feels a bit chaotic and claustrophobic.
Opens November 15, 2023
Autism-friendly and relaxed performances have made Broadway more accessible to neurodiverse audiences. But the new musical How to Dance in Ohio is breaking down barriers on stage by featuring seven autistic actors playing autistic characters. Inspired by the 2015 documentary of the same name about a group of autistic young adults preparing for a spring formal, the show has been releasing some really moving and powerful songs that make me really excited to check it out with my daughter. The official recommended minimum age is 6 but I suspect it's best for middle schoolers and up.
RELATED: 50 Things To Do in Midtown with Kids

Kimberly Akimbo earned rave reviews and many Tony Awards. Photos by Ahron R. Foster.
Written by the team behind Shrek the Musical, Kimberly Akimbo is based on David Lindsay-Abaire's play of the same name about a teenager (Tony-winner Victoria Clark) who's literally growing up too fast due to a rare genetic disorder. But she has bigger things to worry about, including family secrets and seriously unhinged relatives, as she attempts to find happiness before it's too late. This show is truly one-of-a-kind, a dark musical comedy about mortality that will make grown-ups (especially us middle-aged ones) cry. But adolescents relate to it, too. Kimberly may look 60, but she's truly 16 at heart. The official recommended minimum age is 10, which seems about right.
RELATED: New York City Visitors Guide for Kids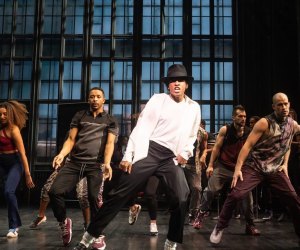 MJ the Musical delivers Michael Jackson's signature moves. Photo by Matthew Murphy
I admit, I walked into this bio-musical about Michael Jackson a skeptic. As much as my family and I enjoy his songs, I worried I would think about the horrible accusations against him the entire time. But I was able to set those aside temporarily thanks to the show's incredible singing and dancing. Set during the creation of Jackson's 1992 Dangerous World Tour, the musical acknowledges that he was a deeply flawed man with many problems, some of which are acknowledged (his addiction to painkillers, his perfectionism at all costs, his inability to hear the word "no"), while others are glossed over (it's set before the abuse allegations but there are still a few lines obliquely alluding to it). But this isn't an intense examination of a troubled genius. It's a celebration of all he created and the boundaries he broke—his music transcended so many, including race, class, and genre. If your tween's face lights up at the first few notes of "Thriller," you will not be disappointed. Although the official recommended minimum age is 8, I suggest middle school and up since there are scenes of Jackson being physically abused by his father.
14. SIX – Brooks Atkinson Theatre
If you've got a musical-loving adolescent in your life, you've probably heard all about this international sensation, a history-inspired concert in which Henry VIII's bedazzled wives belt out catchy pop songs about their dramatic lives with the moody monarch as each vies to become the lead singer of the girl group. Written by newcomers Toby Marlow and Lucy Moss, SIX boasted a viral studio cast recording and multiple global productions before it arrived on Broadway. Now it's got two Tony Awards and a rabid international fan base. The conceit may sound gimmicky, but its execution is impressively effective. It's smart, entertaining, and, in centering the Queens instead of the absent King, unabashedly feminist. Plus the all-women on-stage band seriously rocks! The official recommended minimum age is 10, which is spot-on.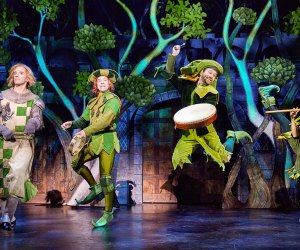 The Tony Award-winning Best Musical, Spamalot, which set Broadway back 1,000 years, returns! Photo by Jeremy Daniel
15. Spamalot – St. James Theatre
Opens October 31, 2023
I was seven months pregnant when I saw the original Broadway production of the laugh-out-loud musical Spamalot on Broadway. Now my kid's a freshman in college and the show's coming back with a crackerjack comedic cast. A song-and-schtick-filled adaptation of the Arthurian spoof Monty Python and the Holy Grail, it's ribald, risqué, and riotous. It's a must for families into Monty Python. If you're unfamiliar with the troupe's work, I recommend checking out the movie as a lot of the humor is super silly (or you can just watch this classic clip). It's an acquired taste that many people have! Plus this revival got rave reviews in DC earlier this year. The official recommended minimum age is 9, but some of the humor is edgy. I say wait until middle school.
This article is updated regularly.
Click Here to Sign Up!