Score Big Discounts on Broadway Show Tickets When Broadway Week Deal Returns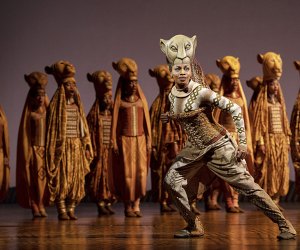 After a pandemic-induced hiatus, Broadway Week, the theater industry's big BOGO promo returns. So, set a calendar alert to grab these discounted tickets to Broadway shows because Broadway Week ticket sales launch Tuesday, August 16.
The discounted ticket promo includes some of our favorite family-friendly Broadway shows like The Lion King, Wicked, and more. Read on for all the details.
Subscribe to our newsletters to get stories like this delivered directly to your inbox.
Before splurging on tickets to a Broadway show, keep in mind that the official age minimum for most Broadway shows is 4 years old, and every audience member needs a ticket no matter how young. Although I have seen parents sneak preschoolers into a few productions, it's best to wait until kids are old enough to appreciate the Broadway experience. For younger children and first-time theatergoers, consider the shows at the New Victory Theater.
And now for the details on Broadway Week: Tickets go on sale today—Tuesday, August 16—and provide two-for-one tickets to several productions for performances taking place from Tuesday, September 6 to Sunday, September 25. Get answers to the promo's frequently asked questions here so you're all ready when it's time to book.
If you're hoping to score these deals for big-name shows, time is of the essence. Tickets to family favorites such as The Lion King, Harry Potter and the Cursed Child, Aladdin, SIX, and Wicked are all included, but limited. Newer shows like Into the Woods, Beetlejuice, and MJ the Musical are all featured this go-round, too. Of course, there are restrictions and blackout dates, but it's still an excellent deal. To avoid paying exorbitant ticketing fees, go directly to the box office and ask for the promo.
Can't make any of these dates? Broadway Week takes place twice a year—usually January/February and September. So sign up for its email list to keep on top of the next release date.
Originally published January 2015.