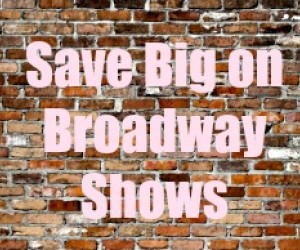 Save Big on the Best Broadway Shows for Kids (and Top Off-Broadway Theater, Too)
January is truly one of my favorite times in NYC. The tourists have all cleared out and everything is on sale, even tickets to Broadway and Off-Broadway shows. Winter brings four major theater ticket promotions that save you a lot more than the usual discount sites. Broadway Week, Kids' Night on Broadway and Off-Broadway Week all offer two-for-one ticket deals to a slew of hit family shows (yes, even The Lion King). Plus, the more under the radar 20at20 lets you snag $20 seats to a bunch of Off-Broadway productions, including the interactive Fuerza Bruta: Wayra, which is great for tweens.

We've got the scoop on how to take advantage of these various deals, along with our picks for the best shows to see with school-age kids, both on Broadway and off.
Before splurging on tickets to a show, keep in mind that the official age minimum for all Broadway (and most Off-Broadway) shows is four years, and every audience member needs a ticket, no matter how young. Although I have seen parents sneak preschoolers into a few productions, it's best to wait until kids are old enough to appreciate the Broadway experience. For younger children and first-time theatergoers, consider the shows at the New Victory Theater. Many are specifically tailored to very young audiences, plus the tickets are much less expensive.
From Tuesday, January 19 through Friday, February 5, you can snag two-for-one tickets to a host of Broadway shows by using the code BWAYWK. Tickets go on sale this Thursday, January 7 at 10:30am and many shows sell out within minutes. So log on right at 10:30am to try to get tickets to family favorites like The Lion King, Matilda the Musical, Aladdin and Wicked. Of course there are restrictions and blackout dates, but it's still an excellent deal. To avoid paying exorbitant ticketing fees, go directly to the box office.

If you get shut out of those, there are some other wonderful choices that you may not have thought of as family shows. The Tony Award winning musical Kinky Boots is one of my nine-year-old's favorites. Inspired by the movie of the same name, it's about two very different men, a wannabe yuppie and an outrageous drag queen, who end up collaborating on a snazzy line of footwear. This crowd-pleaser does explore homophobia, losing loved ones and gay rights. But as long as your child is old enough to understand those subjects, Kinky Boots is totally kid-friendly, with a positive message ("just be who you wanna be!") and awesome songs by '80s icon Cyndi Lauper. For teens or very sophisticated tweens, The Curious Incident of the Dog in the Night-time is a thought-provoking drama about a brilliant but autistic 15-year-old who sets out to solve a personal mystery. The audience is able to see the world through his eyes thanks to immersive light and sound design, and inventive kinetic staging. I found it truly breathtaking (though I admit I left my nine-year-old at home—she's not quite ready for it).
Another two-for-one Broadway ticket deal, but this one's especially for families. Buy one full-price adult ticket to a kid-friendly show and snag a FREE child's seat (ages 6-18) for performances on Tuesday, February 9. Tickets have been on sale since November so all of the big kid hits (Wicked, The Lion King, Aladdin and Matilda) are already sold out. But there are still tickets to Kinky Boots and a bunch of others, including stalwarts like The Phantom of the Opera and Les Miserables, so it's worth checking the entire list. Just keep an eye on appropriate ages—many are recommended for 12 and up.
20at20 – Dates to be determined
Of course there are plenty of great Off-Broadway shows for families, too. In date January (dates TBD), you can buy $20 tickets 20 minutes before curtain to a bunch of Off-Broadway shows, including little-kid faves like The Berenstain Bears LIVE! and Gazillion Bubble Show. But if you have tweens or teens, percussion-heavy dance spectacle Stomp and the immersive acrobatic extravaganza Fuerza Bruta: Wayra are musts. My nine-year-old had a blast at both. Although the last-minute nature of this deal may sound iffy, I've done it a few times and never been shut out (though that's always a possibility so make sure you have a backup activity). Visit the 20at20 website for a complete list of shows, plus all the fine print.
In the style of Broadway Week, Off-Broadway Week offers two-for-one tickets to a host of productions from Monday, February 1 to Sunday, February 14. Tickets go on sale Tuesday, January 19 and use the code OBW15W. Though 20at20 may be the better deal, Off-Broadway Week lets you buy tickets in advance, and usually offers additional shows. Sign up for the email list to be alerted when tickets go on sale and to see a list of participating productions.
Can't make any of these dates? 20at20, Off-Broadway Week and Broadway Week all take place twice a year—usually January-February and September-October. So sign up for their respective email lists to keep on top of their schedules.
For info on year-round theater deals, check out our roundup of discount sites.
Originally published January 2015.