Score Big Discounts on Broadway Show Tickets When Broadway Week Deal Returns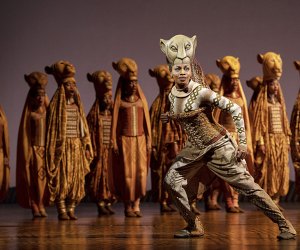 January is truly one of my favorite times in NYC. The tourists clear out and everything is on sale, even tickets to Broadway shows. After a pandemic-induced hiatus, Broadway Week, the theater industry's big BOGO promo returns. So, set a calendar alert to grab these discounted tickets to Broadway shows because Broadway Week ticket sales launch Tuesday, January 11.
While we don't have a list of the Broadway shows that will be featured, in the past the discounted ticket promo has included some of our favorite family-friendly Broadway shows like The Lion King, Wicked, and more. Read on for all the details.
Before splurging on tickets to a Broadway show, keep in mind that the official age minimum for all Broadway shows is 4-years-old, and every audience member needs a ticket, no matter how young. Although I have seen parents sneak preschoolers into a few productions, it's best to wait until kids are old enough to appreciate the Broadway experience. For younger children and first-time theatergoers, consider the shows at the New Victory Theater.
Please keep in mind, too, that current Key to NYC policies have put in place vaccination requirements for all audience members ages 5+. Bookmark the Broadway League site for its COVID-19 policies, though in general, all Broadway theaters are requiring guests ages 12 and older to provide proof of full vaccination and a photo ID (no photo is required for ages 12-18). Theatergoers ages 5-11 may enter the theater by showing proof of one vaccine dose and must be accompanied by a fully vaccinated adult. Beginning Saturday, January 29, 2022, children ages 5-11 will need proof of full vaccination. Those under 5 must provide a negative COVID-19 PCR test within 72 hours or a negative COVID-19 rapid antigen test taken within six hours of the performance start time. Of course, you should check with individual productions for more specific policies, and always confirm details before departing as some shows are canceled or postponed at the last minute due to cast breakthrough infections.
And now for the details on the discounted Broadway tickets deal: Broadway Week tickets go on sale Tuesday, January 11, and provide two-for-one tickets to several productions for performances taking place from Tuesday, January 18-Sunday, February 13. Get answers to the promo's frequent questions here so you're all ready when it's time to book.
If you're hoping to score these deals for big-name shows, plan to log on right at 10:30am, when the deal has traditionally kicked off, to try to get tickets to family favorites like The Lion King, Harry Potter and the Cursed Child, Aladdin, and Wicked. Of course, there are restrictions and blackout dates, but it's still an excellent deal. To avoid paying exorbitant ticketing fees, you can go directly to the box office and ask for the promo.
Can't make any of these dates? Broadway Week takes place twice a year—usually January/February and September/October. So sign up for its email list to keep on top of the next release date.
Originally published January 2015.