Most Spectacular Holiday Light and Christmas Displays in New Jersey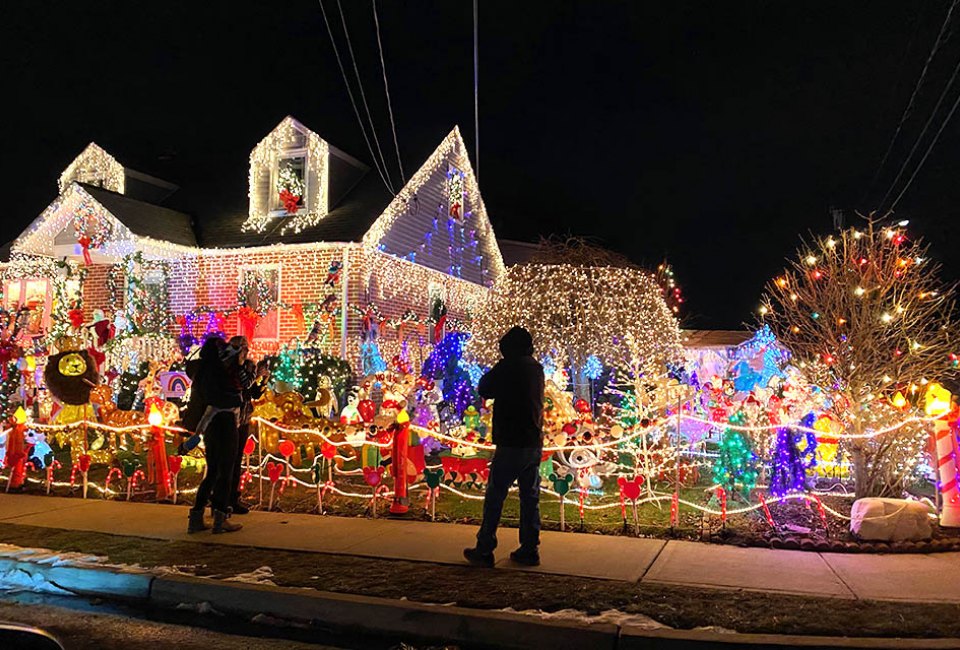 12/9/22
- By
Kaylynn Chiarello Ebner
Holiday light displays shine brightly in New Jersey, and you can enjoy amazingly decked-out houses throughout the state. There are many different ways to see Christmas lights—from walk-through spectacles at amusement parks to over-the-top drive-thru displays and private homes. There are even entire towns that go all out with holiday light installations!
These sparkling holiday spectacles—some of which feature more than 1 million lights—are sure to impress even the grinchiest member of your family. So bundle up the kids and head out to one of these illuminating local light shows before the sun sets on the Christmas season!
Check out our roundup of New Jersey Christmas towns that go all out for the holidays, and find tons more ways to be merry in our Holiday Fun Guide.
Subscribe to our newsletters to get stories like this delivered directly to your inbox.
Holiday Light Displays at Houses in North Jersey
Robert Harp Drive
Ernest Camuso first put up this walk-through display featuring lights, decorations, and motorized characters more than 50 years ago, and families have enjoyed the holiday treat ever since. The Camuso family continues the tradition in Mr. Camuso's memory and accepts donations for the St. Barnabas Burn Foundation.
44 Augusta Hill Road
Continuing its annual tradition since 2013, 100+ holiday inflatables decorate the Martorana home along with tons of lights and other decorations. Inflatables are up from 9am-midnight, and lights are turned on from 4pm-midnight. Follow the Facebook page for updates in case of inclement weather.​
3. Braun Terrace – Union
964 Braun Terrace
We dare you to try and take in the display at this house. Tons of lights, inflatables, and lawn decorations adorn this yard annually.
RELATED: Where to Take Pictures With Santa in New Jersey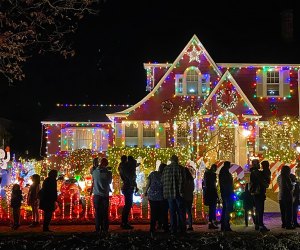 Donations to Fanwood's Famous Christmas House support charity. Photo courtesy of the family
83 Paterson Road
Fanwood's Famous Christmas House is a truly spectacular display featuring 30,000 lights and hundreds of figures. Monetary donations are accepted to support the NJ Institute for Disabilities.
RELATED: Dazzling Drive-thru and Walk-Through Christmas Lights Worth Seeing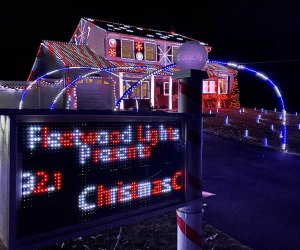 Fleetwood Lights in Rockaway features an over-the-top display synchronized to music.
32 Fleetwood Drive
Nearly 19,000 lights synchronized to music illuminate this beautiful home display in Morris County. Bring a non-perishable food item to donate to the food pantry.
418 Center Street
This computerized holiday light show utilizes seven computers to control 6,000 individually addressable RGB pixels! Tune to 92.5 FM to listen to the music in sync with the lights.
601 Pompton Avenue
There are 30,000+ Christmas lights that play to music at this over-the-top display. Donations are collected for Toys For Tots. Bring a toy to donate or make a monetary donation.
3 Indian Falls Road
Stop by this display—hosted by Mayor Sam Morris and his family—and be mesmerized by 40,000 lights programmed to holiday music.
RELATED: Christmas Tree Farms in New Jersey Where You Can Cut Your Own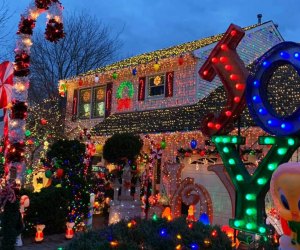 The Gress House Holiday Light Spectacular raises money for charity. Photo courtesy of the family
Holiday Houses and Christmas Light Displays in Central and South Jersey
14 Johnson Avenue
This home, featured on ABC's The Great Christmas Light Fight, has thousands of dazzling lights, hundreds of plastic figures, inflatables, and more to raise money for the Children's Miracle Network of Mountainside, N.J. No parking is allowed on Johnson Avenue; try Broadway and walk to the display. This spectacular light display will be running for 2022 but, due to a recent Facebook hack, they are having difficulty promoting their display.
Forrest Trail Circle
Interesting and familiar animations are projected onto this home in this unique and popular display set to music.
704 Belmar Plaza
This one-night-only show takes place on Saturday, December 10, with two 20-minute shows slated for 5pm and 6:30pm. Suggested donations are $25 for a family of four and $10 for an individual. Donations support RallyCap Sports, a charity that sponsors sports programs for children with disabilities.​
12. Koempel Family Light Display – Matawan
64 Middlesex Road
Long before the full scene is in front of you at this decked out Matawan property, you'll see Santa and his reindeer dancing on the rooftop and beckoning you to come for a closer look. And you'll be glad you did! Every inch of the Koempel's front yard is covered with brightly lit, glittering decor. An army of toy soldiers guards the twinkling American flag, there a larger-than-life inflatable Santas, a sparking snowman, and dazzling lights adorning the house and trees.
RELATED: Explore the Anne Ellen Christmas Village in Central New Jersey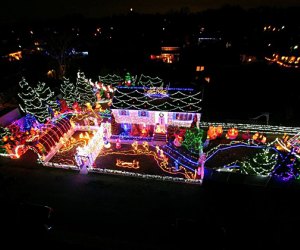 Johnny's Hazlet Holiday Light Extravaganza lights up the neighborhood. Photo courtesy of Facebook
3 Bauer Avenue
This show draws tons of fans every year to see two dozen inflatable decorations and more than 75,000 lights. Cars must park on side streets and walk to the display. Viewers can walk through the walkway back to the street.
13 Garrett Place
Take it all in! There are lots of lights and lighted figures to lift your spirits and usher in some holiday cheer at this two-story house that's practically wrapped in Christmas lights.
134 North Avenue
Pitman resident Frank Hagerty has been transforming his property into a Christmas wonderland every holiday season for more than 30 years. Visitors are welcome to walk through the scenes of animatronic dolls, cartoon characters, Santa and his reindeer, and more.
RELATED: Top Holiday and Christmas Events in NJ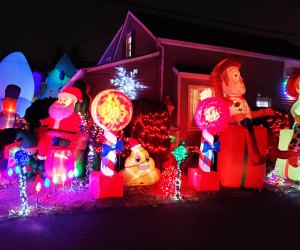 The Martin's Christmas Corner in Hazlet overflows with festive inflatables and Christmas cheer.
11 Hudson Avenue
This cheery corner has tons of lights and inflatables, many of which are larger than life including enormous Blues Clues characters and a 30-foot-tall SpongeBob!
201 Hamilton Boulevard
Set to 30 minutes of music, this house glows with a rainbow of lights and highlights the story of Christmas. The show runs from 5-9pm except on Fridays and Saturdays, when it runs until 10pm. Tune your radio to 89.3 FM for the full effect. Visitors are asked to stay in their cars this season. Donations are accepted to support the First Baptist Church of South Plainfield, where Jesse Nietzer works.
1 Carlson Court
This home has more than 30,000 dancing lights and four singing Christmas trees. All the lights are synchronized to six songs for a show that is about 20 minutes long. The homeowners collect donations for the National Multiple Sclerosis Society.​​​
RELATED: 35+ Christmas and Holiday Events for NJ Toddlers and Preschoolers

Koenig's Family Holiday Light Spectacular in Bayville is an animated light show. Photo courtesy of the family
11 North Island Road
Tune your radio to 87.9 FM, and check out this awesome display with tons of light synched to a diverse soundtrack of 14 songs starting nightly at 6pm.
12 Snyder Drive
There will be sparkling lights everywhere you turn at this display, with all the lawn figures creating a magical scene.
184 Yellowbank Road
Lights dance to the music at this whimsical, magical display, which runs nightly until 9pm through December 27th. Every Tuesday night, Disney songs take center stage. Donations are accepted in the silver mailbox and go to The Children's Hospital.
55 Valley Vale Drive
Grab your sunglasses for this one! More than 50,000 lights, animated figures, blow molds, Christmas trees, and more are part of this amazing display. The show starts December 1st and runs through New Year's Day from 5-10pm. Bring a donation for Toys for Tots.
105 Branchwood Drive
Running from December 1 through January 1, drive by for this stay-in-your-car light show, which sports 200,000 pixels choreographed to music.
This post was first published in 2015 and has been updated since.
Sign up for the Mommy Poppins Newsletter today!
i