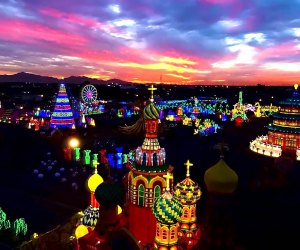 Most Spectacular Holiday and Christmas Light Displays in New Jersey
It may be hard to believe, but Christmas is right around the corner, which means holiday shows, visiting Santa, snowy sleigh rides, and, of course, checking out the amazing holiday light displays throughout the state. New Jersey really shines during the holidays, with many different ways to see some holiday sparkle—from walk-through spectacles at amusement parks, zoos, and aquariums, to massive drive-through displays; plus private homes and entire towns that go all-out!
These sparkling spectacles—some of which feature more than a million lights—are sure to impress even the grinchiest member of your family. So bundle up the kids and head out to one of these illuminating shows soon! And of course, you can find even more ways to be merry in Mommy Poppins' Holiday Fun Guide.
Large-Scale Christmas Light Displays in NJ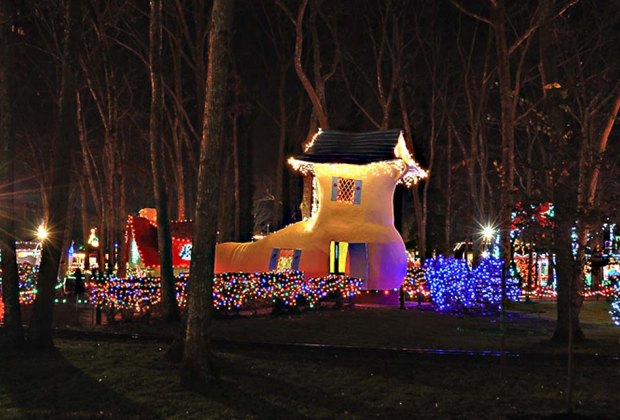 Storybook Land transforms into a twinkling wonderland for the holidays. Photo courtesy of Storybook Land
Storybook Land's Christmas Fantasy with Lights – Egg Harbor Township
Through Monday, December 30, 2019 (Closed weekdays until 12/4, 12/24, 12/25)
Storybook Land hosts a fabulous holiday celebration, with Santa himself illuminating the park with more than one millions lights. Children can visit Mr. & Mrs. Claus until December 23, when it's time for them to return to the North Pole. All rides, attractions, and snack bars are also open during this time. On December 1-23, bring a toy for Toys for Tots and receive one free popcorn per toy donation.
RELATED: 20 Must-Do Holiday and Christmas Events for NJ Kids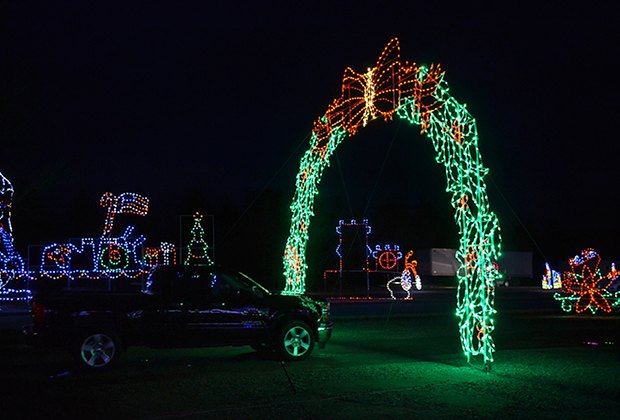 Stay toasty in your car as you drive through the display at Skylands. Photo courtesy of Skylands Stadium
Skylands Stadium Christmas Light Show – Augusta
Through Monday, December 30, 2019 (select days)
The one-mile long, drive-through show features breathtaking displays set to joyful holiday music. There are more than two million lights on display, including nativity scenes, twinkling snowflakes, skating penguins, and jolly snowmen. Also, check out the outdoor village activities like photos with Santa, hot chocolate, S'mores, carnival games, and more (for additional fees). Admission to the drive-through portion is priced by the carload. Discounted tickets can be purchased in advance.
DiDonato's Magical Holiday Express – Hammonton
Through Monday, December 30, 2019 (select days)
Take a train ride through millions of Christmas lights at DiDonato's Fun Center. Admission includes and meet-and-greet with Santa, a round of mini-golf, bowling, a walk-through holiday village, and more. Purchasing tickets online in advance is recommended.
Holiday Lights Spectacular at Turtle Back Zoo – West Orange
Now through Sunday, December 1, 2019 (Friday through Sunday)
Friday, December 6 – Tuesday, December 31, 2019 (daily except Christmas Eve, Christmas Day)
Stroll through the zoo after dark to see the animals frolicking under the incredible light displays (5-9 pm). Animal- and holiday-themed figures, including wooden soldiers and stars, will illuminate the zoo and delight your little ones. Take your own pics with Santa for free on Fridays, Saturdays, and Sundays, November 29-December 23. Themed character weekends are also planned. Donations of canned goods, unwrapped toys, and winter coats are appreciated. FREE
Holiday Musical Light Show at the Tropicana – Atlantic City
Thursday, November 21 – Friday, December 27, 2019 (Hourly starting at noon)
See a 35-foot decorated tree with lights synchronized to holiday music. FREE
Magic of Lights – Howell
Friday, November 22, 2019 through Saturday, January 4, 2020 (Sunday through Thursday, 5-10pm; Friday and Saturday 5-11pm; closed November 27 and December 31)
Magic of Lights is a mile-long drive-through exhibit located at the PNC Bank Arts Center. Pay by the car in advance (for discounts) or at the gate, or snag a Dash Pass to jump the line. New for 2019 is the Toyota Jolly Holiday Village, where you can leave the cars to watch enormous Christmas trees synchronized to music or visit the free petting zoo (select weeknights). For additional fees, you can go ice skating, take photos with Santa (available before Christmas Eve; after that, the Grinch takes over!), roast marshmallows, decorate cookies, enjoy hot chocolate, and more.
Historic Smithville Holiday Light Show – Galloway Township
Thursday, November 28, 2019 – Monday, January 6, 2020
This beautiful holiday show, featuring an orchestrated show of lights and music, makes Historic Smithville feel magical. More than 120 Christmas trees made with more than 100,000 lights will float along Lake Meone, lit up in time with music, 5:30-8:30 pm. Watch from either end of the village or on the bridge. In addition to the light show, you can enjoy the myriad shops and restaurants in the decorated village. FREE
Vernon Lights Festival – Vernon
Friday, November 29, 2019 – Sunday, February 2, 2020 (select days)
This walk-through wonderland features massive lighting displays, a dinosaur kingdom, giant pandas, the million-light maze, and New Jersey's largest lantern Christmas tree.
RELATED: Where To Have Breakfast with Santa in New Jersey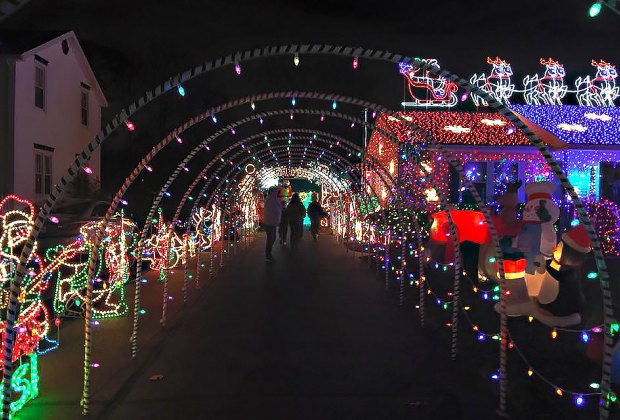 The fantastic T&A Sprinklers Light Show is a marvel of lights. Photo courtesy of the show
Winter Wonderlights Spectacular (sponsored by TA Sprinkler Systems and Pixel Sequencing) – East Brunswick
Saturday, November 30, 2019 – Sunday, December 29, 2019 (5-10pm)
This popular Old Bridge residential display by the Apruzzi family is moving to the Middlesex County Fairgrounds for 2019. The Winter Wonderlights Spectacular will feature one million lights dancing to music. The fee will be $7 for adults and $5 for children, military veterans, and emergency responders, and food vendors will be onsite. Photo ops with Santa are planned.
Winter Walk in Taylor Park – Millburn
Saturday, November 30, 2019 – January 2020
Taylor Park will kick off its holiday lighting at 3pm on November 30 with a parade, holiday character appearances, and a performance by the Paper Mill Playhouse Show Choir. The park will be lit up through January, offering plenty of time to take a scenic winter stroll.
Candlelight Tours, Historic Cape May – Various locations in town
Saturdays, December 7, 14, 28, 2019
The Victorian homes, inns, churches, and hotels in picturesque Cape May get decked out for the holidays in gorgeous lights, wreaths, and garlands. Check them out on these self-guided walking tours. Admission includes Christmas caroling and strolling musicians, hospitality centers with warm beverages and goodies, and admission to the Emlen Physick Estate, Cape May's only Victorian house museum, and to "An Old-fashioned Christmas: Holiday Traditions through the Years" exhibit in the Carroll Gallery. Limited trolley shuttle service available.
Jenkinson's Sea of Lights – Point Pleasant
Friday, December 13 – Saturday, December 28, 2019 (Fridays and Saturdays)
The aquarium gets bedazzled with festive lights and decorations for the season. Walk through at your own pace to see different themed sections, then enjoy arts and crafts, face painting, and photos with Santa.
Holiday Houses and Local Light Displays in...
North Jersey
Camuso Family Christmas Display of Livingston​ – Livingston Oval, Robert Harp Drive, Livingston
starts Saturday, December 7, 2019
This walk-through display (featuring lights, decorations, and motorized characters) was first put up more than 50 years ago by Ernest Camuso, and families have enjoyed the holiday treat ever since. The Camuso family continues the tradition in Mr. Camuso's memory, and accepts donations that go to St. Barnabas Burn Foundation. FREE
Martorana Christmas House – 396 Fairfield Road, Wayne
Continuing their annual tradition since 2013, 100+ holiday inflatables will decorate the Martorana home along with tons of lights and other decorations. Airblowns will be up 8am-midnight, and lights on 4pm-midnight.​
Fleetwood Lights – 32 Fleetwood Drive, Rockaway
Nearly 17,000 lights synchronized to music illuminate this beautiful home display in Morris County.

Central Jersey
The Gress House Holiday Light Spectacular – 14 Johnson Ave (off Broadway) Union Beach
Thursday, November 28, 2019 to Monday, January 6, 2020 (Dusk to 10pm on weekdays; dusk to 11pm on weekends​)
This home, featured on ABC's The Great Christmas Light Fight, has thousands of dazzling lights, hundreds of plastic figures, inflatables and more to raise money for the Children's Miracle Network of Mountainside, NJ. Park on Broadway and walk to the display.
Forrest Trail Circle Holiday Light Show – Forrest Trail Circle, Toms River
Thursday, November 28, 2019 – Friday, January 3, 2020
Interesting and familiar animations are projected onto this home in this unique and popular display set to music.
The Cook's Christmas Lights – 1 Carlson Court, Jackson
Friday, November 29, 2019 – Tuesday, December 31, 2019 (Sundays-Thursdays 6pm-10pm; Friday and Saturday 6pm-11pm)
This home has over 30,000 dancing lights, including 4 singing faces plus a 1,008 bulb pixel matrix, synchronized to music. The homeowners collect donations for the National Multiple Sclerosis Society. FREE​​​
RELATED: 40+ Holiday Events for NJ Toddlers and Preschoolers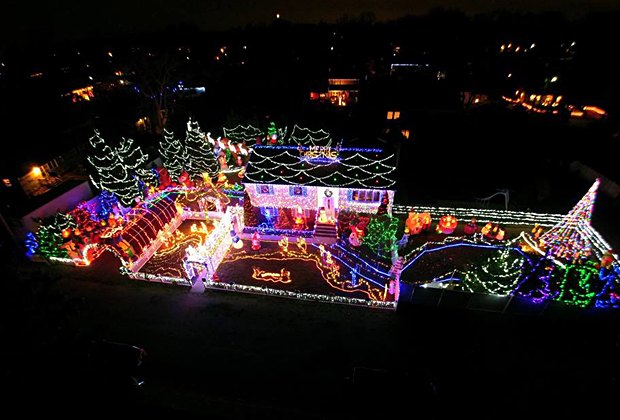 Johnny's Hazlet Holiday Light Extravaganza lights up the neighborhood at Christmastime. Photo courtesy of the venue via Facebook
Johnny's Hazlet Holiday Lights – 3 Bauer Avenue, Hazlet
Sunday, December 1, 2019 – Wednesday, January 1, 2020
This show draws tons of fans every year to see two dozen inflatable decorations and more than 75,000 lights. Viewers can walk through the walkway back to the street. The owners just ask that you do not cross the ropes onto the lawn. You'd better be good... Santa's planning to visit starting December 6. FREE
Christmas at the Nietzer's – 201 Hamilton Boulevard, South Plainfield
Sunday, December 1 – Wednesday, January 1, 2020 (5-9:00pm weeknights, 5-9:30 weekends)
Set to 30 minutes of music (89.3 FM), this house glows with a rainbow of lights and features the Christmas Story. Tune your radio to 89.3 FM Follow posted parking signs on Hamilton Blvd. or Church St. Donations accepted to support the Mission and Outreach Fund of First Baptist Church of South Plainfield. FREE
The Christmas Light Show – ​Wall Township
Saturday, December 7, 2019 (Shows at 6:30pm and 8:30pm), Saturday, December 14, 2019 (Shows at 6:30pm and 8:30pm), Sunday, December 15, 2019 (Shows at 5:45pm and 7:30pm)
The Christmas Light Show returns for the 2019 Christmas season in a new location at Spring Meadow Golf Course. Each show runs for approximately 25 minutes. The show is free, but suggested donations are $25 for a family of 4 and $10 for an individual adult. Donations will support RallyCap Sports, a charity that sponsors sports programs for children with disabilities.​ DONATION SUGGESTED
Bayville Christmas Light Show – 30 Tioga Ave., Bayville
Homeowner Tom Makowski, the winner of 2016's Jersey Central Power & Lights holiday lights photo contest, has a fabulous display with thousands lights that dance to Christmas songs in this free display. Food donations are welcome, to benefit St. Barnabas Church. FREE
Koenig's Family Holiday Light Spectacular​ – ​11 N. Island Rd., Bayville
Tune your radio to 87.9 and check out this awesome display with tons of light synched to the music.
Manchester
Recently, the Township of Manchester revived its home-decorating competition, and the locals went all-out to win categories like Most Original and Spirit of the Holidays. Tour the town to take in all of the displays, and don't forget to hit Anjou Court, Southampton Boulevard, Lilac Lane, and Second Street, where the past winners were located. FREE
Edison Light Show – 225 Plainfield Road, Edison
Located across the street from Charlie Brown's restaurant, this home has been delighting Edison Metuchen locals for years. This lovely display dances to music and is definitely worth a stop! FREE
South Jersey
Hagerty Family Christmas Lights – 133 North Avenue, Pitman
Pitman resident Frank Hagerty has been transforming his property into a Christmas wonderland every holiday season for more than 30 years. Visitors are welcome to walk through the displays of animatronic dolls, cartoon characters, Santa and his reindeer, and more. FREE
Crouch's Light Display – 119 Wild Oaks Drive, Salem
The Crouch family uses more than 22,000 lights and 11,000 feet of electrical cord to cover their 5-acre property in holiday cheer. Tune in to 105.5 to watch the lights move to the music. FREE
This post was first published in 2015 and has been updated since.