Visiting the Philadelphia Museum of Art with Kids: Creative Family Time at the Art Museum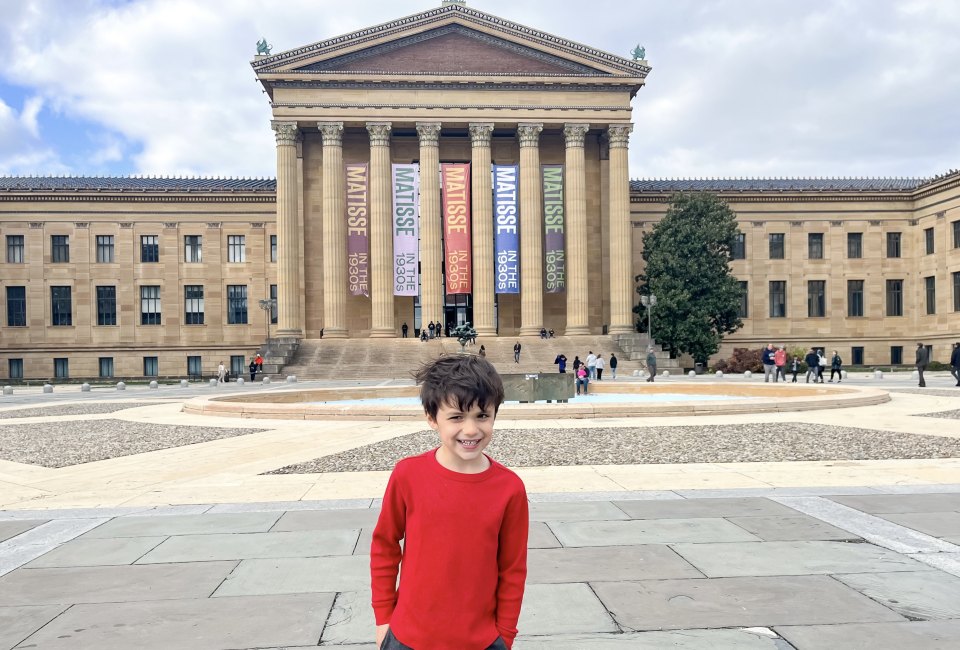 1/8/23
- By
Liz Baill
Run up the Rocky Steps and head on in to the Philadelphia Museum of Art for a creative family outing at one of the country's largest art museums.
What Philly kid doesn't love a romp up the Rocky Steps? It's a rite of passage to run up those iconic stairs and strike a victorious pose--but the real question is when was the last time you went inside to see the astounding art collection behind that famous facade? To take that a step (ha!) further, have you ventured into those glorious galleries with kids in tow? Though art museums aren't always the most obvious spot for young kids, the Philadelphia Museum of Art is hands-down our family's museum of choice, where you'll find some of the city's most creative kids' programs and engaging educators at a place that transcends age. Did I mention kids are always...FREE?
Here are all of the things we love about visiting the Philadelphia Museum of Art with kids, including a list of some of our favorite galleries, programs, and insider tips. Visit our Guide to Philly Museums for more reviews like this, and browse our list of 50 indoor places to explore when it's too cold or rainy outside, featuring museums, playspaces, and more.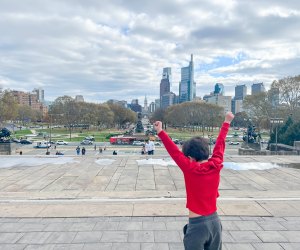 Make like Rocky and do the run...but then go see the art!
First an important disclosure--I spent the first part of my career working in education and family learning at the Philadelphia Museum of Art. So while my family's perspective comes with a heavy dose of bias, I can attest to the expertise and intention that goes into making the Art Museum one of the most family-friendly destinations in the city. Instead of aging out of this museum like kids seem to do so quickly at some of our other top spots, our experiences at the Art Museum seem to snowball. Read on for all the ways to enjoy the Philadelphia Museum of Art with kids.
Programs for Kids at the Philadelphia Museum of Art

Pay-what-you-wish family festivals occur on the first Sunday of every month and feature local artists and performers. Photo courtesy of the museum
By far the best way to experience the Philadelphia Museum of Art with kids is during one of the museum's many drop-in family programs. The first Sunday of every month is pay-what-you-wish admission and features a monthly family festival packed with performances, art activities, gallery tours, and artist activations where you can make art alongside a local artist. Themes change monthly and thoughtfully reflect the art on view in the vast galleries. Can't make it on a first Sunday? The Art Kids Studio in the museum's gorgeous South Vaulted Walkway is open from 10am-3pm on virtually all weekend days, so there's always an art project and a space for your family to relax and play when you visit on a weekend. Art projects use artist-grade materials and introduce kids to all kinds of creative media and techniques, all included with your admission.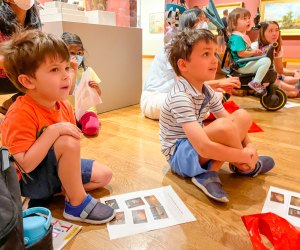 Interactive gallery tours led by museum educators will engage even the smallest museum-goers and their grown-ups.
Art Kids Tours
It can be intimidating to wander the museum galleries for the first time with your kids. Do yourself a favor and take a family gallery tour with a museum educator. Art Kids Tours as they're called are crafted specifically for kids ages 3-10 and their grown-ups by early childhood educators who specialize in object-based learning and creative play--all fancy ways of saying they will engage your kids with the art, demystify museum manners, and share stories, fun facts, and looking games that will fascinate the grown-ups as much as the kids. Tours take place at select times on the weekends, with additional tours offered during out-of-school times.

Most Art Kids programs are geared towards children ages 3 through 10, with select offers designed for toddlers. Photo courtesy of the museum
Toddler Programs
Okay, so kids 3ish and up can generally grasp the idea that they shouldn't touch the art (the number one most important museum rule, as we tell our kids) but what about those toddling museum visitors whose way of exploring the world is almost exclusively through wreaking havoc...I mean touching? Enter Little Art Kids, the Philadelphia Museum of Art's highly sought-after toddler program that acts as an intro to exploring the galleries with the tiniest visitors in tow, complete with a storytime and art making. In these programs, everything is a game and an opportunity to learn what it means to visit a museum while looking at art through a lens of play and imagination. You'll never know just how kid-friendly that art museum on the hill can be until you're waving a sparkly blanket in front of a Monet or watering your kid like a sunflower in front of a Van Gogh.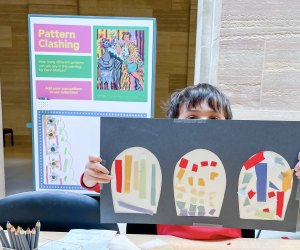 Drop in to the Art Kids studio to make art almost any weekend day and even more over the summer and on school breaks.
Seasonal Programs
Each summer the Philadelphia Museum of Art takes its already kid-friendly game up a notch by extending the Art Kids weekend programs to almost all museum hours. Drop in basically any day or time during the summer and there will be something for your kids to do, plus lots of opportunities for free or reduced-price access. Amped-up programming also occurs around the holidays, spring break, and other out-of-school times. Keep an eye on our events calendar for the latest on the Art Museum's seasonal offerings.
Sensory-friendly Mornings
Sensory-friendly mornings are designed for families with children on the autism spectrum or who have other sensory sensitivities. In collaboration with occupational therapists, these mornings are held before opening hours and adapt the museum's family programs to include quiet spaces and other accommodations.
Once your kids are hooked, sign them up for the museum's award-winning art classes. Nowhere else in this city can you enroll your kid to spend time weekly in the galleries of an encyclopedic art museum followed by making their own art inspired by said galleries. Art classes start at age 3 (potty-trained is a prerequisite) and run through age 12. Grown-ups attend the in-gallery portions for the youngest kiddos, which is a magical way to get yourself some creative time too.

Shapes and colors abound in the museum's modern art galleries.
Galleries Not to Miss at the Philadelphia Museum of Art
This gallery featuring a ceremonial teahouse from Tokyo astounds kids when they discover what looks like an outdoor space that's actually indoors.
Period Rooms
Immersive rooms recreated from across time and place, from a Chinese palace to a medieval cloister to an Indian temple, allow you to walk through time and around the world.

The Art Museum houses one of the largest arms and armor collections in the country and is a favorite among kids.
Philly's got one of the largest armor collections in the country, and the knights, dragons, and even a horse in shining armor are perennial family favorites.

The Philadelphia Museum of Art is known for its collection of Marcel Duchamp readymade sculptures.
Our son's favorite part of the museum, with all the shapes to search for and colors to spy, plus found object sculptures like Duchamp's famous Fountain, lovingly known as "the Potty" in our house.
Just beyond the museum's parking garage is its sculpture garden, identifiable by the giant sculpture of an electric plug by the same artist responsible for the clothespin on Market Street and the button on Penn's campus. The sculpture garden, which features dual levels and a beautiful terrace overlooking the Fairmount Park azalea garden, requires no admission to explore and is the perfect place for kids to let off some steam.
All the Other Galleries!
There are so many more galleries to explore beyond those already mentioned and they're honestly all worth a wander to see what inspires and interests your kids. The American Art galleries are chock-full of animals to search for, still life paintings that will fool your eyes, and landscapes that transport visitors of any age on an instant vacation. Over in the Impressionist galleries, you'll find world-famous artworks like Vincent van Gogh's Sunflowers and Monet's garden at Giverny. New exhibitions and installations open all the time, making it worth visiting again and again.

Kids love Sol Lewitt's colorful sculpture awesomely entitled Splotch.
More for Kids at the Philadelphia Museum of Art
Family Guides
Written by educators, printed family guides are like a scavenger hunt through the galleries, giving you a way to organize your visit with lots of fun conversation starters to get your family looking and learning together. Family guides are available alongside museum maps at admissions.
During the pandemic, Art Museum educators produced a series of four videos for kids, introducing themes like line, shape, and color through the lens of the collection. These playful videos are like mini tours of the galleries that you can access any day or time on the museum's YouTube channel.
Designed for families, especially for those with children on the autism spectrum, the PMA for All app helps families prepare for their museum visit with photos, straightforward descriptions, and options to customize a schedule. The app is available for free download on the Apple App Store or Google Play.
Children's Books
Bring the museum home with you by snagging one of the Philadelphia Museum of Art's children's books, including the beloved A is for Art Museum, an alphabetical journey through the collection. Other titles explore themes like color, animals, and opposites. Find them at the Museum Store, where you can also shop an impressive inventory of creative toys and kid art supplies, including tons of fun keepsakes for under $10.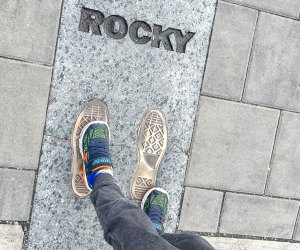 Make sure to find Rocky's footprints at the top of the steps before you depart.
Know Before You Go
Where to Eat: Food and drink, with the exception of baby bottles, are not permitted in the galleries, so have a snack before you go or chow down in one of the museum cafes. There's a coffee bar with sweet treats not far from the Art Kids Studio where my kids always devour rainbow scones. The main cafe has tons of kid-friendly options, including a pizza station, and is also baby-friendly with lots of highchairs.
Don't touch! Prep your kids for keeping their hands to themselves and looking with their eyes only. Ask for an "I Protect the Art" sticker at admissions to join the museum's Art Protection Squad. You might even be able to get a sticker from one of the gallery officers.
Strollers: Bring them! For the most part, the museum is very stroller friendly and is the perfect place for an infant to snooze on a day that's too cold or hot to stroll outside. A stroller is also a great solution for containing a grabby toddler in the galleries. Occasionally strollers are not allowed in crowded special exhibitions.
Policies: Bags need to be of a certain size to enter the galleries so prepare to stash big ones at coat check. If you bring a backpack or diaper bag, you'll be asked to carry it on your shoulder rather than your back to avoid accidentally knocking into a work of art (yikes).
Tip: Sensory kits are available to be checked out at admissions and include fidget toys and other sensory-friendly gear.
Tickets: Kids 18 and under are always free; adult tickets are $25. If you visit 3 times a year on full-admission days, a membership basically pays for itself. The Philadelphia Museum of Art is also part of Go City Philadelphia Pass, which includes entry to the Franklin Institute, the Adventure Aquarium, the Philadelphia Zoo, Legoland Discovery Center, and more—all for one ticket price.
Hours: The museum is closed on Tuesdays and Wednesdays and is open from 10am-5pm on all other days, and until 8:45pm on Fridays.
Unless otherwise noted, all photos by Liz Baill @creativishmom
Places featured in this article:
---
Philadelphia Museum of Art
Sign up for the Mommy Poppins Newsletter today!