Top Attractions in NYC: Best Things To See and Do With Kids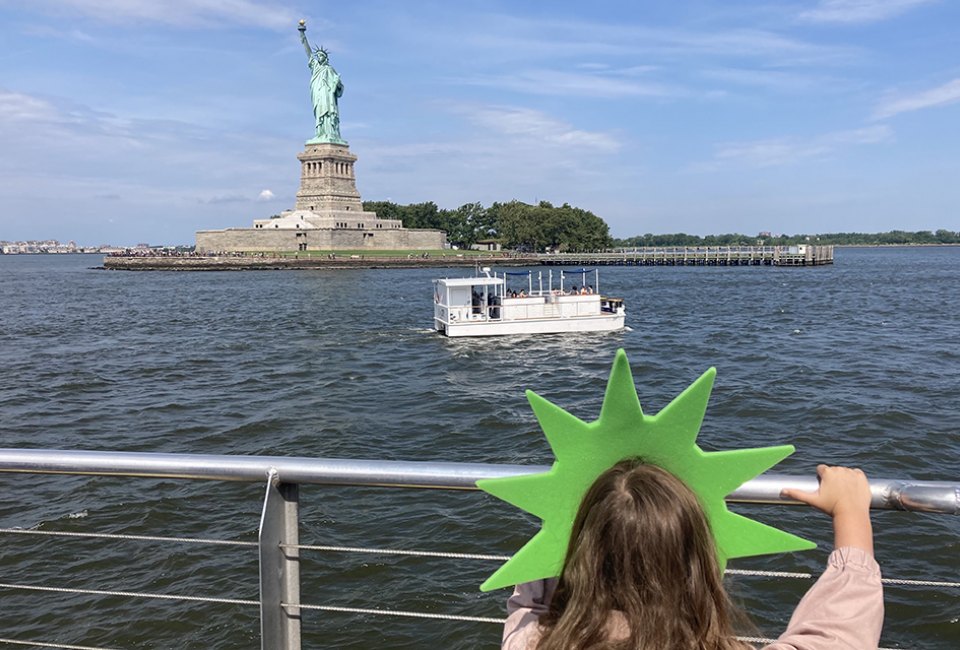 2/18/22
- By
Jody Mercier
The city that never sleeps is an incredible spot for a family vacation. New York City's museums are world-class, its food scene is diverse and ever reinventing, and the city teems with history ranging from colonial times to the 2000s. If you're planning your next vacation for this urban wonderland, bookmark this list of the top 40 attractions in New York City for tourists.
So, get planning! We've got picks for the most family-friendly hotels for your next visit and our guides to Kid-Friendly Restaurants, the best Museums and Galleries in NYC, and the top Parks and Playgrounds offer even more family-friendly picks to explore during your visit to New York City.
Subscribe to our newsletters to get stories like this delivered directly to your inbox.
If you're booking several top attractions in New York City and looking to save money, consider purchasing a Go City Explorer Pass, which includes discounted admission to One World Observatory, the 9/11 Memorial and Museum, the Statue of Liberty, the American Museum of Natural History, and more.
A ferry ticket to visit Lady Liberty grants you entree to Liberty Island, Ellis Island, and the newish Statue of Liberty Museum—the views of Lower Manhattan as you set sail on the ferry aren't bad either. Pro tip: When you get off the ferry, avoid the urge to beeline for the Statue of Liberty photo-op and head to the museum instead. You'll face fewer visitors while everyone else is outside exploring, and can enjoy the up-close view of her original torch and learn a little history that's bound to help you appreciate her majesty when you strike out to explore. Take note: There's plenty to see with the most basic ticket. We've visited several times, and have never made it inside Lady Liberty, though we dream of the day we can take in the view from the crown, which is still shuttered by the pandemic. Be sure to save a good chunk of time to visit Ellis Island, which houses its own museum and lets you walk the walk of a recent immigrant in early America. As a National Monument, both sites offer Junior Ranger Programs for kids, which adds an enriching, interactive, educational experience to the visit.
There's always something to see and do in this billboard bespeckled neighborhood. From local "celebrities" like The Naked Cowboy to tourists searching for discounted tickets to Broadway's top shows, and towering billboards, a trip to Times Square is quintessential NYC tourist candy. Grab a snack from one of the local kiosks, or a hot-now doughnut from the mega Krispy Kreme and take a seat on the red steps above the TKTS Booth—there's no better place to people watch and take in NYC's hustle and bustle.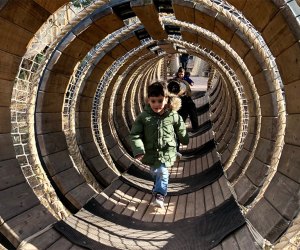 There are plenty of animals to see and places to play at The Bronx Zoo. Photo by Matt Nighswander
3. Bronx Zoo – Bronx Park, the Bronx
The crown jewel of the Wildlife Conservation Society's five NYC-based zoos and aquariums, the Bronx Zoo is spread over 265 acres in Bronx Park. Its resident animals, made famous by Animal Planet's "The Zoo" live in sprawling exhibits making it difficult to see in a day. If you want to try, we suggest buying all-access tickets, which include extras like the ultra-cool Congo Gorilla Forest, Jungle World, the Children's Zoo, and more, plus the tram around the park. If you're on a budget, plan to visit on a Wednesday, when admission is pay-what-you-wish.
4. FAO Schwarz – Rockefeller Center
This whimsical toy store is an NYC institution. While we lamented losing the long-time original location, we're pretty happy with its reinvention. The space is small—bordering on claustrophobic—but the staff is good with crowd control on busy days. Once you've browsed the packed shelves, save time for a spin on the dance-on piano.
RELATED: 100 Things To Do in NYC With Kids Before They Grow Up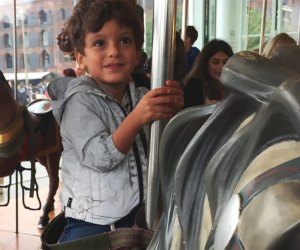 Jane's Carousel puts stars in the eyes of its little riders. Photo by Matt Nighswander
This stunning waterfront park spans 1.3 miles along the Brooklyn waterfront. Of course, any visit should start with a trek across the 1.1-mile bridge which lends its name to the green space for stunning views on both sides of the East River. Once you're inside the park, the playgrounds of Pier 6 are a must-visit with kids in tow. Jane's Carousel on the park's northern edge is one of our favorite carousels in the city and is open year-round. In between, there are fun nooks and crannies to explore, freshly scooped ice cream to eat, a food truck to order from, and tons of free programming including free kayaking in the summer.
6. MoMA – Midtown West
This freshly-renovated mecca to modern art has long been one of our kid-friendly spots. Of course, you'll want to see Van Gogh's The Starry Night, which hangs here but don't stop there. Tons of other treasures await from Picasso to Pollack and Frida Kahlo to Frank Lloyd Wright. The outdoor sculpture garden offers room to blow off some steam between galleries. Kid-specific audio guides and gallery guides make the art here more accessible.
RELATED: 100 Free Things To Do in NYC With Kids

Settle into Central Park for a picnic, and you'll forget you're in the middle of the concrete jungle. Photo courtesy of NYCGo
This green space is a gift to New Yorkers and visitors alike, a sprawling park parked in the middle of the island. It's the closest thing my kids know to a backyard, and there's plenty of space to share with locals and tourists alike. It's hard to pick a favorite spot, really, but we'll try. Hecksher Playground on the park's south end tops our list of the best playgrounds in Central Park. For off-the-beaten-path appeal, it's hard to beat the northern end of Central Park, which is home to a manicured English garden, and enchanting meer where you can enjoy catch-and-release fishing and another cool romping spot. Belvedere Castle is a stunner, and a walk around the Reservoir offers a cool juxtaposition of views with water and greenery in the foreground and towering skyscrapers of Billionaire's Row looming in the background.
Spanning 250 acres in the middle of the Bronx, the NYBG is one of our favorite places to escape the hustle and bustle of the city. Its permanent collection includes stunning landscapes. You can't miss the blooms on Daffodil Hill in the springtime or the changing leaves in the Thain Family Forest come fall. Of course, the stunning Enid A. Haupt Conservatory is home to tons of living species, plus the charming annual train show and the orchid show, which brings a much-needed pop of color to the mid-winter months.

See the playful Red Pandas at the Prospect Park Zoo. Photo by Julie Larsen Maher for WCS
What Central Park is to Manhattan, Prospect Park is to Brooklyn. Spread over 585 acres and bordered by some of Brooklyn's most family-friendly neighborhoods, Prospect Park boasts its own zoo, a cool any-seasons skating rink (hit the ice in the winter and spin your wheels in the summer), a reservoir with boathouse, and plenty of room to romp and roam. It's got its own collection of destination-worthy playgrounds to boot. It's also a great jumping-off point for other adventures, including visits to a couple of other destinations on our list: The Brooklyn Museum and Brooklyn Botanic Garden.
10. The Met – Upper East Side
You could spend days exploring the treasures at The Met, but there are some can't miss spots to visit with kids—they might even surprise and delight you, too. The Arms and Armor galleries are an impressive sight. There's always something unexpected to see in The Fashion Institute, and one of our favorite views in all of NYC is from its rooftop garden.
RELATED: 20 Playgrounds Worthy of a Subway Schlep

See the blue whale towering over the Hall of Ocean Life at the American Museum of Natural History. Photo courtesy of AMNH
No matter how many visits you make, there's always something new to see at AMNH. Its permanent galleries hold everything from dinos to dioramas and its famed full-size blue whale, plus spectacular gems and geodes, and a stunning planetarium in the Rose Center for Earth and Space. Make time for a visit to its Discovery Room for some hands-on fun and check to see what special exhibitions are on, from the annual Butterfly Conservatory to traveling displays on Sharks, T. Rex, and the colors of the rainbow.
Parks are everything in NYC, and this one has a fabled history and a spectacular story of reinvention. Formerly a summer-only playground, it's now open year-round. Opportunities for fun are endless. Explore acres of parkland, race down the city's longest slides on Slide Hill, hit the only adventure playground in the city, nosh at a food truck, ice skate in the Winter Village, or explore its military history. You can even go glamping and soon, hit an adults-only spa.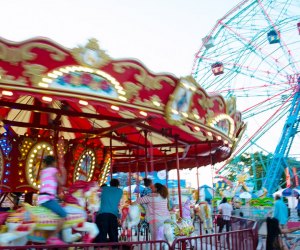 The Coney Island boardwalk is the epitome of sweet summer fun. Photo courtesy of NYCGo
13. Coney Island – Coney Island, Brooklyn
Brooklyn's summertime playground teems with action. Sure, you can hit the shores and swim during beach season, but you can also enjoy classic boardwalk fun. A ride on the iconic Wonder Wheel is about as old-school New York fun as you can find. Make sure to stop by Nathan's for one of its famed hot dogs, and William's Sweet Shop next door is a gem of an old-school candy shop. Here you'll find the Cyclone Roller Coaster, the New York Aquarium, and even a minor league baseball stadium. Summer Fridays mean fireworks on the boardwalk, too.
14. Broadway – Midtown West
The Great White Way is the heart of Midtown. While not every show is kid-friendly, many long-running shows make a perfect first visit for kids, including the iconic Lion King. When planning your outing, keep in mind the official age minimum for a Broadway show is 4 years old. If you're traveling with kids younger than that, consider a visit to the New Victory Theater, which produces high-quality, kid-friendly shows in the heart of Times Square, too. A Broadway show is a splurge, and discount tickets can be hard to find for popular shows. Consider visiting the TKTS booth in Times Square or checking TodayTix for last-minute discounts.
RELATED: Best Children's Museums for Families to Visit in New York City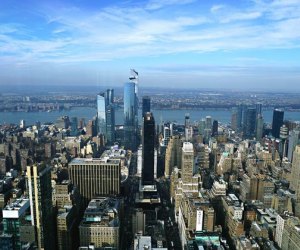 The Empire State Building is an oldie, but a goodie! Photo by the author
Observation decks are enjoying a reinvention in the city, with every new development trying to one-up the others, but we have a soft spot in our heart for the OG views at this Art Deco stunner. The attraction got an update in 2019, which adds some interactive elements like a King Kong photo-op, but there are few bells and whistles once you reach the observation deck—and really, they're unnecessary. Enjoy 360-degree views from the 86th Floor's outdoor viewing platform (which is heated in the winter!) or opt for the full experience (and price) and head up to 102 where you'll enjoy an interior look at the skyline.
Speaking of reinvention, it's hard not to love this adaptive reuse story, which transformed an old industrial rail line into a stunning urban oasis. It's a lovely spot to wander on a spring afternoon and you'll catch cool views along the way. We love starting from the southern end, stopping for snacks at the Chelsea Market, and taking a break to nosh at the 10th Avenue Square, where you get a bird's eye view of the traffic below. Another unique park nearby worth adding to your list? The newly opened "floating park," dubbed Little Island.
This transportation hub has plenty to see even if you're not rushing for a train. The mural in Vanderbilt Hall is a must-see, and the people-watching here is epic and gives you a snapshot of NYC. Head downstairs not only for yummy eats, but to find the Whispering Wall leading into the dining concourse. Here, you can stand in opposite corners of the cavernous space and whisper your secrets into the corner for your partner in crime to hear in the opposite corner.
RELATED: Family-Friendly Hotels for a New York Staycation

Take a free ride on the Staten Island Ferry. Photo courtesy of NYCGo
18. Staten Island Ferry – Lower Manhattan to Port Richmond
There's no better way to take in the skyline views and get an up-close view of Lady Liberty without spending a dime than the half-hour ride on one of these hulking orange boats. When we have visitors, it's always on our must-do list. You can hop right back on for the return trip or stick around and explore NYC's oft-forgotten borough when you step off the boat with these 50+ family-friendly picks.
Situated in the charming Bryant Park, the Stephen A. Schwarzman branch of the New York Public Library is housed in a landmarked Beaux-Arts Building on Fifth Avenue and guarded by the famed Library Lions, Patience and Fortitude, who were named by then-Mayor Fiorello H. LaGuardia during the Great Depression as a constant reminder to New Yorkers of the qualities necessary to see their way through the darkness. Visit to see the stunning architecture and make sure you nab tickets to the Polonsky Exhibition, which includes NYPL-owned treasures like the original Winnie-the-Pooh stuffed animals, Thomas Jefferson's handwritten copy of the Declaration of Independence, and many more pieces of art and artifacts that belong to the institution.
20. Wall Street – Financial District
Head to this famed street for fun photo ops with the New York Stock Exchange, Brave Girl (a personal favorite!), and to stand on the steps of Federal Hall, where George Washington was inaugurated as the first president of the United States.

Sakura Matsui at the Brooklyn Botanic Garden is an annual rite of spring. Photo courtesy of the BBG
Brooklyn's famed museum of plants is stunning in any season, but it shines during the spring when its Sakura Matsuri Festival pays homage to the cherry blossoms that come to life along its esplanade. Its Japanese Hill-and-Pond Garden is one of the oldest in the United States and its Discovery Garden lets kids roll up their sleeves and get dirty.
When my son was little, this was hands-down our most visited museum. It's hard not to be impressed by a museum housed in a World War II-era aircraft carrier, which survived a trio of kamikaze attacks while serving in the Pacific, acted as a recovery vehicle in the space race, and houses everything from antique aircraft to the Space Shuttle in its permanent collection. February's Presidents Day week vacation is always filled with incredible, kid-friendly activities for its annual Kids Week, and it offers a wide range of tours and kid-friendly programming year-round.
RELATED: The 18 Most Insane, Must-Try NYC Desserts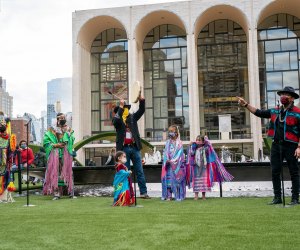 See performances at a wide variety of Lincoln Center venues. Photo courtesy of Lincoln Center
Taking in a show here is a quintessential New York experience. Whether you catch the New York City Ballet, Met Opera, or New York Philharmonic entering one of the performance halls here is a breathtaking experience. Of course, the sprawling complex is fun to explore any day. Pose for a picture in front of the Revson Fountain, pop into the David Rubenstein Atrium (reopening March 10) to catch a free performance, or head to Damrosch Park to see if the Big Apple Circus is in town for its annual run.
It almost doesn't matter what's on display at this architectural icon—a visit to the Frank Lloyd Wright building alone is worth the price of admission. Ascend the spiral ramp while viewing modern and contemporary art. The exhibitions change frequently, but the architecture is perpetually inspiring. Children under 12 enter for FREE and family guides are available to help little ones enjoy and understand the art.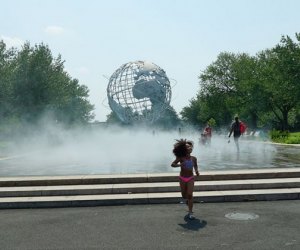 Splash in the mega fountain at Flushing Meadows Corona Park. Photo by Jody Mercier
Queens' largest green space is teeming with activity. Here you'll find everything from the USTA Billie Jean King National Tennis Center to the charming Queens Zoo, an enchanting amusement park, the STEM-minded New York Hall of Science, and Queens Museum, where locals delight in trying to locate their homes on a giant diorama of the city of New York. There are also cool playgrounds and a cooling spray park in the shadow of The Unisphere, the architectural orb built for one of two World's Fairs hosted here.
If you want to feel like you've stepped into colonial New York, there's no better spot to visit than this cobblestone-lined street neighborhood, which teems with small shops, a maritime museum, family-friendly activities, and plenty of art. We also love the spectacular Imagination Playground nearby.
RELATED: 35 NYC Holiday Activities Every Kid Should Try Once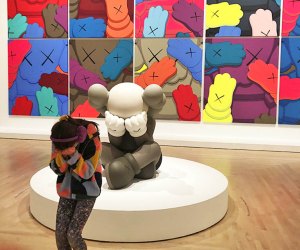 Explore the permanent collection and special exhibition at the Brooklyn Museum. Photo by Diana Kim
27. Brooklyn Museum – Prospect Heights, Brooklyn
Situated on the edge of Prospect Park, the Brooklyn Museum is the third largest cultural institution in NYC and houses half a million pieces of art and artifacts. Well-known for its collection of Egyptian artifacts, it's home to both permanent and rotating exhibitions, like a recent retrospective of the large-scale works of native son KAWS.
Lined with shopping, dining, culture, and attractions, Midtown's main drag is worth a stroll even if you just want to window shop at big name (and high-price) retailers! We suggest starting at 59th Street where you can snap a photo in front of The Plaza (or pop inside for a kid-friendly high tea) and working your way down to the library on 42nd Street.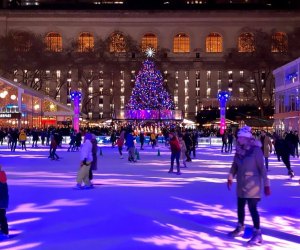 Hit the ice in Bryant Park, where you can skate for FREE. Photo by Angelito Jusay
Green space is few and far between in the heart of Midtown Manhattan, but this 9.6-acre park packs plenty into its valuable slice of real estate. In the winter, it's home to NYC's only completely FREE ice skating rink. Come summer, locals flock here for summer movies under the stars. There are food kiosks, plenty of tables and chairs, and free things to do, whether you want to peruse a book in its outdoor reading room, borrow a game from its game room, or take a ride on the charming carousel. It's a good spot to refuel when you're pounding the pavement and exploring the rest of the city's sights.
30. Yankee Stadium – Concourse, the Bronx & Citi Field – Flushing, Queens
Time your trip right and baseball fans can check two MLB stadiums off in their quest to visit all the Major League ballparks. Both the Bronx Bombers and their crosstown rivals have newer stadiums, with modern perks, plenty of food options, and extras like a playground on Yankee Stadium's top level. If it's not baseball season, and you still want to get inside, consider booking a tour of either spot, which gives you behind-the-scenes access you wouldn't get on game day anyway.
31. MSG – Midtown West
They don't call it the World's Most Famous Arena for nothing, and sports fans might not be able to make a trek to New York without seeing its facade. See what's playing—from the NBA's Knicks to the NHL's Rangers, plus college hoops, concerts, and more, The Garden is a hub of action and entertainment.
RELATED: Family Restaurants in NYC With Fun Things for Kids To Do and See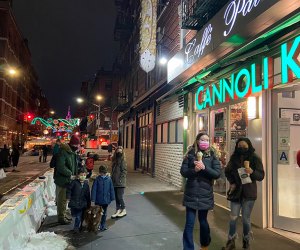 End your Little Italy adventure with a visit to Cannoli King. Photo by Sara Marentette
This charming Lower Manhattan neighborhood oozes with old-school charm—and sometimes a side of attitude! Plan to grab at least one meal in this area and walk the blocks waiting to see who calls you in (literally!) as restauranteurs give you the hard sell on the sidewalk. When you're just about stuffed with nonna's meatballs and gravy, make sure to hit up a sidewalk cannoli stand or pop into one of the handful of Italian bakeries and grab dessert to-go.
Well known for its famed Christmas tree and one of our favorite ice skating rinks in the city, Rockefeller Center is worth a visit in any season. Shop at kid-friendly destinations like the aforementioned FAO Schwarz, Nintendo New York, or mega stores dedicated to American Girl Dolls and Legos. Take in the views from the Top of the Rock and wander the hidden underground where you can find some great grab-and-go restaurants that keep the midday work crowd humming. St. Patrick's Cathedral is nearby and you can nab audio tours of both the stunning church and Rockefeller Center itself. We also suggest taking in a show or a tour at Radio City Music Hall.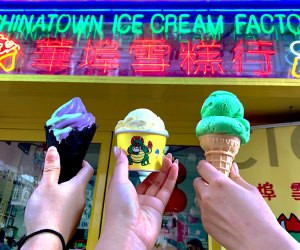 Grab an exotically flavored scoop at the Chinatown Ice Cream Factory. Photo courtesy of the shop
Like its neighbor just slightly northern neighbor, Little Italy, stepping into Chinatown makes you feel like you've left NYC behind entirely as you wind down unfamiliar streets teeming with activity in search of the perfect dim sum dinner. Vendors selling all sorts of wares await, and haggling here is a sport of sorts, so have fun picking up a tchotchke to remember your visit by.
Built to memorialize the lives lost on 9/11, this site is home to both a free, public monument and an underground museum that requires tickets to visit. Before setting out, keep in mind your kids' ages and what they can handle. The Memorial is a somber, beautiful tribute with a pair of waterfalls marking the foundations of the Twin Towers. It's a place of quiet remembrance. The Museum tells the story of that day, its aftermath, and victims with artifacts and audio recordings that can be difficult to see. Exhibits are well marked, with the most jarring images from the day in a separate exhibition hall. While we've visited with kids, we'd caution you to take it slow and be willing to take turns seeing different parts of the exhibit in case anyone needs a break. It's a worthy destination, but the topic is heavy.
Disclosure: We may earn a small commission if you click through our link and make a purchase. This revenue helps us maintain this site, so thank you for supporting us.
Click Here to Sign Up!
i