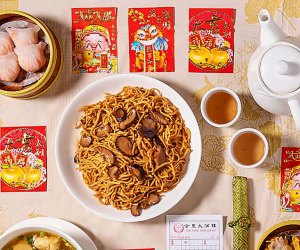 25 Things to Do, See & Eat in Chinatown With Kids
At first glance, navigating the street vendors, traffic, and crowds of Canal Street can seem intimidating for families. But with a little planning, Chinatown opens up into a world of wonders. Explore parks, temples, turn-of-the-century architecture, annual festivals and celebrations, and, of course, amazing food in one of NYC's most well-known neighborhoods.
Chinatown is unlike other hot spots in Manhattan. It is a living, breathing neighborhood with a real community and real residents. Although dependent on tourists, Chinatown is unapologetically authentic. Be fearless, kind—particularly now—and patient as you step into this city within a city. Growing up in NYC, I've seen Chinatown evolve yet never change, holding steadfast to traditions while still exploring and innovating. As an adult, I plan to make Chinatown a part of my children's lives for years to come.
Get the insider's scoop on more of NYC's popular neighborhoods, such as Koreatown, with our Neighborhood Guides.
Editor's note: While we are trying to promote safer activities that occur outdoors or with social distancing guidelines in place, please keep your family and others safe by always wearing a mask and maintaining an appropriate distance.
We've organized this list to run from morning to night, representing the best things to do during a one-day visit to lower Manhattan's Chinatown, which occupies a slice of downtown that runs roughly from West Broadway to the East River and between Grand Street in the North and East Broadway north to south. Those borders are blurry, though, as the area blends into the Lower East Side and other neighborhoods. Mott Street has long been the "unofficial" main drag, although East Broadway is fast becoming "Little Fuzhou."
It's probably too much to do in one day, so we suggest picking a couple of things from each category that most interest your family and suit your kids' ages. Either way, get on your walking shoes and wear some loose-fitting pants because you're about to embark on a unique and delicious adventure.
1. Ease into your day with custard buns and creamy sweet coffee at Tai Pan or Fay-Da Bakery.
2. Look up as you walk through the jungle of fire escapes and gaze at the turn-of-the-century architecture along Mulberry and Mott Streets.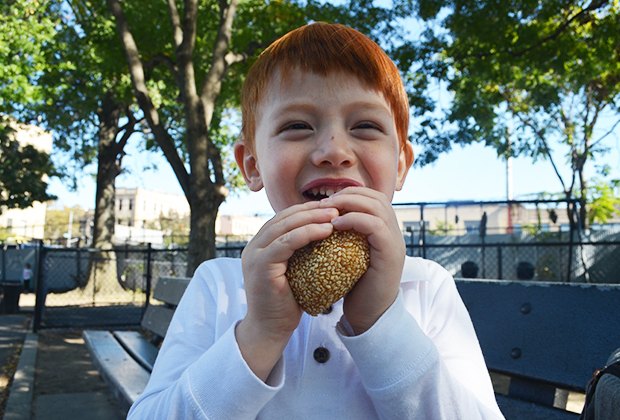 Children might enjoy traditional treats like fried sesame balls filled with sweet red bean paste. Photo by the author.
3. Enjoy a refreshingly chewy boba tea and sweet red bean or savory pork buns at Audrey Bakery.
4. Go vegan with Buddha Bodai Mott or Bodai Kosher. The two competing locations have drama but are certainly tasty.
5. While cutting through the maze south of Canal Street, take a quick history trip down Mosco Street, one of the last remnants of the infamous Five Points, or the crooked Doyers Street, once nicknamed "The Bloody Angle" for being the most violent intersection in New York City.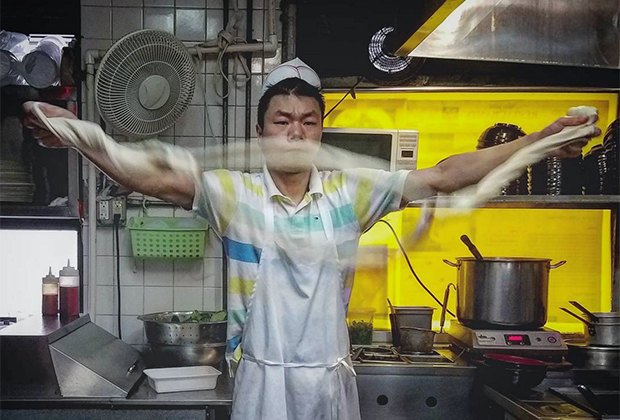 Go for lunch at Tasty Hand-Pulled Noodles. Photo by Bobby Cooper via Instagram.
6. Or, while on Doyers, stop for lunch at Tasty Hand-Pulled Noodles. That slapping sound you're hearing is the dough hitting the countertops.
7. Tourist: "What's the best place to get dim sum?" Chinatown resident: "Flushing!" That said, dim sum in Chinatown isn't bad. If you're new to dim sum, try tourist favorite Nom Wah Tea Parlor with easy menu pictures, novelty decor, and a facade that hasn't changed for almost 100 years.
8. If you're up for dim sum Level 2, with carts and shared tables, test the lines at Jing Fong or Golden Unicorn.
RELATED: A Nerdy Day out in NYC's Japantown With Tweens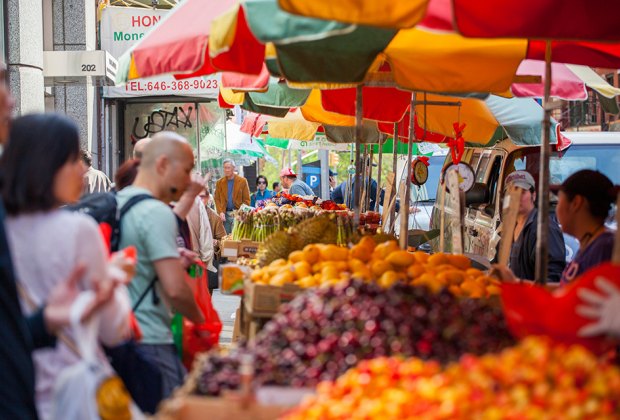 The vibrancy of Chinatown is hard to beat. Photo courtesy of NYCGo
9. In the mood for spicy? Head to Xi'an Famous Foods, which earned praise from Anthony Bourdain back in 2009.
10. Or burn off those calories with a souvenir excursion. Don't be fooled by the shallow sidewalk shops on Canal—there are doorways in the back that lead to more shopping.
11. The Museum of Chinese in America (MOCA) is temporarily closed, but worth visiting when it reopens. For now, enjoy its virtual programming, and get on its mailing list via its website for more family-friendly activities.
12. Snack along Canal Street at egg cake or dragon beard carts.
RELATED: Feast Your Way Through the Best Food at the Queens Night Market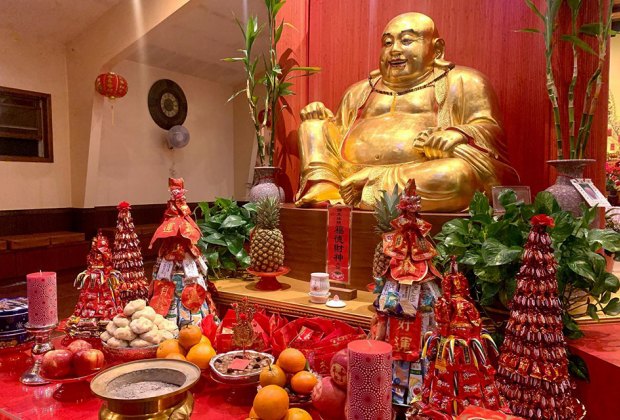 The Mahayana Buddhist Temple is a stunning sight to see.
13. Donate a dollar at the Mahayana Buddhist Temple to find out your fortune or see the giant Buddha.
14. Catch your breath at Sara D. Roosevelt Park, a community gathering spot that offers blocks worth of green space in the middle of the neighborhood.
15. While you're there, set the kids free on the Hester Street Playground, which is one of our favorites in the entire city.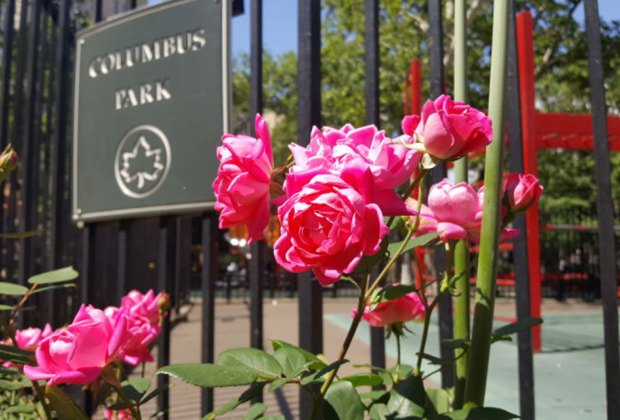 Columbus Park is another favorite Chinatown gathering spot.
16. Geocache, get your palm read or watch residents practice kung fu and tai chi at Columbus Park. Oh, and there's a great playground here, too.
17. Or hit the Chinatown Fair Family Fun Center on Mott Street for retro video games. It's an NYC institution.
18. Stock up on poke sticks, sauces, wonton skins, and other kitchen staples at the Hong Kong Supermarket.
RELATED: The 15 Most Insane, Must-Try Desserts in NYC Right Now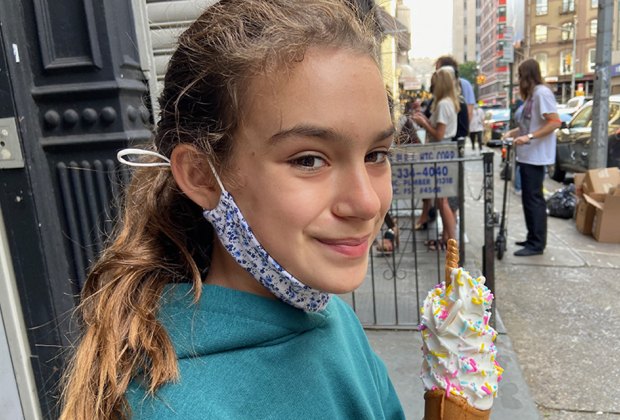 Taiyaki NYC offers rolled ice cream and more frozen delights. Photo by Sara M.
19. Savor the Asian ice cream revolution at Taiyaki NYC for rolled ice cream and other out-of-cone treats.
20. For a sweet treat, hit every business along Canal Street East (between Bowery and Allen) in Chinatown on Halloween for the most unique bag of candy you ever saw!
21. Speaking of holidays, circle Lunar New Year 2022 on your calendar. It falls on Tuesday, February 1, and after a year of mostly virtual fetes, it's sure to return with a bang, fireworks, parades, and lion dances galore.
RELATED: Best Free Annual Parades in New York City for Kids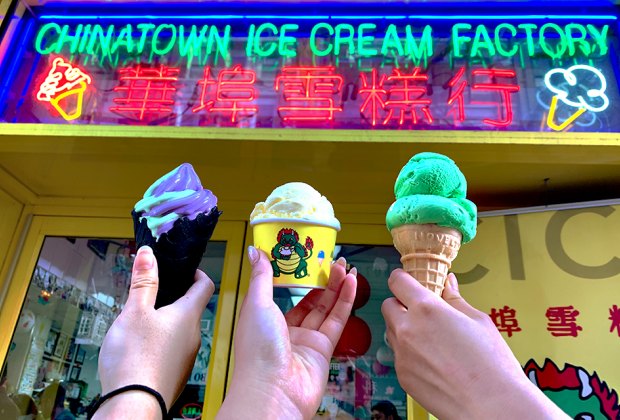 Chinatown Cream Factory offers flavors both classic and creative.
22. Enjoy a 30-year-old tradition with a scoop of taro or red bean ice cream at Chinatown Ice Cream Factory.
23. Take home a bag of frozen dumplings from the famed Vanessa's Dumpling House to savor the flavors of Chinatown.
24. Crack open lychee and rambutan from fruit and vegetable stands under the Manhattan Bridge.

Nam Son offers a different taste in the neighborhood.
25. Tired of Chinese food? Chinatown is also home to a large Vietnamese population. Slurp down a bowl of pho at Nam Son.
This post, originally published in 2016, has been updated. Unless noted, all photos courtesy of the venues