Koreatown with Kids: Best Places to Shop, Eat, and Play
9/29/16
- By
Stephanie Ogozalek
One of the best reasons to endure the cost of living and the crowded streets of New York City is just how easy it is to explore other cultures with your kids. There are vibrant ethnic enclaves around every corner, but few quite as vibrant as Midtown Manhattan's Koreatown.
Developed in the 1980s, this small enclave can be found between West 31st and West 33rd Streets and Fifth Avenue and Broadway. The main drag is Korea Way, aka West 32nd Street between Broadway and Fifth Avenue. Although the district is small, really just two city blocks, it is packed with more than 100 shops and restaurants. If you can't see them, look up. Much like Seoul, the businesses in K-Town are stacked on top of each other to maximize space.
We've rounded up 13 of the best places to explore in Manhattan's Koreatown as a family, so read on before your next outing. Peruse our Neighborhood Guides for more NYC nabes to explore, including those in Manhattan, Brooklyn, and Queens.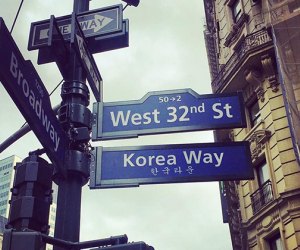 Photo by hellokelley11 via Instagram.
Koreatown is an easy outing with kids. Plus, some businesses are open 24 hours, making it convenient for families to explore on their own schedules. Stop by after a Macy's shopping trip, visiting the Empire State Building or on the way to a game or concert at Madison Square Garden. For the fewest crowds, visit early in the day, before noon if you can. You may want to avoid a nighttime visit with tots as the street becomes quite the scene.
E-Mo
2 West 32nd Street
If your kids like California rolls, they probably will enjoy kimbap. Sometimes called Korean sushi, kimbap is rice and bits of meat, seafood, vegetables, and other goodies rolled in sheets of dried seaweed and sliced. E-Mo, a tiny storefront, makes the rolls to order; they are fresh, delicious and a perfect snack for little hands. With a short dining counter, E-Mo is best for a quick snack or takeaway. Cash only.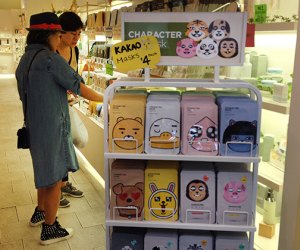 Cute masks at The Face Shop. Photo by the author.
The Face Store
25 West 32nd Street
Korean skin care is serious business, and there a number of beauty shops along Korea Way. Tweens and teens will enjoy a quick browse of the beautifying products in The Face Store. Even my son makes a beeline to the animal character sheet masks displayed at the front of the store. At just $4 a sheet they are a perfect sleepover activity or goody-bag fodder. Other kid-friendly items include adorable lip balms, perfumes, and colorful nail polish. The Face Store also has locations in Sunset Park, Brooklyn, and Flushing, Queens.
Food Gallery 32
11 West 32nd Street
If you want a quick snack or don't want to do a full sitdown meal with kids, Food Gallery 32 is the way to go. Its like a typical mall food court, but better. A walk through this popular spot offers a dozen or so food stalls. I enjoy Kobeque, with funky takes on traditional Korean barbecue, including barbecued meats served in a taco, wrap, or on a burger. Several stalls serve traditional Korean dishes along with dumplings and noodle soups, and you can finish your meal with a trip to the popular Spot Dessert Bar. My son can't leave without buying a box of his favorite K-town treat: manjoo, fish-shaped cakes filled with red bean paste or sweet vanilla custard. Mama, the dumpling spot right in the front of the hall, sells them in two sizes; if you are lucky you can catch them baking them on the spot.
Grace Street Coffee Kitchen
17 West 32nd Street
This casual coffee shop with soaring ceilings, eclectic art, and a funky, happy vibe is on my family's short list for shaved snow. For the uninitiated, if you've had shaved ice, imagine it made with sweet milk and cream instead of water. The light and fluffy dessert melts in your mouth, comes in fruit, and features Asian flavors piled high with toppings.
H Mart
38 West 32nd Street
Yes, I did put a grocery store on this list. There are few better ways to experience a new-to-you culture than by visiting a food store. H Mart moved from across the street into a larger space this past summer. Although it is still packed with products, it is a much nicer shopping experience. The store offers an incredible assortment of Asian ingredients, prepared foods and housewares along with familiar American food staples. Kids will love the packaged jellies, cookie sticks, and flavored milks in bright anime-inspired packaging.
Jongro BBQ
22 West 32nd Street
This popular BBQ spot is a South Korean franchise. Take the elevator to the second floor to experience cooking your own meats and dipping them in little dishes filled with sauces and seasonings. There is often a long wait for dinner, so a lunchtime or midday visit is best. Of the slew of Korean BBQ places along the street, we like Jongro for its authentic dining room, and it is less expensive than similar places on 32nd Street.
RELATED: A Nerdy Day out in NYC's Japantown with Tweens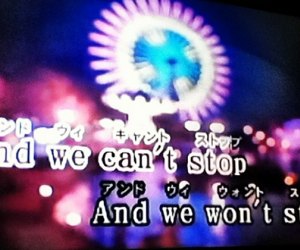 Channel Miley Cyrus at Karaoke Duet. Photo by Brian Sweeting via Instagram.
Karaoke Duet
53 West 35th Street, 2nd Floor
While this is a few blocks outside of Koreatown, Karaoke Duet is the only singing spot in the area that allows kids. Youngsters are welcome before midnight on weekdays, and 8pm on Fridays and Saturdays. It has 10 private rooms of various sizes with smaller rooms perfect for two or three people. The song list is online so you can choose your selections before heading out. Rooms are rented on a hourly basis, and during the kid-friendly daytime hours a weekday hourlong visit will set you back just $4.
Koyro Books
35 West 32nd Street
Unless you read Korean, the books won't be of much interest to you. But don't skip Koyro. The shop is packed with k-pop wares, souvenirs, funky adult coloring books, and toys. My son loves the pen selection and adorable mini-shaped erasers here. Plus, it shares a space with funky and hip South Korean skin care brand TonyMoly's American flagship store. Kids will love the adorable packaging on their cosmetics—think tiny rabbits and panda-shaped lip glosses, creams squirted from tubes that look like bananas or scooped from peach-shaped and colored pots.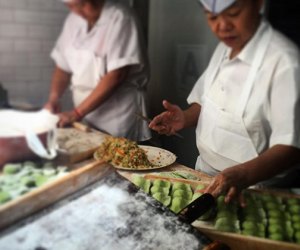 Watch as chefs prepare handmade dumplings at Mandoo Bar. Photo by corieanderwebb via Instagram.
Mandoo Bar
2 West 32nd Street
Dumplings! Need I say more? You can watch the chefs make dumplings right in the window of this tiny K-Town eatery. Named for Mandu, Korean dumplings, you can get bite-sized, dough-wrapped meats and veggies to stay or take them with you as you stroll down Korea Way. Other kid-friendly eats include fried rice and pad thai. Due to its small space it is best to avoid dining here with a stroller unless you go on the early side.
Muk Eun Ji
34 West 32nd Street
You can't go to Koreatown and not tuck into some kimchi or fermented cabbage and vegetables. Muk Eun Ji is well known for the Korean culinary mainstay: kimchi. It highlights it in a variety of signature dishes. The family-friendly restaurant offers dumplings, BBQ, and noodle soups for less adventurous eaters. Plus, a meal here is a lesson in Korean farming history as the restaurant has panels with the history of kimchi making on the walls and ancient Korean farming equipment on display.
Paris Baguette
6 West 32nd Street
Another East-meets-West bakery chain. Paris Baguette has shops all over NYC, and this small K-Town outpost is a good spot to for a quick snack. It is similar in its offerings to Tous Le Jours with macrons, coffee drinks, mini-cookies, and light lunches.

Make your own BBQ at Seoul Garden. Photo by whiskersandchocolate via Instagram.
Seoul Garden
34 West 32nd Street
This second-floor eatery is usually packed with diners enjoying Korean comfort food served family style, so be sure to time your visit right or make a reservation. While Seoul Garden offers DIY Korean BBQ, casseroles, soups, and stews, its house-made tofu is a specialty and appears in a number of the homey dishes.
Tous Le Jours
31 West 32nd Street
This is my family's go-to spot for a treat in Midtown. The always-crowded Korean bakery chain infuses Asian flavors into classic French pastries for a delicious combo. Tous Le Jours' familiar baked goods are a great way to get kids to try new flavors—red bean donut anyone? It is like Starbucks but better, with lots of seating in the back and a huge and beautiful assortment of grab-and-go options for lunch and snack time. It also offers an extensive selection of European coffee and tea drinks, shaved ice, and bubble teas. It has locations in Flushing, Queens, and Manhattan's Chinatown, too.
Top image: Enjoy a Manjoo, a fish-shaped Korean cake filled with red bean paste or vanilla custard. Photo by chompupear via Instagram.
Click Here to Sign Up!
i