3 Days in NYC with Kids: Ultimate Itinerary by a Local Mom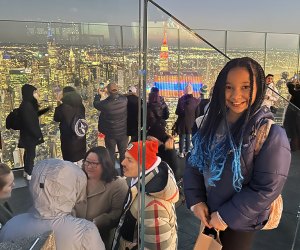 1/27/23
- By
Jody Mercier
New York City overflows with things to do for families, and while you may have visited the city that never sleeps in your pre-parenthood youth, it's a completely different experience with kids in tow. Lucky for you: I'm here to offer my parent-tested tips for the best things to do in NYC on a family vacation. Even locals can appreciate these picks, which are a combination of off-the-beaten-path destinations and New York City's top attractions, all catering to a mix of ages and interests.
I've laid it all out in an easy-to-follow three-day itinerary, and while you can't do it all in three days, you can definitely take a big bite out of the Big Apple. Read on for my top picks for things to do in NYC during your family vacation—or use these picks for a local staycation to explore some new-to-you sites and neighborhoods. You can find all our top things to do in NYC on our NYC kids' bucket list and in our Visitors Guide to New York City.
Subscribe to our newsletters to get stories like this delivered directly to your inbox.
Getting Around NYC
NYC's public transit system gets a bad rap, but it's really the easiest and most efficient way to get around. You can purchase a MetroCard from machines in most stations, or simply use your preferred contactless payment method to board subways and buses. Officially, three children under 44 inches can enter for FREE with a fare-paying adult; unofficially…if your kid can duck under the turnstile, you're unlikely to be stopped. If you're looking for help navigating the train system, the MyMTA app offers trip planning, plus train timetables and announcements of service changes. On the weekends, there are likely to be many! Usually, they're well-marked with signage in stations, too. One big drawback to subway travel for families: Elevators are sparse and often out of service, so if you're planning on traveling with a stroller, bring the lightest-weight one that fits your child. You'll likely be carrying it up and down the stairs.
You'll also want to make sure everyone has a comfy pair of shoes (or two!) in their suitcase. You'll be pounding plenty of pavement, so keeping your feet cozy is key.
Another helpful note as you're planning your visit to NYC: It might be worth considering a Go City Explorer Pass, which offers discounted admission to a variety of top attractions in NYC.
RELATED: Top Attractions in NYC: Best Things To See and Do With Kids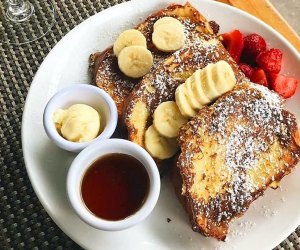 Sarabeth's generous portions of breakfast classics will get you fueled to explore all NYC has to offer. Photo courtesy of Sarabeth's
Day 1: Things To Do in Central Park and Midtown Manhattan
Start your day with the filling, homestyle fare at this mainstay on Central Park South. If the weather allows, opt for a table outside and watch the city come to life as you nosh on classic eggs Benedict, Sarabeth's trademark quiche, and a selection of homemade popovers. Kids go crazy for the Fat and Fluffy French Toast.
RELATED: The Best Museums, Galleries, and Exhibits in NYC for Kids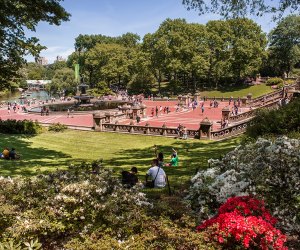 Central Park is a dreamy destination no matter the season and you could easily spend an entire day exploring the vast green space. Photo courtesy NYCGo
NYC's backyard is an 843-acre green space that stretches from 59th Street in the south, to 110th Street in the north and from Eighth Avenue to Fifth Avenue. In a nutshell: It's huge and you could spend an entire day here.
For a quintessential peek at the park, start your exploration at the Heckscher Playground, which is one of our favorite playgrounds in Central Park and, really, one of the tops in all of New York City. In the summer, water flows through its pyramid structures, so let the kids kick off their shoes and splash for a little while. While you're there, take a minute to climb to the top of Umpire Rock and take in the panoramic views of the park to the north and Midtown's towering skyscrapers to the south.
When you've had enough romping, wander the path past the ballfields to the Central Park Carousel for a quick spin. Be forewarned, it's a speedy ride, so little ones may be more comfortable in a chariot.
RELATED: Best Children's Museums in NYC for Families to Visit

Central Park's Wollman Rink is well-known for is winter ice skating, and we're hoping the summer roller rink becomes an NYC mainstay. Photo by Jody Mercier
Next, check out what's happening at Wollman Rink. In the winter, it's a lovely ice skating rink. Summer 2022 saw it transformed into a disco-inspired roller rink we're hoping will become an annual attraction. Whether you take the time to twirl or not, it's a lovely spot for people-watching. Head from hear toward the exit on 59th Street and 5th Avenue, and you'll wander across the picturesque Bow Bridge, which makes a perfect spot for an iconic NYC family picture.
If you want to extend your time in the park, our other top picks include the Central Park Zoo, whose cheeky sea lions put on several feeding shows each day; the Billy Johnson Playground with its epic, super-fast granite slide built right into the park's landscape, and the lovely northern edge of Central Park, where you'll find more locals and fewer tourist trappings.
From Central Park, wander south along Fifth Avenue to take in the eye candy of Midtown's famed high-rent district.
Make this Midtown complex your next stop. There are tons of family-friendly restaurants nearby, depending on what your family is in the mood for, from street carts to sit-down fare. Once you've refueled, pick a couple of shops to explore. This area is home to kid-pleasers like a flagship Lego Store, American Girl New York, Nintendo NYC, and the can't-miss FAO Schwarz. When you're well-stocked on souvenirs, head for the glimmering lights and bright billboards of Times Square, but make sure to grab a sugar fix at the local outpost of Magnolia Cupcakes on your way.
RELATED: Family-Friendly Hotels in New York City with Perks for Kids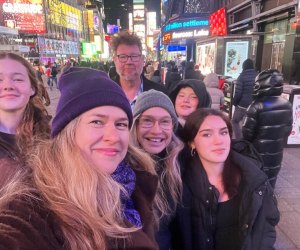 What's a visit to NYC without a stop for a selfie in Times Square, aka the Crossroads of the World? Photo by Chloe Mata Crane
Your first stop in Times Square should be the TKTS Booth, where you can score last-minute deals and discounts on some of our favorite Broadway shows for families. Score a deal, then fill the rest of your afternoon with more fun while you wait for the curtain time.
If you're looking for an out-of-this-world view, consider booking tickets to one of NYC's observation decks, many of which are located in this neighborhood. It's hard to pick a favorite, but we've done our best to outline each experience here.
While the Times Square outpost is microscopic compared to the original Brooklyn location, it's still a classic NYC eatery and the cheesecake is known worldwide for a reason. If you're looking for something different, we've got more picks for top family-friendly eats near Times Square.
RELATED: 20 Must-Visit Cafes, Sweet Shops, and Iconic Restaurants in NYC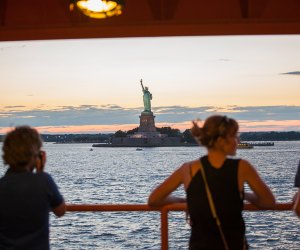 Some of the best views of Lady Liberty can be captured during a FREE ride aboard the Staten Island Ferry. Photo courtesy NYCGo
Day 2: Lower Manhattan and the Brooklyn Bridge Waterfront
Start your day in this family-friendly enclave on Manhattan's west side. You can pop into Brookfield Place to visit its Hudson Eats Food Hall, where everyone can pick out their favorite breakfast—bagels, doughnuts, and authentic French pastries are all offered—from a variety of vendors, and parents can get their caffeine kick. From here, head across West Street to gawk at One World Trade and enjoy a quiet, somber moment overlooking the 9/11 Memorial.
Head south toward the waterfront where you can opt to take a ferry to the Statue of Liberty and Ellis Island (for a fee) or enjoy a FREE half-hour Staten Island Ferry ride, which gets you close enough to Lady Liberty for a photo-op, without having to battle the crowds and airport-style security for a visit. It's a great option if you're pressed for time. Other fun in Battery Park includes an epic playground with an awesome collection of slides and the stunning, underwater-themed SeaGlass Carousel.
This lovely waterfront enclave is a slice of old New York with its car-free, cobblestone streets and charming alfresco eateries. Dine outdoors at waterfront restaurants like Watermark and Industry Kitchen, or pop into the new Jean-Georges venture, the Tin Building. Housed in the original Fulton Street Fish Market, it's a mix of fast-causal and sit-down restaurants from a variety of cuisines. If you need a treat, stop by Mister Dips for a towering cone of soft-serve.
RELATED: 12 Top NYC Boat Rides with Kids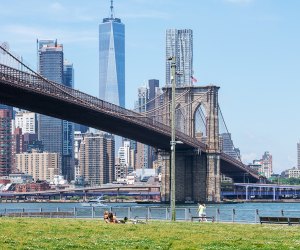 A walk across the Brooklyn Bridge is one of our top things to do in NYC during a family vacation. Photo courtesy NYCGo
Head toward City Hall where you'll find the entrance to the footpath to the Brooklyn Bridge. Muster your energy for the walk across the span, and you'll be rewarded with stunning views up the East River and all along New York Harbor.
When you reach the other side, you'll be deposited into the gem of Brooklyn Bridge Park, which is filled with fun things to do. Each of its six refurbished piers offers differently themed fun to explore. The most kid-friendly of the bunch is Pier 6 with its collection of playgrounds.
RELATED: Best Free Annual Parades in New York City for Kids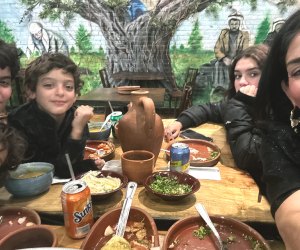 Nosh on authentic Middle Eastern Fare and family-style entrees at Al Badawi. Photo by Sara Marenette
This pick comes from our Mommy Poppins photo editor and mother of four (!) who frequents this Middle Eastern joint, beloved for its spacious setup and delicious food. The moment you sit down, warm-from-the-oven homemade pita and an olive oil and zaatar dip greet you, so the kids are satiated and occupied while you peruse the menu. Top picks include the lentil soup and Fattat Jaj, a family-style portion of chicken, rice, and herbs scooped up happily with more fresh pita.
Day 3 is a choose-your-own-adventure. New York overflows with unique enclaves to explore, and even locals can find a new destination to fill the next day off from school or while away a weekend with one of these destinations. We're outlining a few of our favorites below, but you can find tons more things to do in our Guide to Neighborhoods in NYC.
RELATED: NYC Kids Neighborhood Guides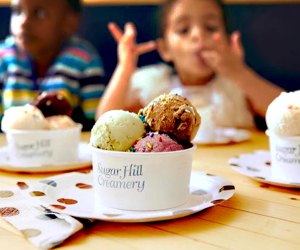 Small-batch scoops in inventive flavors make Sugar Hill Creamery one of our favorite spots in NYC for a sweet treat. Photo courtesy of the creamery
I may be biased because this is my home base and where my born-and-bred New Yorkers have lived their entire lives. While the 125th Street corridor has become increasingly commercialized, it's still worth stopping by to peek at the world-famous Apollo Theater. Enjoy a Black History lesson at the NYPL's Schomburg Center for Research in Black Culture. For kid-friendly fun, we love the Sugar Hill Children's Museum of Art and Storytelling. Make sure to enjoy some soul food while you're here, too. We love Melba's, Amy Ruth's, and the old-school Sylvia's. For new-school eats, try Red Rooster or the fast-casual Field Trip, and finish the day with a sweet flourish at Sugar Hill Creamery, which has two Harlem locations and is set to open an East Harlem outpost in spring 2023.
RELATED: 13 Coolest Places in NYC to Take Photos of Your Kids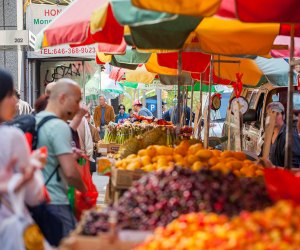 Chinatown is a hub of activity from its street vendors to its authentic eateries. Photo courtesy NYCGo
These culturally-rich neighborhoods are in such close proximity to one another, it's easy to tackle them all in one day. Slime-loving kiddos will be in heaven at the Sloomoo Institute, a veritable slime-filled playground where you can even get yourself doused in the ooey-gooey stuff. Adults can marvel at the cast-iron architecture that's a trademark of Soho. When you're done, wander the twisting alleys of Chinatown in search of dim sum and have some fun bartering for goods with the street vendors. End your day on Mulberry Street, where Italian eateries abound and my then-toddler fell in love with her (still) favorite meal: penne al la vodka. Here are all our top picks for family-friendly eats in Little Italy.
This west side neighborhood draws throngs of visitors, whether foodies looking for eats at the Chelsea Market or visitors flocking to a pair of unique parks: The High Line and Little Island. We also love the waterfront Chelsea Piers, which offers tons of opportunities for recreation inside and out. The riverside Hudson River Park offers a collection of destination playgrounds and piers to explore, and the landscape is ever-changing. We're particularly excited about the ongoing construction at Pier 57, which introduced a rooftop park last year and promises a James Beard Foundation Food Hall opening soon.
RELATED: NYC on a Budget: Cheap Things To Do and Money Saving Tips for Families

Nosh on carnival eats along the Coney Island boardwalk, whether you're visiting the beach, aquarium, or amusement parks. Photo by Jody Mercier
Though it shines as a summertime playground, there are plenty of things to do in this waterfront Brooklyn neighborhood to make it an all-season destination. Meet plenty of sea life with a visit to the New York Aquarium, which has undergone a recent renaissance. When you're done, grab a bite at the original Nathan's Famous, which is home to the annual Fourth of July Hot Dog Eating Contest, or one of these other family-friendly restaurants on Coney Island. In the summer, don't miss the chance to ride the roller coasters at Luna Park, including the world-famous Cyclone, or take a spin on Deno's Famous Wonder Wheel. Of course, there's plenty of sand and surf to explore here, too.
RELATED: Visiting The Metropolitan Museum of Art with Kids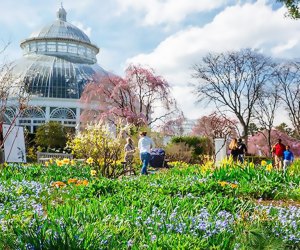 The New York Botanical Garden is a stunning living museum with acres of plants and NYC's only old-growth forest to explore. Photo courtesy NYBG
If you want an authentic New York experience, this overlooked borough might be your best bet. Sports fans can root, root, root for the Yankees, who play their home games in a South Bronx stadium. Lovers of the great outdoors can't go wrong with a visit to the New York Botanical Garden or the smaller, but underrated Wave Hill. Little ones will go crazy for a visit to the long-awaited Bronx Children's Museum, and we haven't even mentioned all the awesome fun at the Bronx Zoo. A day trip unto itself, you can visit more than 10,000 animals, enjoy a Wild Encounter, and traipse through its aerial adventure course.
RELATED: American Museum of Natural History: Ultimate Guide to Visiting with Kids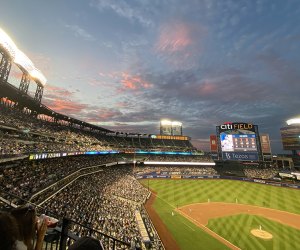 Is there any better way to end a summer day than under the lights at Citi Field? Photo by Jody Mercier
New York City's most diverse borough packs a punch when it comes to kid-friendly fun. Whether you choose to explore the action-packed waterfront or head further east to all the fun in Flushing Meadows Corona Park, there are tons of things to do here. Top kid-friendly culture spots include the interactive New York Hall of Science, the Museum of the Moving Image, and the contemporary art hub MoMA PS1. During a summertime visit, catch a Mets home game at Citi Field, see tennis greats at the US Open, and save time for a romp in the huge splash pad at the foot of The Unisphere. Extend your day here deep into the evening to take advantage of the multicultural eats at the Queens Night Market.