30 Things We Are Excited To Do with Philly Kids This Winter
Winter can test your limits and your creativity when it comes to entertaining your kids. Sometimes you just need to get out of the house! Fortunately, no matter the weather, there are amazing places to go romp and play in the city and the suburbs that can help shake off that winter fatigue.
Check out our events calendar for even more fun ideas in the Philadelphia area, or check out our list of things to do with babies in winter, as well as cold weather activities for the rest of the family.
Explore Museums and Libraries
Check out the dinosaurs, the butterflies, and all the other animals at the Academy of Natural Sciences. And be sure to check out the "Dinosaurs Around the World" exhibit before it closes on January 20, 2020.
Children six and under absolutely love the Please Touch Museum, with its Alice in Wonderland Maze and the ultimate favorite: A mini supermarket for the kids to get a chance at playing adult.
Hit up your local Free Library, with programs and activities for ages 0-99.
The Philadelphia Museum of Art is well worth the visit, and it's a fun way to learn together, as you explore the halls and participate in Family Workshops. Bonus: On snow days, the Museum of Art boasts some of the best sledding spots in the city, from the steps to the hills around back.
Visit the American Helicopter Museum with your future flyer.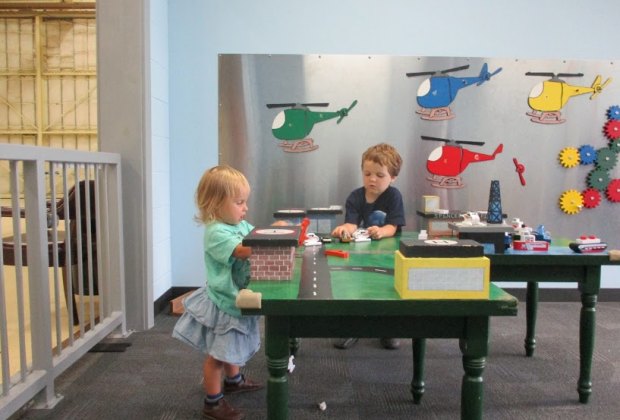 From life-sized to toy-sized, the helicopters at the American Helicopter Museum are fun to play with. Photo courtesy of C.Mooney
Play in the Franklin Institute's Sports Zone, where your kids can test their limits. Or, play with physics at the Sir Isaac's Loft exhibit.
Check out the antiques and meet real heroes at Fireman's Hall, a free museum in Old City.
Visit the Mercer Museum and Fonthill Castle and go on a scavenger hunt around the site.
Take a trip to the Garden State Discovery Museum for hands-on fun.
Check out the 16th annual antique toy train show, on display at the Museum of American History until February 2, 2020.
Construction and creativity are the name of the game at the Center / Architecture + Design. The classic and modern building toys exhibit is available through January 16, 2020.
Get Close to Nature
Visit the Zoo, with indoor houses for animals that are used to temperate climates (including people!), families can stay warm and still feel connected to nature. KidZooU features indoor and outdoor displays with hands-on learning experiences that will delight the youngest and oldest! And until January 5, 2020, be sure and check out the fascinating new LumiNature exhibit.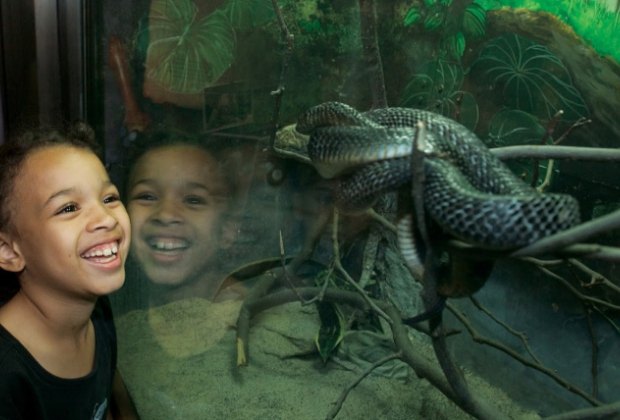 Animals are always a kid pleaser. Photo courtesy of the Philadelphia Zoo
Adventure Aquarium has sharks, mammals, reptiles, and amphibians! It's all indoors, and with a KidZone that especially caters to children 6 and under, it's a great winter destination.​
Explore the indoor children's garden at Longwood Gardens.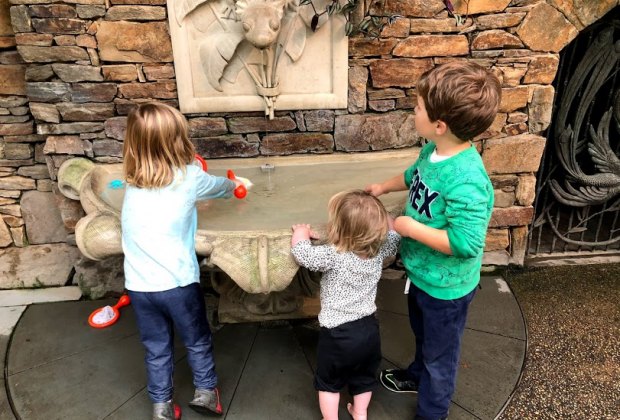 Even in the winter, Longwood Gardens is a great place to bring the kids. Photo courtesy of C.Mooney

Get Active Outside
Go Ice Skating! Blue Cross RiverRink Winterfest is open through March 8, 2020. In addition to ice skating fun, hang out in the warming cottages or by the fire pits. Delicious treats by the Garces Group are a crowd pleaser. Or head to Dilworth Park where skating is open through February 23, 2020 at the Rothman Rink.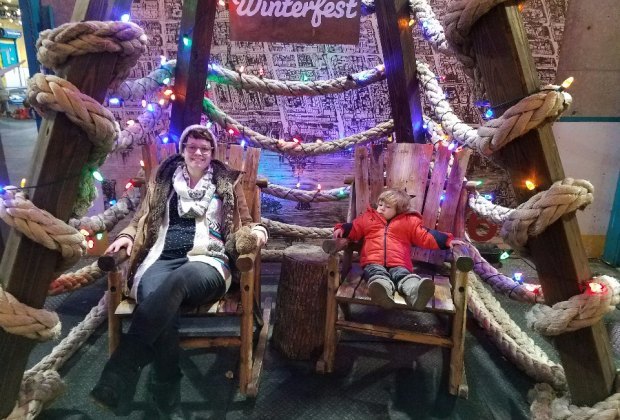 Winterfest is fun for all ages. Photo courtesy of C. Sumner
Embrace the cold and take your kids skiing! At various resorts throughout PA, kids can ski at a discounted rate with a paying adult.
Make snow angels, snowmen, and have a rousing snowball fight, followed by warm and delicious hot chocolate at Capogiro Gelato.
Burn Off Energy Indoors
Smith Playhouse is full of room to run around, play with new toys, and stay warm. Ideal for younger kids.
Pretend it's warm outside and take the family swimming at the amazing indoor pools in the Kroc Center.
If the kids are already bouncing off the walls, head to one of the many trampoline parks in the surrounding region. BounceU, Skyzone, and Get Air are a few faves.
Play a round! In Fishtown, check out Keystone Mini Golf, with a fun, indoor take on the classic outdoor game. Also, teach the little ones what a real video game looks like, with classic games like Pac Man and Burger Time! Kids under 4 play for free. Or, head to South Philly for 18 holes at Adventures Mini-Golf.
Go bowling with the family at North Bowl in Northern Liberties. This family-friendly site is heavy on fun, with great food, classic pinball games, and even ramps to help your littlest bowler go for a strike.
Start your spring training early at Everybody Hits, indoor batting cages in Kensington.
Take a trip to Bucks County and visit Giggleberry Mountain in Peddler's Village.
Check out one of our favorite indoor play spaces, PlayArts in Fishtown. PlayArts also provides classes and activities for kids.
Join a moms group or playgroup!

Enjoy the Arts or Learn Something New
It's time to get creative with the family at Sue's Art Class, the Rittenhouse studio where you can drop in for a class or take a full-day workshop.
Head to the Walnut Street Theatre to enjoy a music take on a childhood favorite, Shrek the Musical.
Ward off the cold in a warm kitchen with some kid-friendly cooking classes.

...And when all else fails...get cozy, hide under a blanket, and start thinking about summer at the beach!
Lead photo courtesy of C. Mooney