Best Sledding Spots Near Philadelphia for Kids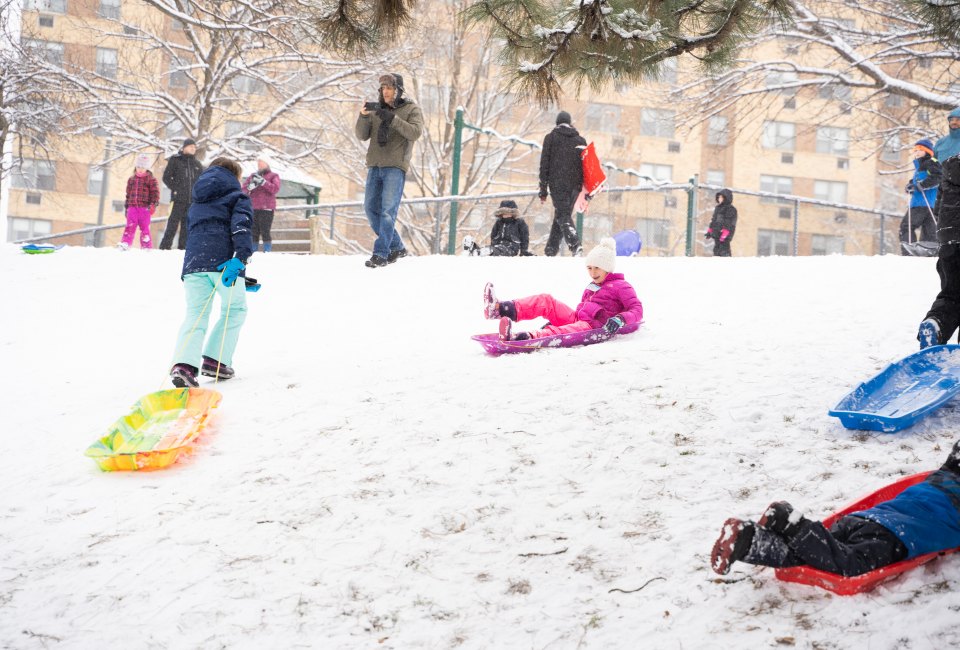 1/7/22
- By
Lindsay Li
Get ready for a snow day with our list of the best sledding hills near Philly.
When the forecast calls for snow, Philly parents ought to be prepared. Not just with the milk, bread, and toilet paper, but with the best spots to take the kiddos sledding on a snow day. Sledding is one of our favorite winter activities, so we're breaking down all the best sledding hills near Philly (not just by their cool factor, but also by age group), so you know exactly where you should head when we get a decent coating.
For more amazing ways to enjoy the snow with your family, check out the best places to go Snow Tubing near Philadelphia and Family-Friendly Skiing and Snowboarding near Philly.
Best Sledding near Philadelphia for Young Kids
Known as the Clark Park "bowl", these gentle hills are perfect for little ones, giving them a thrill without the large crowds or serious drops.
FDR Park—South Philadelphia
The hills here are not very steep, so they are perfect for little ones. There is plenty of room to slide around or be pulled by a willing and energetic parent. Neighboring Packer Park is another South Philly spot with hills to sled.
Best Sledding near Philadelphia for Older Kids
This hill is seriously (I mean seriously!) steep. Only the pros should check this one out.
This spot is great for thrill-seekers. Steep hills help you fly to the bottom.
With a steep but concrete hill, sledders should be sure there is plenty of snow before pushing off.
In the winter, one of the top attractions at this great Philadelphia space is sledding. Bartram's is another hit that is suitable for all sizes and skill levels.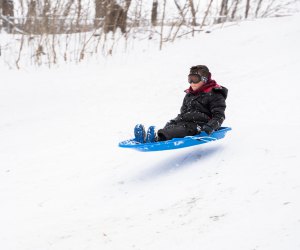 Fairmount Park is a prime spot to enjoy the snow. Photo courtesy of Philadelphia Parks and Recreation
This spot is really popular and can get crowded, but the hills are nice and steep enough for kids to enjoy. Plus, in beautiful Fairmount Park you can get some amazing views of the Philadelphia skyline and warm up in the nearby museums if it's too cold.
With several hills to choose from, your kids can decide if they want the daring experience or the more mild slide. But beware, picking up speed down one hill can land you in the Fox Chase Cancer Center drive.
An abundance of bumps on the way down these popular slopes makes this location a favorite in the northwest section of the city.
This neighborhood spot has a mix of small and larger hills to accommodate a range of abilities.
This is a Northeast Philly favorite, so it can get crowded. But if you get here early, your kids can enjoy the large hills that offer fun without the fear factor.
Situated in East Fairmount Park, this popular spot has steep hills perfect for elementary-aged kids.

Museum sledding is a Philly tradition. Just beware of the bumps. Photo courtesy of the Philadelphia Museum of Art
This one goes to the pros for the danger factor, although plenty of younger kids enjoy it as well. While it really is an excellent ride, sledding down concrete steps takes skills. It's bumpy fun that is quintessentially Philadelphia.
If the college students don't get in your way with their lunch trays gliding down Hawk Hill, your teens will have a blast at this steep site.
Another great place to sled can be found right behind Thomas Mansion at the Fairmount Park Conservancy. Known as Tommy's Hill, this long ride is sure to delight children of most ages.
Another great spot in the northeast section of the city with multiple options, this one can get crowded if you arrive too late in the day.
Best Sledding Spots in Bucks County
Great sledding for all ages, but the big benefit is the awesome playground that you can use to keep the younger kids entertained in other fun, snow-covered ways.
Some kids claim to be able to catch double hills if they go fast enough—this is where tweens and teens go to outdo each other.
With "hill" in the name, it's clearly the ultimate sledding spot. This five-acre park has a variety of steep, wide hills. Kids are known to bring snowboards to this spot too.
Built upon a hill, this is another great combination of art meets sledding fun.
Offering winter activities such as cross country skiing and ice skating, Nockamixon State Park is also a favorite for sledding and tobogganing.
The park is effectively one long hill, with little slopes all over the place.
Best Sledding Spots in Chester County
Between Chester and Berks County, French Creek State Park is a favorite sledding spot. The most popular place kids enjoy is the backside of the dam at Scots Run Lake.
Located in north-central Chester County, Marsh Creek State Park has numerous winter sport opportunities such as sledding, cross-country skiing, and ice skating. Sledders can be found on the slopes near the picnic area by the East Launch.
With the famous "Devil's Hill" right in front of the school, children of all ages will enjoy this thrill.
Best Sledding Spots in Delaware County for Young Kids
This is another state park that offers up great sledding hills for all ages. The highlight is a long, tiny hill that allows for a good glide without too much speed.
Wide, shallow hills are perfect for the little ones here.
Best Sledding Spots in Delaware County for Older Kids
You know golfers have to surmount giant hills, so these, of course, make for some of the best sledding hills in the area.
Three hills make this a great spot for all ages, but toddlers might not want to battle the crowds.
This high school boasts some great slopes. Since it's a family spot, you'll often see people working together to build ramps and other obstacles.
Best Sledding Spots in Montgomery County
Locals rave about the hill behind this art center on a snowy day, conveniently right next to Alverthorpe Park.
Definitely not for the faint of heart, but not so dangerous that teens won't want to go back again and again. Check out Lot #5 in the Militia Hill Day Use Area for a 400-foot slope.
Gentle slopes and huge spaces make it a great spot for the little sledders.
With bragging rights as the highest location in Montgomery County, Mill Hill is the perfect spot for older sledders.
Hills of all shapes and sizes make this a great spot for all ages (especially if you are a family with multiple kids/skill levels).
This is a huge favorite, so it gets crowded. The hill is long and wide with plenty of room for all to enjoy.
This post was updated in December 2021 with additional reporting by writer Danielle Smith.
Sign up for the Mommy Poppins Newsletter today!