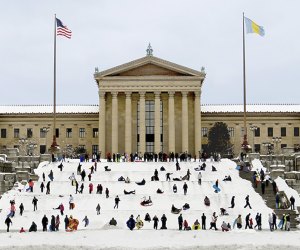 The Best Philadelphia Area Sledding Spots for Kids
Snow in Philadelphia can be hit or miss, but when it does hit, you want to be prepared! Not just with the milk and bread and indoor activities, but with the best spots for you and your kiddos to go celebrate the awesome, snowy days. Whether you are going sledding in the city or out in the suburbs, we have you covered! Here we break down the best spots (not just by their cool factor, but also by age group), so you know exactly where you should head the next time Old Man Winter shows his face.
If snow fails to show its head again—never fear, there is always ice skating and snow tubing to help us keep up the winter spirit!
Philadelphia
These gentle hills are perfect for the little ones, giving them a thrill without quite the large crowds or serious drops.
The hills are not very steep, so they are perfect for the little ones. Lots of room to slide around and/or be pulled by a rather willing and energetic parent!
This spot is really popular and may get crowded, but the hills are nice and steep enough for the kids to enjoy. Plus, in beautiful Fairmount Park, you can get some amazing views of the Philadelphia skyline and warm up in the nearby museums if it's too cold.
With several hills to choose from, your kids can decide if they want the daring experience or the more mild slide. But beware, picking up speed down one hill can land you in the Fox Chase Cancer Center drive.
This is a Northeast Philly favorite, so it can get crowded. But if you get here early, your kids can enjoy the large hills that have the fun without the fear factor.
This hill is seriously (I mean seriously!) steep. Only the pros should check this one out.
This spot is great for thrill seekers. Steep hills help you fly to the bottom!
A steep, but concrete hill. Better make sure the snow is deep and that the kids know how to sled with this one.
This one goes to the pros for the danger factor, although plenty of younger kids enjoy it as well. While it really is an excellent ride, sledding down concrete steps takes skills. It's bumpy fun that is quintessentially Philadelphia!
If the college students don't get in your way with their lunch trays gliding down Hawk Hill, your teens will have a blast at this steep site.
Bucks County
Great sledding for all ages, but the big benefit is the awesome playground that you can use to keep the younger kids entertained in other fun snow-covered ways.
The park is practically one long hill, with little slopes all over the place.
With "hill" in the name, it's clearly the ultimate sledding spot. This five-acre park has a variety of steep, wide hills.
Built up on a hill, this is another great combination of art meets sledding fun.
Some kids claim to be able to catch double hills if they go fast enough—this is where they go to out-do one another!
Chester County
With the famous "Devil's Hill" right in front of the school, children of all ages will enjoy this thrill.
Delaware County
Another state park that offers up great sledding hills for all ages, the highlight is a long, tiny hill that allows for a good glide without too much speed.
Wide, shallow hills are perfect for the little ones here.
Three hills make this a great spot for all ages, but we are gearing this toward the slightly older crowd, since toddlers may not want to battle the crowds.
This high school boasts some great slopes. Since it's a family spot, you'll often see people working together to build ramps and other obstacles. That's what I call teamwork!
You know golfers have to surmount giant hills, so these—of course—make for some of the best sledding hills in the area.
Montgomery County
Gentle slopes and huge spaces make it a great spot for the little sledders.
Hills of all shapes and sizes make this a truly great spot for all ages (especially if you are a family with multiple kids/skill levels).
This is a huge favorite, so it gets crowded. The hill is long and wide, so there is plenty of room for all to enjoy.
Definitely not for the faint of heart, but not so dangerous that teens don't want to go back again and again.
With bragging rights about the highest location in Montgomery County, Mill Hill is the perfect spot for older sledders.