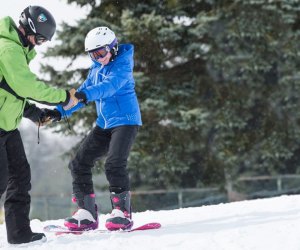 Hit the Slopes! 20 Places to Ski (and Snowboard) Near Philly
Winter is here! That means it is finally officially time to hit the slopes! Pennsylvania is home to numerous mountains and resorts boasting ski-worthy lanes, steep slopes, and tons of options for snow tubing action as well.
Whether you are looking for big slopes or small, a chance to practice tricks, teach your kids, or even leave them with a sitter while you and your partner make it a day-date, PA slopes have it all! So pack on that winter gear and take a gander at some of the best places to enjoy a winter wonderland by ski, snowboard, or snow tube! And get more ideas for winter fun with our a Winter Activities Guide.
Ski Resorts within 2 Hours of Philly
1. Bear Creek Mountain Resort—Lehigh Valley
At Bear Creek you can explore more than 86 acres of slopes, trails, and terrain across 21 ski trails plus 10 snowtubing lanes. In addition, there is an awesome family-friendly terrain park featuring small jumps, rails, and boxes. Experts can expect six black diamond trails and a chance to try their skills in Black Bear Park with large jumps and technical features. Daycare is also offered! Bear Creek accepts children ages 6 months to 6 years while you have fun on the slopes. Reservations are required with at least 24-hour notice.
2. Jack Frost Resort— Blakeslee
Jack Frost is the other half of the Jack Frost, Big Boulder Resort. Offering 20 slopes and trails and six tubing lanes, Jack Frost, the "little sister" to Big Boulder, is open for skiing 9 AM-4 PM Monday-Friday, 8 AM-4 PM Saturday and Sunday, and only offers tubing on weekends from 10 AM-4 PM.
​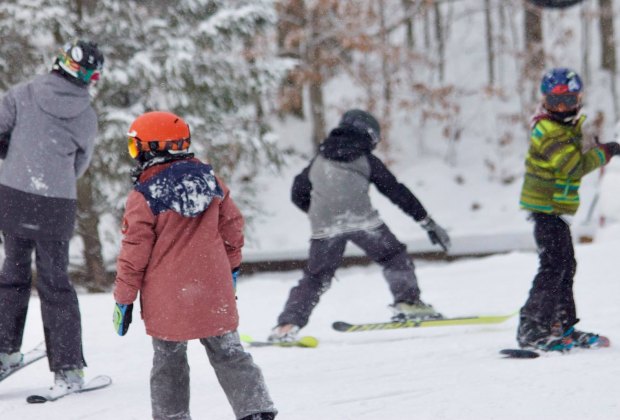 Learning to ski at Jack Frost. Photo courtesy of Jack Frost
2. Big Boulder Resort—Blakeslee
This family-friendly resort has 16 slopes and trails, beginner through expert. High elevations mean a longer season, ranging from 1700 feet to 2,175 feet. For those who are more comfortable on a snowboard than skis, the Mountain Dew Terrain Park and half-pipe caters to your daredevil needs! There are also 15 snowtube runs. As the "big sister" resort to Jack Frost, Big Boulder is open for skiing and tubing 3-9 PM Monday-Thursday, with extended weekend hours.
3. Blue Mountain Resort—Palmerton
This skiing, snowboarding, and tubing destination is a local favorite. There are 39 trails. In addition to the ski conditions, two lodges and outdoor grilling and eating areas make this a great weekend destination. With six terrain parks, daredevils can practice their sick skills or take to Razor's Edge, a 3,000-foot double black diamond trail. Night skiing is available every night. Three lifts make it easy to enjoy the 39 tubing runs, so you can make it down all the hills! Blue Mountain also offers child care daily, including holidays. Childcare is for ages six weeks to five years. Note: Unlike years past, Blue Mountain no longer offers family-sized snow tubes.
Many area ski slopes offer snow tubing too so the whole family can enjoy the powder in more ways than one. Photo from Camelback Mountain Resort.
Ski Resorts over 2 Hours from Philly
3. Blue Knob All Seasons Resort—Claysburg
Blue Knob boasts the highest skiable mountain in Pennsylvania, but even for beginners there are plenty of options. More than 100 skiable acres, with a vertical of 1,072 feet. You will find 34 runs serviced by five lifts. For night skiing, 42 acres remain open. There is a small tubing run as well with 4 lanes and one of the only cross country ski options around.
5. Camelback Mountain Resort—Tannersville
Located in the heart of the Pocono Mountains, the whole family can take to the 34 trails (supported by an incredible 15 lifts). There are also two high-speed quads, a snowboard competition halfpipe, two terrain parks, and a wide selection of trails for all ability levels. Night skiing is available on all trails. Night skiing is available every night, and there are a whopping 42 tubing runs for more family fun. Early risers receive discounts on snow tubing every Saturday and Sunday. Camelback has a whole range of activities worth checking out during your trip and often offers great deals for those who make it an overnight stay. A nursery is also available for children one year and older.
6. Elk Mountain—Union Dale
Located in Union Dale, this 27-slope resort offers night skiing every night. Up for a challenge? Take to the 9,000-foot double black diamond run. Elk Mountain is one of the only resorts with a children's program for ages 3-5, but if your kids aren't up to it, or you just want to spend some adult time on the slopes, childcare is available on an hourly basis. Children must be at least 2 years old and potty-trained. Reservations are required.
7. Eagle Rock—Hazel Township
Eagle Rock mountain is on the smaller side, with 14 lighted slopes ranging from beginner to expert that are available for day and night skiing. Certified instructors can help your whole family get the hang of it. Snow tubing is also available both day and night.
8. Hidden Valley Resort—Hidden Valley
Hidden Valley Resort features 26 slopes and trails with nine lifts to get you back up and running (or rather skiing/snowboarding) all day long. They regularly run specials so definitely check out their site before heading up for the day. With six tubing lanes, there is a number of ways to enjoy this fun-filled mountain resort!
10. Laurel Mountain—Boswell
Laurel Mountain has 20 slopes and trails, including the 3,000-foot long Wildcat Slope! Night skiing is available Wednesday to Sunday. There is no tubing at Laurel. Located near Pittsburgh, this would make a great weekend getaway.
11. Liberty Mountain Resort—Carroll Valley
This smaller resort has 91 acres of skiing with plenty for everyone to do. From night skiing to snowtubing on 15 lanes, Liberty Mountain has fun for the whole family! They also offer childcare for kids 6 months to 10 years if you want some adult time.
12. Montage Mountain—Scranton
Montage Mountain claims to have the most diverse range of trails in the mid-Atlantic. There are 26 trails for every level. There are 140 acres of black and double black diamond, with the White Lightning ranking as the second steepest slope on the East coast! You can enjoy night skiing every night of the week or enjoy 10 tubing runs. Want a new experience? Check out airboarding on the beginning trails, taking sledding to a whole new level!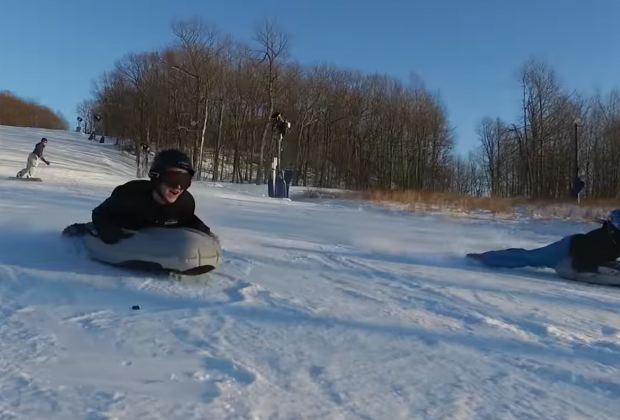 Airboarding photo courtesy of Montage Moutain
13. Mystic Mountain at Nemacolin—Farmington
One of the only spots in the state for cross-country skiing, Mystic Mountain also has six slopes with beginning to expert levels. Other activities on site include dog sledding, snow tubing, and snowshoeing, making Mystic Mountain a perfect spot to try all your winter favorites!
14. Roundtop Mountain Resort—Lewisberry
With 600 acres of skiable area, Roundtop is rated one of the best places to learn to ski or snowboard. Night skiing is available every night and you can snowtube on any of their nine tubing runs.
15. Seven Springs Mountain Resort—Seven Springs
This resort destination has it all for the adventuresome family. The longest run is 1.25 miles and there are 33 total slopes and trails. In addition they have 11 tubing lanes and an incredible eight different terrain parks with more than 70 jumps, jibs, and the only Superpipe on the East coast. Childcare is also available if your little one isn't up to the winter excitement.
16. Shawnee Mountain Resort—East Stroudsburg
Shawnee has a reputation for high-quality snow. This resort offers day and night skiing, snowboarding, and a tubing park. Shawnee also has a nursery for the younger kids, and offers lessons. Or if skiing isn't your thing, take the "Pocono Plunge!" at the snow tube park featuring single tubes as well as adult and child tandem tubes with two conveyor lifts to whisk you to the top. Tubing is available daily on the six tube lanes. There is also a terrain park where you can practice all your stunts!
17. Ski Big Bear at Masthope Mountain—Lackawaxen
With 18 slopes, including a mile-long run, Big Bear is a great ski destination. There is also a small tubing spot with two lanes.
18. Ski Sawmill Family Resort—Morris
You can enjoy 12 slopes, a terrain park, and four tubing lanes which were recently upgraded at this family-friendly ski resort in Morris, PA. Sawmill offers a peak elevation of 2,215 feet. Sawmill also offers group and family lessons for kids 7 and up, or private lessons for children 6 and under.
19. Tussey Mountain All Seasons—Bocksburg
With skiing on 38 of the 50 acres of mountain, a terrain park, night skiing, and a tube run with four lanes, this is a small but fun ski destination. Instead of fighting crowds as you would at the more popular spots, this is a great place to learn and grow your skills.
20. Whitetail Resort—Mercersburg
For the skiing or snowboarding enthusiasts, this is a go-to park. There are 23 slopes with nine lifts so the wait time is minimal and night skiing (and snowboarding) is available every day of the week. The resort has 10 tubing lanes which are sold in one or two hour sessions. The two terrain parks offer rails, boxes, and other features as well as regular competitions. Whitetail offers a child center facility for children 6 months to 12 years. Reservations are required for children under two. During learn to ski month (January only), childcare is free if you participate in the learn to ski or snowboard program on Thursdays!
Ways to save $$ for the season:
If you're not aware of the Pennsylvania Ski Areas Association, this non-profit association was created to promote and serve the Pennsylvania Ski Industry and most of the resorts on this list are PSAA sites. Check out their website to gain daily deals on nearby slopes.
New skiers often save on extra trips by purchasing a learn to ski pass from the resort.
Bonus, 4th and 5th graders have an opportunity to participate in the PA Snowpass Program, a free program that teaches not only winter sports but science studies in action!
Most resorts have a discounted night, and weekday ski is almost always cheaper than weekend ski (plus less crowded).
Save with a season pass. If you intend to go more than once, often purchasing a pass makes sense as many seasons run through March.
Look into going as a group. Many ski resorts offer discounts for groups of 15 or more.
Finally, follow your favorite resort on Facebook or Instagram, they often post last minute or short-lived deals on social media.