Best Snow Tubing near Philly for Families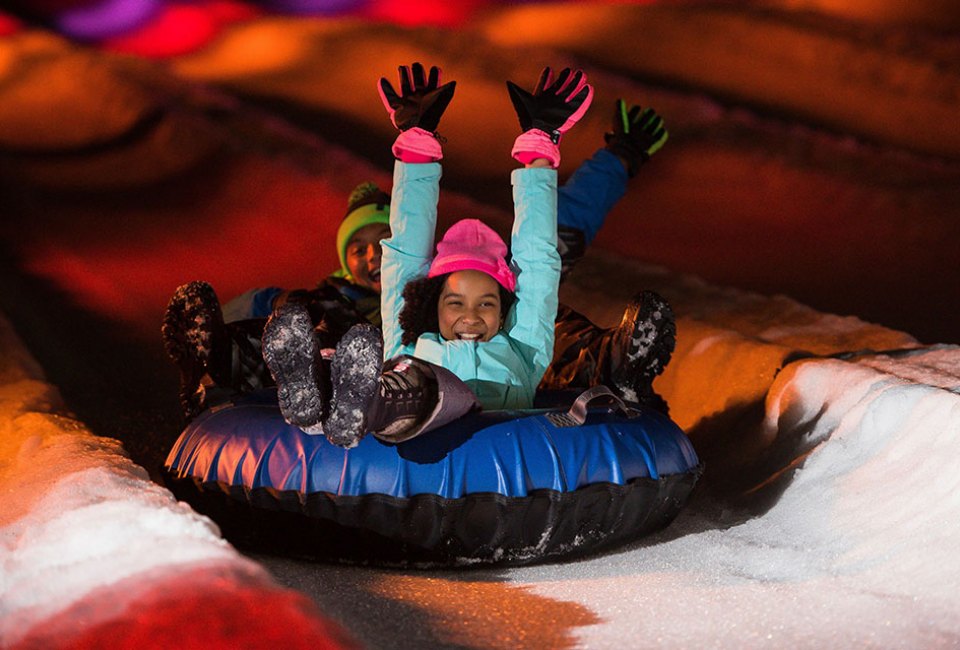 12/16/22
- By
Lindsay Li
We've rounded up the best places for snow tubing near Philly for the ultimate winter fun.
Winter fun hardly gets more exciting than this, and we've rounded up our favorite places to go snow tubing near Philadelphia. As a kid, my snow tubing experiences consisted of my dad pulling snow tubes behind his 4-wheeler near our house. Safety standards have changed in the Philly area since the 1980s, and now we don't have to resort to such creative measures. So get ready to ride the slopes down carefully crafted lanes from the Lehigh Valley to the Poconos at these snowy spots packed with cold-weather family fun.
For more winter excursions, check out our favorite sledding spots near Philly and our list of family-friendly skiing and snow boarding destinations. All of our favorite wintertime highlights can be found in our Winter Activities Guide for Philly Families.
Where to Go Snow Tubing near Philly
In what might be the closest location to Philadelphia city limits, head to Bear Creek for a simple but fun snow tubing outing. This spot only offers single-rider tubes. Participants must be at least 6 years old and 42 inches tall. Tickets should be purchased online. Indoor dining is available.
Blue Mountain Snow Tubing Park is home to the longest and fastest lanes in Pennsylvania. The resort has expanded its snow tubing park to 46 lanes, making it the largest snow tubing park in the country. Each lane is over 1,000 feet long, with three carpet lifts for tubing fun. For the 2022/23 season, music and light features are being added to enhance the nighttime experience. Tubing this season is expected to open around December 23, depending on conditions. The park is serviced by three lifts, and tubers can choose between a single or double tube to enjoy the sport with a friend, maybe for some friendly competition. Guests must be 36" or taller to go snow tubing at Blue Mountain Resort. Tickets must be purchased in advance.
Enjoy all 44 lanes of snow tubing at Camelback Mountain. Photo courtesy of Camelback
If you're looking for a night of fun, the lit-up nighttime after-dark experience Galactic tubing is a slope-side tubing party complete with music, disco lighting, up to 44 lightning-fast lanes, and two magic carpet lifts. Riders must be 44 inches tall to ride alone. Riders who are 33 to 43 inches tall can ride in a double tube or as part of a chain with a participating adult 18 or older. For those who work up an appetite, check out the food trucks and restaurants serving a variety of foods, from tacos and pizza to burgers and sit-down fare, with beer on tap for the adults.
Children must be 40 inches or taller to use the large tube run at Iron Valley. Once down the hill, two tow lifts pull tubers and tubes back to the top. This spot has a separate kids' hill that features four lanes and is especially good for beginners. Adults are not allowed to ride on the kids' hill. The Miner's Pub and Snack Bar offers plenty of kid-friendly food like pizza and mini tacos, along with adult-sized entrees and salads. Tickets must be purchased in advance online.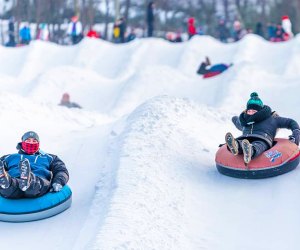 Bring your family out for a day of snow tubing fun at Jack Frost Big Boulder.
Visit Jack Frost in the daytime Friday to Sunday, and Big Boulder at night and on weekdays with these two resorts in one. Sessions are two hours long and available at set times. Guests can expect two 600-foot conveyor carpets to transport snow tubers up at Big Boulder, while Jack Frost has two cable tows. Participants should be 42 inches tall. Each tube holds only a single rider, and no lap sitting is permitted. For the 2022/23 season, a full schedule of live bands will keep the slopes hopping. Consider the Epic Pass for resort-wide discounts. Guests are encouraged to purchase all tickets online in advance.
Montage Mountain aims to open its snow tubing park by Christmas. Considered among the longest and fastest tracks, the mountain offers snow tubing for children based on height, not age. Guests must be 42 inches or taller to use the main tubing park. There are 10 lanes and conveyer belts to lift guests back to the top quickly. There is also a Kiddie Tubing area for children sized 32 inches to 41 inches. Open seven days a week, Montage Mountain offers three-hour tubing sessions. Tickets can be purchased online or in person. Military discounts are available, and indoor dining is open.
This spot in York County offers 10 large lanes with 800-foot runs and 80-foot vertical drops. Once you go down the hill, a "magic carpet" takes you back to the top. There is a special kiddie area for children ages 4 and younger, featuring kid-sized tubes. Grown-ups aren't able to tube in this area, as it is only for little ones. The mountain is open for tubing Wednesdays through Sundays. The resort recommends purchasing tickets online in advance. If you decide to purchase onsite, all transactions are cashless, so be prepared with credit or debit cards.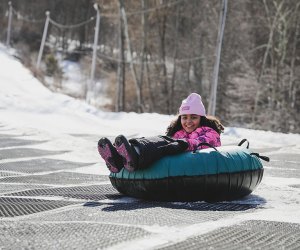 Sail down Shawnee Mountain in a single tube or a tandem tube to double the fun. Photo courtesy of Shawnee Mountain
Shawnee Mountain tentatively opens for snow tubing on December 10, as long as mother nature cooperates. The Pocono Plunge snow tubing park features single tubes as well as adult and child tandem tubes with two conveyor lifts to whisk you to the top. The age recommendation for the snow tubing park is age 5 and older. Tandem tubes are for one adult and one child under 46 inches tall. When you're done tubing, there's a choice of food options, with a food court, cafeteria, and Groomers Grill and Bar reopening this year the day after Christmas. Tickets will only be sold online.
While kids must be 42 inches tall to tube the large runs at Whitetail, there is a special kiddie run for children ages 2-4. Sessions are two hours in duration and are available on a first-come, first-served basis. It is recommended to print out the release from the website in advance to save time. Tubing is available Fridays, Saturdays, and Sundays. Tickets must be purchased in advance online.
This post was updated in December 2022 by writer Alyce Wilson.
Sign up for the Mommy Poppins Newsletter today!
i