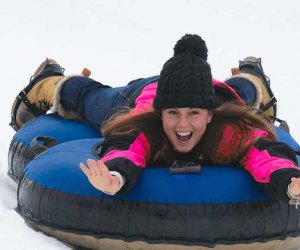 6 Philly Area Spots for Family Snow Tubing Fun
As a kid, snow tubing was one of the first winter "sports" I first experienced. I call it a "sport" because actually my tubing adventures consisted of our dad pulling snow tubes behind his 4-wheeler around our house. Safety standards have changed since the 1980s, so now we don't have to resort to such…creative…measures to entertain our kids and get in on the snowy fun. We can easily take a quick trip from the city-limits and enjoy a day-long adventure of snow tubing down carefully crafted snow lanes. Winter fun doesn't get more exciting than this!
If tubing isn't your thing, many of the resorts also offer
skiing
, gorgeous wintery views, and in some cases nearby
ice skating
as well.
If you don't mind the trip and want to check out other great resorts, check out
New York snowtubing
locations for more adventures.
In what may be the closest location to Philadelphia City limits, head to Bear Creek for a simple but fun snow tubing outing.
Note: Participants must be at least 6 years old and 42" tall.
Rates range from $24-$30.
Geared towards family fun, Blue Mountain offers 39 lanes that are more than 1,000 feet long making it the largest family snowtubing park in the US. Three lifts make for easy access to the top of the hill again. Blue Mountain even offers nighttime snowtubing! Reservations are highly recommended.
Rates range from $30-$50.
Camelback Mountain is the biggest snowtubing park in the US. Families can expect 42 snowtubing lanes and two
Magic Carpet
lifts so there is "more tubing, less climbing." Single or double tubes are available. The three-hour weekend sessions are the most popular, so if you can swing the mid-week trip you would save money and time in the lines.
Camelback
has a whole range of activities worth checking out during your trip.
Rates range from $30-$35.
Take Jack Frost by day Friday to Sunday, and Big Boulder by night and weekdays with these two resorts in one. Sessions are three hours long and available at set times.
Rates range from $25-$47.
5. Montage Mountain- Scranton
Known for having the longest and fastest tracks, Montage Mountain offers snowtubing for children 3 and up. There are 10 lanes and conveyer belts to lift guests back to the top quickly. Once the sun sets, LED lights are illuminated , fire pits are roaring, and hot beverages and snacks are available.
Rates range from $25-$30.
Take the Pocono Plunge at Shawnee Mountain! The Pocono Plunge Snow Tubing park features single tubes as well as adult and child tandem tubes with two conveyor lifts to whisk you to the top. Both two hour and four hour sessions are available.
Rates range from $25-$45.
Note: Make sure to check the size and age limits, as each park may vary. Many parks offer military discounts so be sure to ask when purchasing tickets, if that designation applies to you and your family.

Post updated for 2019.
Photo Credit: Camelback Mountain Resort.