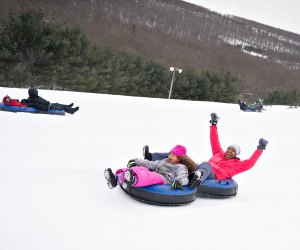 Snow Tubing Near Philly for Winter Family Fun
As a kid, snow tubing was one of the first winter "sports" I experienced. I call it a "sport" because actually my tubing adventures consisted of dad pulling snow tubes behind his 4-wheeler near our house.
Safety standards have changed in the Philly area since the 1980s, so now we don't have to resort to such … creative measures to get in on the snowy fun. We can take a quick trip from the city limits and enjoy a daylong adventure of snow tubing down carefully crafted lanes. Winter fun doesn't get more exciting than this.
We've rounded up 10 of our favorite snow tubing destinations within a few hours' drive of Philly. As is the case with some
outdoor ice skating
and
skiing and snowboarding
destinations, added precautions are being taken due to COVID-19.
Guests can expect to wear masks and observe social distancing guidelines. Tickets should be purchased in advance as some slopes have limited capacity. Recent announcements by Pennsylvania officials say indoor dining is not permitted through January 4, 2020. Most resorts are accommodating outdoor dining options. Before you go, check the website for any updated restrictions.
While we try to promote safe activities that occur outdoors or with social distancing guidelines in place, keep your family and others safe by wearing a mask and maintaining appropriate distance. If you arrive at an event that appears too crowded, try using the "nearby" search feature on our event calendar to find something else to do.
10 Great Snow Tubing Destinations near Philly
2020 Update: Bear Creek has implemented a program called Ever Strong. This plan focuses on four pillars to keep guests safe: physical distancing, cleanliness, active monitoring, and rapid response. Masks must be worn on lifts and while waiting for lifts. Tube runs have been extended to help with social distancing.
In what might be the closest location to Philadelphia city limits, head to Bear Creek for a simple, but fun snow tubing outing. This spot only offers single-rider tubes. Note: Participants must be at least 6 years old and 42 inches tall.
2020 Update: Masks and social distancing protocols are in place as well as other safety precautions. Some services such as shuttle service and babysitting/child care are not be offered this season. Indoor seating is limited and outdoor dining encouraged.
Opening day is December 24, and the folks at Blue Mountain are ready for guests. Geared toward family fun, Blue Mountain offers 34 lanes that are more than 1,000 feet long, making it the largest family snow tubing park in the United States. Three lifts make for easy access to the top of the hill again. Blue Mountain even offers nighttime tubing. Reservations are recommended.
2020 Update: This resort is staying Camelback Strong and following strict protocols to keep guests safe. Since indoor dining is not permitted, Camelback offers outdoor dining options. Some amenities such as the swim-up bar, arcade, fitness center, and Neptune's Cafe are closed.
Weather and conditions permitting, opening day at Camelback is December 18. Camelback Mountain is the biggest snow tubing park in the United States. Families can expect 42 tubing lanes and two "magic carpet" lifts, so there is "more tubing, less climbing." Single or double tubes are available. Riders must be 44 inches tall to ride alone. Riders who are 33 inches to 43 inches tall can ride in a double tube or as part of a chain with a participating adult 18 or older. The three-hour weekend sessions are the most popular: If you can swing a midweek trip you save money and time on the lines. Camelback has a whole range of activities worth checking out during your visit.
2020 Update: In addition to masks and social distancing, tickets must be purchased in advance online due to COVID-19.
Children must be 40 inches or taller to use the large tube run at Iron Valley. Guests can expect 10-12 minutes between runs. Once down the hill, two tow lifts pull tubers and tubes back to the top. This spot has a separate kids' hill that features four lanes and is especially good for beginners. Adults are not allowed to ride on the kids' hill. The location plans a post-Christmas opening in 2020.
2020 Update: Face coverings are required throughout the properties and social distancing must be maintained. Guests are encouraged to purchase ski tickets online in advance; however, all transactions are cashless at the resort to ensure safety. Tubing tickets are first-come, first-serve at the window.
Take Jack Frost by day Friday to Sunday, and Big Boulder by night and weekdays with these two resorts in one. Sessions are two hours long and available at set times. Guests can expect two 600-foot conveyor carpets to transport snow tubers up at Big Boulder, while Jack Frost has two cable tows. Participants should be 42 inches tall. Each tube holds only a single rider and no lap sitting is permitted.
2020 Update: Enhanced safety measures are in place at this resort. Temperature checks, sanitation every 30 minutes in common areas, and hand sanitizer stations are just some of the extra precautions in place.
Considered among the longest and fastest tracks, Montage Mountain offers snow tubing for children 3 and older. There are 10 lanes and conveyer belts to lift guests back to the top quickly. Open seven days a week, Montage Mountain offers three-hour tubing sessions. Tickets are nonrefundable and sold on a first-come, first-serve basis. Military discounts are available. Guests must be 42 inches or taller to use the main tubing park
2020 Update: Guests must wear masks and stay socially distanced from others. To manage crowds, the resort is requiring reservations. Pass holders get priority access. All transactions on site are cashless, so be prepared with credit or debit cards.
This spot, in Union County, offers 10 large lanes with 800-foot runs and 80-foot vertical drops. Once you go down the hill, a "magic carpet" takes you back to the top. There is a special kiddie area for children ages 4 and younger, featuring kid-sized tubes. Moms and dads aren't able to tube in this area as it is only for little ones. The mountain is open for tubing on Fridays, Saturdays, and Sundays.
OUR LATEST VIDEOS
2020 Update: Masks and social distancing are a must. New this year, tickets will only be sold online and are limited per session. Advance reservations cannot be taken over the phone. Indoor space is limited, so it is important to limit spectators and non-tubers. Lounging at base lodges is not permitted.
Shawnee Mountain opens to guests December 19. The Pocono Plunge snow tubing park features single tubes as well as adult and child tandem tubes with two conveyor lifts to whisk you to the top. Tandem tubes are for one adult and one child under 46 inches tall and limited quantities are available.
2020 Update: Hand sanitizer and wipes are available at spots throughout the resort. Visitor temperatures are checked upon arrival. Of course, masks are required when social distancing can't be observed.
Situated in the Pocono Mountains, this location makes its own snow so there is always plenty of white stuff for tubing. The season begins in late December and continues through March. Guests can enjoy two-hour sessions on Saturdays, Sundays, and holidays. Kids must be 4 or older and at least 40 inches tall to tube. A magic carpet lift takes tubers to the top for another run.
2020 Update: Protocols are in place to keep guests safe. Masks must be worn indoors at all times as well as on lifts. There is reduced capacity for dining since some restaurants are closed, but there are grab-and-go food options. This year, refunds are available due to these uncertain times.
While kids must be 5 years old to tube the large runs at Whitetail, there is a special kiddie run for children ages 2-4. Sessions are two hours in duration and are available on a first-come, first-serve basis. It is recommended to print out the release from the website in advance to save time. Tubing is available Fridays, Saturdays, and Sundays.

This post was updated in December 2020 with additional reporting by writer Kristen Sullivan.