25 Fun Things to Do with Orlando Toddlers and Preschoolers in Summer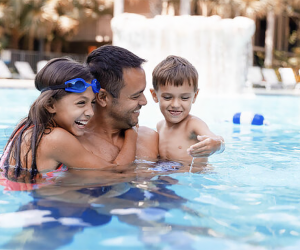 7/22/22
- By
Melanie Preis
Orlando toddlers and preschoolers are little balls of energy, especially during the warmer months. These kiddos love the summer, from splashy water activities to backyard gardening. Orlando summers allow for younger children (ages 1-5) to get loose with lots of great seasonal fun and events. In fact, many of these summer activities are FREE, which is an even bigger reason to explore Orlando with your toddler.
Need more ideas to keep Orlando toddlers and preschoolers entertained during the summer? Mommy Poppins has wonderful summer activities and ideas for young children, including awesome Outdoor Games for Kids as well as Water Games During Summer, Popsicle Recipes, and even Seashell Craft Projects!
Toddlers love splash pads and spraygrounds! These aquatic parks allow young kids to run around, stay cool, get wet, enjoy freedom, and splash each other for hours.
Central Florida Zoo offers a ton of summer events for toddlers and preschoolers, including Family Sunset at the Zoo, Night Hikes,
3. Library Storytimes and Activities
Many Central Florida libraries have special summer events for toddlers, in additional to year-round storytimes.
4. Outdoor Toddler Playgrounds
Relax in the shade while preschoolers go wild at these toddler playgrounds. These outdoor playgrounds are especially great for younger children because many have enclosed areas, padded grounds, smaller equipment, and more.
Toddlers will love dancing, singing, and playing with the musical stylings of Mr. Richard. Catch his shows throughout Orlando!

Legoland Florida is the perfect spot to bring Orlando toddlers during summer. Photo courtesy of Legoland
Magic Kingdom is a place for little princesses and heroes to meet their idols in person. Other awesome spots for little ones include Peppa Pig Theme Park, Legoland Florida , Sea World Orlando, and more!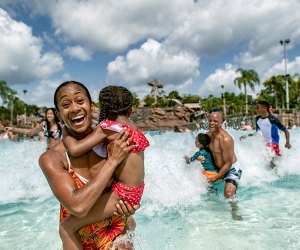 Typhoon Lagoon cools down families and lets toddlers get out energy. Photo courtesy of Disney
Bring the entire family to a water park to cool off during the blistering summer months. Especially fun Orlando water parks for younger kids include Disney's Typhoon Lagoon, Discovery Cove, and Aquatica.
Chase the butterflies and smell the flowers at Mead Garden in Winter Park.
Put the summer professional in charge by enrolling your preschooler in summer camp! Many of these summer camps and preschool programs geared for younger children have shorter days/weeks and all offer age-appropriate activities.
Enjoy the balmy water of Central Florida's natural springs with your child. If your preschooler cannot swim, just pack a floatation vest or device.
This seems like a no-brainer for the summer! Take your family to a swimming pool or buy a day pass to an Orlando hotel with a kid-friendly pool.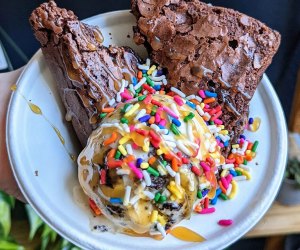 Orlando toddlers, and their parents, will love digging in at The Greenery Creamery. Photo courtesy of the creamery
It doesn't matter what the age or interest, ice cream is a crowd pleaser for any age during an Orlando summer.
Orlando toddlers love the Orlando Science Center in summer, due to its age-appropriate exhibits, colorful events, and of course, air conditioning!
Get relief from Orlando's intense heat and head indoors to Oviedo Mall for Saturday storytimes at B. Dalton Booksellers.
Whether your child seeks thrills or chills on the waves, boat rides are great ways to do something different with the family. Make sure to bring swim vests, sunscreen, hats, and drinking water!
If your toddler loves soccer, take him or her to an Orlando City SC (men) or Orlando Pride (women) game. Orlando's professional soccer teams impress spectators from all over the world. If you're concerned over sound levels, bring earmuffs or earplugs to lower decible levels.
Throughout Orlando, families can watch outdoor, family-friendly movies this summer. Almost all of these showtimes are FREE so splurge on those Junior Mints!
18. Summerween
Think Halloween meets Summer for Summerween! Orlando loves a theme, and what preschooler wouldn't love to dress up in costume and get candy?! There are multiple Summerween celebrations throughout Central Florida, Boxi Park and Ivanhoe Village, so look online for different events.
Rock out as a family with your little ones at fun, free, and fabulous summer music concerts happening throughout Central Florida. As with the soccer game advice, bring noise-cancelling headphones if you're concerned about loud speakers.
Had enough with the Orlando heat and humidity? Head indoors and let your toddler run free at these great playgrounds that feature sweet air conditioning.
Orlando has wonderful indoor party spaces for toddlers and preschoolers, offering creative themes, fun activities, and helpers to go along with the event.
Enjoy a bit of nostalgia and enjoy a summer movie at a local drive-in theater.
Icon Park is a great summer adventure for all ages, including the grand carousel for toddlers and preschoolers.
Collect seashells, build mermaid tails, and enjoy life at the beach!
Head to the beach and let toddlers get messy in the sand, hunt for seashells, and dip their toes in the ocean.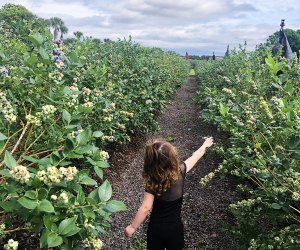 Kids can pick blueberries and enjoy the farm playground at Tom West Blueberries. Photo by Charlotte Blanton
In early summer, u-pick blueberry fields are great ways to spend an Orlando afternoon (and bake some tasty desserts).