Legoland Florida: Everything You Need to Know for a Great Visit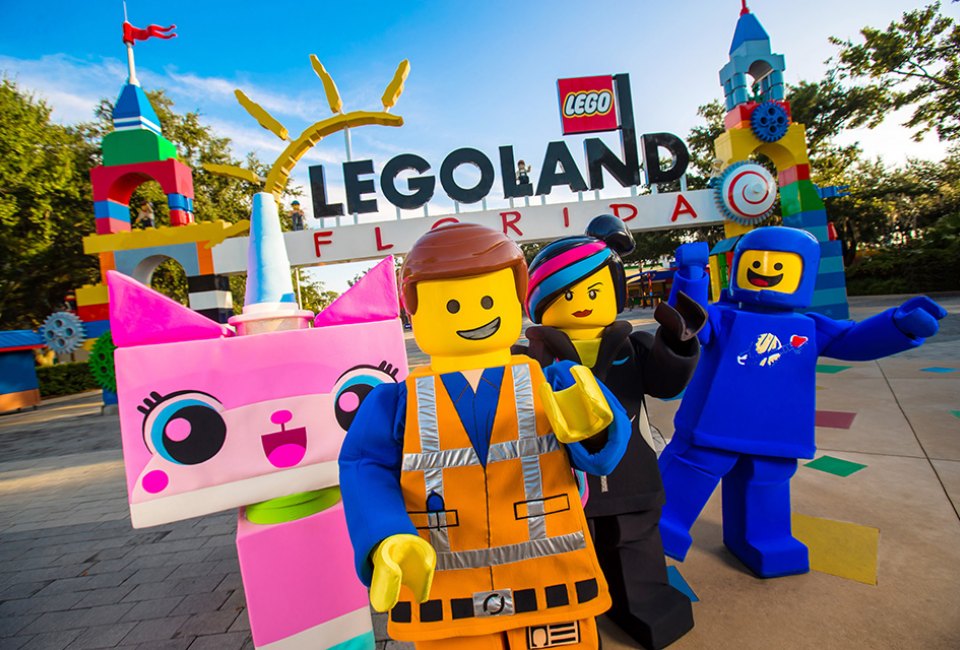 12/7/19
- By
Charlotte B
Find our why my family loves Legoland Florida more than any other local theme park!
As a local Floridian, my three young kids have access to many amazing theme parks in close proximity. Despite the draw of Orlando magic, one of my family's favorite theme parks is Legoland Florida Resort, partly because it's geared toward kids ages 2-12. This means the rides at Legoland Flordia are just right for my little ones, but also that the park takes care of all the details needed for a long day at an amusement park with toddlers, babies, and school-age kids. There are things to do while waiting in line, an indoor baby center—and plenty of hands-on and interactive activities.
We love the building and outdoor play opportunities at Legoland Florida, so kids can take a break from ride hopping and flex their creativity. Read on for the top things to do at Legoland Florida, including our favorite rides, places to eat, hours, tickets, and even top Legoland hotel options.
Check out more fun things to do in the area with our Florida Travel Guide or our Orlando Theme Parks & Water Parks Guide, which is perfect for locals and visitors alike.
The Legoland Florida Resort park spans 150 acres, which includes the water park and botanical gardens. This is similar in size to Magic Kingdom (142 acres), so you'll definitely want to be sure everyone packs their comfortable walking shoes (and strollers). The advantage Legoland has over Magic Kingdom here is that the entrance gate is just a short walk from the parking lot (no monorail needed).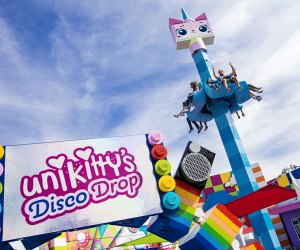 One of the many cool rides in the Lego Movie World area is Unikitty's Disco Drop.
Legoland Florida Rides
One of the many great things about Legoland Florida is that most kids, even the little ones, are able to experience many of its two dozen rides. Plus, with Lego play areas in the ride lines, kids can play while parents save their spot.
Upon entering the park, visitors will see the large two-story merry-go-round known as The Grand Carousel. Right next door, tykes can enjoy Duplo Valley, an area of the park dedicated to toddler and preschooler rides, such as the Duplo Tractor and Duplo Train.
Venturing past Duplo Valley is the brand-new Lego Movie World, with several new rides to experience. In the Battle of Bricksburg, riders can spray down alien invaders (there's a good chance you will get wet on this one). Another new ride, The Lego Movie Masters of Flight, is an indoor flying theater ride that immerses guests into The Lego Movie universe on Emmet's Triple Decker Couch. The third ride in Lego Movie World is Unikitty's Disco Drop, where riders rise above Cloud Cuckoo Land and bounce and spin before dropping back down.
The next land is Lego Kingdoms, offering three rides to enjoy. The main ride in this area is the Dragon, which is a large steel roller coaster in the Legoland castle. Next to the castle is Merlin's Challenge, a wooden track ride similar to a kid-friendly Himalaya carnival ride. Kids can hop on a Lego horse at the Royal Joust, traveling through a Medieval forest.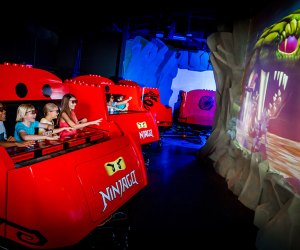 We loved the air-conditioned rides at Lego Ninjago World.
In the Land of Adventure, thrill-seekers can ride the only wooden roller coast in the park: Coastersaurus. The whole family can join the fun with the Lost Kingdom Adventure ride, where riders aim at targets to see who can get the highest score. There are several more thrill rides, including the Beetle Bounce, where kids are raised 15 feet into the air and bounced back down. But we bet several age groups will enjoy the solo ride at Lego Ninjago World. Guests can test their ninja skills and track scores against family and friends. Bonus: it's an indoor, air-conditioned ride.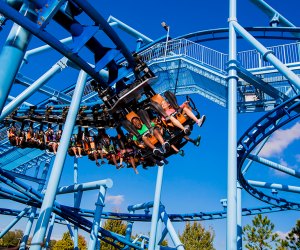 Big kids might try out the Flying School Roller Coaster at Legoland.
Kids' imaginations are let loose at several rides themed as more learning experiences. Find the Boating School in Lego City where kids can captain their own Lego boat, and Ford Driving School that lets kids operate a Lego vehicle (there's one version for ages 3-5 and another for 6-13). The more adventurous kids can try out the Flying School suspended roller coaster, and in the Lego Technic area, kids can experience virtual reality during the Great Lego Race.
There are many more rides from which to choose, but we always find plenty to do for both very young kids to tweens.
RELATED: Secret Orlando Theme Park Experiences You Don't Want to Miss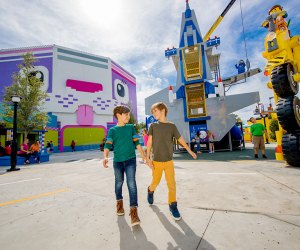 Benny's Play Ship playground in the Lego Movie World gives kids a chance to burn some energy.
Playgrounds and Play Areas
There are a variety of playgrounds throughout the park for old-fashioned running and jumping time. Parents can pull up a bench and enjoy a cool drink while kids run amok at Benny's Play Ship in the Lego Movie World, the Forestmen's Hideout in Lego Kingdoms, and Pharoah's Revenge in the Land of Adventure.
There are also several indoor play areas in case of rain or just to get out of the Florida heat. Toddlers will love the Florida Prepaid Schoolhouse in Duplo Valley and the Tot Spot in Lego City. For preschool age and older, there's the Imagination Zone area, complete with Warner Bros. Game Zone, Flight Zone, Water Zone, Wheels Zone, and Lego Mindstorms (it's easy to spend hours just in this one area).

On a hot day chill out in the Legoland Water Park.

Legoland Water Park Fun, Too!
The Legoland Water Park, which is situated inside the main park directly past the Lego City area, is open seasonally and has nine attractions to keep you busy for at least 5-6 hours. Attractions include a wave pool with floating Lego bricks and "islands" for building, Build-a-Boat Creative Cove area, three unique water slides, Twin Chasers tube slide, a lazy river with "Build-a-raft" tubes, a large interactive water playground, and a Duplo Splash Safari for toddlers. Two food service areas at the water park—Beach Street Tacos and Beach-n-Brick Grill—many families stay the day here, especially on hot days.
The Legoland Water Park isn't the only place to cool off here. Duplo Valley offers a Splash & Play area for toddlers and preschoolers and Miniland USA has some interactive water features that the kids are sure to enjoy. Grown-ups might want to plan to sit in the first few rows of the Battle for Brickbeard's Bounty water ski show for a refreshing spray!

Favorite Lego characters happily greet customers at Bricks restaurant.
Legoland Restaurants & Food
A must-have food when visiting the theme park is Granny's Apple Fries, located next to the Grand Carousel, which is a great treat to end your visit before leaving the park. You can also enjoy ice cream at Kingdom Cones while the kids play on the wooden playground. Mealtime dining options include a Panini Grill (my personal favorite!), pizza and pasta buffet, burger kitchen and an all-new taco shop in the new Lego Movie World. There are also great restaurants at the adjacent hotels, such as a family-friendly buffet at Bricks Restaurant within the Legoland Hotel.
RELATED: 50 Things to Do In Orlando Other Than Theme Parks

Miniland USA is dedicated to Lego recreations of cities and landmarks from across the country. Photo by the author
Other Must-Do Activities
Plan ample time to walk through the impressive Miniland USA, an area of the park dedicated entirely to Lego recreations of cities and landmarks from all over the country. If visiting during the holidays, keep your eyes open for Lego elves throughout Miniland.

Be sure to take through Cypress Gardens for a little downtime. Photo the author
Did you know that Legoland Florida was built on the site of the former Cypress Gardens theme park? The botanical gardens are still preserved and maintained in the current park and are beautiful to take a stroll through if time permits. Be sure to visit the massive Banyan tree; it's an impressive sight.

The amazing Lego-themed rooms at the Legoland Hotel are sure to thrill kids.

Legoland Florida Hotel Options
With so many activities, I really recommend at least a full weekend to experience all of what Legoland Florida Resort has to offer. If you are able to stay at a hotel onsite, I highly recommend it. There are several options, including the Legoland Hotel with themed Lego rooms, the lakefront Legoland Beach Retreat with themed freestanding bungalows, and the Legoland Pirate Island Hotel. All have family-friendly layouts with bunk beds and additional onsite play areas. Check for seasonal sales and deals, including on Black Friday.

How cool are these Lego floaties at the pool?
Top Tips and Info for Visiting Legoland Florida
Download the Legoland Florida Resort mobile app to make the most out of your time at the park. It includes live ride wait times, a GPS park map, and showtime reminders.

Minifigure trading is a popular activity at the park. Have your kids go through their Lego minifigures ahead of time and plan to pack a few to trade. There are trading boards at all stores (just ask at the register), or they can trade with any employee (each have minifigures on their name tags).

There is a wonderful indoor baby care center in Duplo Valley with private nursing areas, changing areas and even a bottle warming station for those traveling with babies and toddlers.

Guests with mobility challenges are able to get a no-wait "Hero Pass" at no cost for themselves and a helper. There is also a "Blue Hero Pass" available (also at no cost) for guests on the autism spectrum that will allow the guest and their group access through the Hero Pass entrance of attractions. Both passes are available at Guest Services.

Afternoon thunderstorms are common during the summer. If rain is in the forecast, I suggest visiting the outdoor rides and attractions early in the day (including the water park), as they will close certain rides and all water areas if lightning is in the area.

If staying in the area for multiple days, take a trip to nearby Bok Tower Gardens to stroll the gardens and check out their Hammock Hollow Children's area.
Where Is Legoland?
You might also wonder if you can hit both Legoland and Disney World into a Florida vacation with the kids. The short answer is YES, but you should know that Legoland Florida is not in Orlando where Disney World Resort is located. Legoland Florida in Winter Haven, about an hour into Central Florida from Orlando. So it depends on the length of your stay and a few other factors. Read our related article here for tips on how to hit both the Orlando theme parks and Legoland in one trip. Another idea, is to head the other way toward Tampa to visit Busch Gardens or the beaches, which are also about an hour away.
Legoland Tickets and Hours
Buy tickets for Legoland Florida online ahead of your trip for significant savings. Be on the lookout for annual pass deals, which are often offered on Black Friday and other times throughout the year.
If you have plans to visit a bunch of Orlando attractions in a short amount of time (both theme park and non-theme park alike), look into a Go City - Orlando card, which includes entry into amazing, kid-friendly spots like Kennedy Space Center Visitor Complex, LEGOLAND Florida Resort, Wonderworks, and much more! I highly recommend the "Awesomer" Pass, which includes 12 months of admission to not only Legoland Florida and Legoland Water Park, but also Sea Life Aquarium and Madame Tussauds in Orlando, as well as the Legoland Discovery Center in Atlanta.
A stay at one of the Legoland hotels often comes with park passes, so that's something to consider, too.
Legoland hours fluctuate but generally it is open from 10am to 5pm or later during busy times. During slow months, the park may not be open every day so be sure to check the calendar in advance to plan your trip. The water park is closed November through January and part of February. Its hours are very weather dependent, of course.
Want to visit a different Legoland? We've reviewed the California Legoland and are excited for the opening of Legoland New York, too!
Photos courtesy of Legoland Florida Resort except where noted
Disclosure: We may earn a small commission if you click through our link and make a purchase. This revenue helps us maintain this site, so thank you for supporting us.
Places featured in this article:
Click Here to Sign Up!