A Guide to Peppa Pig Theme Park: Little Piggies Love this Legoland Attraction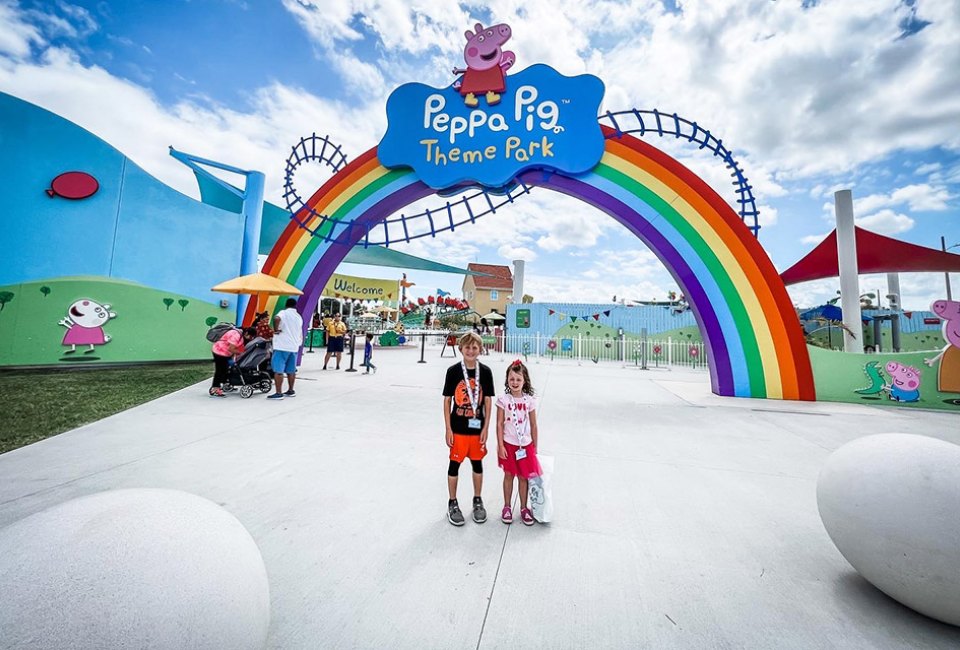 10/29/23
- By
Charlotte B
Peppa Pig Theme Park Florida is a dream come true for young fans and their families, offering a chance to step into the world of Peppa and her pals. With its gentle rides, interactive experiences, and the opportunity to meet the characters, Peppa Pig Theme Park is a must Orlando attraction for families with little ones. And to top it off, it is located just a short walk away from Legoland Florida Resort!
Central Florida is known for its world-class theme parks, from the magic of Walt Disney World to the thrilling rides of Universal Orlando. And now, young kids and their parents are guaranteed oinks and giggles at Peppa Pig Theme Park.
Check out more fun things to do in Central Florida with our Orlando Theme Parks & Water Parks Guide, perfect for locals and visitors alike!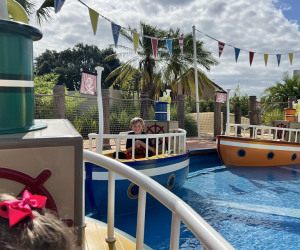 Hop on Grandad Dog's Pirate Boat Ride for an adventure.
The Orlando theme park boasts rides that bring the world of Peppa Pig to life! Visitors can set sail on a swashbuckling journey with Grandad Dog's Pirate Boat Ride. For a dash of excitement, guests meeting the 36-inch height requirement can enjoy the gentle twists and turns of Daddy Pig's Roller Coaster. Grampy Rabbit's Dinosaur Adventure, suitable for little ones at least 34 inches tall, whisks adventurers on a prehistoric quest through mountains and volcanoes in the land of dinosaurs. Additional attractions include Mr. Bull's High Striker, a kid-friendly drop ride, and Peppa Pig's Balloon ride, where guests can soar over the park in Miss Rabbit's hot air balloon.

Splash around and cool off at Muddy Puddles Splash Pad.
Children can immerse themselves in interactive play areas throughout the park. Navigate a playful maze to reach George's Fort, experience the excitement of a Fun Fair with complimentary games, pedal through Peppa's Pedal Bike Tour on a trike, take a stroll through Madame Gazelle's Nature Trail, and join in on sandcastle-building fun with Danny Dog at the Pirate Island Sand Play zone. Climb, slide, and crawl through three engaging playgrounds, including Grandpa Pig's Greenhouse, Peppa Pig's Treehouse, and Rebecca Rabbit's Playground. And, of course, no Peppa Pig adventure is complete without a splash in the Muddy Puddles Splash Pad, where kids will have an oink-tastic time frolicking in the water. After all that outdoor play, take a well-deserved break in the Cinema and enjoy one of your favorite Peppa Pig episodes.
One of the highlights for kids is the chance to meet their favorite Peppa Pig characters. From Peppa herself, to George, Mummy Pig, Daddy Pig, and others, these encounters create lasting memories. The park also offers live shows and entertainment, including performances that encourage kids to sing, dance, and join in on the fun. The character meets and shows take place in Mr. Potato's Showtime Arena. Shows last approximately 10 minutes – ideal for young ones with shorter attention spans!
RELATED: 35 Things To Do with Preschoolers and Toddlers in Orlando Before They Turn 5

Take a break to recharge at Miss Rabbit's Diner.
Peppa Pig Theme Park: Dining and Shopping
Guests can enjoy a bite to eat at Miss Rabbit's Diner, which features a selection of kid-friendly favorites, including PB&J, grilled cheese, and pizza, to a variety of healthy options to satisfy both little and grown-up appetites. Finish the meal with a Muddy Puddles Milkshake complete with a cookie on top, or a Mud Cup dessert.
For an extra-special dining experience, kick start your day with Breakfast with Peppa, a character breakfast buffet featuring the delightful Peppa Pig herself. This exclusive experience is available during specific times of the year and requires advance reservations.
Before leaving the park, be sure to stoy by Mr. Fox's Shop to bring home a piece of the Peppa Pig magic. Discover a range of Peppa Pig-themed souvenirs and merchandise, including plush toys, apparel, and books, as a perfect way to commemorate your visit.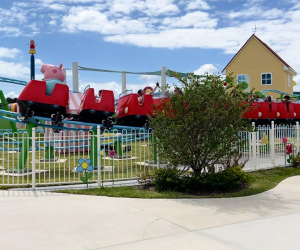 Take a ride on Daddy Pig's Roller Coaster.
Peppa Pig Theme Park: Know Before You Go
Peppa Pig Theme Park is situated in Winter Haven, adjacent to Legoland Florida, and accessible from major cities like Orlando and Tampa.
Stay at one of the Legoland Florida Hotels for easy access to Peppa Pig Theme Park. Options include the Legoland Hotel, complete with themed Lego rooms, the lakefront Legoland Beach Retreat, and Legoland Pirate Island Hotel.
Ticket deals are available often so be sure to check online before you go. Children under two years old enter for free.
Peppa Pig Theme Park and Legoland Florida Resort are cashless. Credit and debit cards are accepted.
The park is designed to be accessible for all visitors, including those with mobility or sensory challenges. For more information, check out the park's Sensory Guide and Accessibility Guide. Strollers and wheelchairs are available for rent.
If you are celebrating a birthday on your visit, you can pick up a birthday button from guest services when you arrive at the park.
Be sure to bring a swimsuit and towel for the Muddy Puddles Splash Pad. Changing rooms are located by the splash pad.
To make the most of your visit, plan your day around character meet-and-greet times and show schedules. Arrive early to maximize your time at the park.
Photos by the author
Places featured in this article:
---
Peppa Pig Theme Park Florida