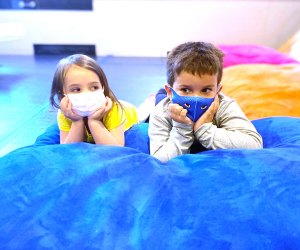 The Top Indoor Play Spaces Across New York City Open Now
We've all done plenty of playing in our own spaces recently, and with chillier days upon us, an indoor play space may be just the thing to get out some winter wiggles. To that end, we present this list of the 12 best indoor play spaces across New York City open right now. So, when it gets too cold to explore one of New York City's top playgrounds, consider taking your fun inside. A word to the wise: Many of these spots require reservations for playtime, so plan your fun in advance.
We've got plenty more ideas to entertain kids in Indoor Play Spaces Guide, plus fun seasonal happenings in our Winter Fun Guide.
Editor's note: All the play spaces listed are adhering to COVID regulations, including mandatory mask wearing, temperature checks, hand washing, and additional cleaning and sanitizing measures. Given how quickly things are changing during this pandemic, be sure to check their websites or call to confirm pricing and availability. Please always keep your family and others safe by wearing a mask and practicing social distancing.

At Dream City, adults are welcome to play with their children or relax in the sitting area.
OUR LATEST VIDEOS
1. Dream City – Forest Hills, Queens
2021 update: Reservations are required for both children and adults. No walk-ins are allowed, and all visitors must fill out a health screening form upon entry. Masks are required for all visitors ages 24 months and older.
This 6,200-square-foot space incorporates different interactive elements for cognitive and physical development, including a wood cube pit with shovels and toy dump trucks. Kids can also explore a ball travel machine, a dress-up room, and various structures that encourage climbing and sliding. Designed for kids ages 1 to 6 years old.
2021 update: The play area capacity is limited to seven, and reservations are required to participate in play sessions. Masks are required for ages 2+
This bright, clean space houses a large selection of interactive, high-quality toys. Kids can also explore the sandbox, the supermarket, and the kitchen and take a ride down the slide. Best for kids age 0-6.
RELATED: Arts and Crafts Studios and Shops Offering In-Person and Virtual Classes in NYC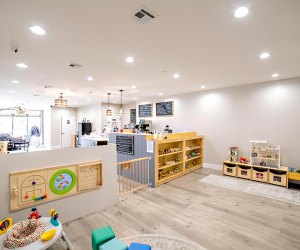 At Lidia's Play Cafe, the wooden fixtures and toys were carefully selected to promote children's development through play.
2021 update: Play sessions are by appointment only currently. When you reserve a spot, you will be given the option to book a "private play" session with participants from your social circle or a "mixed play" session with participants from outside of your social circle who book a session at the same time. Capacity is limited to 10 visitors each session. Cafe food is take-out only currently.
This wide-open Montessori-inspired space has two simple rooms and toys focused on children's development. While the play cafe is intended for kids under 5, it's a welcoming space for older siblings who can test out the toys themselves or hang out in the cafe. Kids can also explore through movement on various climbing and sliding structures.
2021 update: Tickets must be booked online in advance to reserve a timed session. Choose from two types of sessions: Play Sessions and ColorLab Sessions. Play Sessions include access to Totally Tots, plus World Brooklyn, Neighborhood Nature, Collections Central, and The Nest exhibits.
Designed for ages 0-6, the engaging Totally Tots exhibit features nine distinct sections, including sand and water play, musical instruments, block building, and dress-up. Little ones younger than 18 months can explore the Baby Hub, a bright area filled with shapes, colors, and a safe structure where little ones can work on pulling up, crawling, and walking.
RELATED: Creative Hub Playday Opens Cobble Hill Location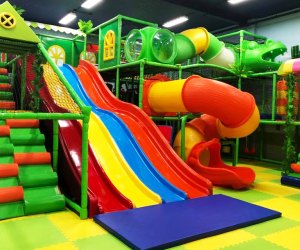 Enjoy playtime at the Jungle Adventure indoor playground, where kids can crawl, climb, slide, trampoline, and much more.
2021 update: Limited spots for the play space are available by appointment only and must be made at least one day in advance. There will be temperature screenings upon arrival. All visitors must wear masks and socks.
With a playful jungle theme, including an ivy-wrapped climber and tunnel that makes it feel as if you're climbing through the belly of a snake, Jungle Adventure brings big fun to this far-out corner of the city. There's also a safety-net enclosed trampoline and plenty of slides.
2021 update: Pre-registration is required. No more than five children and one caregiver are allowed at any given time for open play. No open play is allowed during class times. Adults must wear masks.
This neighborhood favorite includes an engaging play area for kids to slide, read, climb, and explore during drop-in play sessions. Beautifully curated and mindfully constructed, the space offers plenty of play opportunities for kids to get physical and use their imaginations.
RELATED: Private Playtime: 13 Indoor NYC Play Spaces That Can Be Rented For Pods or Families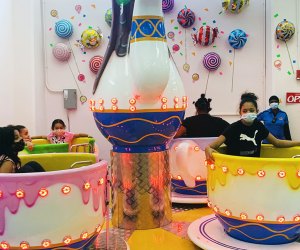 Kanga's Indoor Play Center features tons of action-packed fun for kids of all ages.
2021 update: Reservations for up to 2 hours of playtime must be booked in advance. Due to capacity limitations, there is no longer free entry for babies. One adult is free with every child entry. Each additional adult is $10. An online waiver is required for entry; sign one at home to expedite the check-in process.
Geared toward children ages 1-11, this indoor play space has plenty of room to romp, run, and jump! Candy-colored hues make an inviting space where a combination of indoor playgrounds, long, bumpy slides, and inflatable bouncy houses all beckon kids to step inside. Parents of wee ones can appreciate the toddler play area, which is well-padded and blocked off from the more raucous areas big kids frequent.
2021 update: Reservations are required for open playtime and can be booked online in advance. Only eight children are allowed per 1 1/2 hour session, and just one adult is allowed in per child. Currently, the cafe is closed, and no outdoor food is allowed either.
This lovely modern play space features custom-built climbers with a slide that drops little ones directly into a ball pit. There's plenty of wide-open space to romp and tons of modern toys to play with, from a wooden train table to plenty of ride-ons to glide across the room. Partnerships with Art Table Studio and Hug Music mean you can stay local for some fun, creative classes.
RELATED: Stay-at-Home Guide For Families

Take a trip around the world through play at Kids Play World.
2021 update: Sessions must be pre-booked online.
Opened in 2020, this play space allows kids to take a trip around the globe without leaving Queens. Each area represents a different place—from the Middle East to Europe, Asia, and the Americas. There's a handcrafted Lego table and wall, where older kids can keep busy making different creations, as well as a climbing wall and a slide. To get to the slide, kids must pass through a glow-in-the-dark ocean-themed tunnel. Little visitors can ride around the space in toy cars, go shopping in a well-stocked supermarket, and make pretend food in an Italian pizza shop.
2021 update: Pre-registration is required due to limited capacity. The schedule changes week to week, so call ahead to check hours.
This huge 4,000 square-foot play space boasts a two-level train, an oversized ball pit, trampolines, swings, a rock-climbing wall, and plenty more to keep kids engaged. The main area houses the ball pit filled with thousands of softballs and a "sandbox" filled with seeds. A pretend shop in the back features plenty of fake food and play kitchens where kids can cook up a tasty meal.

This colorful play area at The Playroom NYC is geared toward children 5 years old and under.
2021 update: Sessions must be pre-booked and last 1 1/2 hours. Hours are subject to change weekly. Non-touch temperature checks are required upon arrival. All visitors ages 2+ must wear masks.
This Manhattan hot spot offers daily playtime for little ones under age 5. There are slides and a jungle gym with climbing tunnels and lots of pretend play fun, including dress-up, a performance stage, and a faux bodega/grocery area. There's a padded area for early walkers and plenty of sensory experiences, plus hand toys for tots and babies.
RELATED: Build an Indoor Obstacle Course for Kids in 7 Easy Steps​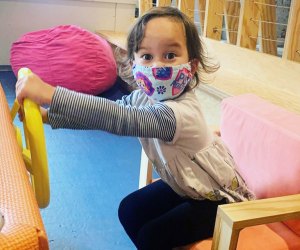 Recess d.u.m.b.o. has multiple play structures, many custom-made, to keep kids entertained for hours.
2021 update: Capacity is currently limited to eight children in the play space at a time. Play must be pre-booked for a 1-hour session and is subject to availability.
Opened by a pair of neighborhood moms in June 2015, this play space features gorgeous, custom-made equipment, including a wooden climbing wall, hidden ladders, and tunnels made from rope netting. Its popularity has only grown since we visited, making it a neighborhood institution for families.
Photos courtesy of the venues
A version of this story was published in 2017; it has been updated.