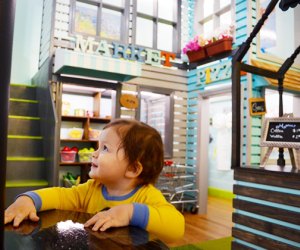 The Top 15 Indoor Play Spaces Across New York City
You've probably already bookmarked our lists of the best spots to play in Manhattan, Brooklyn, and Queens. (Oh, you haven't yet? Hint: Now's your chance.) To cap off your indoor-fun inspiration and ensure you never hear the words "I'm bored" again, we present the best of the best: the top 15 indoor play spaces across New York City. So when you need a break from your neighborhood spots, venture out to the rest of the city to cross every one of these awesome locations off the list.
Visit our Indoor Play Spaces Guide for more indoor fun, or our Family Fun Guide to all of NYC's top family attractions.
Sign up for our FREE newsletters to get posts like this delivered to your inbox.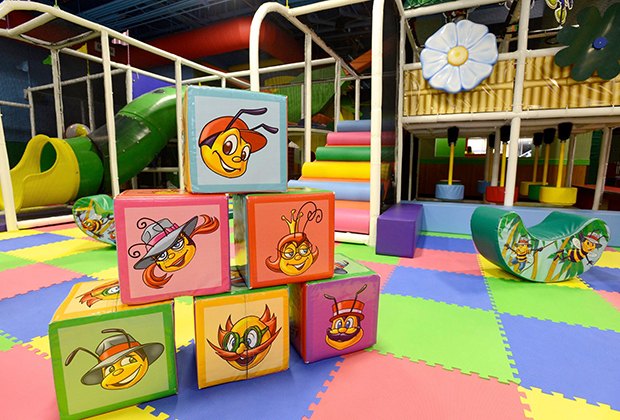 The toddler room at Billy Beez gives little ones a safe place to play away from the bigger attractions (and kids).
Billy Beez — Co-Op City, the Bronx
The Bronx has long lagged behind the other boroughs when it comes to indoor play spots, but a trip to Billy Beez will make you forget that. There are tunnels to crawl through, ropes to swing on, balls to play in and with, and tons and tons of slides. A separate toddler area gives small guests a safe, soft place to play. Bonus points for the FREE Wi-Fi for mom and dad's entertainment, too.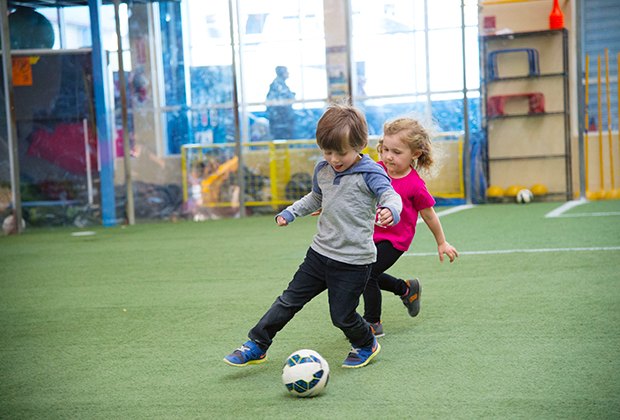 Photo by Scott McDermott/courtesy Chelsea Piers
Chelsea Piers — Chelsea
We've long raved about the fun to be had at the Toddler Gym at this mega sports center, but there's really so many more family-friendly activities to enjoy. From ice skating to rock climbing to batting cages and beyond, Chelsea Piers is truly a family-friendly destination for a day of indoor play.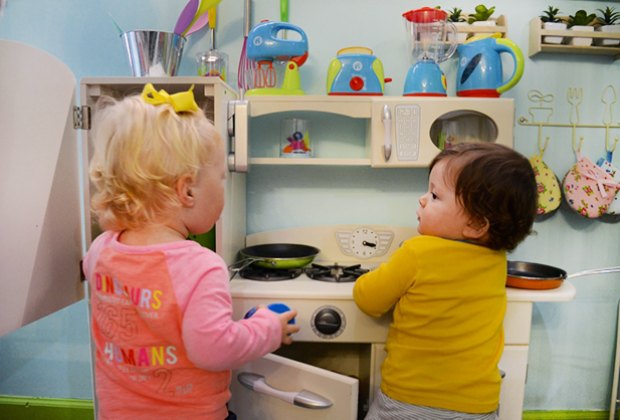 Kids get a kick out of "washing" dishes and "baking" cookies at City Owlets' pretend kitchen. Photo by Sydney Ng.
City Owlets — Long Island City, Queens
City Owlets is a relative newcomer to the indoor play scene, but it's been a welcome addition. Opened in 2017 by a local mom, City Owlets has a pint-sized play cafe (and a real espresso bar for mom and dad!), a sensory section, a walk-in closet that's straight from your kid's dress-up dreams, and an entire section dedicated to things that go—more specifically, trains and cars.
City Treehouse — Flatiron
The cool, interactive water table is a popular draw at this little-kid play spot, but there's plenty more to explore. With a calming, nature-themed motif, you'll almost forget you're playing inside. True to its name, there's also an on-site treehouse to climb.

Enjoy the fun playtime at Jungle Adventure indoor playground where kids can crawl, climb, slide, trampoline and much more!
Jungle Adventure — Whitestone, Queens
With a playful jungle theme, including an ivy-wrapped climber and tunnel that makes it feel as if you're climbing through the belly of a snake, Jungle Adventure brings big fun to this far-out corner of the city. There are Ninja Warrior-like obstacles built in, a safety-net enclosed trampoline, plenty of slides, and a ball pit to dive into.
RELATED: Bounce Houses and Trampoline Spots Where NYC Kids Can Jump

The mega-space at Kanga's Indoor Play Center is a fun-filled adventure for kids 1-11.
Kanga's Indoor Play Center — Long Island City, Queens
Geared toward children ages 1-11, this new indoor playspace has plenty of room to romp, run, and jump! Candy-colored hues make an inviting space where a combination of indoor playgrounds, long, bumpy slides, and inflatable bouncy houses all beckon kids to step inside. Parents of wee ones can appreciate the toddler play area, all well padded, and blocked off from the more raucous areas where big kids frequent.
Kids N' Shape — Howard Beach, Queens
This spot offers plenty of room to roam and run. Active play is the name of the game here. You'll find balls to bounce and castles to bounce on, plus there's a zip line, obstacle course, foam pits, and more fun. Kids N' Shape also has a location in Tottenville, Staten Island.
Let's Play Playhouse —Astoria, Queens
Formerly a mini-chain known as Kids Playhouse, Let's Play Playhouse's motto is Learn Through Play, and true to its word, it hosts a selection of classes, as well as plenty of weekday drop-in play on the mini bounce house, in the jungle gym, and with the many toys on hand. There's even a separate padded area with toys for tots and crawlers. Best for kids under the age of 5.
Little Chubbs Playhouse — Bensonhurst, Brooklyn
If your kid's a fan of ball pits, there's a spectacular one at Little Chubbs. Other highlights include a big, interconnected, padded indoor climber, with plenty of steps, stairs, nets, and slides to keep your little one entertained for hours. When it comes time to celebrate your kid's next birthday, consider Little Chubbs; party packages start at an unheard-of low $130!
RELATED: Build an Indoor Obstacle Course for Kids in 7 Easy Steps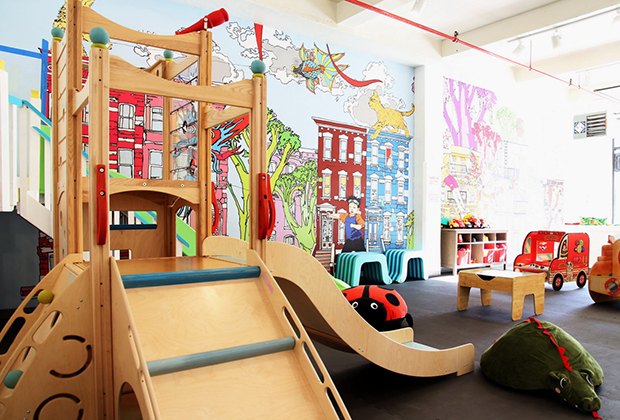 The colorful walls and interactive playthings have made PLAY a neighborhood staple for years.
PLAY — Greenpoint, Brooklyn
Preschoolers can hit the play sets, activity stations, including a food market and laundry set, and romp around the tumbling gym without getting bored at this favorite Brooklyn play space. There's also a separate baby area, where infants can safely crawl and explore.
The Playroom NYC — Upper East Side
This Manhattan hot spot offers daily playtime for little ones under age 5. There are slides and a jungle gym with climbing tunnels, and lots of pretend play fun, including dress-up, a performance stage, and a faux bodega/grocery area. There's a padded area for early walkers and plenty of sensory experiences and hand toys for tots and babies.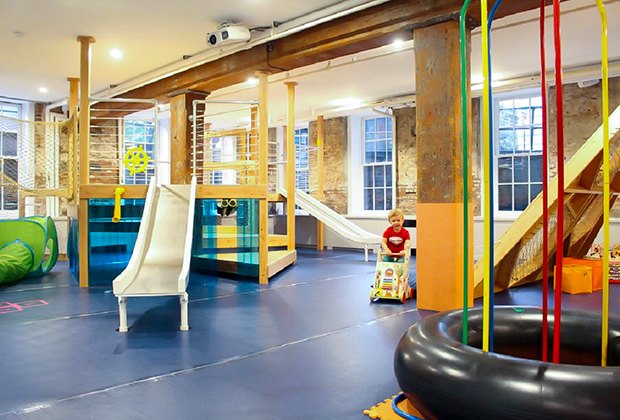 Recess has multiple play structures, many custom-made, to keep kids entertained for hours.
Recess d.u.m.b.o. — Dumbo, Brooklyn
Opened by a pair of neighborhood moms in June 2015, this play space features gorgeous, custom-made equipment, including a wooden climbing wall, hidden ladders, and tunnels made from rope netting. Its popularity has only grown since we visited, making it a neighborhood institution for families.
Sabrina's Play Studio —Sunnyside, Queens
This 1,900-square-foot play space for children up to age 9 was opened by a local mom who ran a neighborhood daycare for 11 years. Attractions include a two-level maze, a small bounce house, and a play area with a kitchen, toys, and dress-up clothes, plus a gated baby zone for tiny tots.
Sunnyside Plays — Sunnyside, Queens
This wide-open play space offers 1,700 square feet of open play area for kids to roam, but the 17-foot ceilings make the space seem even bigger. There's an indoor play structure for active play, and toys dot the padded floor waiting for curious toddlers to entertain. When you've had your share of active fun, stop by the on-site cafe to refuel before heading home.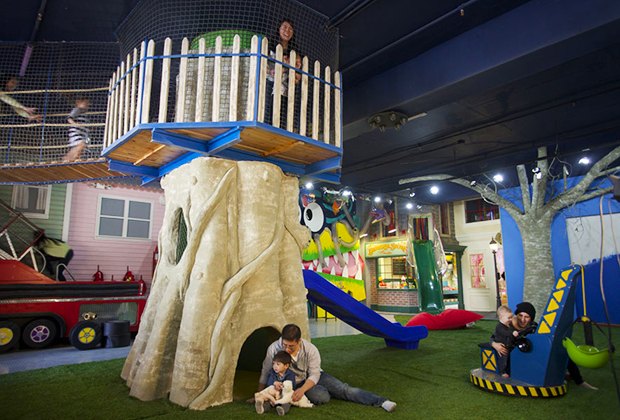 The indoor playground at Twinkle offers plenty of action, plus pretend play.
Twinkle Playspace — Williamsburg, Brooklyn
We raved about this drop-in play space when it opened in 2013. Owned and operated by a local family, this 4,500-square-foot tot spot features creative, custom-designed hands-on activity stations, including a water table, firehouse, salon, general store, and a barnyard. It's a great option for preschoolers who love to pretend.
Unless otherwise noted, photos courtesy of the venues
A version of this story was published in 2017; it has been updated.