19 Top Indoor Play Spaces in New York City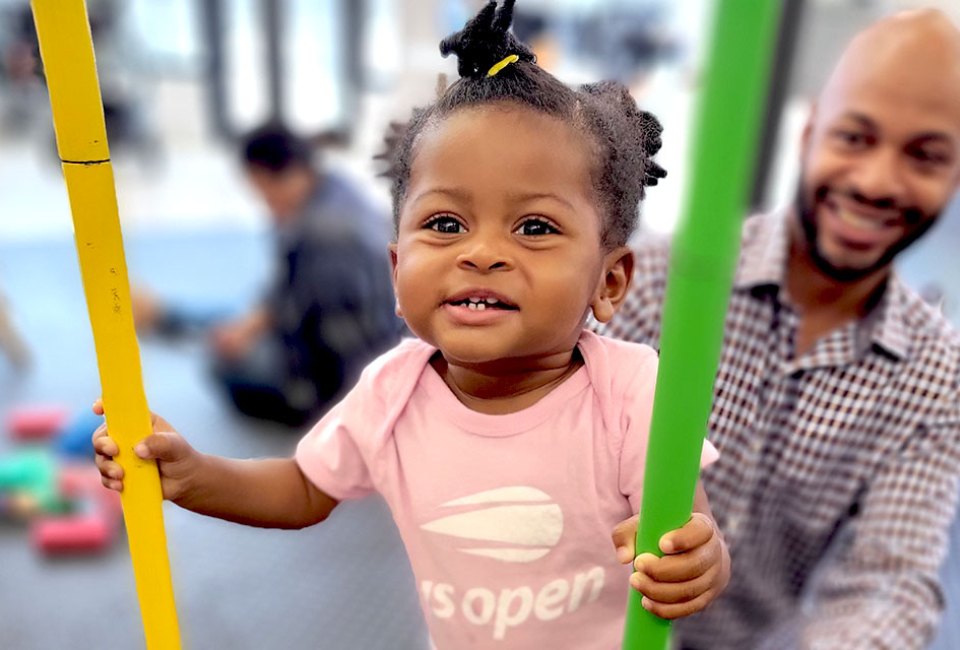 1/24/23
- By
Jody Mercier
With winter's chill here, an indoor play space in NYC may be just the thing to get out some winter wiggles. To that end, we present this list of the 19 best indoor play spaces in New York City. So, when it gets too cold to explore one of New York City's top playgrounds, consider taking your fun inside. A word to the wise: Many of these indoor play spaces in NYC require reservations for playtime, so plan your fun in advance.
We've got plenty more ideas to entertain kids in our Guide to Indoor Activities, plus fun seasonal happenings in our Winter Fun Guide.
Subscribe to our newsletters to get stories like this delivered directly to your inbox.
Best Indoor Play Spaces in NYC
This 4,000-square-foot play space boasts a two-level train, an oversized ball pit, trampolines, swings, a rock-climbing wall, and plenty more to keep kids engaged. The main area houses the ball pit filled with thousands of softballs and a "sandbox" filled with seeds. A pretend shop in the back features plenty of fake food and play kitchens where kids can cook up a tasty meal. The schedule changes week to week, so call ahead to check hours.
Designed for ages 0-6, the engaging Totally Tots exhibit features nine distinct sections, including sand and water play, musical instruments, block building, and dress-up. Little ones younger than 18 months can explore the Baby Hub, a bright area filled with shapes, colors, and a safe structure where little ones can work on pulling up, crawling, and walking. To ensure a spot, tickets should be booked online in advance. Play Sessions include access to Totally Tots, plus the ColorLab, World Brooklyn, Neighborhood Nature, Collections Central, and The Nest exhibits. Skate and Play tickets include sessions on BCM's rooftop rink plus general admission to the museum.
RELATED: 50 Indoor Activities for a Rainy Day

At Dream City, adults are welcome to play with their children or relax in the sitting area.
3. Dream City – Forest Hills, Queens
This 6,200-square-foot space incorporates different interactive elements for cognitive and physical development, including a wood cube pit with shovels and toy dump trucks. Kids can also explore a ball travel machine, a dress-up room, and various structures that encourage climbing and sliding. This indoor play space is open to children up to age 6. Reservations are required for both children and adults.
4. The Play Lab – Greenpoint, Brooklyn
The Play Lab is an eco-friendly Montessori-inspired indoor play space, where ages 9 months to 7 years old can explore. Enjoy the physical play area complete with a rock wall, treehouse, slide, Lego and construction zone, pretend playhouse and market, and a magnetic wall. Two-hour drop-in sessions are $35 and include admission for one child and one adult.
RELATED: Kids Can Play for Free at These New York City Stores

Good Day Play Cafe offers a huge ball pit and jungle gym in its indoor play space.
This bright, clean space houses a large selection of interactive, high-quality toys. Kids can also explore the sandbox, supermarket, and kitchen and take a ride down the slide. Best for kids ages 0-6, reservations are required to participate in play sessions.
This indoor play space offers plenty of room to roam and run. Active play is the name of the game here. You'll find balls to bounce and castles to bounce on, plus there's a zip line, obstacle course, foam pits, and more fun. Kids N' Shape also has a location in Tottenville, Staten Island, and both outposts currently require reservations.
RELATED: Use Your Library Card to Get into 66 NYC Museums and Gardens for Free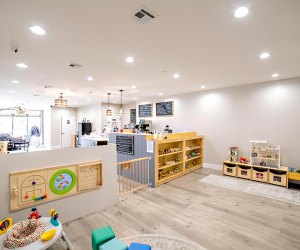 At Lidia's Play Cafe, the wooden fixtures and toys were carefully selected to promote children's development through play.
This wide-open, Montessori-inspired indoor play space has two simple rooms and toys focused on child development. While the play cafe is intended for kids under age 5, it's a welcoming space for older siblings who can test out the toys themselves or hang out in the cafe. Kids can also explore various climbing and sliding structures. Play sessions are by appointment only and last for 90 minutes.
Owned and operated by a local family, this 4,500-square-foot tot spot features creative, custom-designed, hands-on activity stations, including a water table, firehouse, salon, general store, and a barnyard. It's a great indoor play space in NYC for preschoolers who love to pretend. Reservations are required for open play sessions.
The padded playroom on the top floor of the 14th Street Y was one of my son's favorite play spaces when he was young. The no-frills classroom-sized space is clean, with soft climbing and sliding structures for the toddler set. Occasionally the staff brings out large toys, bubbles, or giant balls. The Y typically doesn't offer programs when school is out, so call ahead to confirm hours. Also, check its website for weekly drop-in classes like mommy-and-me yoga classes, Baby Chat and Play, and more.
RELATED: Museum Memberships in NYC That Are Totally Worth It for Winter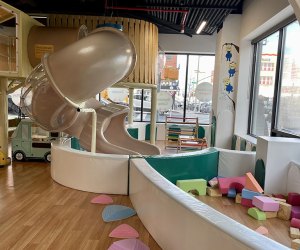 Kids Town Play Space offers a play land with a play supermarket, a hospital, a fire station, and more.
Owned and operated by local sisters Lejla Pustina and Linda Marke, this clean and bright indoor play space is well-known for its beautifully presented birthday parties. Beyond the parties though, there's much more on offer. The space houses a good mix of toys that are often rotated, including lots of options that are appropriate for kids under age 2. There's also a cozy cafe where caregivers can enjoy a hot beverage while the little ones explore. Open-play sessions are limited, so it's best to reserve online in advance.
This neighborhood favorite includes an engaging play area for kids to slide, read, climb, and explore during drop-in play sessions. Beautifully curated and mindfully constructed, the space offers plenty of play opportunities for kids to get physical and use their imaginations. There is also a newly added co-working space for parents—check the website for membership options. Pre-registration is required.
RELATED: 12 Easy DIY Sensory Activities to Entertain Babies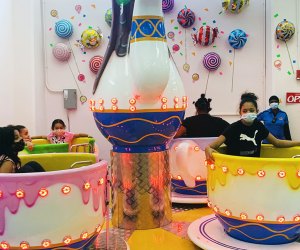 Kanga's Indoor Play Center features tons of action-packed fun for kids of all ages.
Geared toward children ages 1-11, this indoor play space has plenty of room to romp, run, and jump! Candy-colored hues make an inviting space where a combination of indoor playgrounds, long, bumpy slides, and inflatable bouncy houses all beckon kids. Parents of wee ones can appreciate the toddler play area, which is well-padded and blocked off from the more raucous areas big kids frequent. Though walk-ins are allowed, it's best to make reservations for up to 2 hours of playtime in advance. One adult is free with every child's entry. Each additional adult is $10. An online waiver is required for entry; sign one at home to expedite the check-in process.
13. JCC – Harlem
This well-equipped and welcoming space offers lots of great programming options for members of the Harlem community and at $10 per drop-in, you can't beat the price. Open play sessions include lots of opportunities for creative play with access to sports and movement equipment and building toys. Kids ages 9 months to 5 years are welcome!
RELATED: Boredom Busters for Kids

Take a trip around the world at Kids Play World.
Opened in 2020, this play space allows kids to take a trip around the globe without leaving Queens. Each area represents a different place—from the Middle East to Europe, Asia, and the Americas. There's a handcrafted Lego table and wall, where older kids can keep busy making different creations, as well as a climbing wall and a slide. To get to the slide, kids must pass through a glow-in-the-dark, ocean-themed tunnel. Little visitors can ride around the space in toy cars, go shopping in a well-stocked supermarket and make pretend food in an Italian pizza shop. Sessions must be pre-booked online.
15. Billy Beez – Co-Op City, the Bronx
The Bronx has long lagged behind the other boroughs when it comes to indoor play spaces in NYC, but a trip to Billy Beez makes you forget that. There are tunnels to crawl through, ropes to swing on, balls to play in and with, and tons of slides. A separate toddler area gives small guests a safe, soft place to play. Bonus points for the FREE Wi-Fi for mom and dad's entertainment, too.
We've long raved about the fun to be had at the Toddler Gym at this mega sports center, but there are really so many more family-friendly activities to enjoy. From ice skating to rock climbing to batting cages and beyond, Chelsea Piers is truly a family-friendly destination for a day of indoor play.
RELATED: Build an Indoor Obstacle Course for Kids in 7 Easy Steps​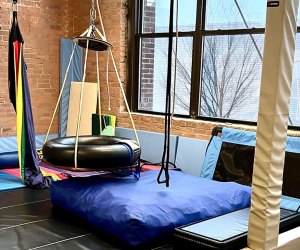 Play Well Brooklyn has a tire swing and large soft play mats, to keep kids entertained for hours.
Created by two occupational therapists, this indoor play space was inspired by the idea of bringing integrated play to the local community. Play Well offers an inclusive indoor play space for both neurodivergent and neurotypical kids, including gym equipment (soft play mats, swings, and climbing structures), sensory play areas, and art and fine motor areas. All areas are designed to be used by children with a range of physical, cognitive, and sensory abilities. A one-hour open-play visit is $35 per child and includes access to the modular gym, rock wall, and the rest of the space.
With a playful jungle theme, including an ivy-wrapped climber and tunnel that makes it feel as if you're climbing through the belly of a snake, Jungle Adventure brings big fun to this far-out corner of the city. There's also a safety-net enclosed trampoline and plenty of slides. Limited spots for the indoor play space are available by appointment only and must be made at least one day in advance.
After relocating to Long Island City in 2020, this indoor play space in NYC quickly found popularity in its new neighborhood. The space is filled with loads of fun activities for kids under 7 including a car area complete with its own underpass and gas pump, an infant and toddler area with soft toys and a row boat, two large ball bits and slides, a mini car roller coaster ramp, a play kitchen, and a dress-up station. Keep in mind that it does get busy on the weekends; weekdays are much quieter. The drop-in admission fee is $20 for one hour and $25 for two. Memberships are also available as are birthday party packages.
Unless noted, photos courtesy of the indoor play spaces in NYC
A version of this story was published in 2017; it has been updated.
Click Here to Sign Up!
i