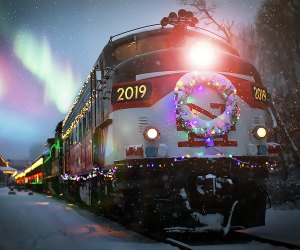 Polar Express and Santa Trains Near NYC This Holiday Season
The magic of Chris Van Allsburg's popular Christmas picture book The Polar Express comes to life again this winter with festive holiday trains within a whistle's blow of the New York City metro area. A huge hit with kids and parents alike, these trains spark the imagination and holiday spirit with seasonal snacks, stories, even gifts—not to mention a visit from Santa himself.
These old-school cabooses (some harking back to the 1920s) offer a classic holiday ambience. There's a Polar Express just an hour south into New Jersey, as well as the one-day-only Tri-State Santa Train about 50 minutes away. You could also consider a day trip to the Catskills, or a weekend getaway to Pennsylvania Dutch Country for the Santa's Paradise Express. No matter which Santa Train experience you choose, your family can combine the annual Santa Claus photo op with lasting memories of a sweet adventure.
Remember: these train rides sell out quickly, often months in advance, so book now if you want to go.
Sign up for our FREE newsletters to get posts like this delivered to your inbox.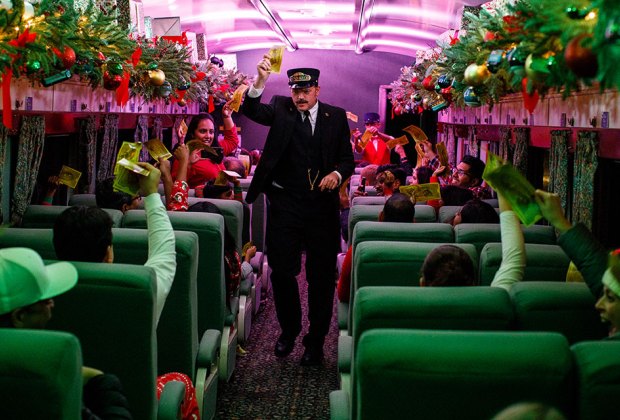 Passengers relive the magic of the classic story The Polar Express as they embark on a one-hour train ride to the North Pole.
Polar Express — Whippany, New Jersey
November 16 – December 30 (check schedule for exact dates)
Prices vary: see website.
1 hour and 20 minutes from Midtown Manhattan by car
The Polar Express train ride in New Jersey is back for its fourth season. Drawing on the classic children's book, this hour-long train ride includes a reading of the book, caroling, and hot chocolate and cookies served by dancing chefs. Santa Claus will board the train upon its arrival in "the North Pole," to give each child a silver sleigh bell, just like the one the boy receives in the book. Wear your pajamas!
The Christmas Express with Santa Claus — Wall Township, New Jersey
November 23 – December 21 (check schedule for exact dates)
Fare: $6.00
Tickets go on sale October 11 at 6pm and must be purchased in person at the station; advance purchase recommended.
1 hour and 20 minutes from Midtown Manhattan by car
Nestled in the wilds of Allaire State Park, the Pine Creek Railroad's Christmas train has been running for more than 35 years, and it's got the Santa sprint down pat, offering a chat with Saint Nick on a 15-minute ride that is sure to put the whole family in the Christmas spirit. Daytime and nighttime rides are available.
Santa Express and Northern Lights Limited — Thomaston, Connecticut
November 29 – December 22
Prices vary: see website.
1 hour and 45 minutes from Midtown Manhattan by car
Santa, Mrs. Claus, and their merry elves welcome families to Thomaston Station for a ride along the scenic Naugatuck River in a vintage 1920s coach. Run by volunteers at the nonprofit Railroad Museum of New England, the one-hour ride offers a pair of daytime departures on Saturdays and Sundays. A sparkling evening ride, the Northern Lights Limited, is offered at 5pm and 7pm, Friday through Sunday, and makes a special stop at Santa's Train Workshop to pick up Mrs. Claus.
RELATED: 6 Destinations for Train-Obsessed Kids on Long Island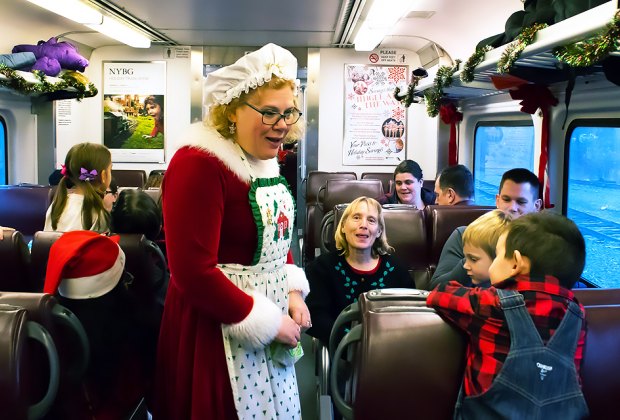 Share some wishes with Mrs. Claus on the Santa Train.
Tri-State Santa Train – Wayne, New Jersey
Saturday, December 14 (departs 9am, 11am, 1pm, and 3pm)
$23 for adults, $13 for children under 12, and free for babies under 2. Tickets online.
50 minutes away from Midtown Manhattan by car
The Tri-State Railway Historical Society presents its annual Santa Train, featuring a visit with Santa and Mrs. Claus, along with some elves and cartoon characters. Each child will receive an activity book and a toy on the ride, which lasts about an hour. Tickets go on sale in October. Sign up for the newsletter to stay up-to-date.
Further Afield
These trains require two hours or more in the car to get to from Midtown Manhattan, but if you're traveling for the holidays or looking for a quick winter getaway, consider one of these Santa trains.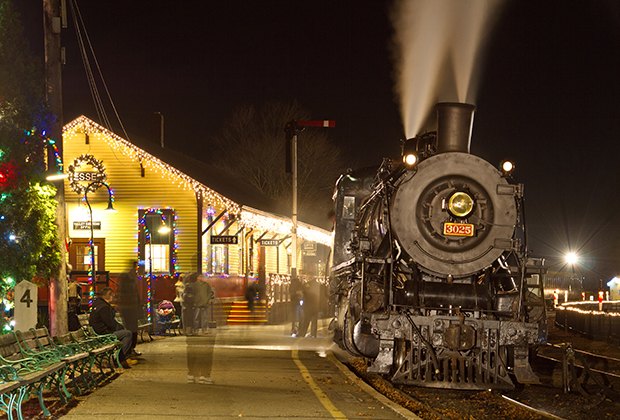 The always-popular North Pole Express in Connecticut often sells out the top days months in advance.
North Pole Express – Essex, Connecticut
November 15 – December 29; check website for exact dates.
Coach: $37.50 per person, $47.50 Fridays and Saturdays after Thanksgiving
2 hours and 30 minutes from Midtown Manhattan by car
Tickets go on sale in September for this super popular nighttime Connecticut train ride, which sells out months in advance. Board the steam-powered train at the Essex Railroad Station—kids are invited to wear pajamas—and sit back and relax en route to the North Pole. Keep in mind, no strollers are allowed on board! For a daytime ride, consider booking the Santa Special, which has tons of fun activities and goodies for children—including visits from elves, reindeer, and a special gift straight from the North Pole.
North Pole Express and Santa's Steam Spectacular ​ — New Hope, Pennsylvania
November 9 – December 31 (except December 25)
Coach: $54-$75 for adults; $44-$65 for children ages 3-11; $15-17 for children up to age 3
2 hours and 15 minutes from Midtown Manhattan by car
On an hour-long ride through scenic Bucks county in a meticulously restored, beautifully decorated vintage train pulled by a diesel or steam locomotive, families are treated to warm cookies and cocoa, caroling, and plenty of facetime with Santa Claus, Mrs. Claus and his helpers. This popular Santa train ride added new excursions to its calendar for the week after Christmas, and also offers a super-deluxe Christmas Eve train ride.
Catskill Mountain Polar Express — Kingston, New York
November 15 – December 28 (primarily Friday–Sunday)
$41-$50 for adults; $32-$40 for children ages 2-12. Free for children under 2 who ride in a lap.
2 hours-plus from Midtown Manhattan by car
This 90-minute Polar Express train winds its way through Hudson Valley. Expect a story time with the book of the hour, hot cocoa, singalongs, and a visit with Santa, who greets the train when it hits the North Pole and hands out silver bells to each child. Note: Seating is first come, first served, and there are no bathrooms on board so plan accordingly. Read our full review of this Polar Express train.
RELATED: 7 Easy Day Trips from NYC By Train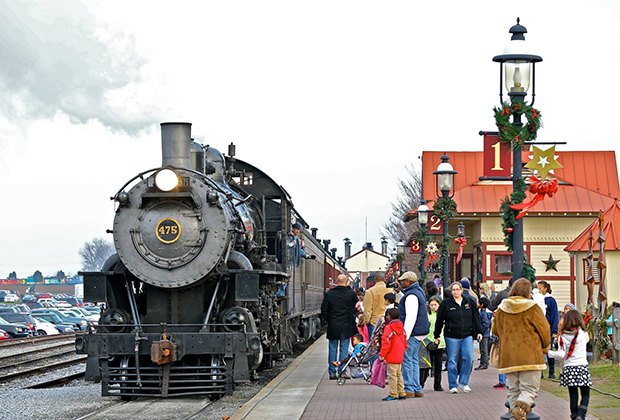 Board Santa's Paradise Express for a 45-minute ride filled with stories and treats.
Santa's Paradise Express — Strasburg, Pennsylvania
November 23 through December 22
Coach: $4 ages 0-1; $14 ages 2-11; $20 ages 13 and up; see website for pricing details.
2 hours and 40 minutes from Midtown Manhattan by car
Tucked into the cozy countryside of Pennsylvania's Lancaster County, the Strasburg Rail Road offers a 45-minute jaunt with Santa and his friends, featuring stories, delicious treats (for purchase), and the first gift of the season. Post-ride, kids can finalize their Christmas list with Mrs. Claus (who visits the station from noon to 4pm), check out the heated caboose, or nab a ride on the Tinsel Trolley, a self-propelled motorcar.
Find more New Jersey and Pennsylvania holiday trains or New England holiday trains on our Mommy Poppins sister sites.
A version of this post was published in 2017; it is updated annually. Katie Nave Freeman contributed reporting.
Photos courtesy of the railways