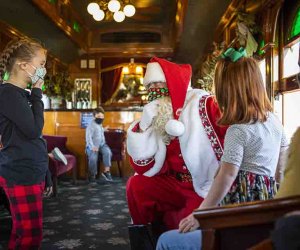 Polar Express and Christmas Trains Near NYC For 2020
The magic of Chris Van Allsburg's popular Christmas picture book The Polar Express comes to life again this winter with festive Christmas trains and holiday trolleys within a whistle's blow of the New York City metro area. A huge hit with kids and parents alike, these Polar Express trains spark the imagination and holiday spirit with seasonal snacks, stories, even gifts—not to mention a visit from Santa himself.
These old-school cabooses (some harking back to the 1920s) offer a classic holiday ambiance. No matter which Santa train experience you choose, your family can combine its annual Santa Claus photo op with lasting memories of a sweet adventure.
These train rides sell out quickly, often months in advance, so book now if you want to go. Seats are significantly limited in 2020 as coronavirus-induced capacity restrictions are in effect, and many popular train rides have been canceled altogether. Find more regional Christmas train rides on our New Jersey and Philadelphia sites and plenty more seasonal offerings in our Holiday Guide.
Editor's note: If you are traveling to an activity outside of your state or local area, check to see if COVID cases are on the rise in the area when you plan to travel, as well as any travel restrictions, advisories, or quarantine orders. Please keep your family and others safe by always wearing masks and maintaining social distancing measures.
Sign up for our FREE newsletters to get posts like this delivered to your inbox.
Polar Express and Christmas Trains in New Jersey

Don't miss the North Pole Express, the Black & Western Railroad's most popular annual event.
Sunday, November 22-Sunday, December 20
1 hour, 10 minutes from Midtown Manhattan by car
All aboard the Black & Western Railroad for this excursion to the North Pole. Kids receive the traditional silver bell as the first gift of Christmas, plus a gold souvenir ticket as a take-home reminder of their fun outing. Enjoy photo ops with Santa's sleigh, a glorious Christmas tree, and of course, a visit with the big man himself. Like all staff, Santa must take a daily health screening, and he will wear a mask during your child's visit upon request. Guests are asked to enjoy a touch-free visit, but chairs are set up next to Santa for the requisite photo. Guests must wear masks at all times except when they're smiling for the camera.
Editor's Note: This train has been canceled for 2020.
1 hour, 20 minutes from Midtown Manhattan by car
The New York Susquehanna & Western Technical & Historical Society invites visitors to immerse themselves in the sights and sounds of The Polar Express. Indeed, this train ride is set to the motion picture's soundtrack. Enjoy your hot cocoa and cookies as you listen to a retelling of the story before kids meet Santa and receive their very own sleigh bells. Pajamas are encouraged. Trains are operating at 50 percent capacity following CDC guidelines.
Polar Express and Christmas Trains in Pennsylvania
Saturday, November 7-Wednesday, December 30
2 hours, 15 minutes from Midtown Manhattan by car
On an hour-long ride through scenic Bucks County in a meticulously restored, beautifully decorated vintage train pulled by a diesel locomotive, families are treated to warm cookies and cocoa, caroling, and plenty of face time with Santa Claus, Mrs. Claus, and their elves at his workshop near the train station.
RELATED: 7 Easy Day Trips from NYC By Train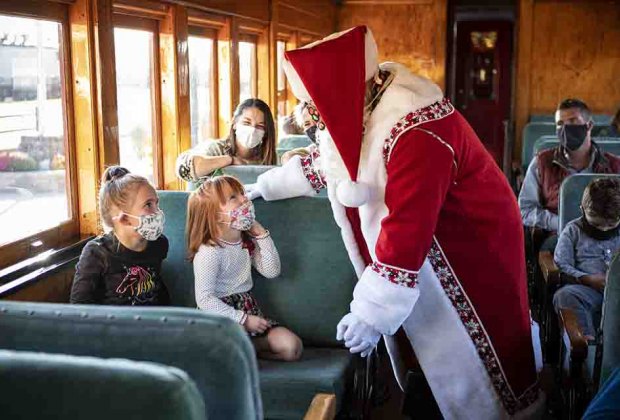 Christmas at Strasburg Rail Road features several unique and specialized holiday events.
Saturday, November 21-Thursday, December 24
2 hours, 40 minutes from Midtown Manhattan by car
Tucked into the cozy countryside of Pennsylvania's Lancaster County, the Strasburg Rail Road offers a 45-minute jaunt with Santa and his friends, featuring stories, delicious treats (for purchase), and the first gift of the season. Expect to see a mask-wearing Jolly Old St. Nick setting an example for visitors. Capacity has also been reduced by 50 percent, and the carolers and musicians will entertain train riders outdoors before and after their rides to further limit the number of people on board. Post-ride, kids can finalize their Christmas list with Mrs. Claus. Bring a self-addressed stamped envelope, and your child will receive a personal reply to their letter, too. The Strasburg Rail Road also offers Christmas Tree Trains and a Night Before Christmas Train that offers varied holiday fun.
Christmas Trolley Rides in Connecticut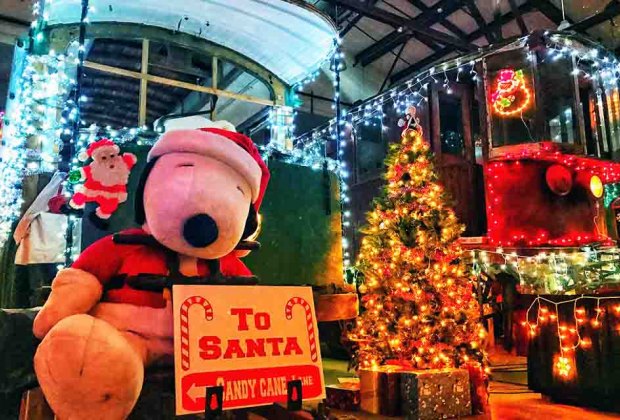 Join motormen in singing traditional Christmas carols on the Christmas Trolley at the Connecticut Trolley Museum.
While many area families have long flocked to the North Pole Express in Essex, Connecticut, the big train ride is one of many canceled this year. However, we have found a couple of smaller trolley rides that make a fun, seasonal day trip.
Friday, November 27-Sunday, December 27
2 hours by car from Midtown Manhattan
For a festive journey of a different sort, head to the Trolley Museum for a ride in your choice of a closed or open-air "electric sleigh," where you'll belt out Christmas carols and enjoy the twinkling lights overhead. The Visitors Center is decked out with seasonal decorations, and holiday music fills the air as you explore. Make sure to sneak in a visit with Santa and collect your gift. Tickets are only sold the day of at the Trolley Museum.
Friday, November 27-Sunday, December 20
1 hour, 35 minutes by car from Midtown Manhattan
Step back in time with this ride at The Shore Line Trolley Museum. The vintage trolleys on display are all decked out for the holidays. Trolley rides board every 20-30 minutes. While you wait, enjoy cookies and hot chocolate and take a peek at the model train displays. Santa himself is on hand for photo ops and gift-giving.
Find more New England holiday trains on our Mommy Poppins sister sites.
A version of this post was published in 2017; it is updated annually.
Photos courtesy of the railways