Best Aquariums to Visit from the NYC Metro Area with Kids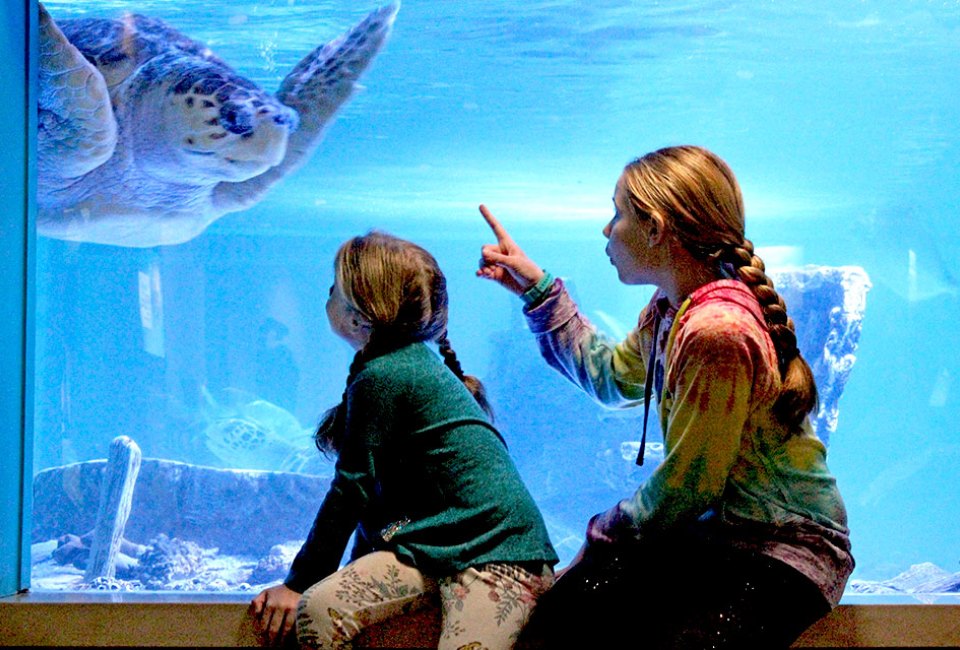 5/11/23
- By
Marisa Iallonardo
These aquariums near NYC make for a fun under-the-sea day trip destination where families can see colorful fish up close, be entertained by a variety of undersea animals, and get a kick out of interactive exhibits, feedings, and shows.
There are a number of great aquariums within an easy day trip from the tri-state area, so the next time your kids request a trip to the aquarium, consider visiting one of these regional picks, which each offer a truly unique undersea experience. At these local aquariums in New York, New Jersey, and Connecticut, you can see everything from Beluga whales at the Mystic Aquarium to the East Coast's largest collection of sharks at the Adventure Aquarium.
Find more day trip-worthy destinations in our Guide to Day Trips and Weekend Getaways and find all our top picks for animal fun in our Guide to Local Zoos and Gardens.
Subscribe to our newsletters to get stories like this delivered directly to your inbox.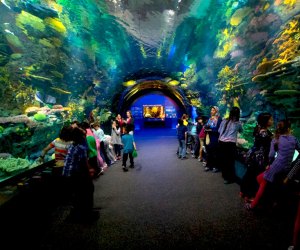 The walk-through tunnel in the Ocean Wonders: Sharks exhibit at the New York Aquarium is an eye-popping underwater display. New York Aquarium. Photo by Julie Larsen Maher for WCS
Top Aquariums in New York for Families
There is so much to keep kids entertained at this Brooklyn aquarium—the oldest in the US!—located on the Coney Island boardwalk. You'll see more than 500 different species of sea creatures. Its Ocean Wonders: Sharks exhibit is particularly eye-popping. Buy a total experience ticket so you can catch a show in the 4D Theater. Families with little kids will love the PlayQuarium, which includes a "life-size kelp forest" and a touch pool with crabs and snails, plus a mini play space surrounded by undersea species.
Can't-miss highlight: Check the schedule for the sea lion show in the Aquatheater when you arrive, and line up early to snag a good seat!
There is lots to love about this Long Island mainstay, which boasts animal-centric exhibits like Penguin Pavilion, Sea Lion Coliseum, Otter Falls, and more. Interactive elements abound, too, including a Family Fun Center arcade, various animal encounters, and the outdoor tree house and playground mashup dubbed the Eye Opener, where kids can climb to their heart's content. Good to know: You can get in FREE the week of your birthday!
Can't-miss highlight: Get hands-on in the Touch Tank, where knowledgeable staff let you touch sea stars, spider crabs, whelk, and more while dishing out fun fishy facts.
RELATED: Science and Natural History Museum Day Trips near NYC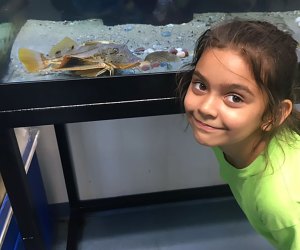 The Marine Education Center isn't your typical aquarium, but it's definitely worth a visit. Photo courtesy of the center
Not sure how your kids will react to a large aquarium? Start with this spot in Mamaroneck, which includes various Long Island Sound sea life, like horseshoe crabs and sea stars, as well as a touch tank. From April to November, it offers lots of kid-friendly programs on various topics, many of which include stories or interactive elements (like walking on the beach). Best of all? It's totally FREE.
Can't-miss highlight: Sign up for its newsletter so you get first dibs on programs, which let kids take the reins as citizen scientists and connect them to the local ecology in a hands-on way.
Best Aquariums in Connecticut for Families
The go-to aquarium for Fairfield and Westchester County families, the size of this spot is ideal because there are plenty of attractions to keep kids busy, but it doesn't feel so big that you can't enjoy all it has to offer. With a focus on the Long Island Sound, kids can check out all sorts of sea life—it's home to some 7,000 animals, including jellyfish, turtles, and otters—as well as see the seals being fed and take a break in the fun Sea and Discover Zone. Hands-on fun awaits in The Shark and Ray Touch Pool and Jiggle A Jelly where kids can touch sharks, sting rays, and even moon jellies.
Can't-miss highlight: Pinniped Cove is a two-level habitat for the resident harbor seals, which opened in 2021, and lets visitors see seals diving in their 22-foot-deep pool and palling around on dry land. Visiting soon? Keep an eye out for Sono, the adorable seal pup born in April 2023.
Mystic, Connecticut, is an awesome family destination and a stop at the Mystic Aquarium is a must. It boasts more than 300 different animal species, including African penguins, Beluga whales, giant Pacific Octopus, and the endangered sand tiger sharks. Along with checking out the exhibits, there are a number of interactive exhibits as well, plus a sea lion show and, for an additional fee, a virtual reality experience, too.
Can't-miss highlight: The beluga whales steal the show here and there are multiple vantage points to see them in their huge tank. Kids love the underwater portholes.
RELATED: 11 Best US Aquariums for Your Next Family Vacation

Genny and Button are the beloved Nile hippos that call the Adventure Aquarium home. Photo by Kaylynn Chiarello Ebner
Awesome Aquariums in New Jersey for Families
All kids will find something to love at this spot—hippos, turtles, penguins!—but it's particularly special for little shark lovers. The aquarium is home to seven different types of sharks, including great hammerhead sharks and bamboo sharks. And not only can you feel the animals in the Touch a Shark exhibit, but you can also see them as you walk the 81-foot-long Shark Bridge suspended over the 550,000-gallon Shark Realm. The Adventure Aquarium is also home to a pair of penguin colonies and a duo of adorable Nile hippos, who you can watch frolic in their faux river den. This is another aquarium that offers FREE birthday visits.
Can't-miss highlight: The KidZone is a dedicated play space for the under-6 set, which houses its own touch tank in addition to plenty of room to romp and play.
RELATED: 16 Fun Things To Do at American Dream Mall with Kids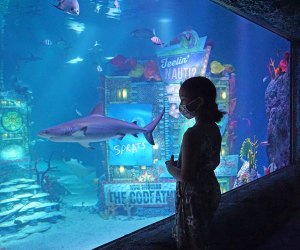 Sharks swim by a whimsical city under the sea at the Sea Life Aquarium in New Jersey's American Dream Mall. Photo by Jody Mercier
With a water park, ice skating rink, Nickelodeon Universe, and so much more, there's definitely no shortage of things to do or ways to spend the day at American Dream. But if you're on the lookout for jellyfish, sharks, and seahorses, then the Sea Life Aquarium is a must-stop. Some highlights: An underwater tunnel (you're 15 feet down!), an Urban Jungle, and the Tiny Giants Touchpool, where you can touch anemones and more.
Can't-miss highlight: If you want to make a day of it, book a combo ticket and visit the Legoland Discovery Center next door when you've had your fill of the fishes.
As you stroll the Jersey Shore's Point Pleasant Beach boardwalk, consider a stop at this aquarium, which is home to African penguins, seals, turtles, sharks, rays, and more. Its touch tank includes sting rays, sea urchins, and other sea life and you can prep for your visit by taking a look at the penguins online in their Penguin Cam.
Can't-miss highlight: The small footprint makes it easy for kids to come up-close to exhibits, and also makes this spot a good midday diversion from the fun on the Shore rather than a destination all on its own.