A Visit to Norwalk Maritime Aquarium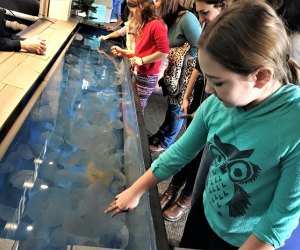 3/7/17
- By
Clementina Verge
Sharks. Octopuses. Seahorses. Jellies and meerkats. Whether it is your first or twentieth visit to the Norwalk Maritime Aquarium in Fairfield County, its cool, bubbly, mysteriously blue world will not fail to awe and amuse you with a truly one-of-a-kind experience and insight into the rich biodiversity of the Long Island Sound.
Some of the first residents to greet visitors to the Norwalk Maritime Aquarium are the harbor seals; these federally-protected mammals are the most common seal species in New England. Their indoor holding tank is always surrounded by curious and excited children and adults, waiting for the playful, long-whiskered mammals to bob in and out of water. Shows and feedings incite oohs and ahhs three times a day, and animal caregivers answer many questions while the six seals do tricks (a natural behavior) that entertain the audience. On a warm day, you can follow the antics outdoors, and take some time to relax in the Riverside Courtyard that overlooks the Norwalk River.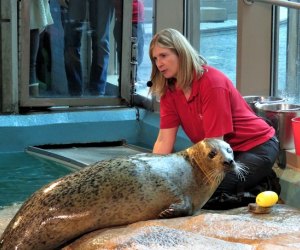 The sea show always attracts a camera-flashing crowd.
Nearby, in the spacious exhibit hall, an underwater petting zoo awaits. Children delight in being splashed by sting rays, petting their slick bodies (no worries - stingers have been removed), and running their fingers along the backs of nurse sharks. Plan on spending some time here (and maybe bringing an extra shirt), because little ones definitely enjoy the close encounters with these rather-friendly predators. Surrounding the area are many learning stations offering glimpses into the world of camouflage, shark behavior and anatomy, and more.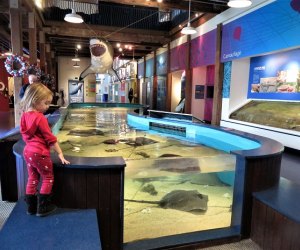 Petting sting rays is a child-favorite activity. Roll up their sleeves and take out your camera.
Also on this floor is the totally awesome jellyfish exhibit - where you can actually touch the tops of live moon jellies. Though their sting is known to be nearly harmless to humans (and the stingers hang on tentacles below their bodies), it is still thrilling to touch these mysterious creatures that we are usually told to fear and avoid.

Other attractions in this area are the Go Fish exhibit where children can play in a fishing boat, test their seafood knowledge, and admire the shiny, scaly fish wheezing by - such as salmon, cod, and halibut.

Checking out the fish is easy thanks to large windows and tanks set at child-friendly heights.

Sure, petting sting rays and jellyfish could add enough exhilaration to anyone's day, but you're not done yet. The thrill continues on the second floor where children come nose to nose with sharks - the big kind. Their menacing eyes and purposeful motion command attention, so take a few moments to sit and linger, enjoying the combination of tension and tranquility that surrounds the shark tank.
Children - especially little ones - will also delight in watching the energetic otters and spending time at the Intertidal Touch Tank where they can enjoy hands-on encounters with horseshoe crabs, spider crabs, sea stars, and other aquatic critters.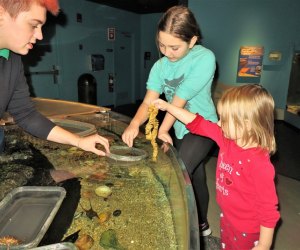 A smaller touch-tank area allows children to feel crabs, snails, shells, and other ocean residents.
The upper level also displays smart ship and boat models and a small, and a small but quite impressive frog exhibit. The colors, the sizes, and the survival strategies showcased here are amazingly interesting: poisonous, neon blue frogs, giant, albino 'croakers', tiny, jumpy toads, and tomato red amphibians surround you, while the instructive panels tell stories of an extremely refined sense of hearing, funny and strange mating and parenting habits, and serious environmental threats.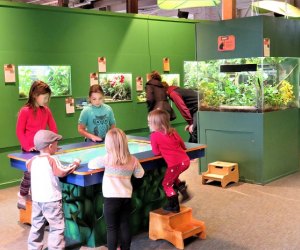 Interactive play and learning stations make the aquarium a fun destination for children.
This section also offers an interactive game table where the winner is declared "the most poisonous" frog (apparently that's a badge of honor among siblings). Nearby, little ones will also enjoy playing in a special "Ocean Playground" tucked away in a peaceful corner of the aquarium; foam mats, little tunnels, and soft climbing features will help them unwind, while their adult companions can sit for a few minutes of rest.
Additionally, the aquarium offers hands-on activities and activities such as boat-building, seal-spotting and birding cruises, vacation adventures, sensory-friendly mornings, and countless smartly designed panels and signs explaining key facts and interesting trivia in easy-to-read and engaging ways. The IMAX theater is a real treat thanks to comfortable seating, a large screen, and quality projection; we recently enjoyed a showing of Jean-Michel Cousteau's Secret Ocean, which mesmerized everyone in our group.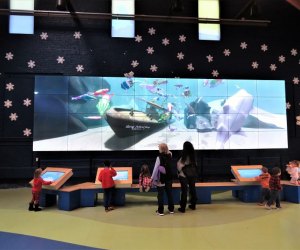 Don't leave the aquarium without digitally creating your own sea creature and setting it free in the virtual tank.
If watching sea life makes you hungry for some pizza, stop by the Cascade Cafe. The chicken fingers and onions rings are delicious, and you can also select sandwiches, fresh fruit, ice cream, or other snacks. Browsing the museum store is also worth it because of its selection of unique and educational toys, books, and accessories. Your child will probably cuddle a new stuffed animal friend on the way back to your car, and that's okay since all proceeds benefit the conservation work taking place here.
After a visit to the Norwalk Maritime Aquarium, you and the kids will probably watch Nemo and Dory, or the next episode of SpongeBob, with a newfound sense of respect and appreciation. Most importantly, you will think of the tiny sea horses, blue-blooded, ancient horseshoe crabs, and the amazing frogs when looking at the waves of Long Island Sound or your neighborhood pond.
The museum is open from 10 a.m. to 5 p.m.every day, except on Thanksgiving Day, Christmas Day, and in case of inclement weather. It is stroller and wheelchair-friendly, and parking is conveniently available (for an extra fee) in the Maritime Garage across the street. Tickets are $28.95 per adult, $19.95 for ages 3-12. A family membership is $190, and though the price is steep, it will definitely pay for itself for those families who live in the area and can visit more often.

You can easily spend a day here, but if you're driving from a distance, consider an overnight trip. Other child-friendly attractions in Norwalk are Stepping Stones Museum for Children, Lockwood Matthew Mansion, and Calf-Pasture Beach.
Photo credit: all photos are courtesy of the author.
Originally published 8/21/15.