100 Things To Do in Connecticut Before Kids Grow Up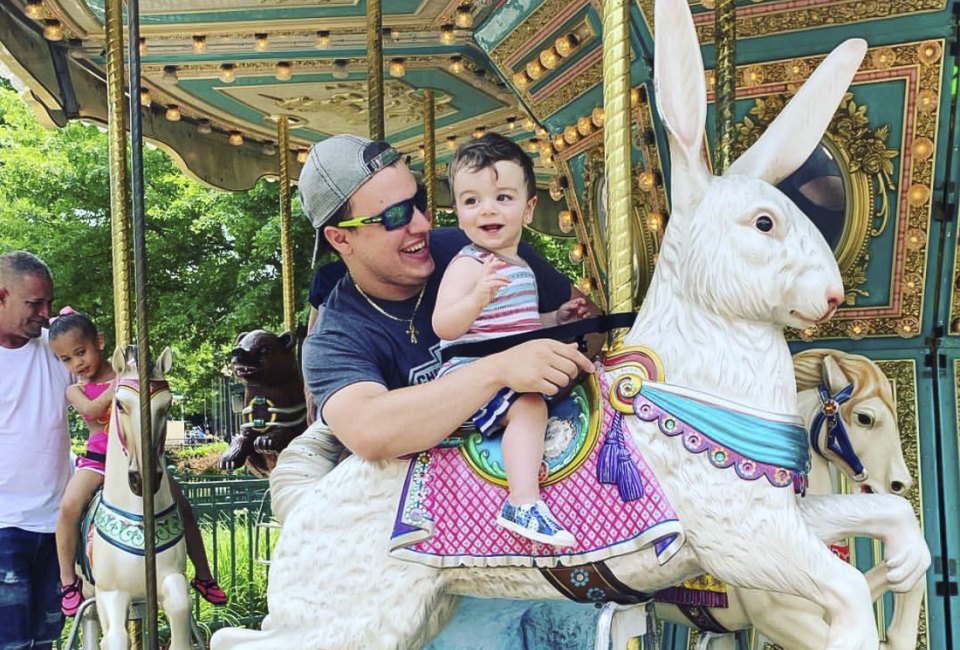 7/16/23
- By
Mary Beth Lawlor
With so many fun things to do in Connecticut, local kids are really lucky! And Moms and Dads will be pleased to find lots of kid-friendly museums, cultural centers, orchards, beaches, trains and lots of history. We've created a list of 100 things to do in Connecticut with kids before they grow up. Even if you do just one thing a month, you have years of ideas to work with! We hope this list inspires you to experience why Connecticut is a great place to raise kids.
And don't forget to check out our guides: museums, indoor play, daytrips, and more on our homepage. Enjoy, and have fun creating wonderful memories for you and your children!
3. Life is a Cabaret
Pack a lunch and head over to the Downtown Cabaret Theater to watch one of the Theater for Young Audiences performances.
4. Watch a Parade
Be a spectator at the annual Thanksgiving Parade in Stamford–complete with floats and enormous balloons.
5. Ride a Historical Train
Visit the Danbury Railway Museum, which offers history lessons, train rides (seasonal) and hands-on learning. Fun for train fanatics and their parents!
6. Find a Pumpkin and Some Cider Donuts
Autumn brings a lot of fun things, and definitely two of them are choosing a pumpkin and eating cider donuts.



Connecticut's top things to do with kids include some interesting hands-on experiences. Photo by Ally Noel
7. Beardsley Zoo
It's all happening at the zoo! Connecticut's only zoo is home to wolves, tigers, prairie dogs, and so much more. Don't forget to save time for a ride on the carousel.
8. Go Skating
Take the kids skating outdoors! When it gets colder, check in with some town recreation departments to learn when and where local ponds are open for skating or check out our own curated collection.
9. Go on a Train Ride
Take the train into NYC; the ride can be a treat for little ones! A tip: hop on at an end station like New Canaan where you'll have no problem getting a seat.
10. Visit with Reindeer
Check out the live reindeer (yes, you read correctly!) in December at Greenwich's Reindeer Festival.
11. The Bruce Museum
With the major renovations that took place 2022, the Bruce is better than ever.
12. Head to the Palace
Enjoy a kid-friendly concert or show at The Palace in Stamford.
13. Cruise the Sound
Head out in Long Island Sound on one of the Norwalk Maritime Aquarium's Spirit of the Sound cruises.
14. Visit the Toy Chest in New Canaan
A quaint, old fashioned toy store that stocks all the best goodies for kids!
15. Aldrich Museum
Tucked away on Main Street, the Aldrich Contemporary Museum of Art in Ridgefield offers a robust schedule of children's programming.
16. Stepping Stones Museum
Splash your day away while getting some hands-on learning at Stepping Stones Museum's popular Energy Lab exhibit.
17. Stamford Museum And Nature Center
From the cows on Heckscher Farm to giant blue slide at Nature's Playground, it's easy to spend a day at the Stamford Museum and Nature Center.
18. Stew Leonard's
A trip through Stew Leonard's in Norwalk provides more entertainment than your average grocery store. Slurp on a Stew Leonard's Milk Shake–you just can't go wrong with the chocolate.
19. Deborah Anne's Sweet Shoppe
Try some of the homemade chocolate and sweets at Deborah Annes. Also, amazing hot chocolate for the cold winter months!
20. Paddle a canoe
Canoe for an afternoon at Candlewood Lake.
21. Take a bike ride with the kids.
Take the kids biking (or skateboarding!) at one of these fun places.
22. Ride a Ferry
Hop on the ferry in Bridgeport and head over to Long Island—a beautiful way to see the sound!
23. Take a boat or kayak out with the family.
Kayaking is relatively easy for older kiddos. Some of these fun places have paddleboards too!
24. Jones Family Farms
From Christmas trees to blueberries, and everything in between, spend a day picking at Jones Family Farms.
25. Weir Farm National Historic Site
Did you know that Connecticut's only national park, Weir Farm, is also the only national park dedicated to American Impressionist Painting?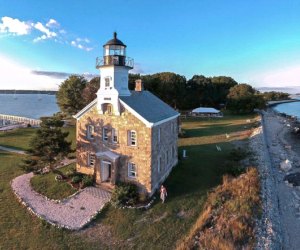 Explore Sheffield Island for a wonderful family excursion. Photo courtesy of the Sheffield Island Ferry Cruise
26. Sheffield Island Cruise
A 30-minute cruise from Norwalk Harbor will bring you to the historic Sheffield Island where you can picnic, explore a historic lighthouse, and search for shells along the rocky coast.
27. Indian Well State Park
On a hot day, dip your toes into the cool waters of the cascading waterfall in Indian Well State Park.
Things To Do in Connecticut with Kids - Hartford County
28. Visit the Roaring Brook Nature Center
Explore New England's woodland environment at Roaring Brook Nature Center.
29. Experience Autumn with the Southington Apple Harvest
Go on carnival rides, enjoy entertainment, and eat some delicious apple fritters at the Southington Apple Harvest.
30. Awe-mazing Hot Air Balloon Festival
Gaze in awe at the Hot Air Balloon Festival. Fireworks and hot air balloons grace the skies above Plainville once a year.
31. Take in a show at the Bushnell Memorial Theater
Dress up and enjoy a Broadway show at the Bushnell Memorial Theater. As a venue for a diverse assortment of productions, a night at the Bushnell leaves you singing in your seat with favorites for kids like Wicked, Frozen and Mrs. Doubtfire
32. Elizabeth Park, a Historical Garden
This gem of a park is tucked away in West Hartford. Enjoy movies, music, ballet, and smell the roses at Elizabeth Park.



Explore some wild exhibits while visiting the Connecticut Science Center. Photo courtesy of the Center
33. A Great Kid Destination: Connecticut Science Center
Indulge your sense of curiosity while exploring the different exhibits at the Connecticut Science Center.
34. Get Outside, Go Skiing
Have a family ski day without ever leaving the state. Nearby Mt.Southington is the perfect place to put some miles on those skis.
35. Ballard Institute and Museum of Puppetry
A one-of-a-kind place to go and see puppets and imaginative puppet shows, the Ballard has a regular calendar of events.
36. We Have Dinosaurs at the Dinosaur State Park
Dinosaurs once roamed this portion of Hartford County. Nowadays, you can learn all about prehistoric times at Dinosaur State Park.
37. Fun Toddler Programming at the Lutz Museum
Go to Lutz Museum to see Chuckles the groundhog's spring prediction.
38. The New England Carousel Museum
Take a look at restored carousel horses in Bristol at The New England Carousel Museum.
39. Pet Some Pigs at Flamig Farm
Pet the animals and learn all about the famous backward "eggs" sign the Flamig Farm.
40. Root for the Home Teams
Cheer on up-and-coming stars at one of CT's minor league baseball games! The Yard Goats have a packed schedule and several themed games as well.
41. See Soda Made at Avery's Soda Factory
Go for a tour of the factory and then make your own soda at Avery's.
42. New England Air Museum
Sit in the cockpit of an airplane at the New England Air Museum.
43. Lake Compounce
Ride the roller coasters at Lake Compounce in Bristol. Young and old alike can find rides they enjoy. In the warm weather, water rides are always a hit!
44. The Old State House
Stand on the very spot where Connecticut's democracy was born. Learn about the history of this great state at The Old State House.



Grab a tube and hit the Farmington River for family fun before the kids grow up! Photo by Ally Noel
45. A Must for Every Connecticut Kid: Tubing Down the Farmington
Adventure through three sets of rapids when you go tubing down the Farmington River.
46. Hit an Old-School Drive-In
Take a step back in time and catch a flick on a warm summer's night at one of Connecticut's classic drive-in movie theaters.
47. Ride the Historic Bushnell Park Carousel
This vintage carousel has called Bushnell Park home since 1914. Featuring 48 hand-carved horses, it delights both young and old riders.
48. Have Fun at the Old School Playground at Wickham Park
Excite all your senses at Wickham Park's Sensory Garden. Make sure you save time to explore one of the three playgrounds, nature center, and museum.
49. Talcott Mountain State Park
Enjoy the beautiful ​​hike up to Talcott Mountain State Park's Heublein Tower.
50. Brownstone Exploration & Discovery Park
Spend the day zip lining, wakeboarding, and cliff jumping at Brownstone Exploration & Discovery Park in Manchester, CT.
RELATED: Free Connecticut Museum Days
Things To Do in Connecticut with Kids - New Haven Area
51. Climb Castle Craig
Climb to the top of Castle Craig and enjoy spectacular views of the surrounding town of Meriden.



Make family trips to farms and orchards cherished childhood memories. Photo courtesyof Lyman Orchards
52. Pick Berries and Fruit, Shop the Market and Have Fun at Lyman Orchards
Check out Lyman Orchards' amazing apple picking, corn maze, and tons of festive fall fun!
53. Lighthouse Point Park
Whether you take a spin on the carousel or get festive for the holidays, spend some time at Lighthouse Point Park.
54. Take a Ride at the Railroad Museum of New England
Travel on a journey to Santa's Train Workshop courtesy of the Railroad Museum of New England. Santa boards and greets everyone during the hour-and-a-quarter ride on an antique coach. There is a festival of light display inside and outside the train.
55. Every Kids Has to Visit the Kid City Children's Museum
Bring your 1 to 8-year-old to Kid City Children's Museum in Middletown. Make sure you head to the basement and explore the Toddler Sea Caves—an area designed specifically for guests 2 and under.
56. Quassy Amuseument Park
Spend the day at Quassy Amusement Park, enjoying good old fashioned rides, a small water park, and a lake with a beach.
57. Powder Ridge Mountain Park and Resort
From mountain biking to skiing, you can get your adrenaline pumping at Powder Ridge year round.
58. Coastal Center at Milford Point
Get a birds' eye view of Long Island Sound at the Audbon's Coastal Center at Milford Point.



Head to Yale for art, culture, history, and some great photo ops. Photo courtesy of Yale University Art Gallery
59. Shubert Theater
See one of the children's productions at the famous Shubert Theater. In the 2023-2024 season, shows for kids include: Dinosaurs Live and Annie.
60. It Adventure Ropes Course
Challenge yourself and visit the world's largest indoor ropes course - IT.
61. Pizza! Apizza!
Enjoy a slice, or more, of New Haven's claim to culinary fame: pizza!
62. Book Cafes
Feed your mind at one of New Haven's Book Cafes. The Book Trader Cafe and Atticus Bookstore Cafe fill tummy and brain in one stop. Also, stop by RJ Julia's in Middletown for a great selection of children's books.
63. Sleeping Giant State Park
The one-and-a-half-mile trail in Sleeping Giant State Park offers stunning views of Long Island Sound and the New Haven area at the peak of Mt. Carmel.
64. International Festival of Arts and Ideas
There is nothing quite like New Haven's International Festival of Arts and Ideas. This annual festival is an explosion of creativity including performances, art shows, and so much more.
65. Go Rollerskating
Indulge your inner 90s kid by lacing up your skates and heading to Roller Magic in Waterbury.
66. Peabody Museum
Visit the historic and fascinating Peabody Museum which will re-open in early 2024.
67. Whitney's Ice Cream
Whitney's has been a family owned ice cream business in business for decades and has the most amazing, cold and creamy ice cream flavors.
68. Yale Art Gallery
Always free, walk the halls of one of the most prestigious art museums in the world.
Things To Do in Connecticut with Kids - Litchfield County
69. Institute of American Indian Studies
Experience a replicated Algonkian Village at the Institute of American Indian Studies.
70. Railroad Museum of New England
Relax and take a step back in time in a restored, vintage 1920s train coach while taking a scenic 20-mile round trip ride on the Naugatuck Railroad from Thomaston Railroad Museum of New England.
71. Kent Boarding School
Go for a mellow, scenic 10-mile family bike ride starting at the Kent Boarding School, winding along an Indian Reservation and the Appalachian Trail, before reaching Bulls Bridge, one of the few working covered bridges in CT. Check out the beautiful and powerful waterfall while there.
72. Angevine Farms
Find your pumpkin at Angevine Pumpkin Patch in Warren.
73. Warner Theater
Go see a show at the art deco Warner Theater in Torrington built in 1931.
74. Kent Coffee & Chocolate
Experience the history of American industry at the CT Antique Machinery Museum.
75. Jumpfest
Watch ski jumpers fly into the sky at the annual Salisbury Ski jumping event—Jumpfest!
76. Bank Street Movie Theater
Check out the latest movies at the Art Deco Bank Street movie theater in New Milford, and then take a walk across the street to great toy store PLAY.
77. Arethusa Dairy
Ice cream just tastes better when it comes from happy cows. On a Saturday afternoon go for a farm tour at the lovely Arethusa Dairy farm in Litchfield.



While they're still kids, show them some of nature's wonders. Photo courtesy of the White Memorial Nature Museum
78. White Memorial Nature Museum
See a live snake habitat and fluorescent rock cave in the children's room at White Memorial Nature Museum, and then take a hike along a boardwalk trail through a wetland environment.
79. Go Rafting
Spend the day rafting down the scenic Housatonic River with Clarke Outdoor River Guides.
80. See a Zebra at Action Wildlife
Go on a drive-through safari where you may drive your vehicle through a 50-acre fenced-in exotic wildlife park at Action Wildlife. Keep an eye out for zebras and buffalo.
81. See Sculpturedale
Explore 3 Acres of sculpture artwork by Dennis Curtiss.
82. For Something Different, Race Cars at Lime Rock Park
Picnic on a hillside while watching race cars speed by at Lime Rock Park, touted as "The Road Racing Center of the East."
83. Lake Waramaug
Rent a kayak or canoe and paddle around the scenic 680-acre Lake Waramaug.
83. Litchfield Jazz Festival
Head out to the Goshen Fairgrounds and listen to jazz during the Litchfield Jazz Festival.
84. Kent Falls State Park
Hike up to the top of Kent Falls. This beautiful waterfall is one of Connecticut's most famous landmarks.
85. Sloane-Stanley Museum
Visit a replica of a pioneer cabin as described by Eric Sloane in 1805 at the Sloane-Stanley Museum & Kent Iron Furnace.
86. Pratt Nature Center
Take your kids to splash in the East Aspetuck River at Pratt Nature Center in New Milford.
87. Mount Tom State Park
Hike up to the Lookout Tower and enjoy the view at Mount Tom State Park, and then jump in for a swim at the sandy beach on Lake Tom.
88. Waldingfield Farm
In the summer, check out the thousands of sunflowers at Waldingfield Farm in Washington.
89. Ellsworth Hill Orchard and Berry Farm
Pick your own strawberries and blueberries at Ellsworth Hill Orchard and Berry Farm in Sharon.
RELATED: Water Theme Parks in and Around Connecticut
Things To Do in Connecticut with Kids - Eastern Connecticut

Connecticut's top attractions feature some wild beauty. Mystic Aquarium Photo by Jocelyn Sherman Avidan
90. Mystic Aquarium
Visit Mystic Aquarium; it's fun anytime of the year. The sea lion show is particularly entertaining. While in the area make sure to hit up the fun shops in Olde Mistick Village.
91. Foxwoods Casino
Spend the day (or night!) at Foxwoods Casino. Indoor pools, fun restaurants like the Sugar Factory, shopping, arcade games, and more make this a perfect staycation destination.
92. Clyde's Cider Mill
Through late December, visit the oldest steam powered cider mill in the US, B.F. Clyde's Cider Mill in Mystic.



Get up close to a dinosaur! Photo courtesy of The Dinosaur Place
93. Dinosaur Place
See life-sized dinos, splash around in New England's largest splash pad, and dig for gold at the Dinosaur Place in Oakdale.
94. WNBA
Cheer at a Connecticut Sun's game; it's especially fun for little girls to see the women of the professional basketball league!
95. Groton Long Point
Visit the little beachside community of Groton Long Point and wander over to the "casino" (a penny candy store).
96. Essex Steam Train and Riverboat
All aboard! Join Thomas the Tank Engine or Santa on a festive ride on the Essex Steam Train & Riverboat.
97. White Sands in Connecticut! Ocean Beach Park
Visit Ocean Beach Park in New London on Friday nights for swimming, rides, and fireworks.
98. UCONN Campus
Pack a picnic basket and blanket and head for the beautiful hills of Storrs/Mansfield at the University of CT. Your family can park under a tree at Horsebarn Hill, then enjoy an ice cream cone at the renowned UConn Dairy Bar, run by the School of Agriculture.
99. Always Free, the Nautilus Submarine
The USS Nautilus was the world's first nuclear powered submarine. Visitors in Groton can take a tour of this impressive piece of naval history.
100. Mystic Seaport
Step back in time and explore the 17-acre open air museum at Mystic Seaport.
101. Mashantucket Pequot Museum and Research Center
Learn about Native American culture and natural history at the Mashantucket Pequot Museum and Research Center.
102. Fort Trumbull State Park
History buffs love exploring Fort Trumbull State Park's museum and visitor center. Watch history come to life through 3D models and displays explaining the fort's 225 year history.
Originally published January 2016; updated 2021, 2023

Sign up for the Mommy Poppins Newsletter today!
i