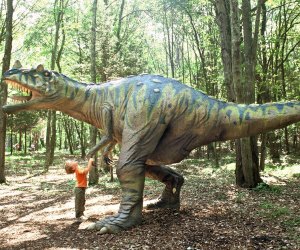 100 Things To Do With Kids in Connecticut Before They Grow Up
Raising children here comes with lots of perks—the Nutmeg State is packed with kid-friendly museums, cultural centers, orchards, beaches, and more. To help narrow down the options for family fun, we've created a list of 100 things to do with your Connecticut kids before they grow up. Even if you do just one thing a month, you have years of ideas to work with! We hope this list inspires you to experience all that Connecticut has to offer you and your family. And don't forget to check out our guides: museums, indoor play, daytrips, and more on our homepage. Enjoy, and have fun creating wonderful memories for you and your children.
How about a handy checklist to put on the 'fridge or family bulletin board? We've made a printable version of this list that features 50 of our fave Connecticut-based family activities.
1. Visit Mystic Aquarium; it's fun anytime of the year. The sea lion show is particularly entertaining. While in the area make sure to hit up the fun shops in Olde Mistick Village.
2. Experience a replicated Algonkian Village at the Institute of American Indian Studies.
3. Meet friendly costumed animal characters along the Enchanted Forest candlelit trail during this non-scary event at the Audubon Society in Sharon.
4. Relax, and take a step back in time in a restored vintage 1920s train coach while taking a scenic 20-mile round trip ride on the Naugatuck Railroad from Thomaston Railroad Museum of New England.
RELATED: Train Rides to Take with Your Connecticut Preschooler
5. Go see a show at the art deco Warner Theater in Torrington built in 1931.
6. Explore New England's woodland environment at Roaring Brook Nature Center.
7. Enjoy a concert at the Ridgefield Playhouse– check their website for a list of performers.
8. Climb to the top of Castle Craig.
9. Go for a mellow scenic 10 mile family bike ride starting at the Kent Boarding School, winding along an Indian Reservation and the Appalachian Trial before reaching Bulls Bridge, one of the few working covered bridges in CT. Check out the beautiful and powerful waterfall while there.
10. Find your pumpkin at Angevine Pumpkin Patch in Warren.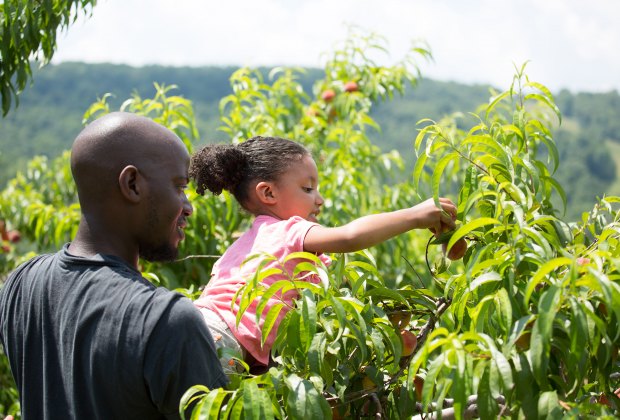 Pick your own apples. Photo courtesy of Lyman Orchards
11. Pick your own apples at Beardsley's Cider Mill and Orchard in Shelton, CT or one of these other great orchards.
RELATED: Connecticut Pick-Your-Own Produce and Farm Guide
12. See one of the amazing productions at the Bridgeport Theatre.
13. Be a spectator at the annual Thanksgiving Parade in Stamford – complete with floats and enormous balloons.
14. Spend the day playing in the Tree House Arcade while the parents win cash at Foxwoods Casino.
15. Visit the Danbury Railway Museum which offers history lessons, train rides (seasonal) and hands on learning. Fun for train fanatics and their parents!
16. Eat apple fritters at the Southington Apple Harvest.
17. Enjoy a hayride at Warrup's Farm in Redding.
18. Check out Lyman Orchard's amazing apple picking and corn maze.
19. Gaze in awe at the Hot Air Balloon Festival.
20. Dress up and enjoy a show at the Bushnell Memorial Theater.
21. Smell the roses at Elizabeth Park's rose garden.
22. Learn and play among the brightly colored interactive museum at KidsPlay in Torrington.
23. Let your imagination run wild at the Imagine Nation Museum.
24. Go to the Beardsley Zoo, CT's only zoo!
RELATED: Zoo Guide to Connecticut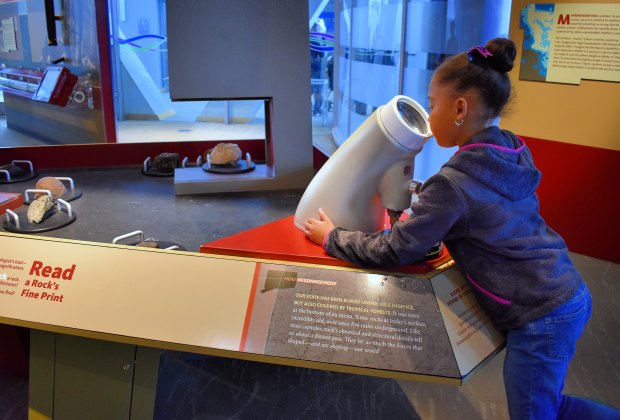 Looking at a rock under the microscope in the Planet Earth gallery. Photo courtesy of Connecticut Science Center
25. Check out a fun exhibit at the Connecticut Science Center.
26. Learn how maple syrup was discovered and see how it is made at one of CT's many sugarhouses.
27. Through late December, visit the oldest steam powered cider mill in the US, B.F. Clyde's Cider Mill in Mystic.
28. Take the kids skating outdoors! When it gets colder, check in with some town recreation departments to learn when and where local ponds are open for skating: until then, head on over to Wesport's outdoor P.A.L. rink.
29. Ski the slopes at Mt. Southington.
RELATED: 10 Family-Friendly Ski Resorts in or Near Connecticut
30. Become mesmerized by the beauty of Fantasia's Christmas Light show.
31. Travel on a journey to Santa's Train Workshop courtesy of the Railroad Museum of New England: Santa will board and greet everyone during your hour and quarter ride on an antique coach. There is a festival of light displays inside and outside the train.
32. Go see The Christmas Carol or another great show at the Hartford Stage.
33. Learn about prehistoric times at Dinosaur State Park.
34. Take the train into NYC: The ride can be a treat for little ones! A tip – hop on at an "end" station like New Canaan where you'll have no problem getting a seat.
35. Go to Lutz Museum to see Chuckles the groundhog's spring prediction.
36. Get hot cocoa and a salted chocolate caramel at Kent Coffee and Chocolate in Kent.
37. Watch ski jumpers fly into the sky at the annual Salisbury Ski jumping event.
38. Check out the live reindeer (yes, you read correctly!) in December at Greenwich's McArdle's Florist and Garden Center.
39. Visit a Neopolitan Creche that was made in 1720 at the The Abbey of Regina Laudis in Bethlehem.
40. Take a look at restored carousel horses in Bristol at the The New England Carousel Museum.
41. Enjoy a kid-friendly concert or show at The Palace in Stamford.
42. Check out the latest movies at the Art Deco Bank Street movie theater in New Milford and then take a walk across the street to a great toy store - PLAY.
43. Bundle up and get outside for Northwest Park's annual Cabin Fever Festival.
44. Take your kids to a yoga class.
45. Dig for gold at the Dinosaur Place in Oakdale and learn lots about our extinct friends.
46. Visit 21 different birds of prey at Audubon Sharons' Raptor Center including a bald eagle and great horned owl.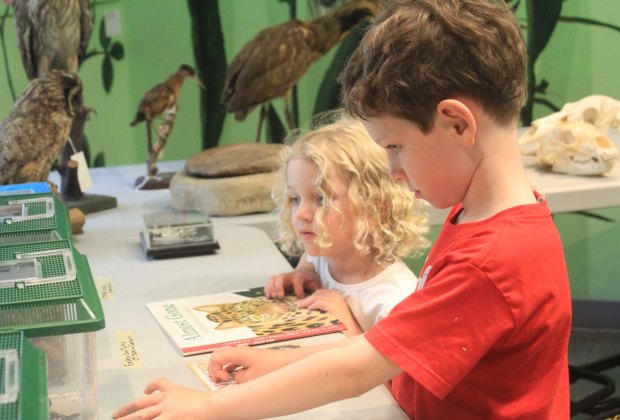 Art and science come to play at the Bruce. Photo courtesy of The Bruce Museum
47. Visit the Bruce Museum in Greenwich, CT.
RELATED: Free Connecticut Museum Days
48. Pet the animals at the Flamig Farm.
49. Cheer on up-and-coming stars at a minor league baseball game! The Bees play in New Britain, and the Yard Goats play in Hartford.
50. Visit a model solar system that scans six miles built to scale at the John J. McCarthy Observatory in New Milford.
51. Go for a tour of the factory and then make your own soda at Avery's.
52. Go geocaching at the Little Pond Loop Trail at White Memorial Nature Center.
53. Head out in Long Island Sound on one of the Norwalk Maritime Aquarium's Spirit of the Sound cruises.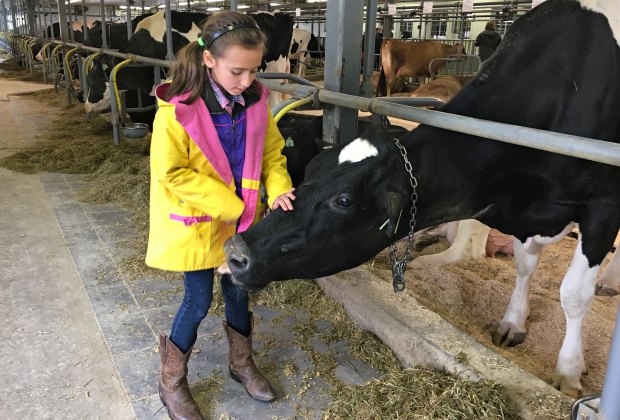 Arethusa Farm. Photo by Elizabeth G. Howard
54. On a Saturday afternoon go for a farm tour at the lovely Arethusa Dairy farm in Litchfield.
55. Sit in the cockpit of an airplane at the New England Air Museum.
56. Go on a tour of renowned architect Philip Johnson's famed Glass House in New Canaan.
57. Visit the Aldrich Contemporary Museum of Art in Ridgefield.
58. Walk a seven-circuit labyrinth at the Wisdom House in Litchfield.
59. Go see a Connecticut Sun's game - it's especially fun for little girls to see the women of the professional basketball league!
60. See a live snake habitat and fluorescent rock cave in the children's room at White Memorial Nature Museum and then take a hike along a boardwalk trail though a wetland environment.
61. For children under 10, go to Stepping Stones Museum in Norwalk.
62. Ride the roller coasters at Lake Compounce in Bristol. Young and old alike will find rides they enjoy. In the warm weather, water rides are always a hit!
63. Bring your 1 to 8 year old to Kid City Children's Museum in Middletown.
64. Attend the Annual Dogwood Festival in Fairfield.
65. Spend the day at the Stamford Museum and Nature Center.
66. Visit more than 50 Alpacas and their new babies in July at Southwind Farms in Watertown during the Daylily Alpaca Fest.
67. Spend the day rafting down the scenic Housatonic River with Clarke Outdoor River Guides.
68. Go on a drive-through safari where you may drive your vehicle through a 50 acre fenced in exotic wildlife park at Action Wildlife. Keep an eye out for zebras and buffalos.
69. Learn about the history of this great state at The Old State House.
70. Go on horseback trail ride or pony ride at Lee's Riding Stables in Litchfield.
71. Go tubing down the Farmington River.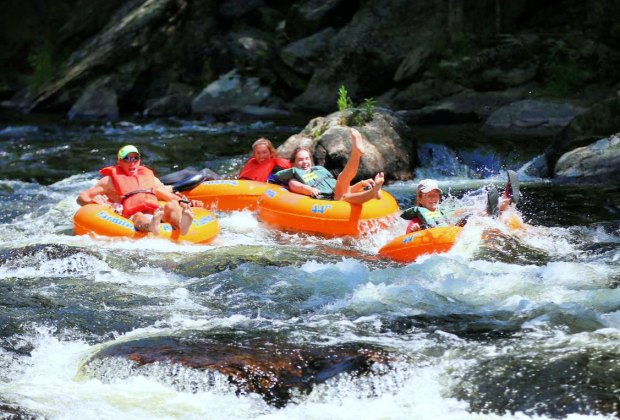 Photo courtesy of Farmington River Tubing
72. Picnic on a hillside while watching race cars speed by at Lime Rock Park; touted as "The Road Racing Center of the East".
73. Slurp on a Stew Leonard's Milk Shake – you just can't go wrong with the chocolate…
74. Rent a kayak or canoe and paddle around the scenic 680 acre Lake Waramaug.
75. Head out to the Goshen Fairgrounds and listen to Jazz during the Litchfield Jazz Festival.
76. Hike up to the top of Kent Falls and swim at the top.
77.Visit a replica of a pioneer cabin as described by Eric Sloane in 1805 at the Sloane-Stanley Museum & Kent Iron Furnace.
78.Take a ride on a vintage 1927 wooden roller coaster at Lake Compounce, the nation's oldest, continuously operating amusement park.
79.Take your kids to splash in the East Aspetuck River at Pratt Nature Center in New Milford.
80.Hike up to the Lookout Tower and enjoy the view at Mount Tom State Park and then jump in for a swim at the sandy beach on Lake Tom.
81. Catch a flick on a warm summer's night at the Southington Drive-In.
82.Check out the thousands of sunflowers at Waldingfield Farm in Washington.
83. Pick your own strawberries and blueberries at Ellsworth Hill Orchard and Berry Farm in Sharon.
84. Enjoy a summer evening concert in Ridgefield's Ballard Park.
85. Ride the carousel at Bushnell Park.
86 Enjoy a lobster roll at Knapps Landing in Stratford (bring extra napkins)!
87. Canoe for an afternoon at Candlewood Lake.
88. Excite all your senses at Wickham Parks Sensory Garden.
89 Take in a polo match at the Greenwich Polo club…really!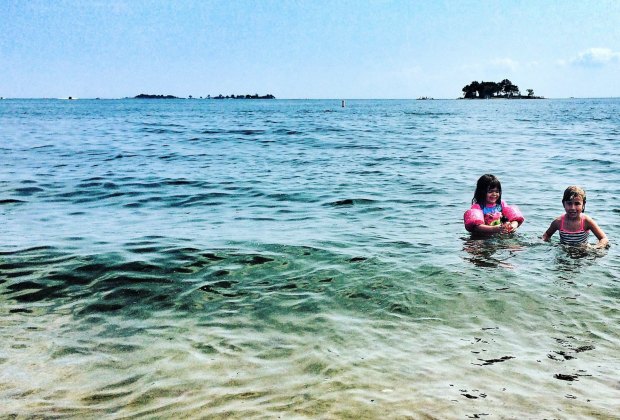 Groton Long Point. Photo by Ally Noel
90. Visit the little beachside community of Groton Long Point and wander over to their "casino" (a penny candy store).
91 Hop on the ferry in Bridgeport and head over to Long Island...a beautiful way to see the sound!
92. Hike around Talcott Mountain State Park.
93. Join Thomas the Tank Engine or Santa on a festive ride on the Essex Steam Train & Riverboat.
94. Spend the weekend going to Family Camp at Club Getaway.
95. Visit Ocean Beach Park in New London on Friday nights for swimming, rides and fireworks.
96. Spend the day ziplining, wake boarding and cliff jumping at Brownstone Exploration & Discovery Park in Manchester, CT.
97. Pack a picnic basket and blanket and head for the beautiful hills of Storrs/Mansfield at the University of CT. Park your family under a tree at Horsebarn Hill, then enjoy an ice cream cone at the renowned UConn Dairy Bar, run by the School of Agriculture.
98. Wednesdays are Free Children's Concert Series nights at the Levitt Pavilion.
99. Take a tour of the Nautilus Submarine in Groton.
100. Spend the day at Quassy Amusement Park. You'll enjoy good old fashioned rides, a small water park and a lake with a beach.
RELATED: Water Theme Parks in and Around Connecticut
Originally published January 2016