Day Trip to UConn Storrs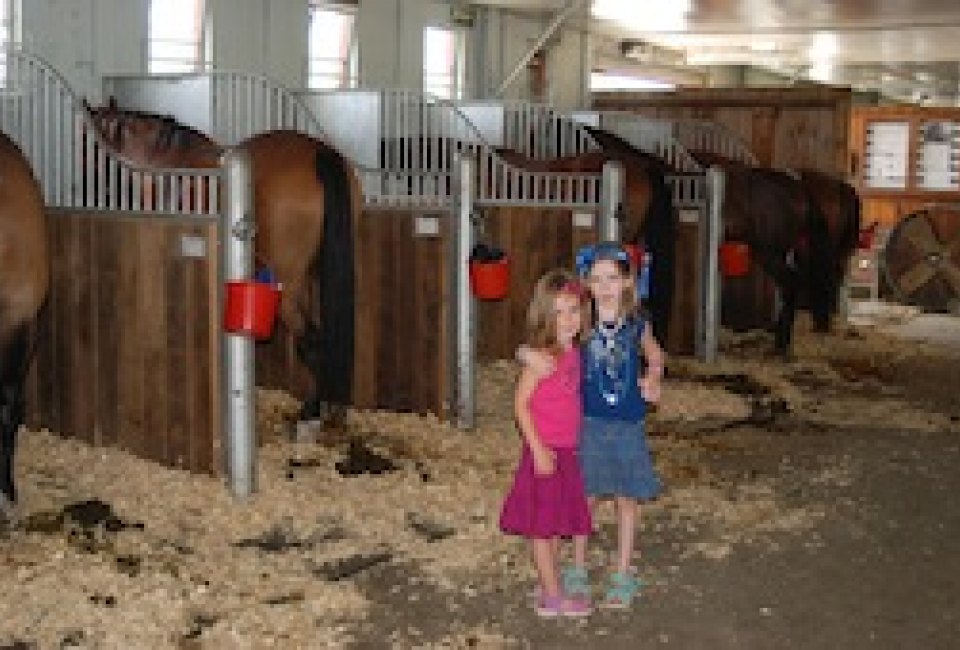 8/15/14
- By
Erin McNamee
More years ago than I'd like to mention, I attended the University of Connecticut at Storrs. My four years there were full of all of the learning, new experiences, and fun that I imagined as a prospective undergrad. Only after having children, however, did I realize that UConn, in particular its animal barns and horse facilities, could be a great resource for area families as well. This August I decided to take a family trip back to my alma mater and discovered that there is plenty of good, clean, family fun to be had there.
The main attraction for families of young children is UConn's fabulous animal science program, which welcomes visitors. The animal barns, located on Horsebarn Hill Road, are open to the public to explore through self-guided tours. Horsebarn Hill Road is essentially a big U that you enter from the left just after passing through the university's main entrance on route 195. As you follow the road, you will be guided past the various animal facilities. At the end of the road, a quick jog to the right (onto Horsebarn Hill Road Extension) brings you to the UConn Dairy Bar. Visitors can park at the Kellogg Dairy Center, Lorentzon Stables, and Dairy Bar. Public restrooms are available at the Dairy Center, Horsebarn Hill Arena, and Dairy Bar.
I had forgotten how beautiful this area is -- streams and rolling hills surrounded by open pastures where cows and horses graze. First we reached the Kellogg Dairy Center. According to the university web site, visitors can observe the cows being milked here daily from 1-4. Further along the road we passed sheep, dairy cows, and beef cows. Next we came to the horse paddocks where the foals born in the spring were kept with their mothers. There were several shaded picnic tables here, the perfect place to have a snack. During our quick rest we watched some of the horses run while a mother horse nursed her foal.
Beyond the paddocks is the main equine facility, which is always open for visitors to walk through. It houses a herd of 85 horses, mostly Thoroughbreds, Quarter Horses, and Morgans, which are bred at the university. The horses are used for teaching, research, equitation, and community programs. When we walked in, numerous horses were lined up eating. Beyond them we passed stall after stall of horses -- my kids had fun reading their names and noting which horses had won show ribbons, which were hung on outside their stall doors. As luck would have it, we visited on the day of the UConn Summer Riding Schooling Show so we were able to duck into Horsebarn Hill Arena, where UConn's national championship Polo Team practices and hosts events, to watch the last classes jump.
No trip to the animal science area would be complete without a trip to the famous UConn Dairy Bar. What used to be a small, industrial space has been expanded into a full-fledged ice cream shop, with plenty of tables, stools, and a flat-screen television on the wall. Custom-made ice cream cakes are available there with 48 hours notice. Farm fresh cheese, eggs, and cultured yogurt are also sold. The kid-sized cones were more than generous and, at $1.98 a cone, a fantastic deal. All of the ice cream sold in the Dairy Bar is produced in the UConn Creamery with fresh milk from the Dairy Center. It was a fitting and delicious end to our tour!
UConn Animal Barns
Located along Horsebarn Hill Rd., Mansfield 06269
Open daily, including weekends and holidays, from 10 a.m.-4 p.m.
UConn Dairy Bar
3636 Horsebarn Hill Rd. Extension, Mansfield 06269
(860) 486-2634
Sunday - Thursday 11 a.m.-7 pm; Friday - Saturday 11 a.m.-10 p.m.
Summer Hours (Memorial Day - Labor Day): 11 a.m.-10 p.m. Every Day
Places featured in this article:
---
UConn Animal Barns
---
UConn Dairy Bar

Sign up for our free
newsletters.
Mommy Poppins is a family activity website that helps people find things to do with kids.
©
2023
MommyPoppins. All Rights Reserved.
mp-prod4-v4.32.99
We use cookies and other data collection technologies to provide the best experience for our customers.
Learn More
Sign up for the Mommy Poppins Newsletter today!