Fun Places in Connecticut Where Tweens and Teens Can Hang Out Indoors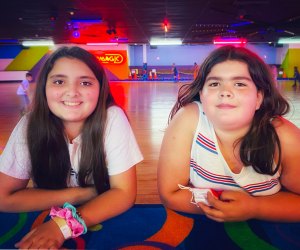 2/17/23
- By
Ally Noel
You weren't always looking for fun indoor places where your kids could hang out. It's like you blink, and one day you have a teenager. Although there is always time for family time, sometimes teens and tweens need a little bit of freedom, and these spots are sure to do the trick. With a little spending money and a group of friends, these spots are Mommy Poppins-tested and teenager-approved! From Stamford to New Haven, and Hartford to Norwalk, there are a lot of family-friendly options for Connecticut families. But these spots truly go above and beyond to offer a little something extra for teens—even if it's just a good photo op.
Connecticut has so many fun indoor places to enjoy with the family. When it's a special celebration, regardless of the season, these fun indoor birthday party places for kids in Connecticut make a memorable day. And you can stretch those entertainment dollars with free museums in Connecticut to visit with kids.
Fun Indoor Places in Connecticut for Teens and Tweens: Arcades, Go Karts, Roller Rinks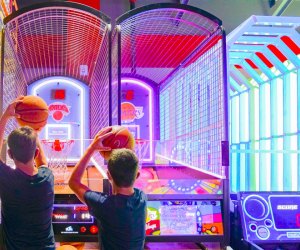 Arcades and other fun indoor places let Connecticut teens get their game on. Photo courtesy of RPM Raceway
Connecticut's first RPM Raceway location doesn't limit the fun to just go-karts. This spot has it all! It has a bowling alley, arcade, a full-service restaurant, virtual reality simulators, and so much more.
2. Nomads- South Windsor
Nomads is a huge indoor entertainment facility featuring 65,000 square feet of fun. A huge bonus: there is no entrance fee, so you pay only for activities that you want to do. And there is a ton to pick from! VR, laser tag, bowling, black light mini golf, rock climbing, and more.
Supercharged is home to the WORLD'S LARGEST multi-level indoor karting track. But, that's not all! There are trampolines, axe-throwing, video games, a ninja course, and brick oven pizza—yum!
The Sports Center of Connecticut has both indoor and outdoor options to keep your teens entertained all year long. Check out their indoor arcade, bowling, laser tag, target paintball, ice skating. In nice weather, head outdoors to the batting cages and mini golf.

Food and fun await Connecticut teens and tweens at these indoor spots. Photo by Ally Noel
The music, the disco ball, the slurpee machine—there is something so nostalgic about a roller rink. Gliding across the shiny floors of Rollermagic is still the perfect way to spend a Friday night with your friends.
To find even more arcades, go-karts, and indoor fun near you, check out our Indoor Fun Guide.
Fun Indoor Places in Connecticut for Teens and Tweens: Coffee Shops and Restaurants
6. The Place 2 Be - West Hartford, Hartford, New Haven
The Place 2 Be is, well, THE place to be. This Connecticut spot whips up brunch like no other. S'more pancakes, fried chicken sandwiches, and a drink menu that is almost too good to believe. Bonus Points: almost everything on their cocktail menu can be turned into a teen-friendly mocktail.
A fun mix of paninis, waffles, wraps, and Middle Eastern fusion cuisine, the food at this spot is almost too pretty to eat. Pistachio also has an eclectic mix of coffee beverages, teas, lattes, hot chocolates, and just about anything else.

Let your teens stage their skills at an open mic night in CT! Photo courtesy of Nightingale's Acoustic Cafe
This lovely cafe is home of weekly open mic nights for tweens, teens, and adults. The third Saturday of every month is reserved for Coffee House Sessions, where you can enjoy music by local Connecticut artists.
It's always a party at Elm Street Diner. Their social media superstars items include PB&J pancakes, cereal bowl French toast, bacon mac & cheese curly fries, and lots more. Of course, end the meal with a famous milkshake!

Tween- and teen-friendly restaurants make great indoor spaces to hang out. Photo courtesy of The Loaded Goat
The Loaded Goat prides itself on being "the spot for bringing local people together" A fun menu is filled with hot drinks and cool treats the perfect combination. Tables, cozy couches, and a selection of games make this the perfect spot to hang out.
This bubble tea/crepe shop is located in the heart of Norwalk's Wall Street neighborhood. The menu is broken down to three categories: bubble teas, sweet crepes, and mochi ice cream. With a wide selection of flavors, it may be hard to pick a favorite.
Fun Indoor Places in Connecticut for Teens and Tweens: Malls & Shopping Centers
With tons of places to shop til you drop, you can easily do some damage to your wallet at the Shops at Evergreen Walk. Scout & Molly's, Shake Shack, Sephora, and Dude's Donuts are some of our favorite spots to hit.
Connecticut's newest mall is filled with a ton of entertainment options. In addition to shops, the SoNo Collection is also home to Pinstripes Bowling and Bocce, Galaxy VR, and a steady rotation of live entertainment events.

Teens and Tweens can explore their creative side in these fun indoor spaces. Photo courtesy of Muse Paint Bar at Blue Back Square
There is always something going on at Blue Back Square. From fire dancers to Community Days, movie theaters, instagrammable murals, and (of course) tons of shopping and dining. You can definitely spend some time walking around Connecticut's premier dining and shopping destination.
The Shops at Yale are a fun mix of popular stores and local boutique shops. There are also tons of cafes, restaurants, and attractions to explore, all located throughout historic downtown New Haven.
Fun Indoor Places in Connecticut for Teens and Tweens: Libraries with Teen Programs
With programs like DIY Phone Grips, Post It Note Art, and origami workshops, its easy to see why the Wilton Public Library is popular with young adults.

Events like the Maker's Corner at the C.H. Booth Library are worth the visit. Photo courtesy of the Library
Play video games and board games—​or rumble with robots—​at the C.H. Booth Library. The calendar is packed with a wide variety of learning and volunteering activities.
The library's Teen Haven hosts game nights, make and takes, and a pretty popular Dungeons and Dragons club.
The teens and tweens department is geared to grades 6-12 and offers a great collection of books, graphic novels, and programming. All the programs are free of charge, and include any materials you may need.
Fun Outdoor Places: Seasonal Spots (For When You've Had Enough Time Indoors!)
Grab a bite to eat at the snack bar, play some skeeball and video games in the arcade, and try your hand at the 18 hole miniature golf course. Take a dip in the Olympic-size swimming pool or splash around in Long Island Sound. There are a ton of ways to spend the day at Ocean Beach Park. Make sure to check out the event calendar for live music and special event nights.
This trip is fun–jaw-dropping, heart-racing, adrenaline-pumping fun! This is not your leisurely float down the river. A trip down the Farmington River has enough rocks and rapids to keep adrenaline seekers happily entertained.
This is a water adventure park like no other, located in an old quarry. Spend the day on ziplines and trampolines. Explore rock climbing, wakeboarding, scuba diving, and much more.
Powder Ridge is a year round destination. In the winter, you can ski, snow tube, snow bike, or board. Summertime means, tubing, mountain biking, and zip-lining. Add a jam packed entertainment schedule and a yummy restaurant, and it's basically a teenage dream come true.