Most Spectacular Christmas and Holiday Light Displays in Westchester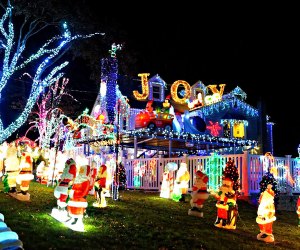 Looking for the best Christmas light displays in and near Westchester? Read on for our top picks.
Families all over Westchester and the Hudson Valley are decking their halls—and their houses—with holiday decorations. And while you can drive through almost any neighborhood and spot pretty Christmas lights and festive inflatables, certain houses merit a visit all their own.
We've rounded up several of our favorite local Christmas light displays for 2022, perfect for getting your crew into the holiday spirit. While most of these displays are of the homegrown variety, you can find plenty of spectacular professional displays in the tristate area, too.
If you're looking for even more holiday happenings, check out our events calendar and our Holiday Fun Guide to hear about all the fun as soon as we do.
Christmas Light Displays Near Westchester in 2022
16 Luigi Road
The Keeler family spends months gearing up for its annual Christmas lights display, and the results are spectacular. There are nearly 1 million lights in this glittering display just north of the Westchester border in Putnam County, which has been going strong for 5 years. Visitors can get in on the action by dropping letters to Santa on the property or ordering specially-made shirts for $15 each. "This year our shirts say, 'Let's get lit,'" the family writes on their Facebook page. The lights are turned on every night from 6pm-10pm—with the hours extended until 11pm during Christmas week—through the beginning of January. Note: While there, if you have to turn your car around, they ask that you do so at the end of the road and not in the driveway.
RELATED: Must-Do Christmas Events and Holiday Experiences for Westchester Kids

The Staples family in Ossining is again decking out its house for the holidays.
12 Jenkins Court
The Staples family is again decking its house for the holidays with lots of lights, snowflakes, and more. Turn your car radio to 90.5 FM to check out the awesome synced-to-music display, and be sure to go to the Facebook page, where the family shares lots of fun content. (While they typically kick off the display right after Thanksgiving, they expect to be delayed until December 3 this year, so be sure to follow their social media posts to stay in the know!) Pull over to listen and watch the show, which runs from 4:30pm-9pm through Jan. 6—but be sure to keep the driveways clear and the noise down.
50 Parsons Street
Looking for a little Christmas nostalgia? This long-running display in Harrison has lots of antique pieces. Owner Roy Aletti has been decking out his house for more than 40 years. This video has a preview of what you'll find.
96 Hill Street​
This display is celebrating its 27th year. Located just a few quick turns off I-95, you'll find dazzling wreaths, decked-out trees, and lots of figurines, like Santa, teddy bears, and even Winnie the Pooh.
RELATED: Holiday Light Shows: Drive-Thru Christmas Lights Near NYC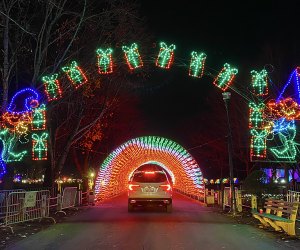 Westchester's Winter Wonderland is a drive-thru experience with thousands of lights. Photo by the author
Kensico Dam Plaza
Holiday-light aficionados (and the cold averse) will appreciate this now-beloved tradition, which features the chance to drive through more than a mile of lights. Special features include the debut of a North Pole and Santa set-up. Admission is $25 (off-peak) or $35 (peak) per car and the display is open most days throughout the holiday season. Check out our full write-up for more on what to expect.
Unless noted, photos courtesy of the families/houses
A version of this post was first published in 2017 and was updated in 2022.