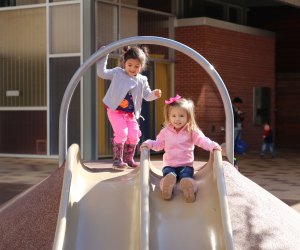 20 Things To Do in Downtown Houston With Kids
Houston is the largest city in Texas, so it's no surprise downtown is jam-packed with fantastic things to do as a family or with your kids - from the award-winning museum district to delicious local eateries. Here are some our favorite things to do with kids in Downtown Houston; we think you'll love them, too!
1. Stroll around Discovery Green and eat lunch at Phoenicia. There is always something going on at Discovery Green. From the awesome splash pad to Toddler Tuesdays, you can entertain your kids for hours. Once you've walked around and enjoyed the playground, head over to Phoenicia for any of their delicious sandwiches or read to eat meals.
2. Walk underground and explore the more than six miles of shopping and eating inside the Downtown Tunnels. You can find many restaurants and retails to entertain you for hours, but note that right at noon it gets pretty crowded with the office lunch crowds.
OUR LATEST VIDEOS
3. Ride the Metro Light Rail to the museums (or the Houston Livestock Show and Rodeo). Park at any designated park and ride along the route and enjoy the ride from Downtown to the Museum District, Midtown, Medical Center and even NRG Stadium for Texans game night or Houston Livestock Show and Rodeo fun.
4. Take the entire family to a Free Family Movie Night at Miller Outdoor Theatre. Springtime is the perfect time to enjoy the fresh air and cool nights outdoors. Bring your lawn chairs or blankets with the entire family to enjoy a fun movie night out.
5. Visit the Downtown Aquarium and ride the Diving Bell Ferris Wheel for a nice view of the downtown skyline. Not only is the aquarium a fun place to visit, but they also have delicious food. The restaurant inside has a one-of-a-kind enormous aquarium right in the middle of the restaurant. No matter where you sit down, you'll have a pretty awesome view of all the sea animals protected in the aquarium.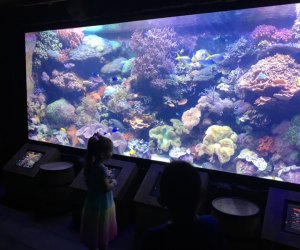 Exploring the exhibits at the Downtown Aquarium
6. Stroll around Settegast Park and have yummy Tex-Mex at The Original Ninfa's on Navigation. With a big playground, splash pad and many fun play areas, Settegast Park is a great destination for kids of all ages. After a fun morning at the park, head over to Ninfa's for some delicious and authentic Tex-Mex food the entire family will definitely enjoy.
7. Who doesn't love baseball? Houstonians definitely do and we are all big fans of our 2017 World Series Champions, the Houston Astros. Some baseball games can be long and finish late at night, but there are several events that happen prior to the games that are geared towards kids and also some summer games happen on Saturdays early afternoon. Be sure to check the Astros schedule to catch an afternoon game.
8. If you want picture perfect views of the Downtown Skyline while your kids have fun, head over to Buffalo Bayou and stroll down to the Barbara Fish Daniel Play Area. Let the kids play in the sand playground, go down the slide, and adventure out to the many other fun activities around there. This will definitely last a few hours, so bring a bagged lunch or snacks to enjoy under the covered tables at the park.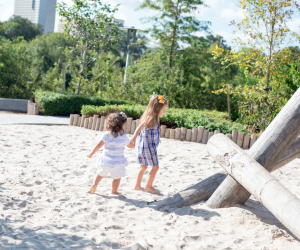 Playing in the Barbara Fish Daniel Nature Play Area
9. Spend the afternoon with the family at 8th Wonder Brewery and catch a Dynamo Game. Houston is full of micro-breweries all over town. And of course one of them is located in the heart of Downtown. Check out 8th Wonder Brewery (yes, with the kids) and if you have big soccer fans, try catching a Dynamo game a few blocks down at the BBVA Compass Bank Stadium.
10. Check out story time at the Houston Central Library. This library is full of fun activities for the kids daily, including story-time and other activities to get their curiosity going.
11. Run around Sam Houston Park and have lunch (or early dinner) at Benihana's Downtown. Sam Houston Park is one of the most historic parks Downtown. Enjoy the Victorian style landscape and bridges, while surrounded by modern buildings. Head to Benihana's to enjoy a fun cooking show and delicious food at their teppanyaki-style tables where they cook your meal right in front of you for the entire family to enjoy.
12. Park your car at The Dunlavy and have a delicious brunch at The Kitchen. Take your strollers in order to walk off your meal and enjoy the beautiful landscaping along Allen Parkway on the Buffalo Bayou. And if it's springtime, make sure to look out for bluebonnets for that picture perfect moment. If in the evening time, stop at the Waugh Bridge to observe the bats that come out at night to stretch their wings and look for food (don't worry, they only eat insects).
13. Enjoy a yummy Greek lunch outdoors at Niko Niko's in Market Square Park and catch a show of The Houston Ballet. The historic market square is a beautiful space to just relax and take a break from the hustle and bustle of city living.
14. Park around the Hobby Center and walk over to City Hall Farmer's Market for fresh lunch and farm-fresh produce. This once a week farmer's market features many vendors with fresh fruits and vegetables, cheeses, breads, coffee and much more.
15. Have a picnic lunch or grab a bite from a food stand at Midtown Park. Midtown Houston is overflowing with up and coming restaurants and bars, but don't forget to check out their pretty cool park in the middle of everything. Surrounded by lots of delicious restaurants and food stands, Midtown Park is definitely an option to take the kids and watch them have fun while you sit and relax for a little while.
16. Play some fun games outdoors at Axelrad Beer Garden while enjoying a refreshing beer and some pizza from Luigi's Pizzeria. If you are in Midtown, head to Axelrad where they have a great outdoor area where you can play lots of fun games for the kids (and adults), and don't worry if you have picky eaters, you can grab a quick pie next door at Luigi's and bring it back to the patio to enjoy.
17. Not exactly Downtown Houston, but definitely worth a visit is the Children's Museum of Houston. With over 90,000 square feet of kid-geared fun, you (and your kid) are going to have lots of fun at the CMH at all their awesome exhibits. Visit the Tot Spot if you have kids under 2-years-old.
18. But don't forget The Houston Museum of Natural Science too. If you have a dinosaur fan, you definitely don't want to miss this museum. Make sure to make some time to also visit the Cockrell Butterfly Center. Some of the other permanent exhibits include dinosaurs, a space museum, geology, biology, petroleum science, technology, and geography exhibits.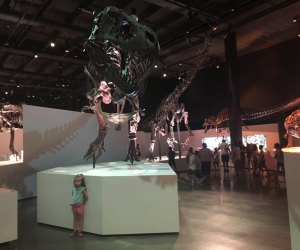 So many dinosaurs to see at the Houston Museum of Natural Science
19. Another popular museum is the Museum of Fine Arts Houston. The museum features very cool temporary exhibitions plus lots of weekly activities for kids of all ages to explore their sense of creativity and explore their curiosity.
20. And last but most definitely not least, The Houston Zoo and surrounding areas are magnificent and must not be missed. Stroll around the McGovern Centennial Gardens in Hermann Park. Have a snack at Pinewood Cafe by the lake, feed the ducks, and ride the train. The kids will love everything about the Houston Zoo, the second most visited zoo in the United States which houses over 6,000 animals inside its 55-acre park.
Top photo: Sliding down the play area at Discovery Green
All photos by the author