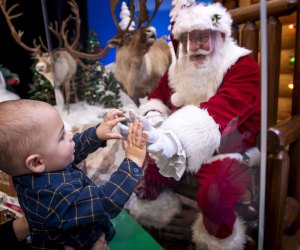 Safer Santa Claus Visits for Houston Kids for Christmas 2020
While sitting in Santa's lap for the quintessential Santa Claus photo (which is usually made complete with a screaming child!) may not be on the list this year, in true 2020 form Santa has found a way to weave his holiday magic in a safe, socially distant way.
Malls, venues, and local holiday events have put a creative twist on the traditional photo and visit experience by installing plexiglass; requiring reservations, masks, and temperature checks; keeping everyone at a safe distance, and more, so you can still enjoy seeing Santa and snapping a photo with him. Many places have even included virtual Santa options for those not wanting to leave their homes. ​Don't forget to check out our holiday guide for even more holiday experiences.
But for handing in that holiday list in person, here is where you can find Santa Claus this year in Houston.
Due to concerns about COVID-19, we recommend following all of the health and safety precautions in place, as mandated by the CDC. This includes social distancing, wearing a mask, frequently washing hands and/or using hand santizer, and staying home if you're feeling under the weather. We want this to be a safe, happy holiday season as we navigate this difficult time.
This post is updated periodically.