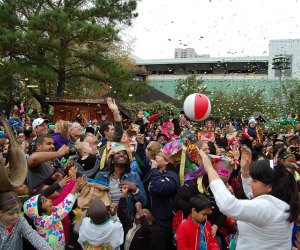 30 Things to Do with Houston Kids Over Christmas Break
As parents, it's safe to say that we all have the best intentions of organizing the most creative, Pinterest-worthy crafts and activities for our kids during school breaks. Making those activities come to fruition, however, isn't always as easily executed. This winter break, instead of setting lofty goals that never get met, fall back on our holiday guide for events and things to do during the season, and read our other posts for fun things to do on Christmas Day and Christmas Eve. Below, you'll find 30 things to do you and the kids will love and that, more importantly, get you out of the house!
1. Look at the best Christmas lights Houstonians have to offer, like Prestonwood Forest's Nite of Lights where you can judge the best displays.
2. And if neighborhood lights are too low-key for your taste, check out one of these public light displays where you'll find millions of dazzling scenes you can walk around, under, and even interact with.
3. Spend some time giving back to the community by taking advantage of one of the many holiday volunteering opportunities available.
4. Take a hayride through College Station's famous Santa's Wonderland.
5. Take a ride on the Alvin Christmas Train where you'll get to see 300,000 lights and hundreds of holiday decorations! There is hot chocolate and other refreshments available for purchase.
6. It's not too late to squeeze in a performance of The Nutcracker Ballet or one of these other holiday shows and musicals.
7. Go ice skating at an indoor rink around town, or if you're into this whole kind-of-cold weather thing we have going on check out the outdoor rink at Discovery Green or in The Woodlands.
8. Stay toasty and burn off some extra energy at one of Houston's numerous indoor play spaces.
9. Spend the day at an area farm or ranch (many have holiday-related events and activities), like George Ranch Historical Park - where you can take part in all the holiday fun the farm has to offer; or Old MacDonald's Farm - where the kids can ride the train, play in the hay barn, and enjoy the petting zoo.
10. Visit an area museum FREE of charge on select days.
11. Watch a movie bundled up on the grass at Discovery Green's Winter Screen on the Green.
12. Take a FREE boat tour of the Houston Ship Channel. The tours embark from the Sam Houston Pavilion, and you get perfect views of cargo vessels and operations at the port's main terminal. The boat has indoor and outdoor seating, and tours require a reservation.
13. Celebrate the holidays at the Children's Museum of Houston's Winter Wonderland WonderWeek where you'll find tons of holiday-related activities, shows, and more.
14. Reach new heights at an area trampoline park.
15. Take advantage of drop-in studios during Winter Break at MFAH to create a masterpiece with your family. Winter break activities are free with general admission to the museum, and kids 12 and under get in FREE altogether.
16. Arrange a photo with Santa if you haven't already.
17. Take a day trip to a nearby town or park, like Brenham to see the Blue Bell Ice Cream Creamery, or Brazos Bend State Park to marvel at the gators.
18. Check out the sights and sounds of Houston by kayak or canoe for a different perspective of our beloved city.
19. Hop aboard the Holiday Train at Hermann Park for a festive, Christmas-themed train ride.
20. Enjoy an afternoon at an area farmers market where you can buy fresh produce and other handmade goods.
21. Fly into the Lone Star Flight Museum for a variety of fun activities like story time or the Silver Wings program where plane-themed movies and lectures are held on select days.
22. Have family storytime outdoors at one of Houston's best parks for kids and families, Levy Park.
23. Head to Rob Fleming Park where your kids can enjoy the park's Flashlight Candy Cane Hunt, cookies, hot cocoa, and a visit with the Santa himself.
24. Ring in the Noon Year at CityCentre with an afternoon full of fun activities and a special bubble celebration.
25. Participate in fun workshops, make crafts, and play at The Woodlands Children's Museum for Winter FUNcation.
26. Take the whole family to go indoor rock climbing at a rock climbing gym like Momentum Indoor Climbing.
27. Enjoy a plethora of activities during Holiday In The Park at Moody Gardens, including a giant ice slide, 4D movies, ice sculptures, the Festival of Lights, and more.
28. Cuddle up with some hot cocoa and stream one of the best Christmas movies for kids.
29. Head to Houston's interactive Color Factory exhibit for an exciting outing that will only be available until February 2020.
30. Stroll through a holiday market and do some Christmas shopping.
If all else fails, you can always refer back to our trusty calendar for things to do every day. It's jam-packed with activities that are sure to brighten up your week.
Top photo courtesy of the Museum of Fine Arts
This post originally published in 2017.