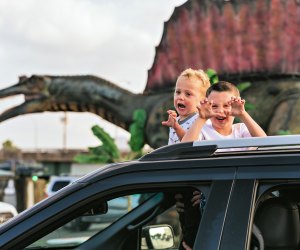 30 Things To Do with Houston Kids over Christmas Break
We may have the best intentions of organizing creative, Pinterest-worthy crafts and activities for our kids during school vacation, but bringing those activities to fruition isn't always so easy—especially after all of the socially distanced, safe activities we've already been coming up with throughout 2020. This winter break, instead of setting lofty goals that never get met, fall back on our holiday activities guide for things to do during the season, visit Santa safely both virtually and in person, and lean on us to show you where you can take in the sights and sounds of the holidays while still social distancing. Below, you'll find 30 things to do that kids will love and, more importantly, that can get you safely out of the house!
We highly recommend social distancing and wearing a mask when you visit any of these seasonal activities that take place outside of your home and urge you to check each event beforehand to ensure they are still happening, as so many things are apt to change at the last minute this year.
Look at the best Houstonians have to offer, like Prestonwood Forest's Nite of Lights where you can judge the best displays.
If neighborhood lights are too low-key for your taste, check out one of these, where you'll find millions of dazzling scenes to walk around and under, or even interact with.
Spend some time giving back to the community.
Take a hayride through this famous College Station holiday event.
Take a train to see 300,000 lights and hundreds of holiday decorations! Hot chocolate and other refreshments are available for purchase.
Spend the afternoon ice skating at Discovery Green's outdoor ice skating rink. You can also head to The Ice Rink at The Woodlands for more ice skating fun.
Stay toasty and burn off some extra energy at Giggles & Fun indoor play space.
Spend the day at an area farm or ranch (many have holiday-related events and activities), like Old MacDonald's Farm - where you can take part in all the holiday fun the farm has to offer; kids can also ride the train, play in the hay barn, and enjoy the petting zoo.

Altitude Trampoline Park. Photo by Rachael Cherry
Reach new heights as you bounce your way through Altitude Trampoline Park.
See everyone's favorite man in the red suit at one of the many safe Santa events around town.
Get out of Houston for the day without all the fuss of traveling far with an easy day trip to a neighboring town, like heading to Brenham for a visit to the Blue Bell Ice Cream Creamery or Brazos Bend State Park to marvel at the gators.
Check out the sights and sounds of Houston from the water for a different perspective of our beloved city.
Enjoy a morning or afternoon at an area farmers market where you can buy fresh produce and other handmade goods while supporting local small businesses.
Fly in for a some seasonal fun activities while Stearman Santa visits the museum or enjoy a leisurely afternoong checking out all of the aircraft that call Lone Star Flight Museum home.
Head to Rob Fleming Park where your kids can enjoy the park's Flashlight Candy Cane Hunt, cookies, hot cocoa, and a visit with the Santa himself.

Enjoy Moody's Festival of Lights. Photo courtesy of Moody Gardens
Enjoy a plethora of activities during The Holidays at Moody Gardens, including a giant ice slide, 4D movies, ice sculptures, the Festival of Lights, and more.
Cuddle up on the couch with plenty of blankets and hot cocoa and turn one (or more!) of the best Christmas movies for kids.
In a pinch, turn to our Top Holiday and Christmas Events in Houston list for a wealth of holiday activities that will bring joy to the entire family.
Put a unique, social distancing spin on looking at Christmas lights by driving through Hurricane Harbor SplashTown's newest drive-thru light installation The Light Park.
Stroll through the quaint shops in Old Town Spring to shop for holiday gifts and view the twinkling lights and festive storefronts.
Watch the classic tale Twas the Night Before Christmas unfold on the stage during this family-friendly holiday performance.
Make a reservation and take the family to go indoor rock climbing.
Head down to Kemah for the day to visit Santa's Workshop, drink hot chocolate, and watch festive performances at the Boardwalk.
Combine a festive craft with science as you create your own reindeer toothpaste during this holiday twist on the classic elephant toothpaste experiment.
Hit the trails for a kid-friendly hike to enjoy the outdoors as a family.
Visit the Houston Museum of Natural Science during the holiday season to check out the annual Trains Over Texas exhibit. While you're there, be sure to check out the White Christmas exhibit at the Cockrell Butterfly Center.
Listen to Santa read aloud holiday stories at this socially distanced storytime at Heritage Square in La Centerra. Your ticket even gets you a Nestle Toll House cookie pack!
See over 70 larger-than-life dinosaurs and learn all about them at this drive-thru prehistoric adventure in Katy. Live on the other side of town? Dinosaur Adventure Drive-Thru Houston is also touring in Pasadena!
Take in an out-of-this-world holiday experience when you visit Galaxy Lights at Space Center Houston. You can watch two high-kinetic light shows, visit the twinkling tree, and more.
Create your own family time capsule for 2020, make party hats, and count down to 2021 during The Woodlands Children's Museum annual High Noon Countdown.
If all else fails, you can always refer back to our trusty calendar for things to do every day. It's jam-packed with activities that are sure to brighten up your week.
This post originally published in 2017.