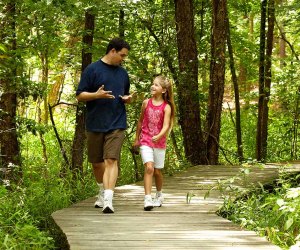 Fall Day Trips for Houston Families
Now that it is allegedly cooler outside and you can leave your house without fear of overheating, it's the ideal time to visit these nearby spots that could feel pretty miserable during summer. Before the holiday season gets into gear, pack up the car and take the kids to look at gators or see where Texas' favorite ice cream is made. We've rounded up nine fun day trips below.
And for more kid-friendly things to do around Houston this fall, check out our Fall Fun and Harvest Guide for Houston Families.
Day Trips South of Houston
Brazos Bend State Park - 55 minutes from Downtown Houston
21901 FM 762, Needville
If full-out camping isn't your family's thing, then try a day trip to Houston's closest Texas State Park. I grew up spending days and weekends here, and each time I was convinced our family dog was going to be eaten by an alligator on one of our many walks throughout the park. Don't worry, no dogs or small humans were harmed during our trips, but getting to see alligators up close and personal was one of the best aspects of the park as a kid. The hiking trails span 37 miles and can accommodate wheelchairs as well as bikes. There is also 13 miles worth of horseback riding trails. There are playgrounds, picnic areas and a pavilion you can rent for family gatherings.
The park's Nature Center has exhibits on the park's ecosystems and the animals you can find there, and then there is the George Observatory. Part of the Houston Museum of Natural Science (and therefore warrants a separate admission), is open Saturdays all year and features three domed telescopes perfect for exploring the stars, and beyond.
Port Arthur - 1 hour, 20 minutes from Downtown Houston
3401 Cultural Center Drive, Port Arthur (Visitor's Center)
Because of its proximity to Louisiana, this coastal town is full of cajun flair, which really shines through during the city's yearly events such as the CavOILcade Parade in October and the Groves Pecan Festival in November. If you're museum goers, the Museum of the Gulf Coast is well worth a visit where your family can explore the palentology and biology of the Texas coast and see a plethora of coastal artifacts. Lantern-lit ghost tours of the historic town are a hit nighttime activity and a great way to end your day trip to Port Arthur.
Day Trips East of Houston
Beaumont - 1 hour, 30 minutes from Downtown Houston
2595 Pecos St. (Downtown Beaumont)
Get a full Southeast Texas experience in Beaumont, and if you have extra time it is close enough to the Louisiana border to visit nearby Lake Charles or the Sabine National Wildlife Refuge. A kid favorite in Beaumont is definitely the Gator Country Wildlife Adventure Park where you can actually hold an alligator. The park also has swamp boat tours (you see now why this is most appealing post-summer), shows and tours. Admission isn't too bad at $15 for adults and $12 for kids ages 2-12.
Beaumont is also home to the famous Spindletop, where oil erupted from the ground for nine days straight in 1901, and several museums. The Art Museum of Southeast Texas features contemporary paintings and sculptures and the McFaddin-Ward House is a beautiful colonial revival mansion. Add in the delicious seafood and parks along the Neches River, Beaumont has something for the whole family.
Anahuac National Wildlife Refuge - 1 hour, 30 minutes from Downtown Houston
4017 FM 563, Anahuac
Outdoor fun is so much more enjoyable when the summer sun isn't blazing down on you, which is why fall is the ideal time to explore the Anahuac National Wildlife Refuge. The refuge hosts Fall Fishing Day each October, where families can come enjoy fishing on Frozen Point without having to purchase a fishing license. Other activities to enjoy at the refuge include guided hikes, exploring the trails, and observing wildlife. A bonus for fall visitors: Monarch butterflies typically migrate over the refuge each October! Be sure to check out the Anahuac National Wildlife Refuge's event calendar to check out all of the activities happening each fall.
Day Trips North of Houston
Big Thicket National Preserve - 1 hour, 50 minutes from Downtown Houston
6044 FM 420, Kountze
Here's another nature retreat for your family that does not require too long of a drive. Big Thicket has more than 40 miles of hiking trails as well as small waterways for kayaking and canoeing. Because the preserve leans on the primitive side, this trip may be best suited for families with kids can walk confidently on trails without needing a stroller.
Hiking is definitely the top activity here, and the beautiful trails make all of the walking (or biking) worth it. Hunting is allowed in various portions of the preserve, and there is also a bird watcher's trail where visitors can get a good look at shorebirds and migrant songbirds. Check the website when planning your visit to see if there is a ranger-led program or activity you and your family can enjoy.
Brenham - 1 hour, 15 minutes from Downtown Houston
1101 S. Blue Bell Road, Brenham (OK, you caught me, this is the address to the Blue Bell Creamery)
Brenham is a wonderfully quaint town just northwest of Houston. There are several events you can attend with the family throughout the fall, from the Scarecrow Festival to the Texas Art and Music Festival, and of course, the Blue Bell Creamery. The creamery makes for a fun family visit whether you're bringing along a 2-year-old or 15-year-old. Tours are educational and fun, and you get to sample Texas' famous dessert.
To burn off that energy from the inevitable ice cream-induced sugar rush, there are plenty of area parks to visit with playgrounds, tennis courts and walking trails, as well as the nearby Chappell Hill Museum and the Texas Cotton Gin Museum.
Huntsville State Park - 1 hour, 15 minutes from Downtown Houston
565 Park Road 40 W., Huntsville
This state park is the gateway to the massive Sam Houston National Forest that touches Lake Conroe and spreads to the east. We spent countless days and weekends here growing up. The park spans more than 2,000 acres and has 21 miles of trails, multiple playgrounds, nature center, and spots where you can go swimming, canoeing, and kayaking. The park hosts several events throughout October the year as well including guided and themed hikes, so make sure to check out the event page.
If you head up this way, it is also the perfect opportunity to snap a picture (or at least try to) by the massive Sam Houston statue off I-45. It's the world's tallest statue of an American hero, after all.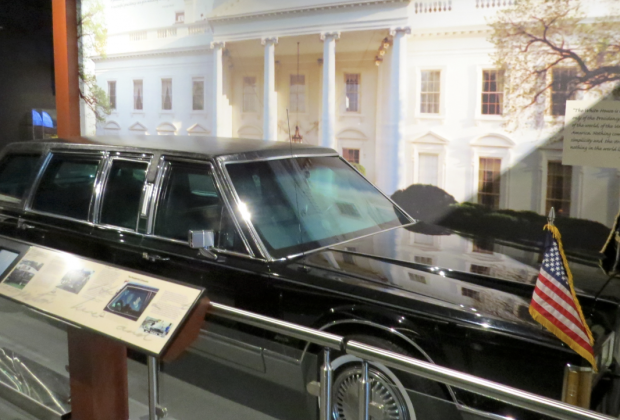 See items from George H.W. Bush's presidency at his presidential library in College Station. Photo courtesy George H.W. Bush Presidential Library.
George H.W. Bush Presidential Library - 1 hour, 30 minutes from Downtown Houston
1002 George Bush Drive West, College Station
No matter what your political preference is, if your family is interested in politics or history at all, you will most definitely enjoy touring the George H.W. Bush Presidential Library. Filled to the brim with memorabilia from the 41st president's tenure, self-guided tours of the museum can easily fill several hours of your day. The museum also hosts special events periodically, so be sure to check out their event calendar ahead of time.
While you're in College Station, be sure to take a stroll through the gorgeous Texas A&M University campus, or even take in a football game at iconic Kyle Field.
Lake Livingston State Park - 1 hour, 30 minutes from Downtown Houston
300 Park Road 65, Livingston
Surrounded by the tall pine trees that grow with wild abandon in east Texas, Lake Livingston State Park is a haven for fall family fun. Your entire family can take advantage of the cooler temps to hike, fish, play on the playgrounds, and camp out under the stars. Fall is also an ideal time to perfect your families canoeing and kayaking skills. You can rent both types of watercraft at the state park for a small fee. And if your family loves to fish, but doesn't do it enough to keep your own poles on hand, the park loans out fishing poles through their Tackle Loaner Program.
Top photo courtesy the Texas Department of Parks and Wildlife
This post originally published in 2016.