Freeport with Kids: Best Things To Do in Freeport, Texas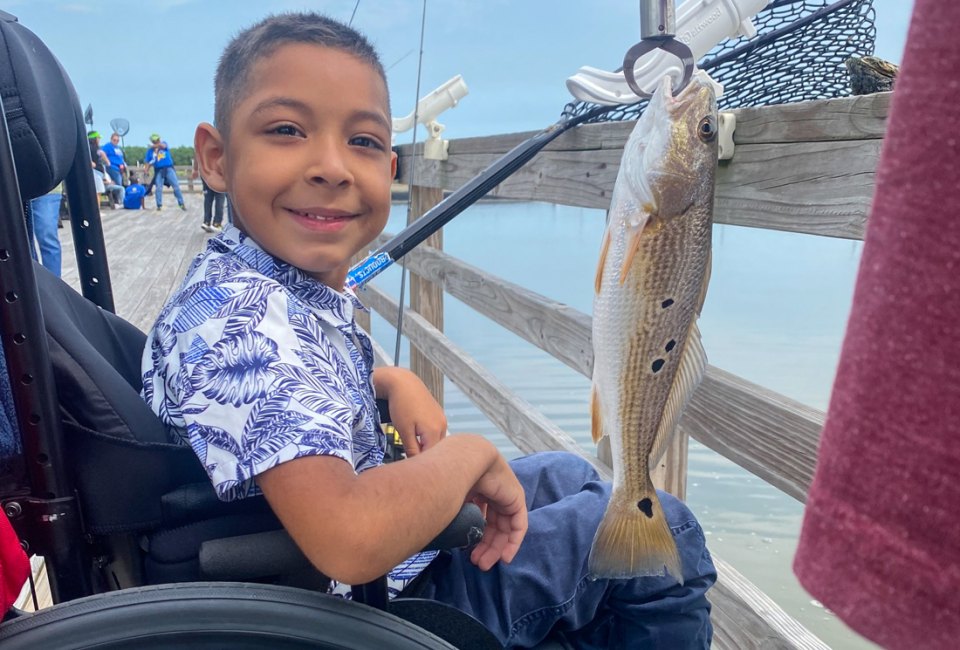 7/2/23
- By
Sarah Banks
Freeport, Texas is located only an hour south of downtown Houston, making it the perfect day or weekend trip for Houston families. With nearly 30 miles of coastline, Freeport is most famous for its nearby beaches, including Surfside Beach, Bryan Beach, and Quintana Beach County Park. On a smaller scale than Houston's closest beach city, Galveston, the over-100-year-old Freeport has a range of cute family-friendly attractions in the city or close at hand. If your family enjoys hiking and spotting wildlife, they can experience natural beauty at the vast Brazoria National Wildlife Refuge, east of Freeport.
Freeport is on the banks of the Brazos River, and the city and surrounding area are home to several affordable hotels and restaurants. So, if you want a fun trip to the coast, check out our recommendations for what to do, where to stay, and where to eat in Freeport!
For more ideas on summer activities, check out our Summer Fun Guide for Houston families and our Beaches and Lakes Guide.

Freeport is a great town for a beach vacation. Photo courtesy of Brazosport, Texas
Great Beaches for Kids in Freeport, Texas
Surfside Beach is a quieter alternative to Galveston, and at 4 miles long has plenty of space to spread out and enjoy the waves and sand. The beach has a smaller pedestrian-only area to the west and a long stretch of sand to the east where you can park your car right next to you. This gives you the convenience of having all those things kids need to stay shaded, fed, and entertained on the beach close at hand.
Buy a $12 annual pass for your car for the beach from the kiosk at the entrance or local garages. Surfside Beach has restrooms, restaurants, and souvenir shops close at hand.
This beach is for families who like wilderness and want to visit 3 miles of undeveloped seaside. There are no facilities, so make sure to bring everything you'll need. Camping and driving are both permitted on the beach, so if you want to get away from it all, this could be the spot for you!
For only $5, Quintana Beach County Park offers a range of facilities as well as the beach, to make a fun and easy family day out. The half-mile of beach has shades, and restrooms and showers are close by. The beach has a jetty and a fishing pier (don't forget your fishing license!).
Close to the beach, there is a playground, grass volleyball court, hiking trails, picnic tables, and grills. Game equipment can be borrowed at no charge, and there are pavilions for hire to provide shade for a group event. In addition to 56 RV camping spots for overnight stays, the park has four cabins that sleep up to 6 for rent at $170 a night.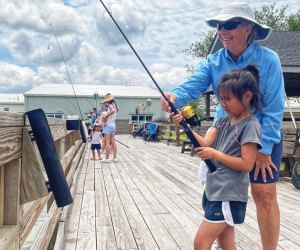 Fishing at Sea Center near Freeport. Photo courtesy of Texas Parks and Wildlife
More Things To Do with Kids in Freeport, Texas
Sea Center, Texas, is a free attraction with lots of ways to see local wildlife. The facility has been open for over 25 years and includes a visitor center with tanks and exhibits of Texas marine life, the largest redfish hatchery in the world, 36 1-acre fish culture ponds, an outdoor wetland exhibit, and a youth fishing pond.
This multi-use cultural facility includes a planetarium, theater, and natural science museum. The Museum of Natural Science is open Tuesday - Saturday from 11am - 3pm, and is totally free. If your kids like collecting shells, they will enjoy the largest public seashell collection in the region.
In addition, there is a whole range of fossils, including an allosaurus, raptors, and a megalodon jaw. Kids can also look at the collection of gemstones and rocks that glow in the dark.
This museum is full of fun facts about 300 years of Freeport history and has a range of original artifacts. The museum has an annual celebratory day at the end of June to mark the 1832 Battle of Fort Velasco, which includes cannon firing, making this a great time to visit with kids!


Spot alligators (and tamer wildlife) at Brazoria National Wildlife Refuge. Photo courtesy of the Brazoria National Wildlife Refuge
Reconnect with nature at this marsh and wetland, where your kids can enjoy alligator spotting. Approximately 15 minutes from Freeport, this attraction includes a Discovery Center at the entrance to the Big Slough Recreation Area, where you can pick up maps, brochures, and interpretive displays. The Big Slough trail begins and ends at the front of the visitor center and winds through several types of habitats, including wetlands, woodlot, and prairie. The trail is 1.5 miles long and suitable for strollers.
In addition, an auto tour goes through an expanse of marshes, sloughs, ponds, and prairies. Driving slowly along the road provides exceptional wildlife viewing opportunities. A separate recreation area at Cannan Bend provides further opportunities for nature observation on the 0.5-mile Hickner Birding Trail and allows views of Cannan Lake.
8. Fishing Charters
The Gulf Coast at Surfside Beach is known for its excellent bay and offshore fishing, and a range of operators offer fishing charters from Freeport, Texas. There are some big fish out there, such as red snapper, ling, bonita, and kingfish. Operators like Oilfield Outkasts Charters and Reel Threel Charters offer a range of tours from the bay to deep water.
9. Crabbing
There are many places to crab at the beaches near Freeport, including the designated Crabbing Pier at Surfside Beach, which is located across the highway from Stahlman Park at 2211 Bluewater Hwy. You can also crab from the shore or in the marshes.
10. Surfside's Splash Pad
Cool off at nearby Surfside's Splash Pad, an area that also features a pavilion and picnic tables. From the Splash Pad, the whole family can enjoy the 2.5 miles of the Bird & Butterfly Trail, surrounded by native plants and trees and bordered by the Freeport Harbor. It's a great place to spot butterflies, birds, and ships.

Enjoy kid-friendly restaurants in Freeport. Photo courtesy of On the River
Great Restaurants for Kids in Freeport, Texas
This family-friendly Freeport restaurant has been in the area for over 30 years. The menu includes seafood, burgers, steak, salads, and sandwiches. Its accolades include being named in the Top 40 Small Town Cafes in Texas by Texas Monthly magazine. The kids' menu is outstanding, and everything comes with smiley fries and a drink.
If you like to eat with the sound of the sea, this restaurant provides amazing views of the seaside on its deck, as well as indoor seating. They offer generous portions of seafood, tacos, steaks, sandwiches, burgers, and salads. Dogs are welcome, and doggy bags are de rigueur, due to the large portions of all entrees, even the kid meals. (Try the chicken tenders, they're a particular kid favorite here.)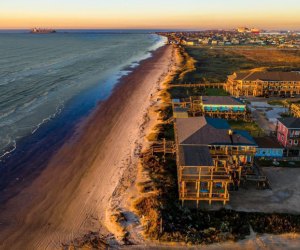 Stay right on the beach! Photo courtesy of The Ocean Village Hotel
Great Places to Stay for Kids in Freeport, Texas
While family-friendly/budget-friendly options are a bit limited here, we do have a few favorites!
The Ocean Village Hotel is right on Surfside Beach, so you can enjoy ocean views and easy access to sand and sea. Choose from family-friendly double Queen rooms or suites that have a kitchen area. The hotel has its own restaurant overlooking the beach.
This hotel has everything you would expect at a Best Western hotel, including an outdoor pool. The rooms all have a refrigerator and microwave, and a complimentary hot breakfast is included in the room rate.
Click Here to Sign Up!
i