Top Attractions in Philadelphia: Best Things to See and Do with Kids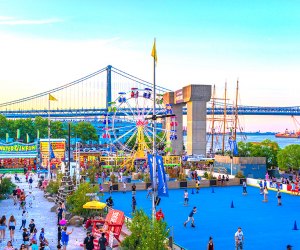 2/11/22
- By
Liz Baill
Take it from the locals (that's us)...Philly is hands-down one of the best cities in the country for families to visit. Out-of-towners will find tourist attractions in Philadelphia with history unique to the birthplace of America, along with sprawling green space, world-class museums, theme parks, and more.
With so many things to do in Philadelphia for kids, we've narrowed some favorite family fun spots to our top 30 picks. These are the best kid-friendly activities in Philly from the heart of Center City to the suburbs, whether you're lucky enough to live here or are just enjoying Philly for a brief stay. So grab a hoagie and run like Rocky, because families love the City of Brotherly Love.
For more stories like this sent straight to your inbox, sign up for our newsletters.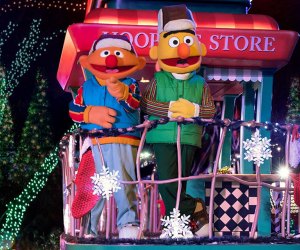 Meet your favorite friends at Sesame Place.
Top Tourist Attractions in Philadelphia for Kids
About 40-minutes up I-95 is the sunniest street near Philadelphia, where you'll find Elmo, Cookie, Abby, and the rest of the Sesame Street gang. This combined theme and water park is one of only two in the country. Sesame Place is every preschooler's dream and well worth the excursion.
RELATED: Indoor Play Spaces & Fun Zones for Philly Kids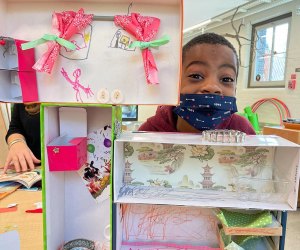 Make your own crafts at Smith Memorial Playground & Playhouse.
The 16,000 square foot playhouse and playground--which is free!--is one of Philly's most beloved play spaces. The giant century-old wooden slide is a must-do at Smith, both for kids and kids at heart.
This popular destination where William Penn once docked on the Delaware River is the site of Spruce Street Harbor Park known for its hammocks, light displays, and restaurants, as well as Blue Cross RiverRink Winterfest ice skating and Summerfest roller skating. Also here is the Cherry Street Pier, where you can overlook the water or join a family art-making session on the First Friday of the month.
There are lots of options for animal lovers in Philly, including America's very first zoo. Today the zoo cares for over one-thousand animals and holds programs about wildlife conservation throughout the year. There's also a children's zoo called KidZooU, and the amazing Zoo360, a series of elevated tunnels where you can spot animals overhead galavanting throughout the park.
You'll find Nemo and all of your favorite marine creatures just over the bridge in New Jersey. Be sure to visit the shark tunnel, a 40-foot hall where you'll be surrounded on all sides by the most fierce fish.
Rent a family tandem bike, grab some ice cream, and stroll along Boathouse Row while watching the rowers on the Schuylkill. The beautiful boathouses that line the river along Kelly Drive date back to the 1800s and are an iconic part of the Philadelphia skyline, particularly when they're illuminated and outlined in lights at night.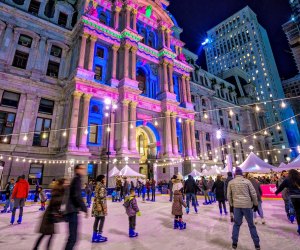 After a visit to Dilworth Park, ice skating will never be the same! Photo courtesy of Visit Phildelphia
In the heart of Center City, you'll find City Hall, topped with the beloved statue of William Penn keeping watch over Philadelphians and bringing luck (sometimes) to our sports teams. In addition to the building's impressive architecture, Dilworth Park in front of City Hall is a hub of activity, with an outdoor skating rink in the winter, a fountain splash pad in the summer, dining options, entertainment, and more. It's also a skip away from LOVE Park, named for the iconic sculpture by Robert Indiana, which also happens to be one of Philly's most Instagrammable spots.
RELATED: Guide to Playgrounds & Parks in Philadelphia

The carousel is one of the main attractions at Franklin Square. Photo by J. Fusco for Visit Philadelphia
William Penn planned Philadelphia around five main green squares, including what is now called Franklin Square, a kid-friendly haven complete with a carousel, mini-golf, a massive century-old fountain, light displays, and more.
An interactive LEGO world, including a full model of Philly itself, plus an indoor playground and even a theme park ride make this every kid's play paradise.
True to its name, this two-level garden on South Street is covered with magical mixed-media mosaics created by artist Isaiah Zagar. Bicycle wheels, teacups, mirrors, bottles, and more found objects make for a whimsical treasure hunt, that continues when you start to spot glimpses of Zagar's mosaics all over the city.
RELATED: Zoos and Gardens for Philly Kids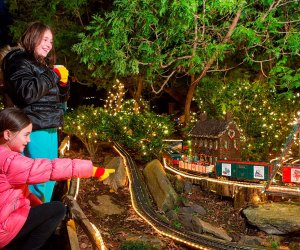 A model train railway is decked out in lights for the holidays at the Morris Arboretum.
This 92-acre public garden is a perfect escape from the hustle and bustle and includes a fairy wood and model train railway that gets decked in lights for the holidays. Thomas and Friends can often be spotted on the tracks to every toddler's delight.
RELATED: Bucks County, PA with Kids: 30 Things To Do as a Family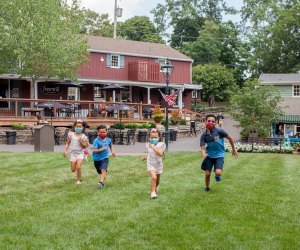 Families will find shops, restaurants, and play spaces at Peddler's Village.
Quaint and charming with a fairytale feel, a visit to Peddler's Village is one of the kid-friendly activities near Philly that the whole family will enjoy. The area is packed with cute shops, a kid's play space, and seasonal events like a PEEPS festival and the annual Gingerbread House Competition.
To the right of the Philadelphia Museum of Art's iconic Rocky steps is a statue of the man himself. Snap a photo, then run up those steps and lift your arms up high while taking in the view of the Ben Franklin Parkway. Find Rocky's footprints engraved at the top of the stairs, then head inside to one of the country's largest art museums. You'll see crowds lined up to take pictures almost any time of day, making it one of the main tourist attractions in Philadelphia.
This market first opened in 1893 and remains a go-to spot for Philly foodies. Choose from every type of cuisine, buy locally-grown produce, or pick from Philly food staples like the hoagie or the cheesesteak.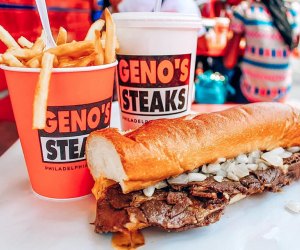 You can't go to Philly without trying a famous Cheesesteak at Geno's Steaks.
Speaking of cheesesteaks, if you want a real one, youse gotta head to South Philly, but be prepared to choose a team and stick with it. You're either team Pat's or team Geno's. There's no gray area here. And be prepared to order like a local--"whiz wit" means you want onions and Cheez Whiz, which is really the only right way anyway.
Right off the busy Benjamin Franklin Parkway is a kid-friendly oasis, complete with a children's discovery garden with winding paths, splash pads, and a popular pond for swimming and water play in the warmer months.
RELATED: Kids' Sports Centers and Action Zones in Philly

Have an aerial adventure at Treetop Quest.
This aerial adventure park and ropes course is the perfect destination in the warmer months for zip lining, tree climbing, and family team building.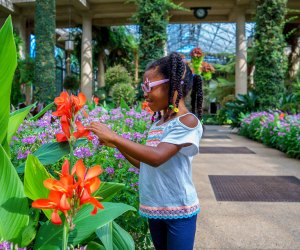 Smell the flowers at Longwood Gardens.
Millions of visitors come to Longwood every year to marvel at one of the country's most stunning botanical gardens. Fountain shows, an indoor children's garden, holiday events, and tons of special programming make this Philly-area tourist attraction worth the drive.
RELATED: Guide to Philly Museums for Kids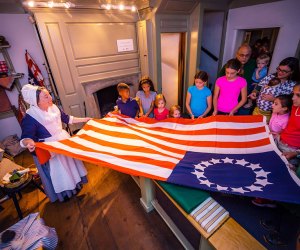 Meet Betsy Ross herself at the Betsy Ross House. Photo courtesy of Visit Philadelphia
Top Historic Sites in Philadelphia for Kids
Meet Betsy Ross herself as she reenacts sewing the stars and stripes of the nation's very first American flag in her upholstery shop. Tour her historic home and check out a storytelling program.
From the Liberty Bell to Independence Hall to the Ben Franklin Museum, this is the heart of historic Philadelphia. Transport yourself back to 1776 and see the places and spaces of early America. For history buffs, this is one of the must-see tourist attractions in Philadelphia.
All aboard this massive and historic battleship, where guests will climb ladders, maneuver in close quarters, and sit in the command chair while discovering the ship's decorated history. There are even overnight encampment options for families who want to hunker in the hull.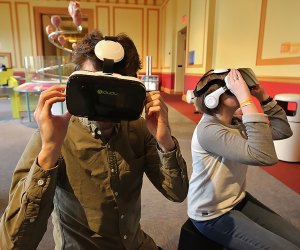 Learn more with VR headsets at The Franklin Institute.
Top Museums in Philadelphia for Kids
Hike through a heart, explore electricity, show off in the sports zone, and pop into the planetarium at this family favorite. The Franklin Institute is known for its wildly popular traveling exhibitions, like Harry Potter: The Exhibition and Marvel: Universe of Super-Heroes.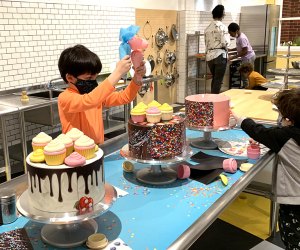 Visit The Market exhibit and decorate a cake at the Please Touch Museum. Photo by the author
Designed just for kids seven and under, Please Touch is where kids rule the roost. This children's museum is housed in the beautiful and historic Memorial Hall and features a carousel, Alice in Wonderland exhibition, water play exhibit, mini market, and so much more.
Rocky-run into one of the largest art museums in the country. Make art as a family in the Art Kids Studio on the weekends, or take a family gallery tour led by a museum educator. Pick up a self-guided family hunt at the admissions desk to explore at your own pace. Family favorites include the Arms and Armor collections and the Japanese Teahouse.
Rotating exhibitions and collections of art, objects, and artifacts document African American heritage and culture, with an emphasis on Philadelphia. Special family events are held throughout the year.
Come for the dinosaurs, stay for the fossil dig, butterfly room, and kids' space with small animals.
Mini Monets and budding Basquiats will love wandering the galleries of one of the country's most impressive art collections. Free family days with art-making and performances are held on the first Sunday of every month.
Sailors of all ages will love this maritime museum on the Delaware River. Climb aboard a ship and get your hands wet in the highly interactive RiverAlive! exhibition.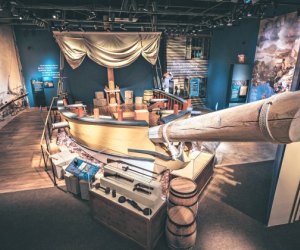 The replica privateer ship is ready for boarding. Photo courtesy of Bluecadet
The interactive galleries just steps from Independence Hall are the perfect place to learn about the early days of the country. Revolutionary Place, a kid's discovery center, brings 18th-century Old City Philadelphia to life for kiddos, with hands-on replicas, dress-up clothes, and digital interactives.
Don the robe of a Supreme Court Justice, give a pretend press conference as President, learn how a bill becomes a law, or enjoy an immersive theater performance that brings history to life.
Unless noted, photos courtesy of the venues
Sign up for the Mommy Poppins Newsletter today!