Visiting the Adventure Aquarium in NJ: 10 Best Things To Do and See
7/29/22
- By
Kaylynn Chiarello Ebner
Adventure Aquarium is a captivating day-trip destination that will engage and educate family members young and old.
Camden's world-class aquarium showcases a huge collection of underwater life—more than 8,500 aquatic species—plus hippos, penguins, and an assortment of amphibians, birds, and reptiles. Also: sharks. Lots of sharks. Adventure Aquarium houses the largest collection of sharks on the East Coast, and it features the only great hammerhead on exhibit in the U.S.
In short, the kids will be awed. You'll be transported. Everyone leaves a little refreshed.
Read on to learn more about some of Adventure Aquarium's most impressive attractions and several ways to get up close and personal with sea creatures. And, if your visit to Adventure Aquarium happens to spark a new interest in life under the sea, check out our rundown of the best aquariums for your next family vacation. For trip ideas further afield, read our comprehensive Family Travel Guide.
Check out the official Adventure Aquarium website before you head out for info on the latest exhibits. And be sure to subscribe to our newsletters to get stories like this delivered directly to your inbox.
Adventure Aquarium: The 10 Best Things to Do and See
Adventure Aquarium offers a thrilling way to see sharks—if you dare! Walk across an 81-foot Shark Bridge—the longest of its kind in the world—suspended over the 550,000-gallon Shark Realm exhibit, mere inches from the water. Don't worry; the bridge is fully enclosed in V-shaped cargo nets, so you'll be able to enjoy this one-of-a-kind experience without fear of taking a plunge.
If your kids are fascinated by sharks, don't miss the shark tunnel. Journey through a 40-foot glass tunnel and be immersed in a world of sharks as they swim over and around you. You'll get a jaw-some view of these amazing dorsal-finned creatures from every angle.
RELATED: Grounds for Sculpture: A Hidden Gem in New Jersey

It's hard not to fall in love with Genny and Button, as these graceful giant Nile Hippo gals glide through their underwater home. See them bounce around underwater, take a snooze from above, and, if you time it right, munch on greens for lunch. Bonus: If you look closely at the land next to the hippos, you might spy a porcupine friend scurrying around the shore.

Adventure Aquarium offers some amazing opportunities to get interactive, behind-the-scenes views of your favorite animals (upgraded ticket required). Help feed the hippos, snorkel inches away from sandbar and sand tiger sharks, help care for sea turtles, or meet some of the aquarium's lesser-seen mammals, birds, and reptiles.
These 3D movies provided a fun immersive experience for the whole family. See Oceans: Our Blue Planet for a spectacular view of the ocean, or see Robinson Crusoe go on an amazing adventure. Both shows are free with your general admission ticket. Aside from the 3D theater, there are several programs and shows sprinkled throughout the day at various locations like Walk the Plank trivia, meet the divers, and animal feedings. Be sure to pick up the daily schedule at the aquarium entrance.
You'll have a couple of opportunities to see these amazing swimming birds up close and personal. First, there's Penguin Park, an outdoor area (accessible near the Stingray Beach Club) with African penguins and a small playground for little ones under 42". Or see little blue penguins at Little Blue Beach.
RELATED: Brookhollow's Barnyard: A Sweet NJ Petting Zoo with the Cutest Animals

Plunge a hand into a tank of cold water and pet a prickly sea star at the Creature Feature, a touching pool loaded with anemones, snails, sea cucumbers, and several kinds of sea stars from the Pacific Northwest. If your family lands on the other side of the Shark Bridge, there's also a shark-touching pool, featuring the friendliest of the fiercest. Or, if stingrays are more your style, you can pet or feed one of these friendly fish at the Stingray Beach Club (strollers prohibited).
Designed specifically for kids 6 and under, KidZone is loaded with interactive exhibits and activities that are meant to get children playing alongside and even, in some instances, with their new underwater friend—with lots of encouragement from the Splash and Bubbles cast. There's a touch tank here, too.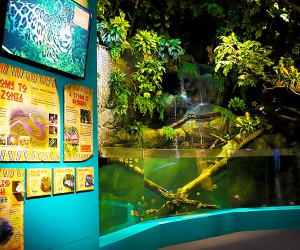 Journey to Piranha Falls for an immersive experience of life on the Amazon River.
All around Adventure Aquarium, miles-deep oceans are shrunk down to digestible, kid-friendly portions. Even among the most expansive exhibits, it's hard not to feel like the world is a more intimate place. The scale, however, shifts dramatically within Piranha Falls, where it feels more like a corner of the most sprawling rainforest on the globe was somehow transplanted to Camden. Towering waterfalls and trees divide the exotic from the familiar. Inside, birds are cawing, fish are shimmering, and it's about to rain—hard. Such is life along the Amazon.
RELATED: The Best NJ Zoos and Aquariums for Animal Encounters with Kids

This beautiful exhibit focuses on sea turtles from around the globe and showcases the resident loggerhead and green sea turtles of Adventure Aquarium. Learn about the dangers these animals face from hatchling to adulthood and find out how to help them when enjoying the beach and ocean.

Everything Else You Need to Know
There's secure parking adjacent to the aquarium. It's $5 for members and $10 for everyone else. (Mastercard and Visa are accepted.)
Strollers aren't allowed in certain areas, like the Shark Bridge or the Stingray Club.
Bring your own food or buy it at the aquarium's Feeding Frenzy Cafe, which serves salads, sandwiches, pizza, and hot dogs. There's also a Flying Fish Beer Garden on the outside terrace of the aquarium with lovely views of the Philadelphia skyline.
You can spend as much time as you'd like touring the aquarium—it's all self-guided—but three hours should be plenty of time to see everything without feeling rushed. There's no avoiding the crowds on weekends and school holidays, but your best chances of doing so are before 11am and after 2pm. Note that entries are timed, so you'll want to buy tickets in advance.
Turn Your Day Trip into a Weekend
In New Jersey
Right next door is the Camden Children's Garden, a four-acre urban oasis that offers lots of chances for kids to get their hands dirty and learn a little about horticulture in the process. Discounted admission if you enter from the aquarium.
A short stroll up the waterfront from the aquarium, you'll find the Battleship New Jersey Museum and Memorial. America's most decorated battleship is an impressive sight, and even more so once you're aboard. You're free to explore the ship from a sailor's perspective—climb into a bunk or a gun turret—and even go where he couldn't: the admiral's chair.
RELATED: What Ages Get in Free at Philly Museums, Zoos, Gardens, Amusement Parks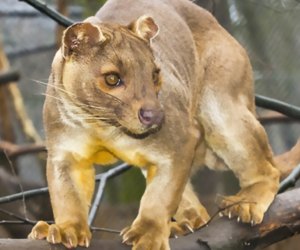 Rico, the fossa, at the Philadelphia Zoo. Photo courtesy of the zoo
Philadelphia is just across the river
The Philadelphia Zoo is about a 30-minute drive from the aquarium. There's never a shortage of awe-inspiring exhibits at The Franklin Institute. You could spend the whole weekend at the Please Touch Museum and never run out of things for little ones to do and see.
Unless otherwise noted, photos by the author
Originally published 2010; updated July 2022
Click Here to Sign Up!
i