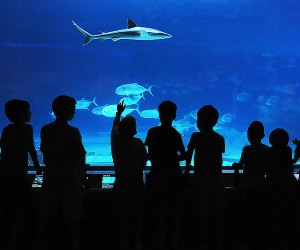 Day Trip to NJ's Adventure Aquarium: What's New and Best to See
With the grip of cabin fever feeling stronger every day—the struggle is real—the search for ways to get the kids out of the house in winter becomes a bit more desperate. Indoor play spaces are great for whiling away a frigid day, but what if we tempted you with a more exotic destination, somewhere warm and humid, but still within a short drive?
That place is Brazil, by way of Camden, New Jersey. (Stay with us.) Piranha Falls, the centerpiece exhibit at Adventure Aquarium, is a full-on immersion into the vibrant ecosystem along the Amazon. We're talking two waterfalls, hundreds of native plants, abrupt thunderstorms, and a school of spectacular-looking piranhas. The kids will be awed. You'll be transported. Everyone leaves a little refreshed—at least until you step back out into the bitter cold.
Read on to learn more about some of Adventure Aquarium's most impressive attractions, which include the East Coast's largest collection of sharks, a couple of charming hippos, and several ways to get up close and personal with sea creatures. And, if your visit to Adventure Aquarium happens to spark a new interest in life under the sea, check out our rundown of the Best Aquariums for Your Next Family Vacation.
Adventure Aquarium may get overlooked because of its proximity to the National Aquarium in Baltimore, but it shouldn't. What you'll find there is a huge collection of underwater life—more than 8,500 aquatic species, plus a couple of hippos, call it home. Also: sharks. Lots of sharks. Adventure Aquarium houses the largest collection of sharks on the East Coast, and it features the only great hammerhead on exhibit in the U.S.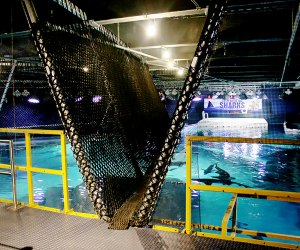 Will you dare walk just inches above 30 sharks and other animals on the Shark Bridge?
OUR LATEST VIDEOS
The Shark Bridge
Adventure Aquarium may also offer the most thrilling way to see all those sharks. The Shark Bridge is an 81-foot, V-shaped, suspension bridge—the longest of its kind in the world—which carries anxious onlookers across the 550,000-gallon Shark Realm exhibit, mere inches from the water. Not sure you want to test your courage in front of the kids? No worries. You can also see the exhibit from a panoramic, 40-foot glass tunnel. Though, if we're being honest, it's not all that much more comforting.
Creature Feature
What Adventure Aquarium does exceptionally well is blur the lines between us (humans) and them (sea creatures). Again and again, there's a chance to interact with the animals, whether it's attending one of several feedings throughout the day or plunging a hand into the cold water and petting a prickly sea star at the Creature Feature, a touching pool loaded with anemones, snails, sea cucumbers, and several kinds of the aforementioned sea stars from the Pacific Northwest. If your family lands on the other side of the Shark Bridge all pumped up on adrenaline, you'll be happy to know there's also a shark touching pool, featuring the friendliest of the fiercest.
KidZone
There's yet another touching pool in the KidZone, this one filled with more than a dozen warm-water invertebrates. Designed specifically for kids 6 and under, KidZone is loaded with interactive exhibits and activities that are meant to get children playing alongside and even, in some instances, with their new underwater friends—with lots of encouragement from the Splash and Bubbles cast.
RELATED: The Best NJ Zoos and Aquariums for Animal Encounters with Kids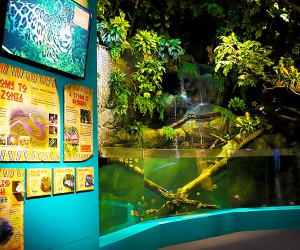 Journey to Piranha Falls for an immersive experience of life on the Amazon River.
Piranha Falls
All around Adventure Aquarium, miles-deep oceans and their wildly diverse shorelines are shrunk down to digestible, kid-friendly portions. Even among the most expansive exhibits, it's hard not to feel like the world is a more intimate place. The scale, however, shifts dramatically within Piranha Falls, where it feels more like a corner of the most sprawling rainforest on the globe was somehow transplanted to Camden. Towering waterfalls and trees divide the exotic from the familiar. Inside, birds are cawing, fish are shimmering, and it's about to rain—hard. Such is life along the Amazon.
Everything Else You Need to Know
Parking
There's secure parking adjacent to the aquarium. It's $5 for members, $10 for everyone else. (Mastercard and Visa are accepted.)
Strollers
It's OK to bring your own, but they aren't allowed in certain areas, like the Shark Bridge. Strollers are also available to rent on a first-come, first-served basis. They're $6 for a single and $8 for a double for the entire day, plus a $10 fully refunded deposit.
Lunch
Bring your own or buy it at the aquarium's Feeding Frenzy Cafe, which serves salads, sandwiches, pizza, and hot dogs. There's also a Philly Pretzel Factory. Either way, plan to eat at the aquarium. There's nothing in the immediate vicinity around it.
Time
You can spend as much time as you'd like touring the aquarium—it's all self-guided—but three hours should be plenty of time to see everything without feeling rushed. There's really no avoiding the crowds on weekends and school holidays, but your best chances of doing so are before 11am and after 2pm.
Turn Your Day Trip into a Weekend
In New Jersey
Right next door is the Camden Children's Garden, a four-acre urban oasis that offers lots of chances for kids to get their hands dirty and learn a little about horticulture in the process. Discounted admission if you enter from the aquarium. The garden reopens for the 2018 season on March 24.
A short stroll up the waterfront from the aquarium, you'll find the Battleship New Jersey Museum and Memorial. America's most decorated battleship is an impressive sight, and even more so once you're aboard. You're free to explore the ship from a sailor's perspective—climb into a bunk or a gun turret—and even go where he couldn't: the admiral's chair.
With Piranha Falls already nudging you toward vacation mode, why not keep the good vibes going? A 30-minute drive away sits Sahara Sam's, a massive indoor (and, in the summer, outdoor) water park in West Berlin, NJ. The kids will love the chance to imagine themselves as fish after all they've seen, and you'll get to don a bathing suit in the dead of winter.
RELATED: What Ages Get in Free at Philly Museums, Zoos, Gardens, Amusement Parks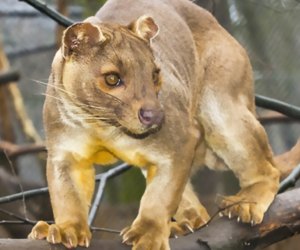 Rico, the fossa, at the Philadelphia Zoo. Photo courtesy of the zoo
Across the river
The Philadelphia Zoo is about a 30-minute drive from the aquarium, which is totally worth it to visit the Carnivore Kingdom's newest addition, Rico, a three-year-old fossa. (Think a cross between a dog and a cat.)
There's never a shortage of awe-inspiring exhibits at the The Franklin Institute, but we're big fans of its latest interactive one: its escape rooms. Navigate a series of clues, codes, puzzles, and tasks—all appropriate for the entire family—in under 60 minutes and everyone lives! (Kidding!)
You could spend the whole weekend at the Please Touch Museum and never run out of things to do and see. But, if you forced us to narrow it down to an hour or two, we'd say you have to see the Statue of Liberty's arm and torch, made entirely out of toys. (Even more impressive than the real thing.)
Unless otherwise noted, photos courtesy of Adventure Aquarium
Originally published 2010; updated January 2018.