25 Fun Things To Do in Boston with Teens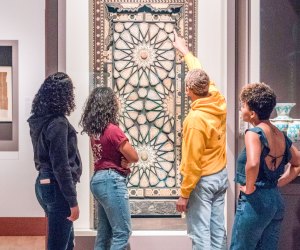 7/28/23
- By
Caitlin Dowling
Boston has so many entertaining activities for kids, but finding things to do with teenagers can feel challenging. Have no fear: From fun centers and old-school arcades to visiting Fenway Park, we've compiled a list of teen-approved activities that are whatever they're calling the opposite of lame. And these things to do with teenagers may even lead to a genuine smile and bonding moment between you and your big kid.
If you're searching for more ideas about what to do with teens around Boston, remember amusement parks and great restaurant experiences are hits for all ages. Once you've scored some cool points with your teens, treat the younger kids in your life to age-appropriate fun at these indoor play spaces or awesome playgrounds.
Things To Do in Boston with Teens
1. Put on your Sox gear and head over to Fenway to catch a game. Now that your kids are older, they can actually sit through—and enjoy!—a ballgame. Can't get your hands on tickets to a game? Take a behind-the-scenes tour of historic Fenway Park. Tours are offered year-round.
RELATED: 5 Perks for Kids at Fenway Park
2. Pry that device out of their hand and get them outside for a hike in New England.
3. Having trouble finding time to eat as a family? Entice your teen to a meal at some of the best outdoor dining in Boston.
4. Go for a bike ride. Take a scenic route around the Charles or pick a new neighborhood to explore. Don't have your own set of wheels? With 130 stations around Boston, you can hop on and off Blue Bikes, the city's bike share system, throughout the city.
5. Spend a day at the Museum of Science. While your teens have undoubtedly visited this museum when they were little, the MOS has tons to do for adults and teens. Catch a laser light show at the Charles Hayden Planetarium, ride a rollercoaster simulator on the Thrill Ride 360, and explore exhibits like the Hall of Human Life.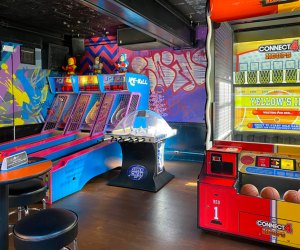 Teens still love hitting the arcade—even with their parents! Photo courtesy of Versus
6. Hanging out with mom or dad may not be entirely cool for teens. But we guarantee you'll have excited kids on your hands when you announce a trip to one of the best arcades in Boston. These spots have food, games, and prizes, along with retro arcade classics—a.k.a. games YOU most likely grew up playing.
7. Set sail...well LEARN how to set sail! Community Boating offers a junior sailing program for kids ages 10-17 on the Charles River. If sailboats aren't your thing, rent a kayak for the day and paddle down the river.
8. Lounge at the Seaport's Lawn on D when the weather is warm. Check their daily calendar for special events like yoga, music, and more, and make sure to snap an Instaworthy pic on the giant O-shaped swings.
9. Tough finding winter activities that don't involve pricey gear or tickets? Enter ice bumper cars! Hop in the car and head just over the Rhode Island border to take a spin together, and then spend the rest of the day enjoying some of our favorite things to do with kids in Providence.

Blind those teens with science at the MIT Museum! Photo courtesy of MIT
10. Inspire your science-loving teens with a visit to the MIT Museum. From robots to holograms, this museum is a must for older kids. If you're planning on visiting over February or April vacation, register your kids online for one of their super cool workshops.
11. Walk the Freedom Trail. While this is a huge walk for little kids, it's totally doable, and interesting, for teens and tweens. Spend the day, if you do the whole thing it will take you that long, exploring the history of Boston with stops at Paul Revere's house, the U.S.S. Constitution, and Bunker Hill—to name just a few.
12. If your teenager is just too ashamed to be seen in public with parents, skip town for a bit. A weekend getaway from Boston is the perfect chance to maximize quality time!
13. Got a need for speed? Forget the duck tours and hit the harbor on Codzilla! While some other Boston boat tours may seem boring or babyish to your teens, this high-speed motorboat will have them screaming with excitement!
14. Slice and dice at a cooking class. Your budding chefs are ready for more than cupcakes and cookies, so try out a class that teaches more complex dishes and techniques. Learn classic Italian dishes at an Eataly class or book a series of classes at Create a Cook to learn about different cultures and dishes.

There's something for everyone, even teens, at Apex in Marlboro! Photo courtesy of Apex
15. While indoor play spaces may be a thing of the past, Apex Entertainment Center is the equivalent for teens. A forty-five-minute drive from Boston will take you to the Apex filled with arcades, bumper cars, laser tag, go-karts, a ropes course, and bowling.
16. For adrenaline-seeking kids, skydiving and surfing are sure to impress. But don't worry, at SkyVenture, it's all simulated so your teens won't be jumping out of planes anytime soon. Visitors can float in a vertical wind tunnel and attempt to surf in an actual wave pool.
17. Take your board outside to catch some real waves and take a learn-to-surf class. New England is full of beaches with both big and small waves that are perfect for all levels of surfer dudes and dudettes.
18. Design your very own sneaks! Pay a visit to the Converse flagship store at Lovejoy Wharf and use their in-store customization studio to design some one-of-a-kind kicks.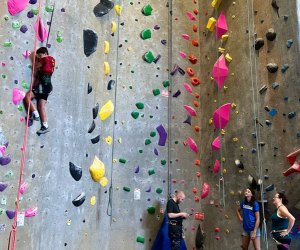 Tell your teens they'll have some awesome pics to share! Photo courtesy of Rock Spot Climbing
19. Challenge your kids to reach the top at an indoor rock climbing facility like Rock Spot Climbing. Whether your kids are climbing for the first time or are seasoned climbers, there are paths to challenge all skill levels.
20. Get crafty at an art studio like Paint Bar! You and your teen can pack some snacks and have a night out painting a masterpiece together.
21. Get spooked on a Ghosts and Gravestones Tour through downtown Boston on the Trolley of Terror.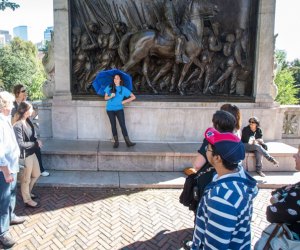 Explore Boston's silver-screen history with your teen! Photo courtesy of On Location Tours
22. Movie buffs will love the Boston Movie Mile Walking Tour. Stop by over 30 locations while your tour guide shares all the behind-the-scenes secrets.
23. Take a break from all the touring and pop over to Beacon Hill for afternoon tea.
24. Dive into the North End food scene for a pizza tour! Vote on who has the best slice in Boston and end the adventure with a cannoli.
25. Bring your art-loving teen to the hub of all art in the city, the Museum of Fine Arts. Join a tour or walk through the exhibits at the MFA your own pace. Try stopping with your teen to sketch a favorite piece.
Click Here to Sign Up!