25 Things to Do on the Boston Seaport and Fort Point with Kids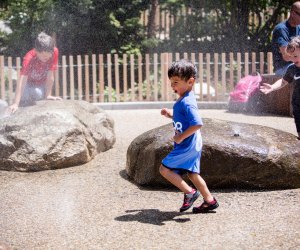 Boston's neighboring Seaport District and Fort Point neighborhoods are bursting with cool new spots to play, learn, and eat, and families are flocking to live here. So it's no surprise that this waterfront district just across the channel from Faneuil Hall and the Freedom Trail is becoming a day-trip hot spot with young kids. Between awesome playgrounds, kid-friendly art installations, world-class museums, and drool-worthy restaurants, these 25 ideas for enjoying the Seaport and Fort Point area with kids will keep your family plenty busy when exploring the area. Warning: If you don't already live here, you may find yourself thinking about a move after reading this list!
Spend a day outdoors at the Lawn on D where your kiddos can play games, swing on the giant O-shaped swings, and more. Visit at night and the swings actually light up different colors as you swing back and forth! Check their calendar as there are always events like live music, movie nights, and block parties happening. There's even an outdoor bar so parents can grab a tasty drink while the kids play.

Games keep kids busy on the Lawn on D. Photo courtesy of Signature Boston

Pop into the Boston Children's Museum to make giant bubbles, play make-believe, build in a construction site, and more. The museum also has tons of live shows in their theater as well as special events, so make sure to check out their events calendar before planning your visit!
Just around the corner, Flour Bakery & Cafe is a must visit. Stop in for breakfast or lunch for delicious sandwiches, but the real draw is the sweet treats. Indulge in their famous sticky bun or homemade Oreo cookie.
If your little ones stop in their tracks every time they see a fire truck, it's time for a visit to the Boston Fire Museum. Learn about the Boston Fire Department and meet the most popular firefighter on the crew, Sparky, the station's dalmatian dog. Admission is free at the museum, but donations are encouraged. The museum also hosts birthday parties where little firefighters can hop on a truck, practice drills on the pole, and more.
Travel back in time and literally throw tea overboard at the Boston Tea Party Ships & Museum while learning about history.
Go on a free artsy playdate with your kid at the Institute of Contemporary Art (ICA), the museum hosts families for free the last Saturday of each month.
Speaking of art, pay a visit to the Fort Point Arts Community Gallery and wander through this huge warehouse filled with local artists and artwork.
You're so close to the water, might as well hop on a boat! Instead of calling a cab on the street, pick up your cell and hail a Water Taxi for a cruise around the harbor. They'll pick you up at multiple stops in the hood, including the InterContinental Hotel and Seaport World Trade Center.

Take a water taxi and see Boston from a unique perspective. Photo courtesy of Boston Harbor Cruises

For a more formal sail, climb aboard the Spirit of Boston for their Family Fun Lunch cruise.
Grab a beer at Cisco Brewers, a Nantucket based brewing company that opens up a pop-up beer garden in the Seaport District from May through October. Not only does the location have Cisco's signature brews, but they also serve tacos and a raw bar courtesy of South Boston's Loco Taqueria & Oyster Bar.
Catch a show at the Rockland Trust Bank Pavilion. Along with live concerts, this outdoor amphitheater often host family-friendly events.
Snap a pic in front of the iconic Hood Milk Bottle. This giant wooden ball stands 40-ft tall and is parked outside the Children's Museum.
Grab a bite at Legal Seafood's flagship restaurant on the waterfront. Not only is the food fresh and delicious, but your kiddos will love watching the boats cruise by and can go "fishing" in the restaurant's trout pond, making Legals a super family-friendly place to eat.

Outdoor dining at Legal Harborside. Photo by Heath Robbins

Give thanks and pay your respects at the Massachusetts Fallen Heroes Memorial.
For kids that love all things that go, visit the Boston Convention Center during the Auto or Boat Show to check out all the fast-moving land and water vehicles on display.
Climb aboard a pirate ship and splash in the water "garden" at Boston's newest inclusive playground, Martin's Park.
Go for a stroll or bike ride along the Harbor Walk to watch the boats come and go.
There are plenty of places to grab a scoop, but only a visit to Taiyaki NYC's Seaport location will get you a legendary fish-shaped cone to hold your ice cream in.
Head over to One Seaport to browse the shops, catch a movie, or go bowling at KINGS.
Get out on the water for a kayaking adventure with L.L. Bean's Outdoor Discovery Program. Kids must be at least 8 to participate.
Grab a New England staple meal at Yankee Lobster Company. This bare-boned restaurant serves up some of the best lobsta' around and its no-frills atmosphere with simple picnic tables makes it the perfect setting to bring the little ones to.
Retreat to Boston's very own island getaway, Castle Island and Fort Independence, for a day of swimming, playing, and ice cream.
Pack a picnic and go hunting for sculptures at Eastport Park.
Head over to Seaport Boulevard and Boston Wharf Road to sample some eats from some of Boston's most delicious food trucks. Trucks set up shop in the area on weekdays.
Grab some farm-fresh veggies and fruits at the neighborhood's mobile farmer's market, the Fresh Truck, which parks at the Seaport Common.