In Martin Richard's Memory, Amazing New Playground to Open in Boston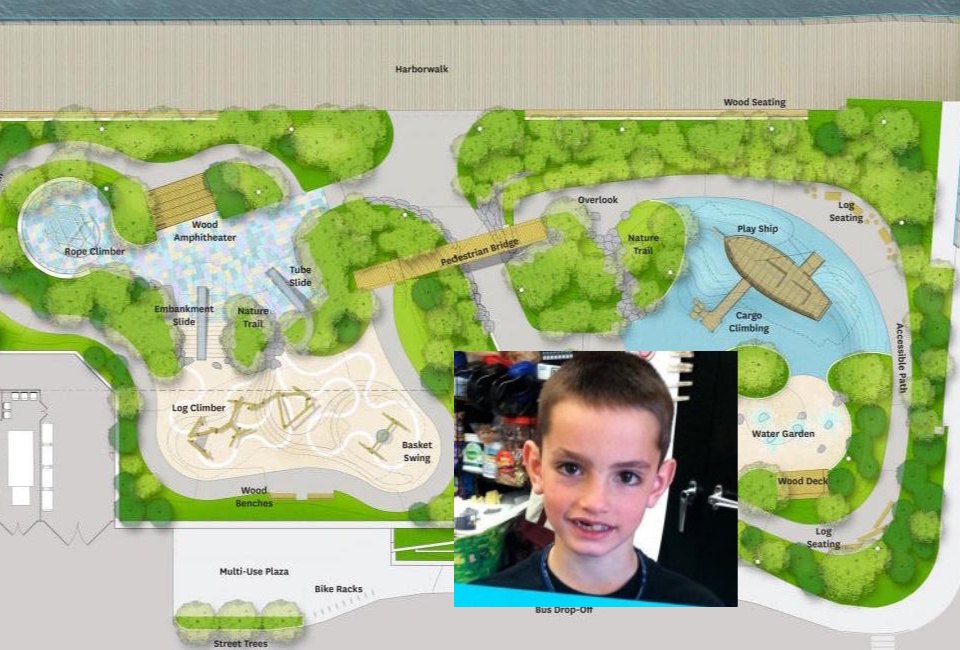 4/9/19
- By
Caitlin Dowling
As an active little boy in Dorchester, 8-year-old Martin Richard loved climbing, swinging, and playing ball at his neighborhood playgrounds. His parents say this playtime helped develop Martin's keen sense of sportsmanship and fairness before his life was taken too soon in the 2013 Boston Marathon bombings. So it was a natural fit that a playground that emphasizes both fun and inclusiveness has been built in his honor. Opening June 15th next to the Boston Children's Museum at the Smith Family Waterfront, this one-acre addition to Boston's awesome playground scene features lots of green space, harbor views, handicap- and wheelchair-accessible play equipment, and innovative structures, from a giant play ship to a "water garden" splash pad. Here's the scoop on how designers and Martin's loved ones envisioned the park, and what Boston kids and families are sure to love about it.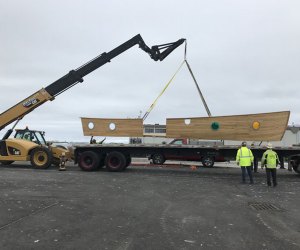 The play ship pulls into "port." Photo courtesy of the City of Boston
Play Equipment for All
When envisioning Martin's Park, designers wanted to make sure the playground tapped into kids' zest for adventure. So, along with slides and ladders, expect kids to gravitate toward an imagination boosting "marooned ship." To add as much of a natural feel as possible to the urban landscape, much of the play equipment mimics nature, like a log maze climber, realistic rocks to scramble on, small sculptural animals, and a "water garden" splash pad.
But by far the playground's coolest feature is how designers tweaked the structures so that all kids, no matter their abilities, can find a way to play together. Most of the equipment will be able to be accessed in multiple ways, ensuring that kids who can't simply scamper up a structure can find a way (such as a ramp) to join their friends at the top. There will also be a basket swing and interpretive special signage that's simple to follow.

The park will be situated on the Smith Family Waterfront on the Fort Point Channel—just steps from the Boston Children's Museum Photo courtesy of Martin Richard Foundation
An Urban Oasis
But the playground isn't the only draw to Martin's Park. Along with play structures, kids and grown-ups alike will enjoy plenty of green space with trees and flowers. Expect small sensory and reflective gardens tucked into trees and plantings. If you happen upon the park without kiddos, you can find serene spaces to enjoy Seaport views. There will be plenty of comfortable bench seating and even a small nature trail tucked into the center of the park.

Young Martin advocated kindness and peace. Photo courtesy of Martin Richard Foundation
Martin's Example
Martin's loved ones hope this beautiful park will not only be a great place for families to come and play, but a space where children develop more compassion and inclusiveness toward others. "The opening of Martin's Park is an opportunity to appreciate the good in our community, and the unmatched kindness that the people of Boston—and those around the world—showed to our family and to all of us who lost loved ones," says Denise Richard, Martin's mother. "It's a way to say thank you to everyone who helped our city heal. We hope that Martin's Park brings hours of joy to children and families and that it is counted on their list of favorite parks."
Mark your calendars for June 15th, the official opening day for Martin's Park, where families can stop by for an all day park party. But if you can't make the party, the park is sure to be bustling all summer long, so head over to play! In the meantime, you can keep tabs on the park's construction progress on this live webcam. Boston is full of wonderful playgrounds, but for many reasons, starting with the little boy who inspired it, this one promises to be extra special.
RELATED: 11 Outside-the-Box, Brain Boosting Boston Playgrounds
Places featured in this article:
Click Here to Sign Up!