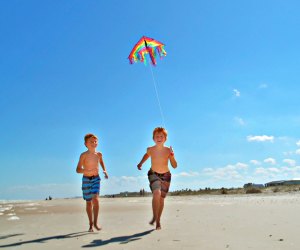 St. Augustine, Florida: 25 Best Things to Do with Kids
Florida has its "Emerald Coast," its "Space Coast," its "Treasure Coast," and even its "Forgotten Coast." But unless you spend time in its northernmost section, you might be unaware of its "Historic Coast," home of the haven of St. Augustine.
About an hour south of Jacksonville, whose sizable airport services most major carriers, sits America's oldest city. St. Augustine, founded in 1565 by Spanish explorers, is one of but a handful of American cities to have the flags of five nations fly above its buildings at one time or another. (Bonus points if you can name the countries: Answer below.)
To visit the city's charming cobblestone streets and seemingly ancient architecture is to be reminded of Florida's multicultural history. Of course, these days visitors are better welcomed than the 18th-century pirates who sailed in for plunder; these days, St. Augustine opens its doors to all types of boaters, pilots, campers, cyclists, and even the occasional camping and RV vacationers.
Mostly, St. Augustine welcomes kids and families, particularly those eager to mix a little education with all that Florida seaside entertainment. Read on for our picks for the 25 best things to do with families in this delightful and wholly unique Florida escape.
FYI: St. Augustine and St. Augustine Beach are separate municipalities with St. Augustine Beach sitting across the Intracoastal Waterway on 14-mile-long Anastasia Island.
Things to Do on the Water in St. Augustine, Florida
We'll start on the water because, well, what's Florida, without it?
1. Boat rentals: There are a host of cruise and sailing options for families eager to experience St. Augustine's pristine waterways. Anastasia Watersports, St. Augustine Sailing Enterprises, and Summer Breeze Boat Rental are a few places to start. For a unique oceangoing adventure, consider Schooner Freedom Charters if your kids are mature enough to handle a two-hour tall ship excursion. Florida Water Tours offers sunset and full-moon tours, kayak rentals, and more.
2. Black Raven Pirate Ship: Embark on a pirate-themed treasure hunt as the Black Raven attempts to catch the treasure-stealing Queen Anne's Revenge, skippered by Blackbeard himself. The Black Raven hosts birthday parties if you're celebrating your little one's special day.
3. St. Augustine Scenic Cruise: Enjoy a 75-minute sightseeing cruise past the city's historical landmarks and sights of natural interest. St. Augustine Scenic Cruises is celebrating its 100th anniversary in 2019.
What to Do Outdoors in St. Augustine, Florida
4. Beaches: St. Augustine boasts 40 miles of coastline and is dotted with beaches. Head to St. Augustine Beach and the St. Johns County Fishing Pier for water activities, restaurants, and other amenities, including a splash pad ideal for little ones. Parking can be a challenge. Butler and Crescent beaches, a few miles south, are much quieter and less crowded. Anastasia State Park is a natural gem that we'll get to later. Wherever you go, be secure knowing water along St. Augustine's beaches is generally calm and surrounded by some of Florida's most ornate dunes.
5. Bike rentals: St, Augustine sits just across the Intracoastal Waterway from Anastasia Island, a 14-mile stretch of seafront ideal to explore by bike. Otherwise, rent a bike and explore the historic district known to locals as the Old City. St. Augustine Bike Rentals offers bikes, scooters, and street carts by the hour or by the day for eager explorers.
6. Fishing: The St. Johns County Fishing Pier offers nonresidents fishing access for $6 as of 2019. It is one of several fishing piers in the area, including the popular Vilano Beach Fishing Pier, just north of St. Augustine and FREE to the public. Bait and tackle shops abound, where kids can be fitted with the latest gear. Fishing charters are also plentiful.
7. Hit the links, sort of: Mini-golf courses abound in St. Augustine and St. Augustine Beach. So if you're willing to get your game on, try Anastasia Miniature Golf, Fiesta Fall Mini-Golf, Ripley's Bayfront Mini-Golf, or pick another. You won't have to venture far.
8. State parks: We mentioned Anastasia State Park earlier. It is home to more than 1,500 acres of tidal marshes, dunes, and wildlife, including seabirds. Rumor has it, the state park is home to thousands of fiddler crabs just waiting to be caught (and released) by eager toddlers. Picnic tables, hammocks, campsites, and even kayak rentals are available. Guana Tolomato Matanzas National Estuarine Research Reserve begins in Ponte Vedra Beach and winds through St. Augustine, offering biking, hiking, horseback riding, fishing, and more.
RELATED: Florida Family Travel Guide: Best Cities, Beaches, and Attractions
Where to Go if You're an Adventure Seeker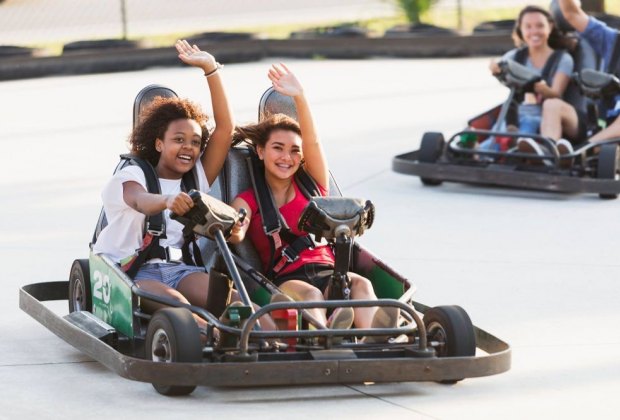 Try the go-karts, batting cages, and VR at Adventure Landing. Photo courtesy of the venue
9. Adventure Landing: At this entertainment facility, kids can test their driving skills on go-karts, their hitting skills in the batting cages, or their putting eyes in mini-golf. But the must-do attraction is the roller coaster simulator. Take off on an imaginary coaster ride from inside a virtual-reality chamber. Fair warning: This is not for the faint of heart, or young children.
10. Castaway Canopy Adventure: At this aerial adventure park, families, including teens, can enjoy an eco-zip line tour through some of northern Florida's most unspoiled wetlands. Seven zip lines and four bridges ensure plenty of action for all.
11. Pirate Melee: Equal parts group tour and thrill-seekers' adventure, Pirate Melee begins with a trolley tour through the historic district and continues with the "kidnapping" of tour guests, who are whisked away to an outdoor venue for dinner, drinks, and pirate entertainment, including an old-old-fashioned pirate donnybrook.
Things to Do Indoors in St. Augustine, Florida
Because not every day there is perfect …
12. Bowling: Anastasia Lanes offers weekly bowling specials, birthday celebrations, even lessons. On Tuesdays, enjoy buy-one, get-two games FREE; on Wednesdays bowl for only $1 per game. Anastasia Lanes is located near a number of kid-friendly restaurants on State Route A1A.
13. Escape rooms: The escape room craze has reached northern Florida, just in time for rainy-day fun for your teen or tween. St. Augustine boasts two rooms — Escape U and Xscape Our Rooms. The template is familiar: A group of friends (or strangers) is "locked" inside a room, needing to find the necessary clues to be released.
14. Potter's Wax Museum: Much like Madame Tussaud's in Manhattan, in this museum you'll find yourself side by side with some of history's legendary figures. Potter's claims to be the oldest wax museum in the country, and it's housed inside the oldest pharmacy in the nation.
15. Ripley's Believe it or Not: You'll see the strangest things in this house of the bizarre. The "odditorium" also features train tours through the city, highlighted by its Ghost Train Adventure that might be a bit too spooky for the littlest ones.
Activities for Fans of History (and Pirates)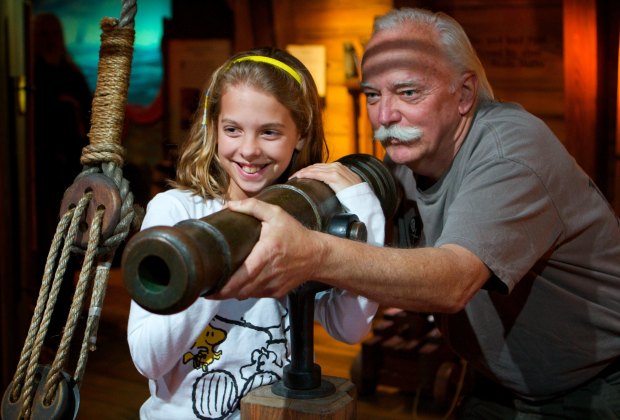 Get your hands on a pirate ship's gun deck at St. Augustine's Pirate & Treasure Museum.
16. Castillo de San Marcos: The "Castle of St. Mark" is the oldest brick-and-mortar structure in the United States, built by the Spanish to protect the city from raids by privateers. Kids can explore the fortress, enjoy a Ranger program, even search for celestial bodies in the clear night sky. A few miles south is Fort Matanzas National Monument, built in 1740 to protect St. Augustine from raids coming from the south.
17. Colonial Quarter: A walk through the quarter is quite literally a step back in time. Learn about blacksmithing, climb the top of the 35-foot watchtower, and join a tour culminating in a musket demonstration. Some of St. Augustine's best family-friendly restaurants can be found in the quarter, which also hosts a regular series of outdoor concerts and movies.
18. Fountain of Youth: Here, youth is not wasted on the young. This popular St. Augustine attraction celebrates explorer Ponce de Leon's discovery of Florida in 1513. At the time, de Leon, you might remember, was searching for the magical Fountain of Youth. Attractions here include a blacksmith shop, historical excavations, a Native American village, the resident peacocks and, of course, the "magical" spring water.
19. KidPirates Tours: This family-friendly walking tour is targeted for children ages 4-11. Learn about the city's history and interact with the "pirates" in what organizers call "pirate school for kids."
20. Pirate & Treasure Museum: Thrill to this educational museum that transports families back three centuries to the pirate stronghold of Port Royal, Jamaica. Embark on a "treasure" hunt ad enjoy a special Disney show about legendary pirate Blackbeard.
21. St. Augustine Lighthouse: Climb the 219 steps to the top of this 145-year-old beacon for the best views of the city and beaches. Some form of watchtower has actually stood near the current lighthouse since 1589. Young kids will enjoy the shipyard playground area. Older kids might be intrigued by the wooden boat builders who work on the main floor. Shipwreck artifacts are conserved in an onsite lab and there are a number of nature trails.
RELATED: 50 Things to Do in Orlando Other Than Theme Parks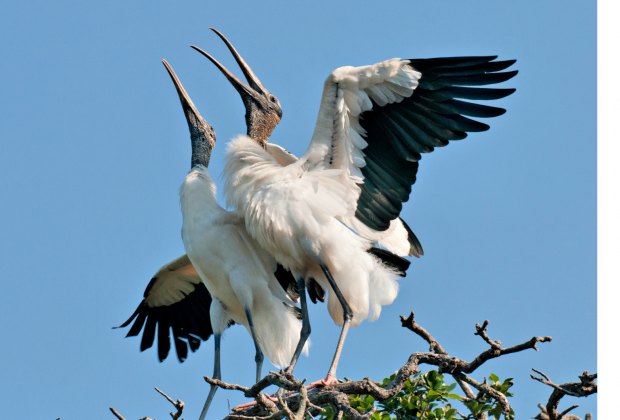 Mother Nature thrives in St. Augustine's natural ecosystem. Birds at the Alligator Farm. Photo by Ardith Bondi
Where to See Animals and Wildlife in St. Augustine, Florida
Are there alligators in St. Augustine? Yes, but plenty of other creatures, too.
22. MarineLand Dolphin Adventure: MarineLand is actually an incorporated community just south of downtown St. Augustine Beach. But, no, its resident dolphins and sea turtles do not have a voice in local politics. However, MarineLand's dolphin encounters are among the most popular excursions for visitors. Kids can experience these friendly creatures in-house, during a dolphin swim or at an open-water sail. Kayak and boat tours of the coastal ecosystem are also available.
23. St. Augustine Aquarium: Every week is Shark Week at the St. Augustine Aquarium, where kids can feed sharks and rays seven times a day. Sharks are also available via a touch tank at select times. Gear is provided for those who wish to snorkel with Florida reef fish and rays.
24. St. Augustine Alligator Farm: Ever heard of albino alligators? You can, in fact, find them here, along with dozens of other reptile species. There's even a wading bird rookery, where visitors can interact with herons, egrets, and more.
25. St. Augustine Wild Reserve: This nonprofit is a working rescue center for unwanted exotic animals. Visitors are welcome for guided tours of the center's tiger and bear sanctuaries, as well as its cougar, leopard, and wolf areas. Five resident Arctic wolves and an African lion were received from late pop star Michael Jackson.
Oh, and before we sign off, the answer to the flags question: At various points in history, St. Augustine has belonged to the Spanish, British, French, the United States, and, the Confederate States of America.
Photos courtesy of FloridasHistoricCoast.com, unless otherwise noted